Introduction:
As freelancers, managing finances and invoicing is a crucial aspect of our business operations. Thankfully, there are numerous invoicing software options available that cater specifically to freelancers' needs, streamlining the invoicing and payment process, and allowing us to focus on our creative work. In this article, we will explore some of the top invoicing software for freelancers, each offering unique features and functionalities to enhance our freelancing experience.
Key Features to Consider:
1. User-friendly Interface: A user-friendly interface is essential for freelancers to navigate the software easily and efficiently. Look for platforms that offer intuitive designs and straightforward navigation.
2. Invoicing Flexibility: The ideal invoicing software should allow for flexibility in creating and customizing invoices, including one-off, recurring, and split-payment options. This flexibility accommodates various client requirements.
3. Payment Options: Consider platforms that support multiple payment options, such as credit cards, ACH transfers, and mobile payment solutions. Diverse payment options make it convenient for clients to pay and ensure faster payment processing.
4. Automation and Reminders: Look for software with automation features that handle post-payment tasks, such as sending reminders for unpaid invoices and adding late fees for overdue payments. Automation saves time and ensures timely payments.
5. Proposal and Contract Management: Some invoicing software also offers integrated proposal and contract systems, allowing freelancers to create formal agreements with clients. This feature adds a professional touch to client-freelancer relationships.
6. Project Management Tools: Consider platforms that provide project management tools, including task tracking, alerts, and notifications. These features help freelancers stay organized and on top of client tasks and deadlines.
7. Mobile App Access: Having access to a mobile app is beneficial for freelancers who are always on the go. With a mobile app, you can create and send invoices, track project statuses, and manage client communications from anywhere.
Recommended read: Invoicing Software For Freelancers & Small Businesses: Factors To Consider
Top Invoicing Software for Freelancers
Now, let's explore some of the best invoicing software options that cater to the needs of freelancers:
Refrens is a versatile platform designed exclusively for freelancers, offering exceptional invoicing and payment management services. With Refrens, you can effortlessly create professional invoices, quotations, and recurring invoices, all while enjoying the convenience of multiple invoice templates.

The platform lets you personalize your invoices, reflecting your brand, and easily send them to your clients via email, even checking if the client has viewed your invoice. It also keeps track of client-wise invoices and payments, ensuring that no detail slips through the cracks. You can also include discounts, taxes, and collect payments.

But Refrens doesn't stop at just invoicing – it offers a range of other features that cater to freelancers' needs. For starters, you can create attractive profiles on Refrens, serving as a comprehensive portfolio, allowing you to showcase your projects, services, clients, and testimonials all in one place. The platform also enables you to optimize for search rankings, attract potential clients, and expand your business network with ease.
Need to manage a team? Refrens has got you covered there too! You can create and efficiently manage your team, adding members such as Accountants, who can extract financial information, further simplifying your accounting process. This powerful feature ensures seamless collaboration and streamlined business operations.
If you have international clients, Refrens has a secure payment system that allows you to accept international payments at the lowest cost. This feature opens up opportunities for you to expand your business globally.
Refrens also provides comprehensive reports that keep you on top of your finances, offering valuable insights into your business performance and ensuring compliance. Additionally, the integrated CRM system and Lead Management tools guarantee effective communication and lead conversion, making it easier for you to grow your freelancing business.
In conclusion, Refrens stands as the all-in-one solution for freelancers, agencies, and small businesses alike. It offers a robust set of tools to manage your business operations, invoices, payments, team, and leads, all in one convenient place. Whether you're just starting as a freelancer or looking to streamline your existing freelance business, Refrens has got you covered. Try it out and experience the power of efficient freelancing management firsthand!
Also read: Best Practices For Creating And Sending Invoices To Clients

Pricing
Free Plan: free plan for small businesses to create up to 50 documents/year
Premium Plan: pricing starts from as low as ₹100/month or $2.5/month depending on the number of users & features
Ratings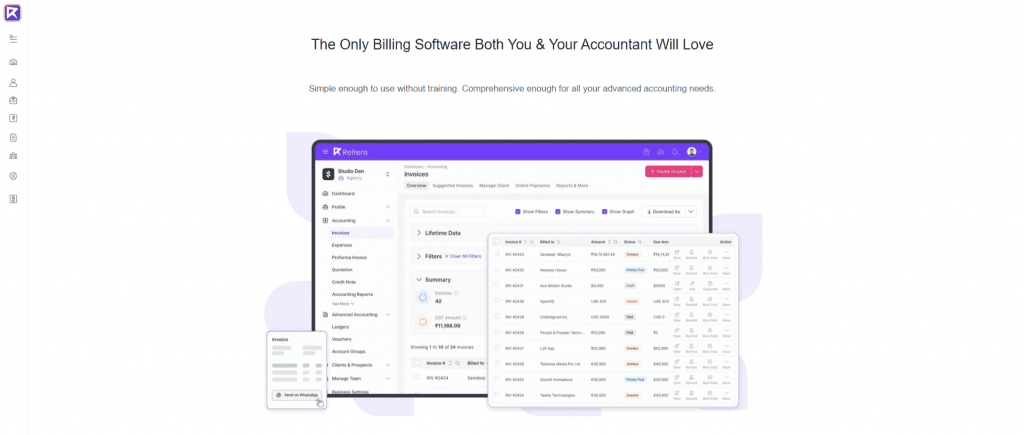 Bloom.io
Bloom.io is a powerful platform that excels in both invoicing and payment management, catering to the needs of freelancers and businesses alike. With its user-friendly interface, Bloom.io empowers users to effortlessly send professional invoices and receive payments quickly through secure options such as Stripe, Square, Paypal, Cash App, Venmo, or Zelle. The platform's flexibility extends to convenient payment schedules and easy contract signing, all on a single page, ensuring a seamless experience for both freelancers and clients.
Similar to Refrens, Bloom.io allows users to showcase their final work in beautiful galleries featuring customizable layouts, proofing options, download permissions, and activity tracking. This feature enables freelancers to present their work in a visually appealing manner, impressing potential clients and showcasing their talent effectively.
In addition to invoicing and portfolio display, Bloom.io offers a task-tracking system that streamlines project management. Multiple workflows ensure efficient organization, helping freelancers stay on top of their projects and deliver exceptional results in a timely manner.
Managing client interactions and leads is made easy with the platform's integrated CRM feature. Freelancers can keep track of client communications, ensuring a personalized and professional approach in their dealings. Furthermore, Bloom.io's asset delivery tools simplify the process of sending files and materials to clients, ensuring a smooth exchange of project deliverables.
One of the standout features of Bloom.io is its contract templates, providing added protection for both freelancers and clients. These templates are legally binding agreements that instill confidence and trust in the working relationship, giving freelancers peace of mind when dealing with various projects.
In conclusion, Bloom.io stands out as a versatile invoicing software, catering to freelancers' needs with its array of features. From streamlined invoicing and payment management to impressive portfolio showcasing and efficient project organization, Bloom.io offers a comprehensive solution for freelancers to manage their business operations effectively.
Pricing
Starter Plan: $13/month, good for limited features
Standard Plan: $29/month, provides unlimited features
Full Serve: $197/month, provides white glove services along with additional features
Ratings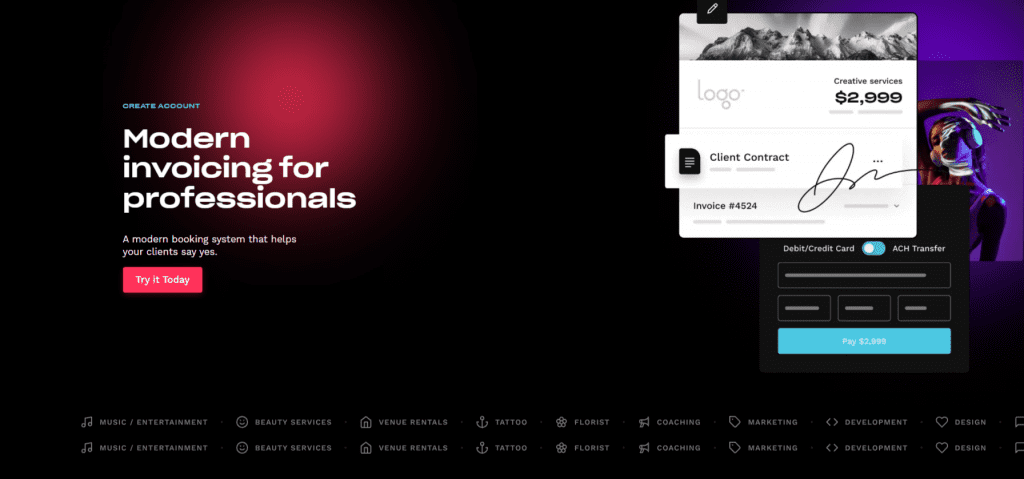 Also read: 9 Ways To Make Your Invoicing Process More Effective
Bonsai
Bonsai is a well-established invoicing software that caters to freelancers with its range of smart automation services. With an all-in-one product suite, Bonsai streamlines proposal management, time tracking, expense tracking, and invoicing, making it a comprehensive solution for freelancers.
Freelancers can effortlessly send invoices, set up recurring payments, and schedule invoices for future dates, allowing for efficient payment management. The system's automated reminders for unpaid invoices and the ability to add late fees for overdue payments ensure timely and hassle-free payments from clients.
Recommended read: When Is The Best Time To Send Invoices?
Beyond just invoicing, Bonsai also offers an integrated proposal and contract system, providing freelancers with the tools to create formal agreements with clients. This feature adds a professional touch to freelance contracts, enhancing the overall client-freelancer relationship.
Bonsai's dedication to smart automation and its all-in-one suite of services make it a standout choice for freelancers seeking to simplify their invoicing and business management processes. With Bonsai, freelancers can focus on their craft while the platform takes care of the administrative aspects, ultimately helping them thrive in their freelance careers.
Pricing
Starter Plan: $17/month, for freelancers and contractors starting out
Professional Plan: $32/month, for growing independent businesses
Business Plan: $52/month, for small businesses and agencies
Ratings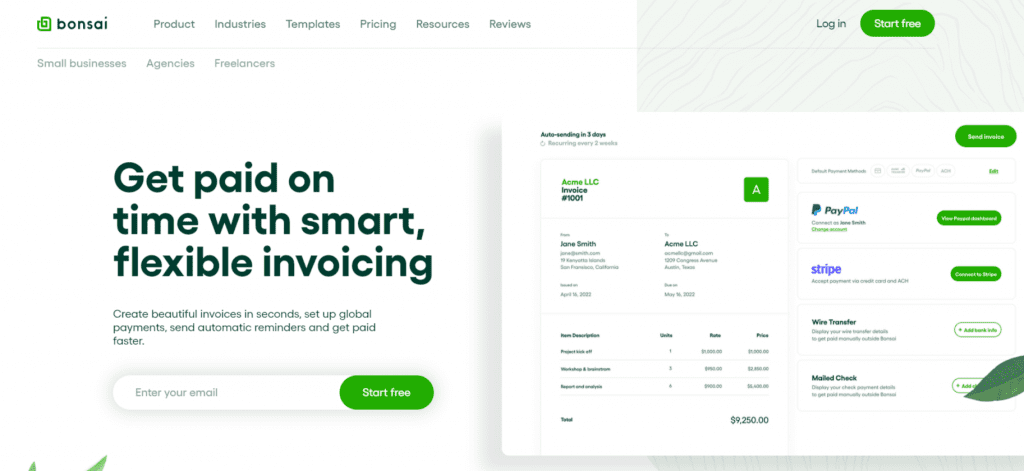 Also read: Invoice Like A Pro: A Comprehensive Invoicing Guide
Harlow
Harlow is a top-notch solution designed to cater to freelancers, placing a strong emphasis on seamless invoicing and payment processes. With its array of essential features, Harlow ensures that freelancers can efficiently manage their business operations
One of Harlow's standout features is its automated invoicing, which saves freelancers time and effort. The platform also provides professionally designed proposal templates, giving freelancers a polished and impressive way to present their services to clients.
When it comes to payments, Harlow goes above and beyond to ensure convenience for both freelancers and clients. Integrated with Stripe and PayPal, Harlow enables collecting payments via credit cards, ACH transfers, Google Pay, or Apple Pay. With invoices automatically marked as "paid," freelancers have clear visibility of their earnings, allowing for better financial management.
Harlow offers a range of invoicing options, catering to different project needs. Freelancers can create one-off, recurring, or split-payment invoices, providing flexibility to meet various client requirements. Additionally, the platform's automated reminders take care of the follow-up process, minimizing the need for manual client communication and ensuring timely payments.
In conclusion, Harlow stands as a comprehensive invoicing solution that covers all aspects of invoicing and payment management for freelancers. With its automated features, professional templates, and diverse invoicing options, Harlow streamlines business operations and enhances freelancers' efficiency. Embrace Harlow to experience a seamless and hassle-free invoicing experience, giving you more time to focus on what you do best – your freelance work!
Pricing
Solo Plan: $19/month, along with various features, invoicing in one currency, and 1 additional collaborator
Professional Plan: $29/month, Solo Plan + invoicing in multiple currencies and 3 additional collaborator
Advanced Plan: $39/month, Professional plan + white glove product onboarding and unlimited collaborators.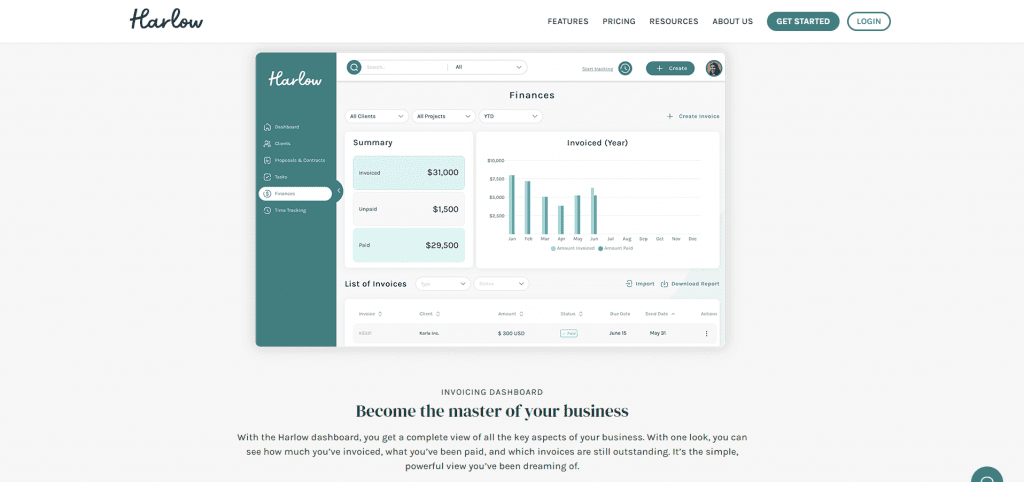 Recommended read: How to choose the best Invoice Management Software? Essential Factors to Evaluate
HoneyBook
HoneyBook offers freelancers a trustworthy invoicing and payment solution with a user-friendly interface. With this platform, you can create branded proposals, contracts, and customized invoices, and efficiently manage your invoice library for quick modification and reuse. The automation feature takes care of post-payment tasks, saving you precious time and effort.
But HoneyBook doesn't stop at just invoicing. It goes the extra mile to streamline project management by providing automated alerts and notifications, ensuring you stay on top of client tasks and never miss a deadline. The visual pipeline interface offers a centralized view of project progress and client interactions, making it easier for you to keep everything organized and on track.
To further enhance your freelancing experience, HoneyBook offers an on-the-go mobile app. With this app, you can create and send invoices while keeping track of project statuses, all from the convenience of your mobile device.
Beyond invoicing, HoneyBook offers a host of other features to facilitate client communication, document management, payment processing, and scheduling. This comprehensive approach ensures that all aspects of your freelancing business are well taken care of, leaving you with more time and energy to focus on what truly matters – your creative work.
In conclusion, HoneyBook stands as a reliable and versatile invoicing and payment solution for freelancers. Its user-friendly interface, automation features, and seamless project management capabilities make it an excellent choice for streamlining your freelancing business. Embrace HoneyBook today and experience a smoother, more efficient invoicing process, ultimately helping you take your freelancing career to new heights.
Pricing
Starter Plan: $12.80/month
Essentials Plan: $25.60/month
Premium Plan: $52.80/month
Ratings

Also read: Top 10 Benefits Of Automated Invoice Processing
Conclusion
Invoicing software plays a crucial role in simplifying the financial management process for freelancers. Refrens, Bloom.io, Bonsai, Harlow, and HoneyBook are among the top invoicing software options, each offering unique features to cater to freelancers' needs.
As freelancers, it's essential to consider the key features that align with our specific needs when choosing the best invoicing software. By selecting the right software, we can elevate our freelancing experience, save time, and focus on delivering exceptional work to our clients.
Also read: Actionable Invoicing Tips for Freelancers To Actually Get Paid