The world is rapidly moving towards digitization, and the GST Council is no exception. To promote this digital shift, the council has mandated that businesses with an annual turnover of over 5 crores must use e-invoices for B2B supplies.
The main objectives behind this initiative are to enhance transparency, curb tax evasion, and streamline invoicing processes.
Hence, to aid businesses in this transition, numerous software solutions have emerged. In this article, we will explore the best e-invoicing software available in the market.
Let's delve into the details:
First up we have Refrens, a budding software that is increasingly becoming a favorite of businesses of all sizes in 178 countries, with an impressive user base of 150,000.
It stands out for simplifying complex tasks like invoicing and offers cost-effective and time-saving e-invoice generation software. Additionally, it caters to e-invoicing needs for Export and SEZ businesses and can generate IRN for Credit Notes and Debit Notes as well.
With Refrens, you can save and reuse your information, avoiding repetitive data entry. The software also validates your data to ensure accuracy, highlighting errors or missing fields for easy rectification. What's more? Seamlessly cancel e-invoices with just a few clicks.
Moreover, Refrens allows you to send invoices and other documents through platforms like WhatsApp and email. It also makes "sending reminders" a breeze and significantly improves the payment collection process, for which it offers a wide array of payment methods for added convenience.
Hence, the software's user-friendly nature has earned it the distinction of being awarded the best accounting software for "ease of use" by Gartner.
Beyond e-invoicing, Refrens streamlines various operations, reduces administrative burdens, and enhances efficiency, making it a one-stop solution for all your business needs.
Recommended read: How to Generate IRN (E-invoice) through Refrens?
2. Zoho:
Zoho is another reputable platform that has gained the trust of many businesses, offering a comprehensive suite of financial services. With Zoho, creating e-invoices becomes effortless.
As a recognized GST Suvidha Provider, it allows you to directly upload your invoice into IRP, eliminating the need for additional trips to other GSP portals.
Zoho Books, part of the Zoho suite, excels in managing receivables and payables, inventory tracking, banking transactions, timesheets, contact management, and report generation. It provides a holistic overview of a business's financial health.
To cater to diverse businesses, Zoho offers a range of affordable pricing plans and mobile apps for iOS and Android, enabling users to manage their finances from anywhere.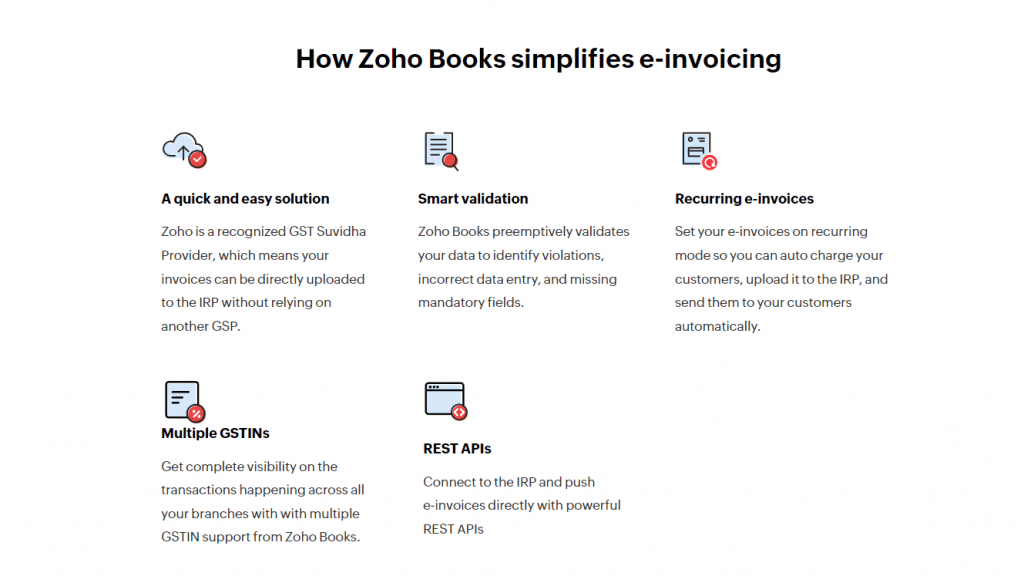 Not just e-invoices, Zoho can help you create e-way bills too! (Don't know what e-way bills are? Learn Everything To Know About e-Way Bills) Check out this comprehensive list of Top e-Way Bill Software
3. Tally:
Tally is a renowned and sophisticated software that offers a plethora of features, including e-invoicing capabilities. With TallyPrime, generating an e-invoice becomes a seamless process.
The software also provides easy e-invoice tracking solutions and cancellation options. In case your internet gets disconnected during e-invoice creation, TallyPrime will export the data in the form of a JSON file, preventing the need to start over.
Tally also includes various tools like TallyPrime (Business Management Software), Tally Software Services (for software subscriptions), TallyPrime Server (for improved business efficiencies), TallyPrime Powered by AWS (for virtual access to licenses and data), and Shopper 9 (for complete retail enterprise solutions).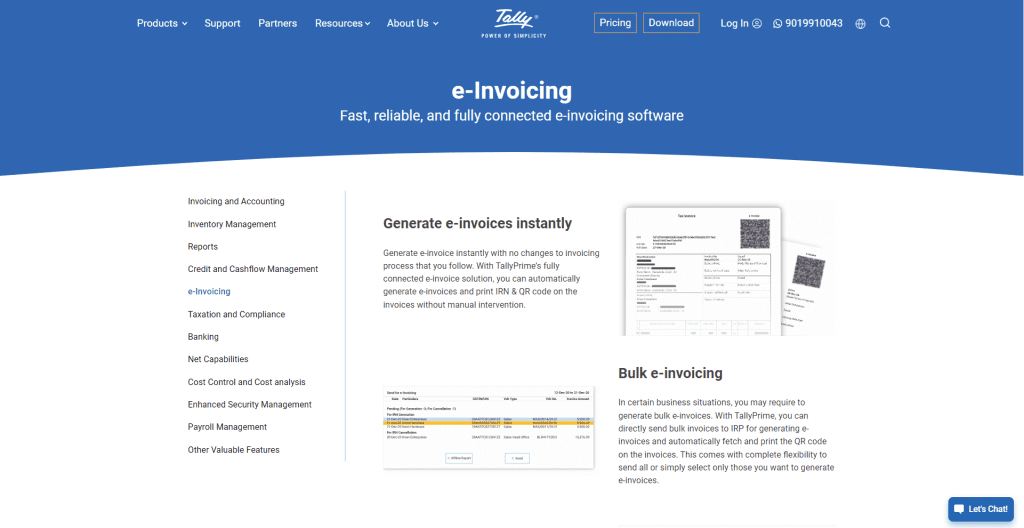 Also read: E-invoicing In GST: A Complete Guide
4. Masters India:
As a GST Suvidha Provider appointed by the Goods and Service Tax Network (GSTN), Masters India offers seamless integration of your existing ERP, ensuring 100% ITR claim and providing an end-to-end compliance platform for your finance needs.
As a GSP itself, Masters India allows easy generation of e-invoices, real-time compliance reporting, AP process automation, and generation of various reports. It also provides solutions such as GST Software, Invoice OCR Software, Accounts Payable, and APIs like Vehicle Tracking, Vendor API, and GST API to streamline different business activities.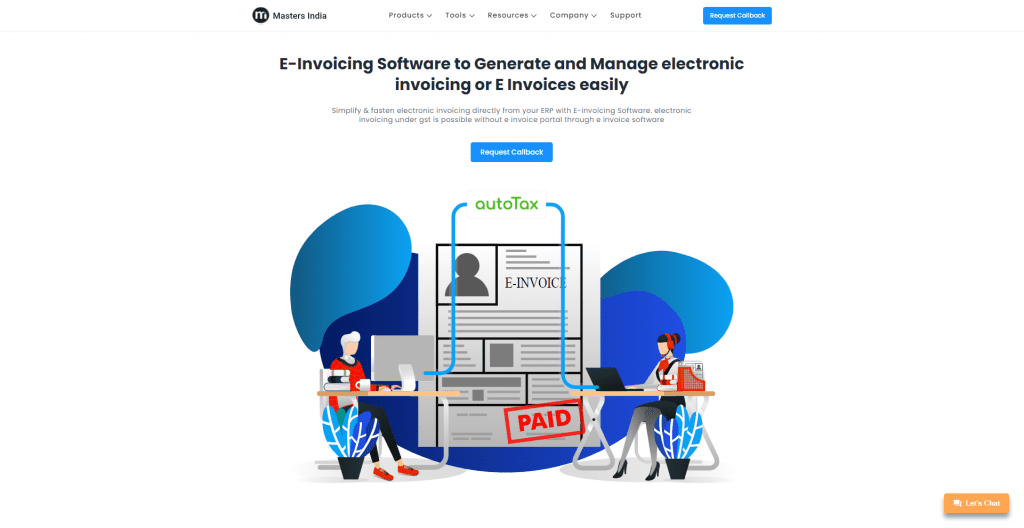 Also read: Best Practices For Creating And Sending Invoices To Clients
5. Swipe:
Swipe is another software option that provides around 40 features, including e-invoicing services. Its streamlined process makes generating e-invoices easy and efficient.
Additionally, Swipe functions as a free GST billing software, enabling real-time tracking of sales, purchases, and estimates. It can also manage inventory, file GST returns, and create and share professional invoices.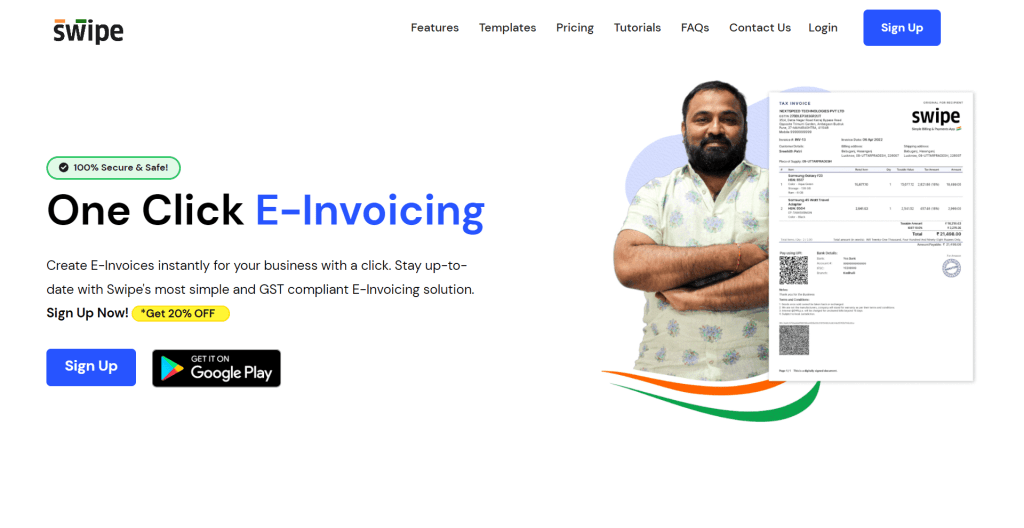 Also read: How To Create GST Invoices In 2 Minutes?
Conclusion
As the Indian Economy continues to embrace digitization, it becomes vital for businesses to adopt the right software solution to streamline their invoicing needs, save time and personnel, and focus on scaling their operations.
Whether you require basic invoicing features or comprehensive financial management, the software mentioned above offers a wide range of features to simplify your business operations in an organized manner.
Embrace the digital revolution with e-invoicing software and transform the way you manage your invoices, payments, and financial transactions!
Also read: How to choose the best Invoice Management Software?
FAQ