Clients are the lifeline of any freelancing business, and it's one of the things freelancers, especially beginners, worry about.
You need them to keep the gigs coming.
Many freelancers focus on LinkedIn and Twitter as the goldmine when it comes to attracting freelancers on social media.
You often see them share case studies on LinkedIn and Twitter on how they helped their clients achieve greater results.
The general opinion is that Instagram is a virtual platform for people that want to entertain themselves. So no need to spend time there trying to attract clients.
Do you share such an opinion?
This article will prove you wrong because I will show you how you can attract clients on Instagram as a freelancer. 
In the end, you will realize that Instagram is also a goldmine when it comes to finding clients for your freelancing business.
1. Know Your Potential Client
One of the mistakes beginner freelancers make on Instagram is not identifying their potential clients. That's why many of them complain of not getting clients after a long time and before you know it, they have given up and join the chorus of those that say Instagram isn't ideal for finding clients.
Let's assume you're a freelance video editor, and you want to find clients on Instagram. The first step is to plug in keywords someone looking for a video editor on Instagram will use. Just add a hashtag at the beginning, and you see the number of posts related to such keywords.
For example, I entered the #videoeditor on the Instagram search bar and I saw #videoeditorwanted. Over 2000 posts were made using that hashtag.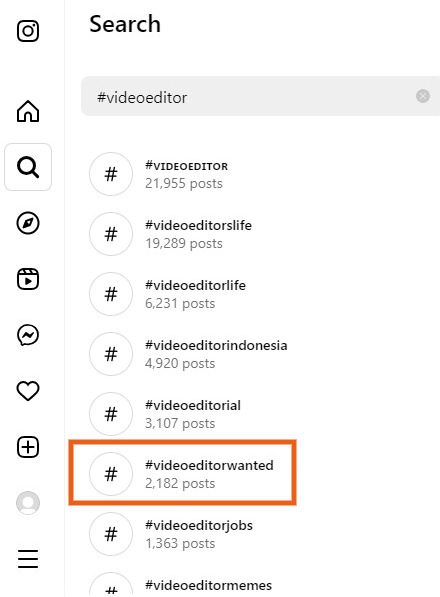 Individuals and businesses who want to hire video editors made those posts. With that, you have an idea of what your potential clients search for and the problem they want to solve. This will help you create content that positions you as the solution they seek – a video editor or video editing services.
2. Create and Optimize Your Business Account
To show professionalism, you need an Instagram business account and not a personal account for your freelancing business. A business account gives you access to advanced features you need to attract clients such as contact buttons, shoppable posts, Instagram ads, etc. If you already have a personal account, you can convert it to a business account.
Have a profile photo that represents the services you offer. A logo is preferable, and you can create one with a free tool like Canva. Have a username that is related to the service you offer. Let's assume you're a freelance photo editor. Your username should include words like photo, image, or picture. I understand this is subject to availability, but you can play around with it to get something relevant.
Write a simple and clear bio that represents your service using related keywords. People should immediately understand the freelance gig you sell after reading your bio. Add a contact button and other features that can make your bio generate leads. Pay attention to all these because your profile is the first impression you create when a potential client calls. It can determine if they will initiate a conversation or not.
Take a look at the profile of Notagraphicdesigner below:

You could see she optimized her profile with all the tips I mentioned except that she didn't upload an image that represents her service as a profile photo.
3. Grow Your Followers
Growing your Instagram followers can help you attract clients. A larger follower count most times creates a perception of credibility and popularity. This increases the trust potential clients have in your skill and expertise. It also boosts your reach on Instagram, a signal that can make algorithms show your work to a broader audience who may likely contact you to hire your services.
Even your fellow freelancers on Instagram will like to connect and network with you which may lead to client referrals. One of the ways to grow your followers on Instagram is to post quality content that relates to the services you offer. But this can be a tall order for beginners. That's why you should consider getting an ethically built Instagram account from services like Socialtradia. With that, you leverage existing followers in a niche your freelance services fall in to grow and expand your coast.
Recommended read: Content Marketing: Your Ultimate Lead Generation Tool
4. Let Your Feed Be Your Portfolio
Once you have set up your account and have gained a substantial number of followers, it's time to start showcasing your work to potential clients. And the only way to do that is by using your feed as a portfolio.
Graphics design jobs are common on Instagram. So if you are a graphics designer, showcase logos, flyers, and e-book covers you designed for clients.
 If you're a beginner with no client, design graphics for your friends for free and share them on your feed. You can even ask those friends to give their honest reviews about your services. Screenshot and post them on your feed as social proof.
These are what potential clients need to be convinced you are the best to deliver a satisfactory job. Instagram stories and reels are another feature you can use to promote your services as a freelancer. Package your work and testimonials from previous clients into a short video and share them as stories and reels. 
Although Instagram stories disappear after 24 hours, it's enough to create an impression in the mind of your target clients. Better still, you can highlight an Instagram story that shows the best of your portfolio, so it can live permanently on your profile. Any potential client that visits your profile will see it.
Also read: 5 Instagram Story Ideas For Your Freelance Business
5. Network With Businesses That May Need Your Service
There are over 2 million businesses with Instagram accounts. These businesses often hire freelancers to execute projects for them. Let's assume you are a Shopify store expert. You can follow businesses that sell products on Shopify. Most of them may want to integrate applications to grow their store and won't have any other option than to announce they are looking for a freelancer that offers such a service. 
It can even be you running a check on their store to see if there are technical issues affecting performance.
If you find any, you can DM them, introduce yourself, and state the issue you identified and its negative impacts on their store. Then tell them how you can fix it. A few of them may get back to you asking how much it will cost.
On LinkedIn, I get a lot of messages from freelance link builders who follow me asking if I need link-building services.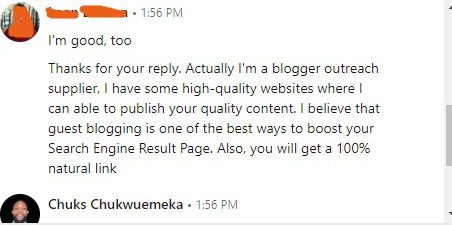 You can deploy the same strategy on Instagram to what the outcome will look like.
Recommended read: 6 Instagram Growth Strategies For Product Promotion
6. Take Note Of Conversation
It's common to have a chat or video conversation with clients who want to know more about your services. Some of these clients describe the services they want to know if you can deliver. Be sure to take note to avoid missing important details that will help you do a great job. There are good devices for taking notes which freelancers often use. Keep in mind you don't just want to attract a client on Instagram. You also want to have them as retainer clients. So the first freelance service you offer to them must surpass their expectations.
7. Offer Discounts
Businesses want to save money while going for the best service. Offering discounts could be a strategy to attract them as clients. Let's assume you're a logo designer, and you charge $500 to design a basic logo. You can announce to your audience that they will get a 20% discount for a limited time. This is a strategy many Fiverr freelancers use to attract more clients and keep them coming back to buy gigs. A 20% discount on what you charge is worth it if it gets you a high-paying retainer client.
8. Run Ads
I know you may be surprised at this, but it's the fastest way to attract clients on Instagram. There are many businesses that need your service, and you can't reach them by just showcasing your work on the feed. Instagram understands your target audience better than you. The algorithm knows the behavior of users on this virtual platform and what interests them.
So running an Instagram ad means inviting Instagram to help you target clients who may be interested in your service.
Also read: A Guide To An Effective Freelance Sales Strategy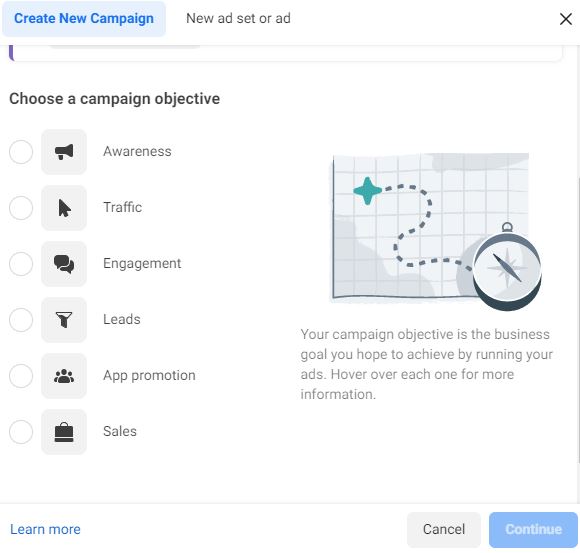 Also read: How To Excel At Self-Promotion As A Freelancer?
Although this can be expensive, freelancers with the budget go for it because of the benefits. With a freebie on your landing page, you can collect emails and start nurturing leads to convert them to paying clients.
You also create more awareness, grow your followers and position yourself for more businesses to discover you.
Final thoughts
When it comes to finding clients as a freelancer, don't put all your eggs in one basket. LinkedIn, Facebook, or even cold emails easily come to mind, but Instagram presents a huge opportunity that only a few freelancers have tapped into.
This guide has shown you how you can use Instagram to attract clients. It's up to you to identify your target clients on Instagram, create and optimize your business account and implement other strategies you've learned here.