You want to invest in your creative skill. You want to better your professional touch but sometimes a full-time job can become a bottle-neck to your growth. The reasons here can be diverse – work pressure, insufficient pay, lack of challenges, poor work culture, and so forth! That's where freelancing comes into the picture. It seems like a path full of learnings and the one that promises scale.
A little nugget here, freelancing is becoming so popular that, according to stats, around 53% of generation Z professionals are freelancers!
Doesn't mean this field is without thorns and challenges. One of the major challenges is to get that one big break as a freelancer!
What? A big break in Freelancing?
Yes, generally it is said that onboarding an international client is a big break for any freelancer. But, why? Why is getting international clients considered best? Let's dive in!
Why Onboard International Clients?
International clients are considered a boost for your freelancing journey. And, there are a range of reasons to support this.
Robust exposure, skill set optimization, earning in foreign currency, widening contacts, and networking are a few! Apart from this, the identity and referrals one gets are unrivaled. But, keeping all these benefits, boarding international clients as freelancers is no child's play, and sometimes freelancers who are earning 6 figures in their home country fail to get a successful international client! This highlights the difficulty and challenges!
And, one of the most strenuous steps in getting international clients for freelancers is accepting payments! We will get to that later, first let's explore ways to get international clients.
Ways to Get International Clients as a Freelancer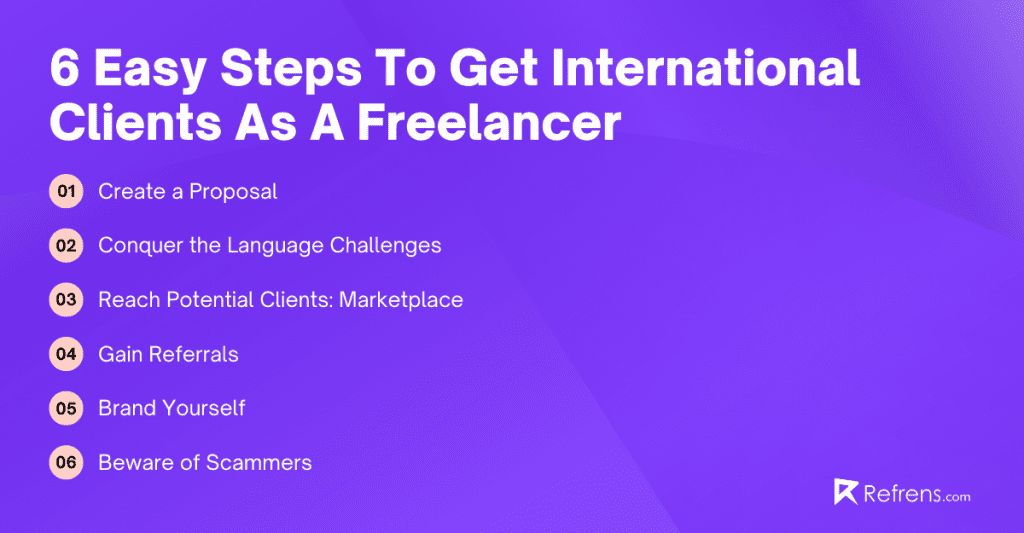 Here are some of the ways that can help you crack that first international project deal as a freelancer. No matter in which field you are, and what your skills are, these ways can help you! Let's begin!
Create a Proposal
While looking for or approaching an international client, it is paramount to have past work or projects to showcase. And, it should be ready in the form of a portfolio! For this, you should have projects delivered or your creative skills sample. This explains why one needs a strong experience in the home county as a professional.
Check out the top 15 elements you must include in your portfolio website.
Further, to build a portfolio, list your best work. You can leverage a range of online portfolio build-up websites for the same. But, make sure you make a portfolio that can impress and pronounce your abilities as a freelancer!
Check out how you can get hired without a portfolio.
Conquer the Language Challenges
Getting comfortable with the language of your international client is always a winning move. It helps you communicate well and deliver what your client wants. This also assists you to gain an understanding of your client's work ethics, project deliveries, and so forth!
Further, it also provides you with confidence while interacting and presenting your work to international clients. And, this also makes you better off a list of candidates present out there who want to onboard international clients. Therefore, ensure you learn the language of your international client. Be it French, German, or standard English! 
Check out the 7 effective client communication skills.
Reach Potential Clients: Marketplace
One of the hardest challenges for freelancers is how to reach international clients. This is because often international clients prefer freelancers from their country and convincing them to hire you irrespective of the fact that you are from a different country, and you deal in a different currency, can be difficult! And, that's where marketplaces like Refrens come into the picture!
On these marketplaces, you can skip all the hassle of reaching out to international clients and can deliver your services without any geographical borders. Though these marketplaces take a minimal commission, it's all worth it when you receive payments in dollars, euros, and a range of respectable currencies!
Gain Referrals
Think of yourself as a client who needs freelancers from across borders. You would like to hire freelancers who are credible and reliable. That's what referrals are for!
As a freelancer, you should gain referrals for your past clients. Get their feedback, recommendations, and referrals. This would help you pronounce your reliability and credibility as an independent freelancer which as result increases your chances of getting international clients.
Check out the different ways through which you can get client feedback.
Brand Yourself
Self-branding has no downsides. In turn, it gives you and your work pronounced recognition as an independent freelancer. For this, you can design your portfolio, promote yourself on professional platforms like LinkedIn, interact with people, and network right.
You can also participate in events and workshops in your field so that you get recognized as a freelancer for your creative skill.
Pro Tip: Beware of Scammers!
Who would want to get scammed? But, in desperation of getting international clients, freelancers tend to avoid checkpoints and in the end, get scammed!
Therefore, before sealing a deal with an international client, make sure you get the identity of the client checked. Get connected on popular professional platforms, and ask for the company's official website, email, and other details. If possible, also get advance payment so that you leave very little at stake!
Biggest Roadblock On The Road: Receiving Payments!
Before you dive head first into this intent, know your roadblocks. One of the most crucial in our experience is receiving payments.
Imagine that you have boarded an international client, worked vigorously on project deliveries, and client approved. Bingo! It's time to get what you are worth!
But, you don't know how to accept payments!
You will feel lost. And, some of the comfortable payments like online payments, UPI, and cheques are not preferred by international clients. Then, how to get payments from international clients in different currencies?
For this, get your basics cleared such as exchange fees, wire transfer fees, and other additional costs while accepting payments. Apart from this, credit cards can also be considered. But, if you want to make all this easy, try finalizing an international client through freelance platforms like Refrens, and make international payments hassle-free, and seamless!
That lands us discussing the ways of getting international clients!
Get Ready to Onboard an International Client?
Once you've completed all the steps, you will get one step closer to getting international clients. Portfolio, registering on the marketplace, self-branding, getting recommendations, referrals, and other above-mentioned ways are tested strategies for getting international clients!
So, don't limit yourself and earn in currencies that can take your finances to another level. Want a marketplace that can make this dream a reality? Hop on Refrens!