As a freelancer, you wear many hats. Not only are you responsible for finding and pitching clients, but you also have to handle the nitty-gritty details of running your business.
That includes everything from creating invoices and bookkeeping to marketing and sales. And if you're not careful, it's easy to get overwhelmed.
So, to make your work easier, we've put together a list of the top freelance tools that'll make their work way more efficient and Hassle-free.
Freelance Tools for Collaboration
Slack
Slack is a messaging app for teams that need to be able to communicate quickly and efficiently. It's perfect for freelancers who work with multiple clients or who have a team of their own.
With Slack, you can create different channels for each client or project to keep all of your communications organized in one place, it is as easy to use as to buy litecoin. Moreover, You can also use Slack integrations to automate tasks and boost productivity.
Slack is the go-to place for teams & freelancers who want to communicate without distractions. This freelance tool will suit any team size with three pricing levels based on your business needs!
Check out how to communicate with a potential client as a freelancer.
Trello
Trello is a great freelance tool because it helps you stay organized and on top of your various marketing tasks. You can create separate boards for each client or project and add cards for each task you need to complete.
You can also assign due dates, attach files, and add comments to each card. Trello is a fantastic freelance tool for managing your projects, and it integrates with many programs and allows you to view the cards in different ways, including as dates or calendars!
You can also pay per month if desired- there are three options: free; Business Class (which includes more features); Enterprise-grade at $13/month(a discount from purchasing annually).
Check out how social media can help freelancers boost their business.
Zoom
You're missing out if you're not using Zoom for video conferencing needs. Zoom is one of the best video conferencing tools on the market, and it's perfect for freelancers who need to connect with clients and collaborators from all over the world.
With Zoom, you can easily host or join video meetings, share your screen, and even record your meetings for future reference. Zoom integrates with various other business tools, making it an even more valuable asset for freelancers.
The new software offers high-quality video and audio, the potential for up 1,000 participants at once (though this might be better suited on larger screens), and 49 different videos that can fit onto one screen.
Meetings are saved locally or uploaded into an online storage space called "On-Site," where they remain accessible indefinitely without requiring special participation outside their organization.
Freelance Tools for Finance
PayPal
As a freelancer, you need to have a way to accept payments from clients. And while there are several options, PayPal is one of the most popular.
Not only is it a safe and secure way to receive payments, but it's also fast and easy to use. It allows you to quickly and easily receive payments from clients without having to wait for a check to clear or worry about bounced checks.
Plus, Paypal offers several beneficial features for freelancers, such as sending invoices, setting up recurring payments, and tracking expenses.
Check out the best way to accept international payment gateway in India.
Freshbooks
If you're looking for an easy-to-use invoicing and bookkeeping solution, Freshbooks is a great option. It's designed specifically for small businesses and freelancers, with all the features you need to run your business smoothly.
Plus, Freshbooks integrates with several other apps and services, saving you time and effort in the long run.
It helps make invoices, proposals, and taxes less of a headache. The spreadsheets feature will also make your life easier with its time-tracking abilities for projects that need more detailed information than just an estimate or quote!
Refrens
Working as a small business or freelancer can be challenging. You need to manage your invoicing and accounting while also keeping track of inventory levels for those who sell on their own using Refrens – which allows users to monitor the status updates in real time from anywhere at any time!
The invoicing software comes equipped with features like international payment processing options, so you never have another problem when it comes to managing funds between clients internationally; generating online invoice templates tailored just right according to our brand guidelines (with no additional work needed); calculating taxes automatically based upon where payments will go after being made via the portal.
Freelance Tools for Design
Canva
Canva is a user-friendly graphic design tool that is perfect for creating professional designs for your business. With over 1 million templates and tools available, with varying levels of complexity, you can make any design you need.
Whether you're looking to create a simple social media post or a more complex marketing campaign, Canva has the tools you need to get the job done. And best of all, it's free to use!
Canva is the go-to tool for anyone who needs to create professional images, regardless of their skill level. From text and media editors with a wide range of freelance tools at your disposal in one place – all designed specifically so you can produce great results quickly without having any prior experience as an artist!
Check out how to price your services as a graphic designer.
DocHipo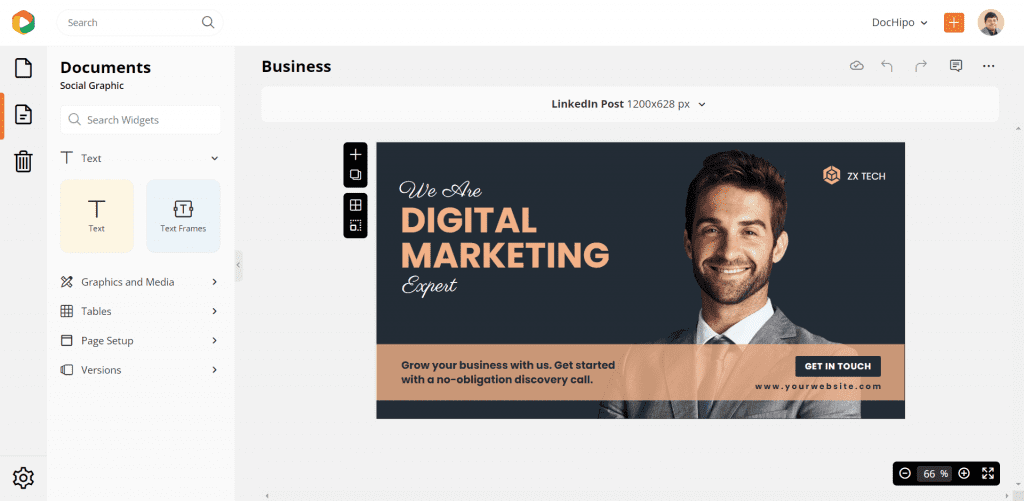 DocHipo is a cloud-based graphic design tool for creating stunning designs in minutes. From creating attractive social media posts to showcasing your expertise as a freelancer, to designing intriguing web banners or advertisement graphics for your brand or your clients – DocHipo helps you do all that.
Getting started with DocHio is easy! Choose from thousands of professionally designed templates across industries and occasions. Once you select a template, customize using DocHipo's intuitive drag-and-drop editor.
The rich design assets inside DocHipo, i.e., illustrations, icons, stickers, animations, shapes, and millions of high-quality stock photos, make your design process effortlessly simple.
DocHipo's built-in one-click background remover, integration with Mailchimp, ability to add a QR code to the design, and one-click document resizing capability save much designing time. Once you complete the design, you can download it in multiple formats without any watermark.
Adobe Creative Cloud
Adobe Creative Cloud is a set of software suites from Adobe Systems that gives users access to a collection of software used for graphic design, video editing, web development, photography, and cloud services.
The software includes freelance tools for graphic designers, video editors, web developers, photographers, and more. The Creative Cloud suite is available for both Windows and macOS.
Some popular applications in the Creative Cloud suite include Photoshop, Illustrator, InDesign, Premiere Pro, After Effects, and Dreamweaver. Millions of creatives use these apps to create stunning visuals for personal and professional projects.
Check out the easy steps to becoming a graphic designer.
Behance
Behance is a social media platform for creative professionals. It allows users to showcase their work, connect with other creatives, and find job opportunities. Adobe owns Behance.
Adobe acquired Behance in 2012 to help its Creative Suite software products better connect with the creative community. Behance was founded in 2006 by Scott Belsky and Eric Fredrickson. As of 2019, there are over 13 million Behance members in over 190 countries.
This is not just a social platform for designers but also an online community that shares information about the process of designing and typesetting. The site offers access to fonts, both free as well premium ones, with detailed tutorials on how they were designed!
Check out the top tools needed by a freelance graphic designer.
Unsplash
Unsplash is a website that offers free, high-quality photos. The site has a large selection of images, and new photos are added regularly. Unsplash is a great resource for bloggers, website owners, and anyone who needs quality photos for their projects.
Use the power of Unsplash to find precisely what you're looking for! Search through their vast library by color, trend, or collection.
Freelance Tools for Social Media Management
Buffer
Buffer is a social media management tool that helps you schedule and publishes your content across multiple platforms. It's excellent for busy freelancers who need to save time on social media.
With Buffer, you can connect your Twitter, Facebook, LinkedIn, and Google+ accounts. Then, you can add content to your queue, and Buffer will automatically publish it for you according to the schedule you set.
You can also use Buffer to measure your performance with analytics. This way, you can see which types of content resonate with your audience and adjust your strategy accordingly.
Buffer offers a free and paid plan starting at $10 per month.
Check out the social media sheet for freelancers.
Hootsuite
Hootsuite is a social media management platform that helps businesses grow their online presence across multiple social media channels. With Hootsuite, companies can view all of their social media activity in one place, publish and schedule content, track who's talking about them online, and measure their performance.
Hootsuite was founded in 2008 by Ryan Holmes, a Canadian entrepreneur who saw the potential for social media to help businesses connect with customers and grow their brands online. Since then, Hootsuite has become one of the most popular social media management platforms, with over 10 million people worldwide.
You can monitor and schedule posts for multiple keywords, connect with over 35 networks in one place (and find new ones easily), and bulk upload images all at once – it's effortless! To begin, you may explore Hootsuite pricing and keep track of your audience's views over time by creating frequent posts and analyzing the data.
Sproutsocial
Sproutsocial is a social media management tool that helps businesses grow their social media presence. It offers tools to help businesses with tasks such as scheduling posts, analyzing social media analytics, etc. Sproutsocial is used by businesses of all sizes, including small businesses, enterprise companies, and agencies.
With Sprout Social's customer relationship management (CRM) features, you can keep track of your customers and serve them better. You'll be able to build stronger relationships with those who previously were just clients or potential ones!
Freelance Tools for Productivity
1Password
1Password is a password manager that helps you generate and store strong passwords for all your online accounts. It's available as a desktop, browser, and mobile app.
With 1Password, you only have to remember one master password to unlock all other passwords. That means you can have unique, secure passwords for each account without remembering them all.
1Password also includes features like two-factor authentication and encrypted backups to help keep your account safe.
Check out the top tools for freelance productivity.
Chisel
Chisel is a game-changing product management software designed to streamline the product development and launch process.
With its all-in-one solution, Chisel offers project management, collaboration, product analytics, and reporting capabilities all in one user-friendly and customizable platform.
Teams can easily manage tasks, communicate in real-time, track key metrics, and access centralized product information to make informed decisions. Whether you're a small startup or a large enterprise, Chisel makes bringing your product to market a breeze.
Toggl
Toggl is a time-tracking app that helps you keep tabs on how much time you spend on tasks, projects, and clients.
This is important for two reasons:
First, it allows you to track your billable hours to ensure you're getting paid for your work.
Second, it helps you identify which activities are eating up the most time so you can focus your efforts on the tasks that are most worth your while.
Toggl is free for up to five users, making it an affordable option for small businesses and freelance teams. It integrates with several popular project management tools like Asana, Trello, and Basecamp.
Check out the top time management tips for freelancers.
TimeCamp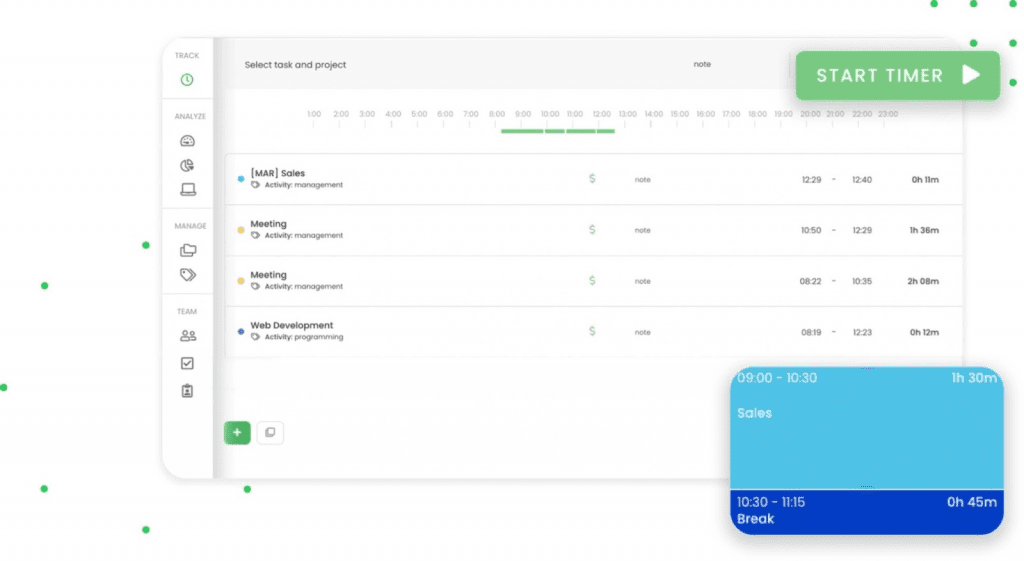 As a freelancer, managing your time and billing clients can be a challenging task. That's why TimeCamp might be a perfect fit for you.
It helps you track the time spent on each project and task with ease, allowing you to bill your clients accurately using the billable hours clock feature. You can also generate detailed reports that give you insights into your productivity and profitability.
The software integrates with popular tools like Trello and Asana, making it easy to manage your projects from one platform.
Conclusion
These are only a few great freelance tools available to make your freelancing easier. Some cost money but can save you time and frustration. What freelance tools do you use? Let us know in the comments below!
Looking to become a UX designer and start your career off on the right foot? Our blog has got you covered with all the information you need to get started!