Introduction
In today's fast-paced and increasingly digitized world, efficient billing systems are an essential component of any successful business operation. Billing software for retail shops and distributors streamlines the invoicing process and improves accuracy, efficiency, and overall customer experience. This technology has transformed traditional billing processes, introducing an era of hassle-free transactions and real-time financial tracking.
Despite these advantages, many retail shops and distributors still need to rely on updated, manual billing systems. These traditional methods often result in numerous challenges including human errors in calculations, time-consuming processes, difficulty in tracking invoices and payments, limited accessibility to data, and the risk of losing physical records. This lack of an efficient billing system can negatively affect business productivity, customer satisfaction, and ultimately, profitability.
Overcoming these challenges requires adopting robust and comprehensive billing software that caters to the unique needs of retail shops and distributors. This guide aims to help you understand the importance of billing software, its key features, and benefits, and how to choose the right one for your business.
Recommended read: Invoice Like A Pro: A Comprehensive Invoicing Guide
Top Billing Software for Retail Shops & Distributors
Features
Refrens.com, the premier business operating system, offers an encompassing solution that can significantly benefit retail shops and distributors worldwide. This platform is not just a tool, but a comprehensive business assistant that streamlines various operations, reducing administrative burdens and enhancing efficiency.
Retailers, for instance, can leverage Refrens' invoice generator and bookkeeping features. This helps in creating quotations, invoices, e-invoices, and other essential accounting documents swiftly and accurately, ensuring no revenue leakage. The system allows for the customization of invoice templates, giving businesses the opportunity to incorporate their branding and design, thereby offering a unique touch to their invoices. Retailers can also track when their clients view their invoices, fostering better communication and prompt payments.
Moreover, the ability to send these documents over popular platforms like WhatsApp and email, alongside automated reminders for unpaid invoices, can greatly improve the payment collection process.
It also provides a wide array of payment methods, making it more convenient for customers to settle their dues. This is particularly useful for retailers who often struggle with late payments and overdue invoices.
For distributors, Refrens offers a robust lead management system to manage leads and communicate with them over WhatsApp and email, thus improving their client relationships. It also allows for international payments, opening avenues to expand its client base globally.
Another important feature for both retail shops and distributors is the inventory and expense management tool. This provides a clear overview of their stock levels and expenses, helping them plan and forecast better. Lastly, the platform's ability to generate advanced accounting reports provides valuable insights into a business's financial health, which can drive better decision-making.
In essence, Refrens.com, with its range of features, presents itself as an indispensable business ally for retail shops and distributors, aiming to simplify operations, reduce inefficiencies, and promote business growth.
Pricing
Free Plan: free plan for small businesses to create up to 50 documents/year
Premium Plan: pricing varies from $7 – $20/month depending on the number of users & features
Ratings
Capterra- 4.9⭐/5
G2- 4.6⭐/5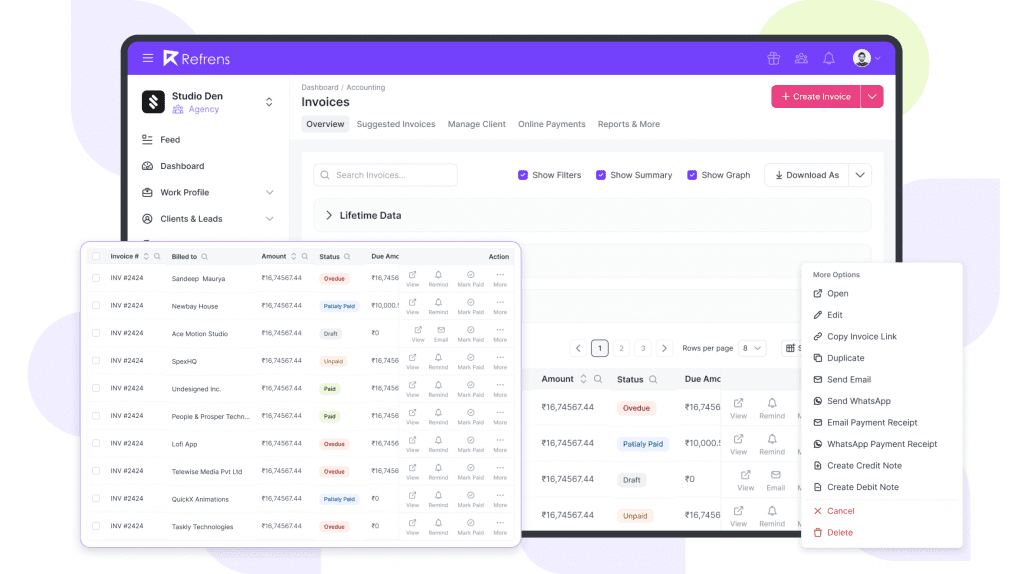 Also read: Top 12 Best Billing Software for Small Businesses
2. Zoho Books
Features
Zoho Books is a user-friendly accounting software that automates a range of financial tasks, freeing businesses to focus on growth. It handles everything from deal negotiations to sales orders and invoicing.
The software is fully compliant with GST, enabling businesses to create GST invoices, calculate their tax liability, and file tax returns directly from the platform. It also integrates seamlessly with over 50 other Zoho apps, providing a comprehensive solution for managing all aspects of a business.
Key features of Zoho Books include the management of receivables and payables, inventory tracking, banking transactions, timesheets, contact management, and report generation. It provides a complete overview of a business's financial health.
It also ensures GST compliance by associating HSN/SAC codes with goods and services and recording GSTINs for contacts. It displays all the necessary details in bills and invoices to meet government requirements. The software also supports the creation of e-Way bills for consignments and enables the direct filing of GST returns.
The software caters to various types of businesses and offers a range of affordable pricing plans to suit different needs. It also provides mobile apps for iOS and Android, allowing users to manage their finances from anywhere. Zoho Books is trusted by thousands of business
Pricing
Free Plan- For businesses with revenue <25 Lakhs per annum
Paid Plan- Ranging from Rs.749- Rs.7999 depending on the features, number of documents, and users
Ratings
Capterra- 4.4⭐/5
G2- 4.5⭐/5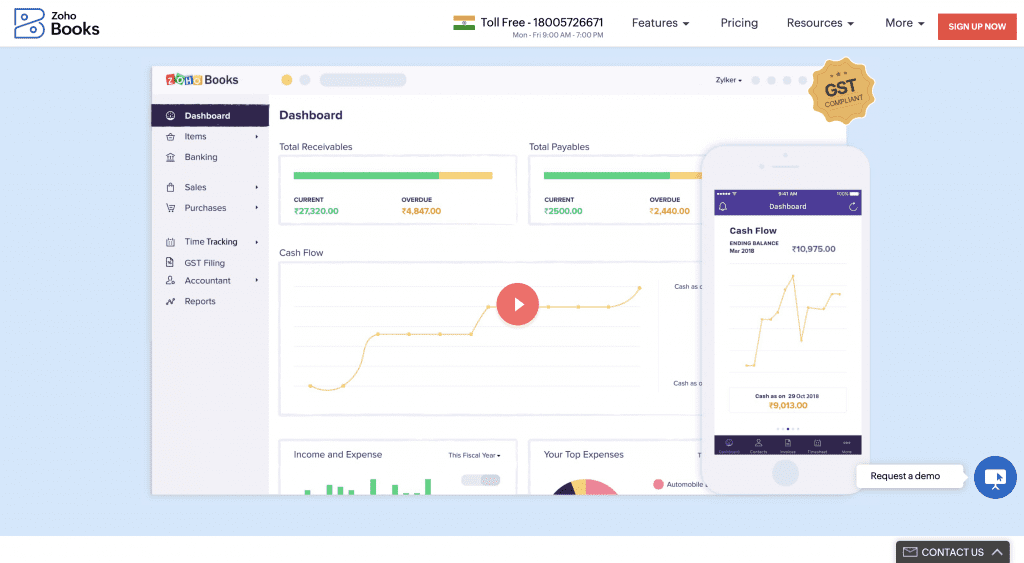 3. Marg ERP
Features
Marg ERP is a versatile business solution that simplifies key operations such as inventory management, scheduling, and distribution. It makes creating invoices, managing accounts, reconciling bank transactions, tracking inventory, and filing GST returns straightforward and efficient.
Notable features include sales analysis via Google Maps, allowing businesses to monitor and filter sales data. The software also provides an auto-cloud backup feature, ensuring data is accessible and restorable from Google Drive or One Drive.
Data security is a priority in Marg ERP, with robust copy protection measures in place. The software also facilitates data transfer between branch offices, making it easy to update master data, pricing policies, and taxation rules.
Marg ERP includes a web reporter for detailed MIS Reports and individual report generation. It supports collaborative commerce, allowing for seamless invoice management. The software is also equipped to handle multi-branch GST compliances, e-way bill generation, e-invoicing, and order calling.
Pricing
Varies between $350 – $1150/ Full License depending on no. of users (additional users charged at $150/per user extra)
Ratings
Capterra- 3.4⭐/5
G2- 4.3⭐/5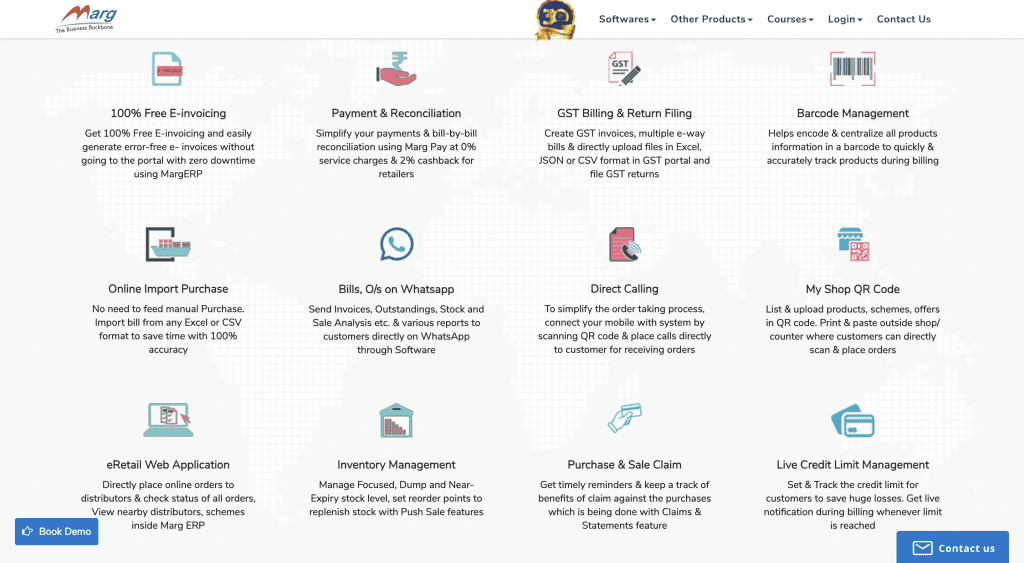 4. GoFrugal
Features
GoFrugal is a retail POS software that streamlines operations with a suite of mobile apps for tasks like order taking, delivery, procurement, and payment. It offers inventory control, notifying businesses about non-moving and expiring items, and providing smart restocking recommendations.
The software integrates accounting, automatically posting all POS information like sales, purchases, and inventory to the in-built GST/VAT accounting solution. It also supports online payments.
It ensures speedy checkouts with uninterrupted retail billing and manages end-to-end billing operations securely. It supports supply chain management, allowing centralized monitoring of sales, purchases, inventory, and profits.
The software includes CRM and loyalty features for profiling customers, understanding their preferences, planning promotions, and rewarding loyalty. GoFrugal provides over 350 actionable business intelligence MIS reports for real-time decision-making. It also ensures business continuity with GoSecure BaaS, which automates data backup on-cloud periodically.
Pricing
OnPremise – Rs.18000-Rs.85000/license depending on the number of features
Cloud – ranging between Rs.5000-Rs.11000 annually depending on the number of features
Ratings
Capterra- 4.4⭐/5
G2- 3.4⭐/5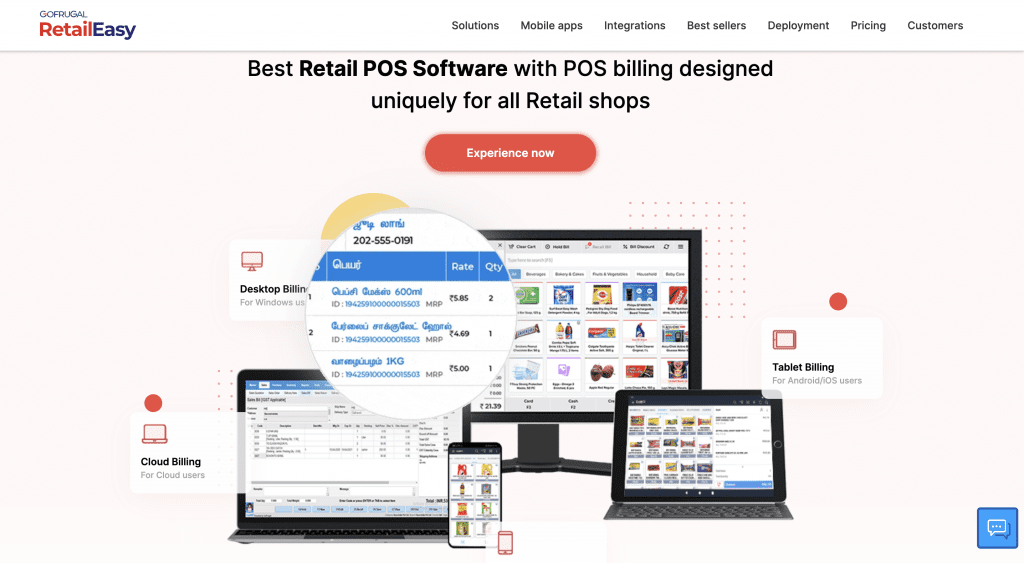 Managing retail shops can be a tedious task, and the neverending bookkeeping can be like salt on the wounds! That's why we have created the extensive list of Best Bookkeeping Services who'll take care of all the bookkeeping and accounting pains!
5. Freshbooks
Features
FreshBooks is a retail accounting software that simplifies bookkeeping for both physical and online retail businesses. It automates accounting tasks like creating custom invoices, tracking payments, and managing clients.
The software allows users to create professional invoices that reflect their brand and offers secure online payment solutions, and recurring billing for customer convenience. It also features an accounting app that enables clients to pay directly from the invoice, tracks invoices and sends payment reminders.
It integrates with leading POS, inventory, and e-commerce apps, keeping financials updated in one place. It includes double-entry accounting features such as cost of goods sold, general ledger, trial balance, and bank reconciliation.
The software is cloud-based, intuitive, and suitable for retail business owners without extensive accounting knowledge. It offers a 30-day free trial for businesses to test its features.
Pricing
Paid Plan: Ranging from $8.50-$27.50 per month depending on the number of features + $11 per month per user
Custom Plan: Customizing plans on the basis of features and users' need is available + $11 per month per user
Ratings
Capterra- 4.5⭐/5
G2- 4.5⭐/5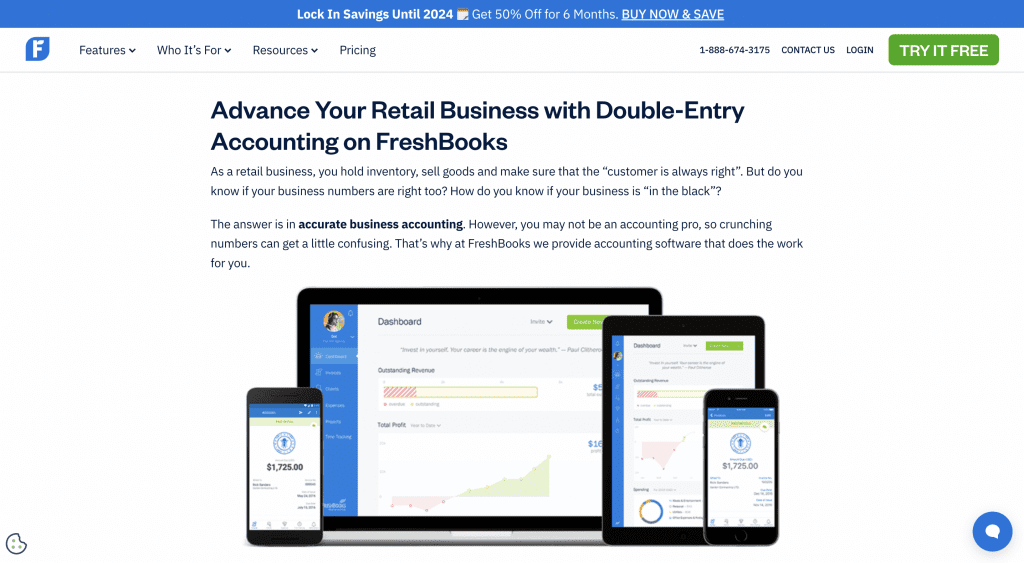 6. HDPOS smart accounts and billing
Features
HDPOS is a Windows-based point-of-sale system that integrates with popular POS hardware, barcode scanners, and payment solutions. It's designed for businesses with multiple locations and offers features like sales, inventory control, financial accounting, analytical reports, customer loyalty, and promotions.
The software supports multiple price lists, gift cards, promotional emails, and text messages. It facilitates barcode sticker design and printing, custom invoice design, and product catalog printing. HDPOS also supports bill of materials (BOM), production planning, weight scales, multiple languages, and various payment gateways.
It provides flexible tax definitions, GST and VAT compliance, tax filing reports, dynamic sub-grouping of SKUs, re-order suggestions, and purchase history maintenance. It also offers a companion Android app for billing and an integrated e-commerce solution. The software is suitable for all types of business setups, from small one-store locations to large businesses with multiple stores and departments.
Pricing
Single Computer- $45/month when billed annually, $55/month when billed monthly, $500 one-time setup + free trial
Client Server- $89/month when billed annually, $99/month when billed monthly, $1000 one-time setup + free trial
Cloud Setup- $99/month when billed annually, $110/month when billed monthly, $1000 one-time setup + free trial
Ratings
Capterra- 4.2⭐/5
G2- 4.5⭐/5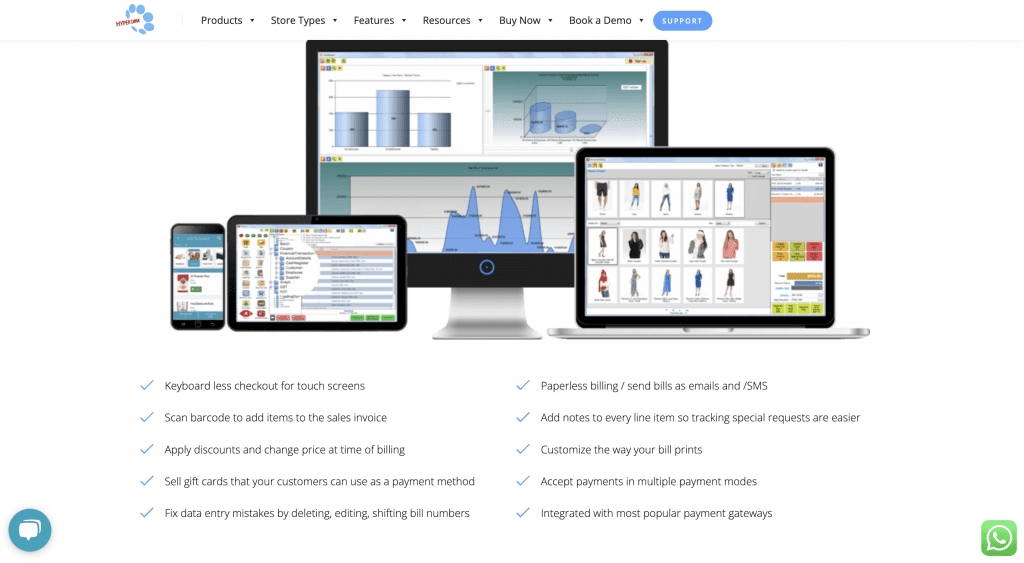 7. ProfitBooks Invoicing
Features
ProfitBooks is a robust billing system that enables the creation of professional invoices, faster payments and handles financial accounting. It allows unlimited invoices, contact management, tracking of payables and receivables, online payments, multi-currency invoicing, expense tracking, tax management, staff and accountant collaboration, data export, and financial reporting.
The system streamlines invoicing with features for tracking receivables, creating professional invoices, and monitoring outstanding payments. It also supports online payments via credit/debit cards, net banking, or wallets.
It offers customizable invoices with pre-designed templates, logo uploading, item show/hide options, and custom fields for additional details. It also records daily business expenses, manages payables, and automates tax calculations. The system provides detailed sales reports for actionable insights.
The software is compliant with Indian GST and UAE VAT regimes, supports country-specific tax setup, and offers custom fields for additional information. It provides in-app chat support, a Support Center with guides, a YouTube channel with demos, and a business blog.
Pricing
Startup- Free plan with document creation and feature limits
SBM- $15 per month for complete features
Ratings
Capterra- 4.4⭐/5
G2- 4.6⭐/5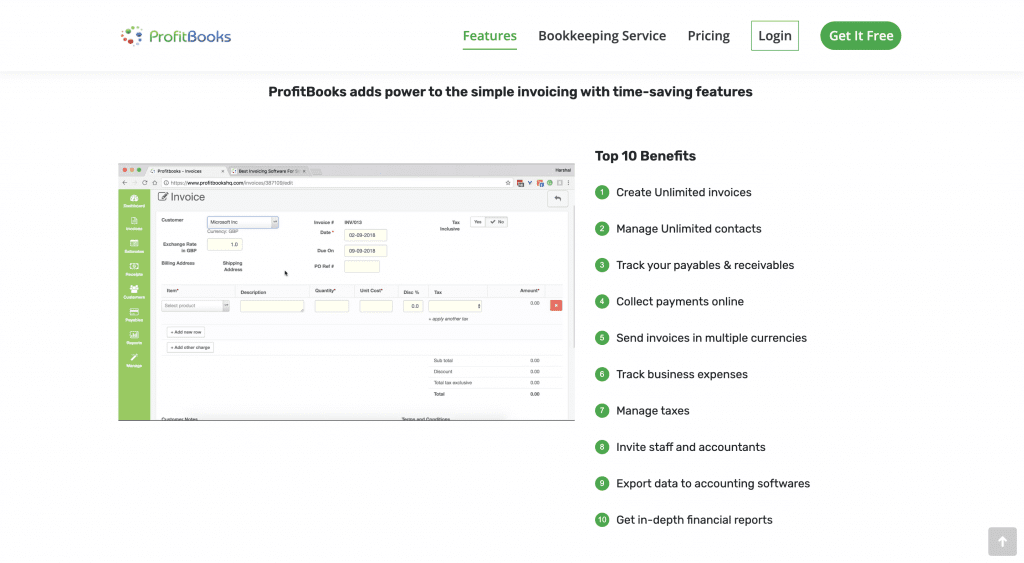 8. Just Billing
Features
Just Billing is a modern retail POS billing software offering features from point of sale to inventory reconciliation, digital payment to GST invoicing, and customer loyalty to real-time online growth analysis. It's an easy-to-use GST Invoicing & Billing App that operates on both mobile and computer.
The software replaces traditional cash drawers with a system that manages stock, employees, customer loyalty, and more. It enables invoice generation, customer loyalty programs, sales management, procurement activities, inventory optimization, account management, tax management, and report generation.
Just Billing Mobile is a unique invoicing app for small to medium-sized businesses. It automates business operations, including accounting, inventory, purchases, expenses, and customer loyalty. Just Billing Windows is a unique POS solution for multi-chain stores, providing real-time updates on business reports from anywhere.
The software increases profit by maintaining customer loyalty, updating account books, inventory, taxes, and more. It's powerful enough to manage the entire store, billing, and back office, saving time, money, and energy. It works with or without the internet, making it reliable for businesses in areas with unstable internet connectivity.
Pricing
Rs. 21240 billed annually
Ratings
Capterra- 4.3⭐/5
G2- NO RATINGS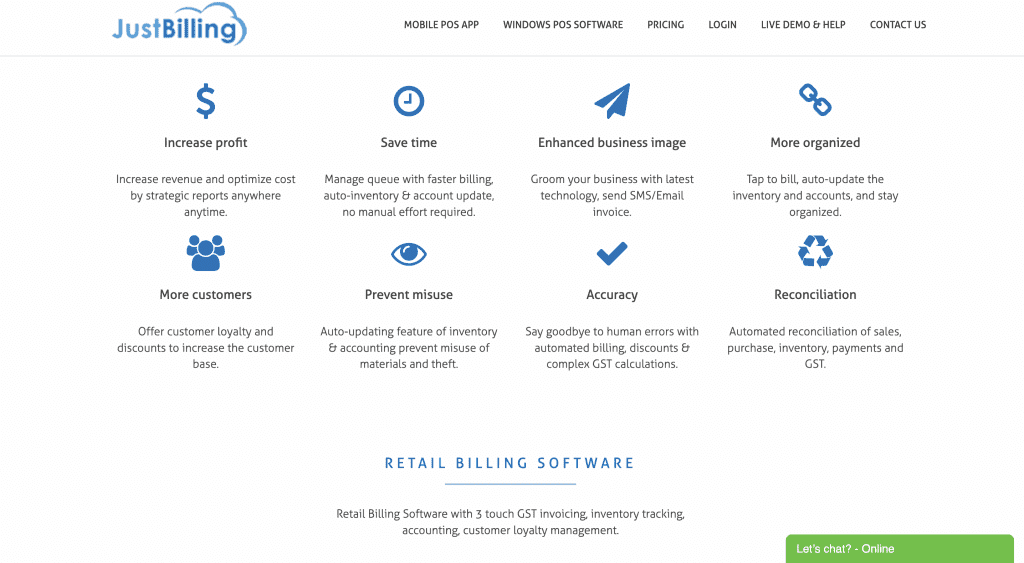 Also read: Best 10 Billing Software for Medical Shops
9. Vasy ERP
Features
VasyERP is a retail POS billing software that streamlines retail operations with features for managing inventory, tracking stock in real-time, and ensuring optimal inventory balance. It offers insights into customer data, sales performance, inventory management, and seasonal demand.
The software enhances the checkout experience with faster transactions, streamlines order returns and exchanges, and handles loyalty programs. It supports various payment methods, including cash, card, and UPI.
It manages simultaneous transactions at multiple counters and calculates product prices by measuring weight. It manages cash transactions and cash drawer operations with automatic opening and closing features.
The software sends instant invoices to customers via WhatsApp and allows feedback through digital receipts. It provides a separate portal for online orders and sends automated reminders for outstanding payments. VasyERP also enables mobile transactions and offers a self-service kiosk for seamless checkouts and payment processing.
Pricing
Free Plan available
$90 yearly with a free trial
Ratings
Capterra- 5⭐/5
G2- NO RATINGS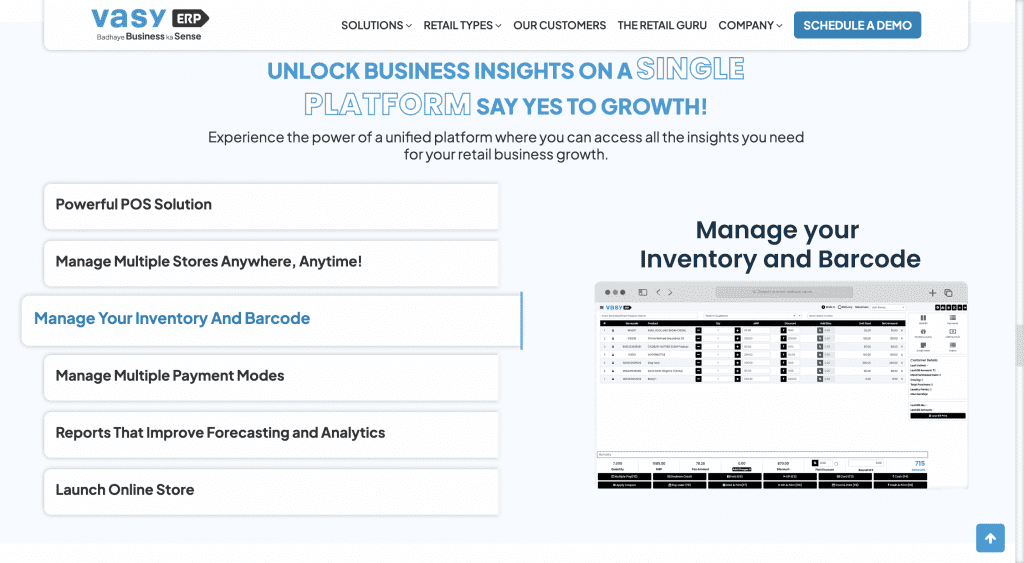 Vasy ERP also provides amazing invoice inventory services. Explore our extensive list of Top Inventory Invoice Software for seamless invoicing!
10. Brightpearl
Features
Brightpearl is a Retail Operating System (ROS) designed for scalability, automating back-office operations to facilitate growth. It offers features like sales forecasting, inventory planning, and advanced insights.
Brightpearl's Automation Engine automates complex tasks like order fulfillment, multi-location inventory management, shipping, and accounting. Its advanced inventory planning solutions handle unpredictable demand and supply chain disruption, providing buying recommendations based on accurate sales forecasting.
The system's retail analytics provide key KPIs like Customer Acquisition Cost (CAC), Lifetime Value (LTV), best-selling products, and paid search performance. It also offers a range of Plug & Play apps, supporting integrations with platforms like TikTok, Instagram, and live stream platforms.
Brightpearl provides expert support at every step, from implementation and bespoke onboarding training to ongoing consulting and 24/7 support, boasting a 97% implementation success rate.
Pricing
Custom pricing depending on the features required
Ratings
Capterra- 4.4⭐/5
G2- 4.5⭐/5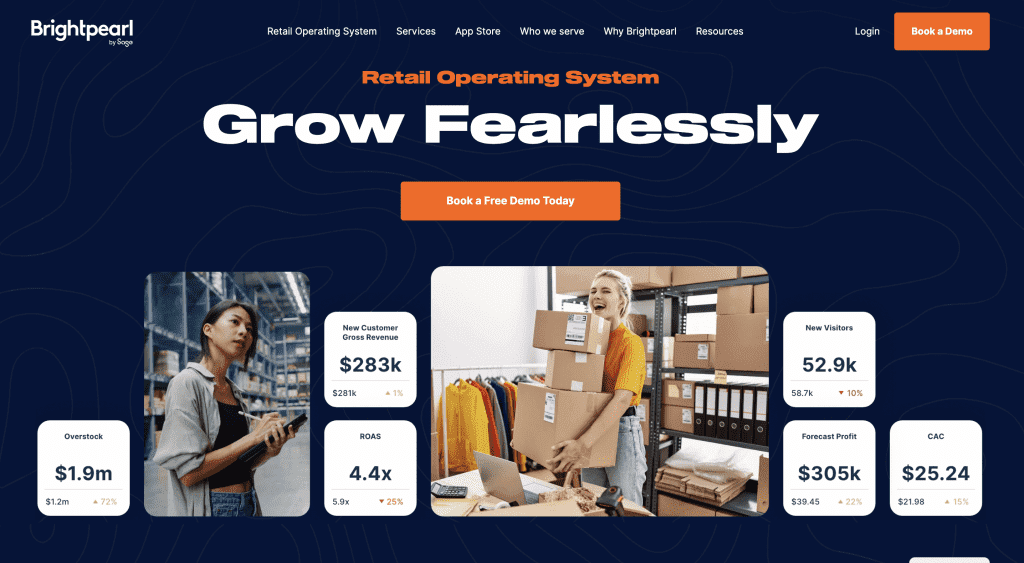 Also read: Best Billing Software For Small Businesses>
Key benefits of using billing software in retail shops
Speed and Efficiency: Quick and accurate billing results in faster checkouts, enhancing customer experience and service efficiency.
Inventory Management: Many billing systems come with integrated inventory management that updates stock levels in real time.
Improved Accuracy: Automated calculations reduce the likelihood of errors in billing, ensuring accurate financial records.
Data Analysis and Reports: Retail shops can leverage data generated by billing software to identify trends, track performance, and inform strategic decision-making.
Customer Satisfaction: A quick, efficient, and error-free checkout process leads to improved customer satisfaction, which can translate into increased customer loyalty.
Streamline Transaction Process: Drastically reduces the time taken to generate invoices and complete transactions by automating calculations, it also reduces errors that can occur during manual data entry, thereby ensuring accuracy and consistency in all transactions.
Run an e-commerce business? Here are the must-follow invoicing tips>
Factors to consider when choosing billing software for Retail shops
Selecting the right billing software requires a clear understanding of your retail shop's specific needs. Here are a few factors to consider.
Usability: The software should have an intuitive interface that's easy for your team to use.
Scalability: As your business grows, your billing software should be able to scale and adapt to increasing transactions.
Features: Identify your needs and ensure the software provides the necessary features like inventory management, reporting, tax calculations, etc.
Integration: The software should seamlessly integrate with other systems in your retail shop, like CRM or ERP.
Customer Support: Reliable customer support is crucial for addressing any issues or queries regarding the software.
Budget: Lastly, the cost of the software should align with your budget. Consider both upfront costs and long-term subscription costs if any.
Understanding these considerations will help you make an informed decision and choose a billing software solution that best meets your retail shop's needs.
Recommended read: Comprehensive guide to invoicing>
Key benefits of using billing software for distributors
Simplified Transactions: Handling transactions across a network becomes easier with automated invoicing and payment tracking.
Enhanced Visibility: With centralized data, distributors gain a complete view of their business operations, helping identify potential issues before they escalate.
Improved Accuracy: The automated calculation feature in billing software reduces the risk of errors, ensuring accurate financial records.
Efficient Reporting: Detailed reports on sales, payments, and taxes facilitate informed business decisions.
Time and Cost Savings: Automation of manual tasks saves significant time and effort, resulting in cost savings.
Also read: Complete guide to e-invoicing – everything you need to know>
Factors to consider when choosing billing software for distributors
Choosing the right billing software is crucial for distributors. Here are key factors to consider:
Scalability: Distributors often deal with large transaction volumes. The chosen software should handle these volumes efficiently and scale as the business grows.
Integration: The software should integrate seamlessly with other systems used within the distribution network, like ERP or supply chain management systems.
Features: Ensure the software includes features such as multi-currency support, tax calculations, customizable invoicing, and robust reporting.
Security: Given the sensitive financial data involved, the software should offer robust security measures to protect data integrity.
Customer Support: Excellent customer support is critical for quick resolution of any issues that may arise during usage.
Budget: Evaluate the cost-effectiveness of the software, considering both initial investment and potential long-term returns
Understanding these considerations can help distributors select a billing software that enhances operational efficiency and aligns with their business objectives.
Also read: Top 10 Best Restaurant Billing Software
Conclusion
In the current digital age, the pivotal role of billing software in retail and distribution operations is more apparent than ever. This tool, outperforming traditional methods, provides efficiency, accuracy, and customer service enhancements. For retailers, it facilitates swift checkouts and enriches the customer experience, while for distributors, it offers a comprehensive view of operations, ensuring precise financial documentation.
Adopting such software should be prioritized in any digital transformation strategy. Despite the potential challenges, the advantages in terms of efficiency, accuracy, customer satisfaction, and data-informed decision-making make it a valuable investment. Importantly, choosing a solution that meets your business needs, considering factors like user-friendliness, scalability, feature set, and budget, is crucial.

Ultimately, implementing a robust billing software solution can catalyze significant improvement in your business operations, fostering growth and ensuring competitiveness in the continually evolving digital marketplace.
Also read: Top 5 E-Invoicing Software
Also read: Industry-Wise Top Invoicing & Billing Software In 2023
FAQ