When it comes to creating a GST invoice, businesses have the flexibility to design their own invoice format. However, the government has mandated specific fields that must be included on every GST invoice. By following these guidelines, businesses can ensure compliance with GST regulations and avoid any potential errors or issues.
How to create a GST invoice?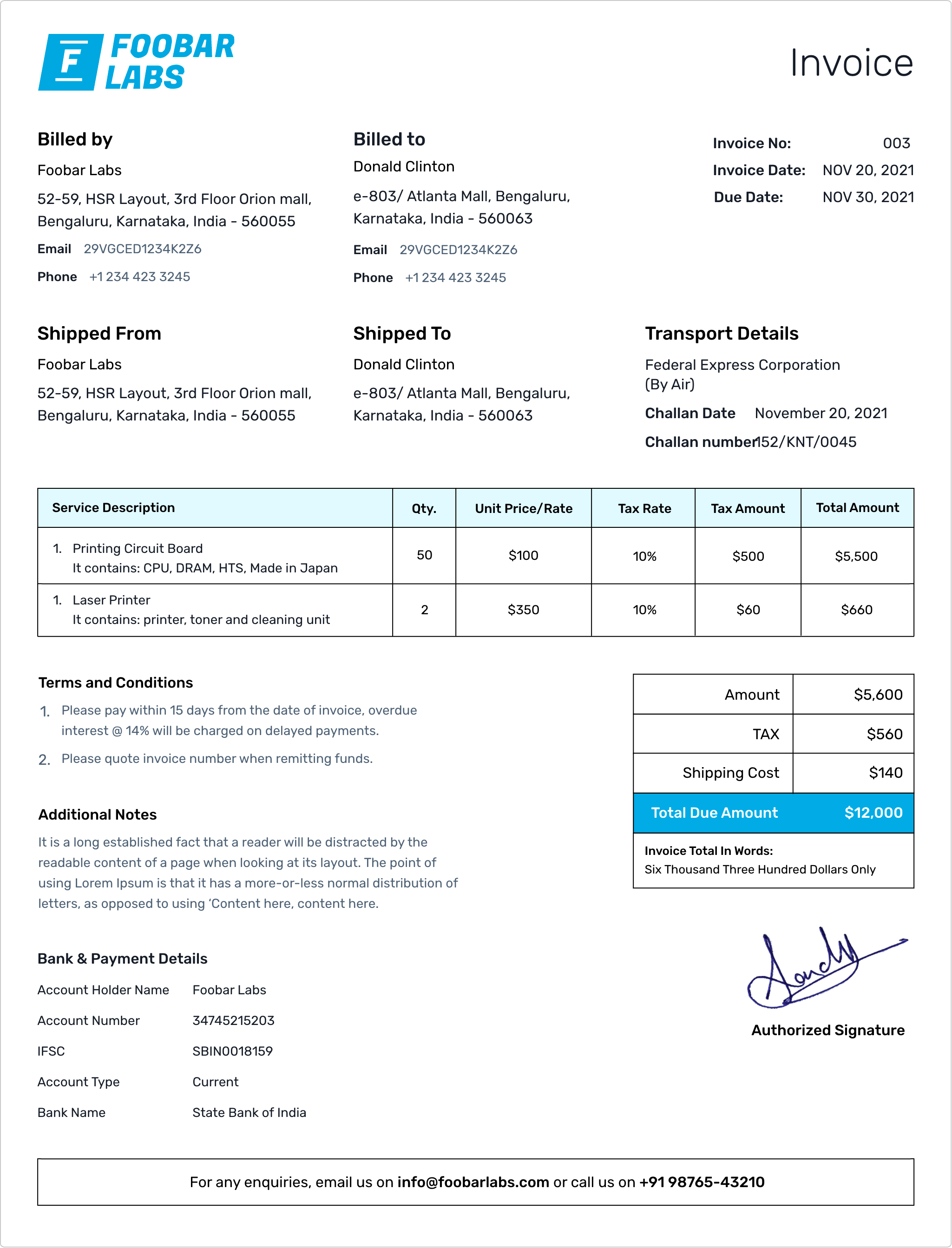 GST Invoice Header
When it comes to creating a GST invoice, the first step is to start with a clear and informative header. Begin by including the title of the invoice as "GST invoice".
While it's not mandatory, it's a good practice to follow as it helps to provide clarity to the recipient. Additionally, include the invoice number, date, and due date.
The due date can help automate reminders to clients and ensure timely payment. Don't forget to add a purchase order or quotation number if applicable. Finally, consider uploading your business logo to personalize your invoice.
Suppliers Information
Your supplier information is an essential component of your GST invoice. It should include your business name, address, and contact details, as well as your GST registered number. If you're issuing a GST invoice, having a GSTIN number is compulsory. When you add your GSTIN, your PAN number will automatically be fetched from the GSTIN and added to the bill.
Recipient Information
When adding recipient information, be sure to include their name, address, and GST details. If the recipient isn't registered under GST, and the taxable amount is 50,000 or more, it's compulsory to include the name of the state and its code. Having these details saved will save you time and effort when creating future invoices.
Shipping Details
If you're selling tangible goods, shipping details must be included. This includes the delivery address, state, challan number, transport, and date of delivery. However, if you're selling intangible goods or services, shipping details aren't required.
Goods/Services Description
When describing goods or services, select the invoice currency from the dropdown box. Then, add a line, item, or service with a detailed description, quantity, rate, and amount. Customize and hide any columns of the lien item description as per the requirements of the GST invoice.
Add GST
Adding GST is an important component of the invoice. Enable GST and add rates like 18%, 12%, or 5% and the HSN/SAC code. If you're using software like Refrens GST bill format, the taxable amount will be auto-calculated and divided equally as per the state selected in the address field.
Supply
Finally, it's compulsory to have the place of supply and country of supply when creating a GST invoice format.
Additional Notes & Signature
The additional notes section is an excellent place to include anything else that doesn't fit into the mandatory fields. Consider uploading your signature image or signing by using your mouse to make your invoice look professional.
How to personalize GST invoices using a GST Bill Generator?
When it comes to creating a professional impression, every detail counts - even on your invoices. That's why adding your business's logo to your GST invoices is a simple but effective way to personalize them. Not only that, but you can also tailor your invoices to your specific needs by adding additional fields and columns to suit your business requirements.
Customization is key, and with GST invoice templates, it's easy to create a professional, customized invoice that reflects your brand's unique style. Whether you want to add a pop of color or incorporate specific details, there's a template out there that will work for you. So don't settle for a generic invoice - take advantage of the customization options available to you and make your GST invoice stand out from the rest.
Invoice Format with GST
Refrens offer multiple free invoice template for all types of users. Be it for professionals, freelancers, import-export traders, vendors registered under GST, IT professionals, consultant invoice template, etc.
GST Invoice Templates for the vendors registered under GST.

Professional Invoice Templates for all types of professionals.

Letterhead Invoice Templates for all small to mid-sized business owners.

Print-friendly Invoice Templates and black & white and compact invoice format especially to print more line items on one page.

Modern Invoice Templates specially designed for freelancers and self-employed and individuals.

Business Invoice Templates for digital & software agencies and IT developers.
How many copies of an invoice are required for the supply of goods?
After creating an invoice with free invoice maker and customizing it. The next step is to make copies of the created GST invoice. The issuer has to create 3 copies of the GST invoices if goods are supplied.
Original Copy - for the recipient.
Duplicate Copy - for the person who is responsible for the transportation of goods from supplier to recipient.
Triplicate Copy - for the supplier.
How many copies of an invoice are required for the supply of services?
The issuer of the invoice has to create 2 copies of the GST invoices if services are offered. As services can not be transported, only 2 copies are created.
Original Copy - for the recipient.
Duplicate Copy - for the supplier.