In India, the e-way bill system has become a vital requirement for GST-registered businesses and transporters. However, manually generating e-way bills through the GST portal can be a time-consuming and error-prone endeavor. This is where e-way bill software steps in, automating the process and saving valuable time and effort.
In this blog post, we delve into the realm of e-way bill software, specifically tailored for the Indian market. Our evaluation factors include features, pricing, and ratings, ensuring you have a comprehensive understanding of each solution's capabilities. Whether you're a GST-registered business or transporter, investing in e-way bill software is a strategic move to streamline operations and maintain consistent compliance with ever-evolving GST regulations.
1. Tally
TallyPrime stands out as one of the top e-Way Bill software. It streamlines and fully complies with e-Way Bill management, eliminating manual hassles and offering robust features.
Certified under ISO27001:2013, TallyPrime's GST Suvidha Provider (GSP) technology ensures stringent information security, aligning with global standards. Its exceptional efficiency and speed make e-Way Bill generation a breeze within your invoicing workflow, saving time and minimizing errors.
This software also simplifies document management by allowing e-Way Bill numbers on invoices, ensuring compliance and organization. Tracking e-Way Bills is effortless, with easy monitoring, cancellation, extension, or updates.
The software also offers seamless e-invoice generation alongside e-Way Bills, streamlining compliance. Detailed e-Way reports and the e-Way Bill register provide transaction status insights. With its intuitive exception-handling mechanism and support for offline data export, TallyPrime empowers businesses to manage anomalies and ensures compliance even in areas with network challenges.
Capterra: 4.4⭐/5
G2: 4.4⭐/5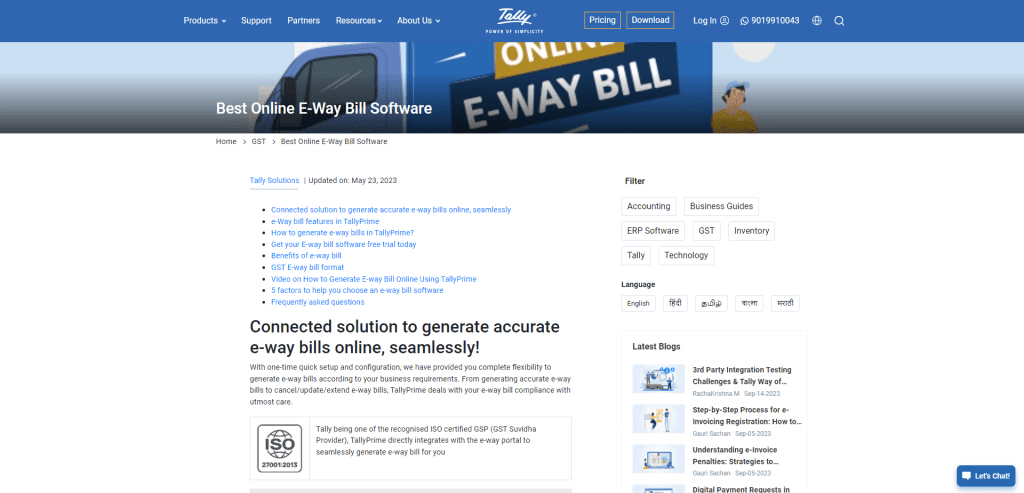 However, before you move any further, you sure you know everything there is to know about e-Way Bills to make a right choice? Fret not, read our article on Everything To Know About e-Way Bills for easy decision making!
2. WebTel
Webtel boasts of being India's most advanced and dependable solution as it offers a comprehensive suite of features tailored to simplify and enhance the e-Way Bill generation process.
It empowers businesses with real-time e-Way Bill generation directly from their ERP systems. This seamless integration streamlines workflows, ensuring efficiency and accuracy. Manual errors become a thing of the past, thanks to Webtel's multiple auto-validation checks. These checks flag errors, data repetition, and correct inaccuracies in invoice data, GSTINs, HSN codes, and more.
For businesses dealing with high volumes of transactions, the bulk upload feature is also provided for effortless data upload via existing ERP systems and bulk generation of e-Way Bills, saving time and effort.
Another standout capability of Webtel's solution is its penalty avoidance feature. Leveraging comprehensive auto-validation checks, helps businesses steer clear of penalties by ensuring data accuracy and strict compliance with e-Way Bill regulations.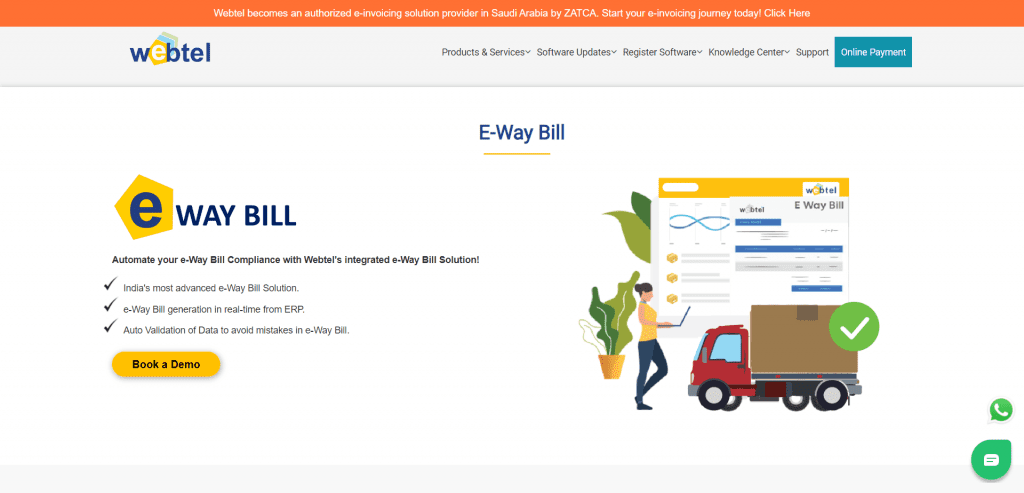 Shipping your goods? What Is A Shipping Invoice: Examples and Use Cases is just the article for you!
3. ClearTax
ClearTax leads the charge in e-Way Bill compliance, offering a comprehensive solution for businesses of all sizes and ERP platforms. With a scalable architecture, it delivers e-Way Bill generation 10 times faster, saving precious time.
It's intelligent automation simplifies scheduling, provides rich MIS, and ensures an error-free experience with over 100 error checks. This meticulous design by tax experts guarantees data accuracy, from HSN codes to tax rates.
Seamless ERP integration, including SAP, Oracle, Microsoft, Tally, and more, makes ClearTax versatile. Bank-grade security is a priority, with SSL, SOC 2, and ISO certifications. AI-powered reconciliation matches e-Way Bills with sales invoices for GSTR-1 compliance.
The software also offers flexibility, allowing multi-state operations, custom printing, bulk updates, and e-Way Bill splitting or merging. A team of 50 ex-Big 4 CAs provides comprehensive support.
In conclusion, ClearTax's robust features and user-friendly interface make it a great choice for businesses seeking to simplify e-Way Bill management. Try it for free to experience the future of the e-Way Bill generation.
Capterra: 4.3⭐/5
G2: 4.0⭐/5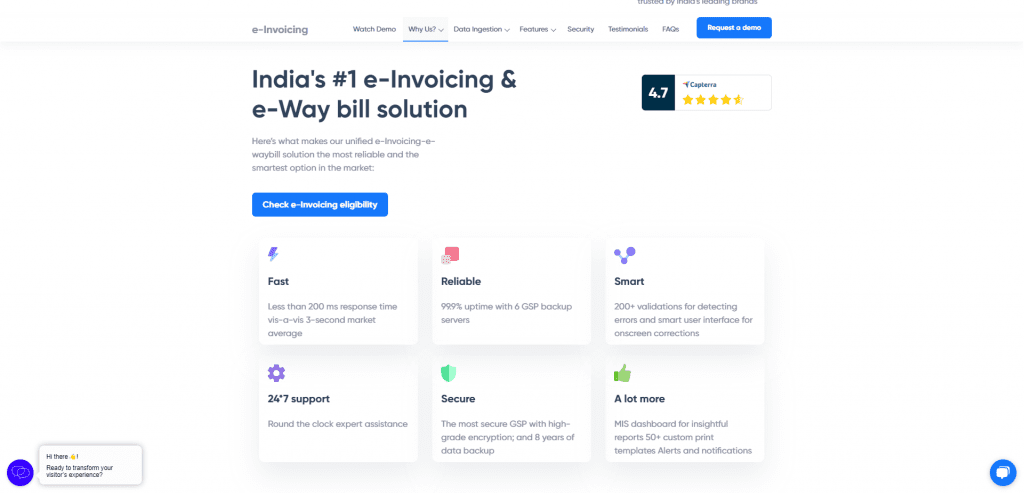 Using one platform for both e-way bill and e-invoicing needs is sure convenient. Although there are plenty e-invoicing software out there too for easy compliance. Check out the Best E-Invoicing Software To Create Invoices Seamlessly.
4. MasterGST
MasterGST is another software that stands as India's finest solution. With a powerful array of features, it streamlines e-Way Bill management effortlessly.
This platform boasts of generating e-Way Bills in just one click by providing invoice and vehicle details. Moreover, previous E-Way Bill data from the government can be easily downloaded for reference.
The software's automatic reconciliation feature is quite favored. It identifies mismatches in invoices, ensuring data accuracy and compliance. MasterGST helps users manage all their data in one place, including viewing, downloading, editing, updating, canceling, and deleting data, making it a comprehensive solution.
With this platform, tracking the status of e-Way bills by invoice, extending the validity of e-Way bills, creating consolidated e-way bills, and getting reports on a monthly, yearly, and custom basis, with the option to download it to Excel is efficiently streamlined.
Furthermore, the software allows users to extend and consolidate E-Way Bills with just one click, simplifying the process significantly.
In conclusion, MasterGST's user-friendly interface and feature-rich capabilities make it the preferred choice for businesses seeking to streamline their e-Way Bill compliance. With its robust features and seamless integration with Tally, it's the top choice for simplifying e-Way Bill management.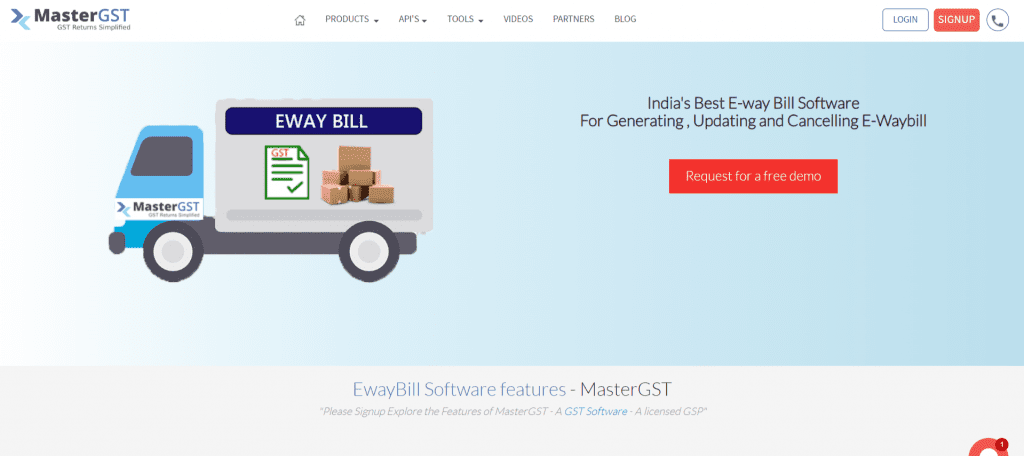 Also read: How To Create GST Invoices In 2 Minutes?
5. MyBillBook
MyBillBook serves as a comprehensive solution for business owners, by simplifying the e-Way Bill generation process with a range of features that enhance convenience and efficiency. Its remote access allows users to manage e-Way Bills from anywhere, anytime, adding a new level of flexibility. There are also no constraints on the number of e-Way Bills, making scalability limitless.
One of its standout features is lightning-fast e-Way Bill generation in under 30 seconds, requiring minimal training. Automatic data validation checks eliminate manual errors, ensuring impeccable accuracy.
Though this software is not limited to e-Way Bills; it serves as a complete billing solution. Users can effortlessly create e-Way Bills and e-invoices with a single click, simplifying various billing needs, including GST and non-GST bills, debit and credit notes, and delivery challans.
In conclusion, MyBillBook is the ultimate solution for businesses seeking streamlined e-Way Bill compliance and more. Its user-friendly interface and comprehensive features make it the top choice for those aiming for operational efficiency and precision.
Capterra: 4.6⭐/5
G2: 4.0⭐/5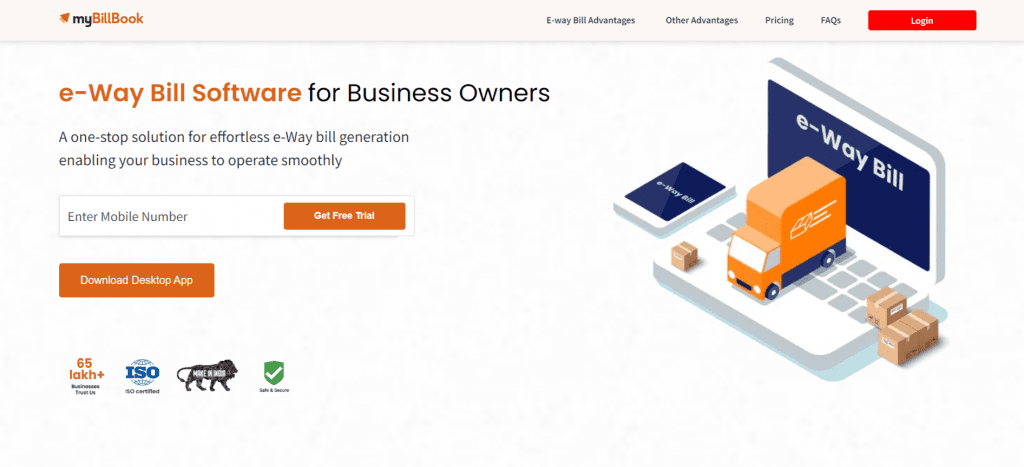 Also learn: 9 Ways To Make Your Invoicing Process More Effective
6. Avalara
Avalara is revolutionizing E-Way Bill compliance with its comprehensive and user-friendly software. It seamlessly integrates with your ERP system, making E-Way Bill generation faster and more efficient.
It also automates E-Way Bill generation, highly effective for businesses dealing with multiple consignments daily. Its efficiency is paramount with features like bulk E-Way Bill generation, timely expiry notifications, and consolidated E-Way Bills.
Centralized management is another key benefit. Avalara enables you to centralize multi-state E-Way Bills for multiple business units and branches within a single account, providing access to crucial data and history.
Avalara offers additional features such as data validation, auto-distance calculation, barcode and QR code generation, transporter management, custom workflows, and intelligent recognition, enhancing your compliance process.
Capterra: 4.1⭐/5
G2: 3.9⭐/5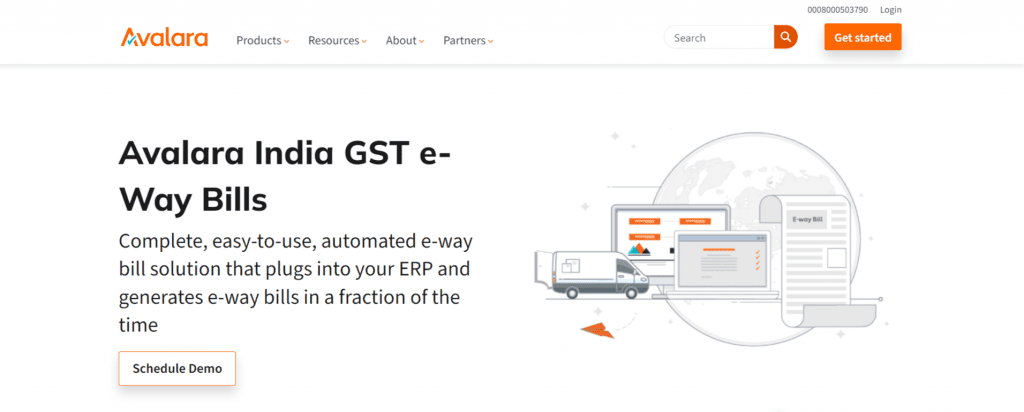 7. HostBooks
HostBooks E-Way Bill Software is the answer to the complexities and challenges of E-Way Bill compliance. It offers a user-friendly and efficient solution, ensuring businesses can focus on their core operations while staying compliant with ease.
It automates the E-Way Bill generation process, eliminating disruptions and errors that often accompany manual entry. This simplicity makes it suitable for both registered and unregistered users, offering a seamless experience for all.
The software also excels in handling multiple aspects of E-Way Bill compliance. It allows for the easy generation of consolidated E-Way Bills when transporting various consignments in a single conveyance, saving time and effort. Additionally, it simplifies vehicle number updates in cases of vehicle changes, offering flexibility and convenience.
HostBooks' commitment to user support sets it apart. A team of Chartered Accountants (CAs) is readily available to assist users with any E-Way Bill-related queries or challenges, ensuring a smooth compliance process.
In conclusion, HostBooks E-Way Bill Software is a comprehensive and accessible solution for businesses navigating the intricacies of E-Way Bill compliance. Its user-friendliness, consolidated E-Way Bill generation, vehicle update features, and CA support make it a valuable asset in streamlining compliance and enhancing operational efficiency.
Capterra: 4.8⭐/5
G2: 4.0⭐/5

8. Zoho
Zoho Books stands as a reliable solution for businesses seeking to streamline the process of generating E-Way Bills. With just one click, users can effortlessly create E-Way Bills, whether they are for invoices, credit notes, or delivery challans. This user-friendly interface eliminates the complexities often associated with compliance tasks.
One of Zoho Books' standout features is its ability to detect when an E-Way Bill is needed. It aligns with government criteria and notifies users promptly, ensuring that no transactions go unnoticed. This proactive approach helps businesses stay compliant with ease.
Additionally, Zoho Books ensures compliance with government regulations by capturing E-Way Bill information accurately on invoices and transport copies. This attention to detail minimizes the risk of compliance-related issues and errors.
Furthermore, real-time tracking capabilities enable users to monitor their consignment's status and E-Way Bill validity directly within the Zoho Books platform. This transparency offers businesses full visibility throughout the entire E-Way Bill life cycle.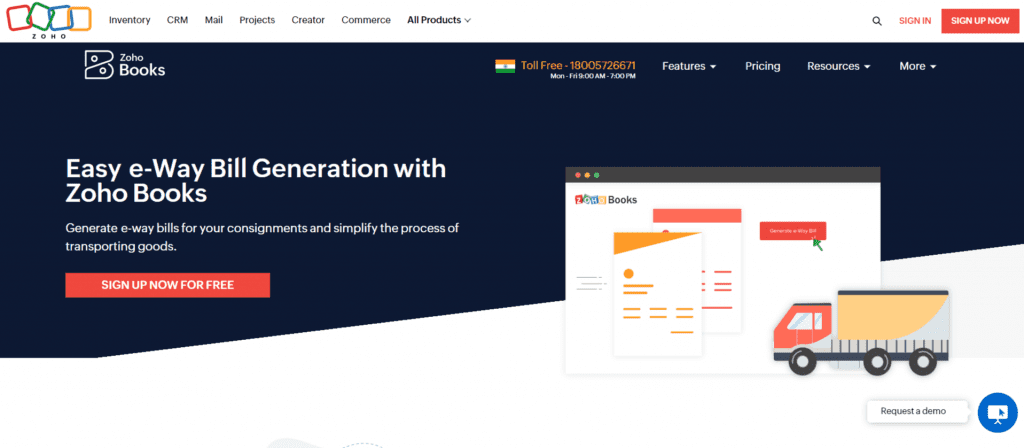 Zoho is also a great platform for creating inventory invoice software. Although you can go through our extensive list of Best Inventory Invoice Software to make an informed decision!
Ratings
Capterra- 4.4⭐/5
G2- 4.5⭐/5
Conclusion
In the ever-evolving business world, e-Way Bill software plays a pivotal role in simplifying operations and ensuring compliance. These tools offer a wide range of benefits, from error reduction to streamlined processes. Choosing the right software is essential for businesses of all sizes. It can lead to enhanced efficiency, reduced errors, and ultimately, improved profitability. Embracing these tools is a significant step towards a more compliant and efficient business journey.