The ability to seamlessly control stock levels, simplify invoicing processes, and gain invaluable financial insights is crucial for businesses aiming to excel in competitive markets. Hence, a range of inventory invoice software solutions exists to simplify these vital tasks and enhance overall operational efficiency.
In this blog, we'll explore the top inventory invoice software options available, along with their features, pricing, and reviews. From straightforward invoicing to real-time inventory monitoring and advanced financial capabilities, these software solutions provide the tools you need to optimize your business operations.
Let's dive into the world of inventory and invoicing software, where digital innovation meets the demands of modern commerce.
1. Refrens
Refrens has solidified its position as a leading inventory invoice software solution, catering to the needs of over 150,000 businesses worldwide. This all-encompassing platform offers a suite of features that simplify invoicing, enhance inventory management, and provide valuable insights to businesses.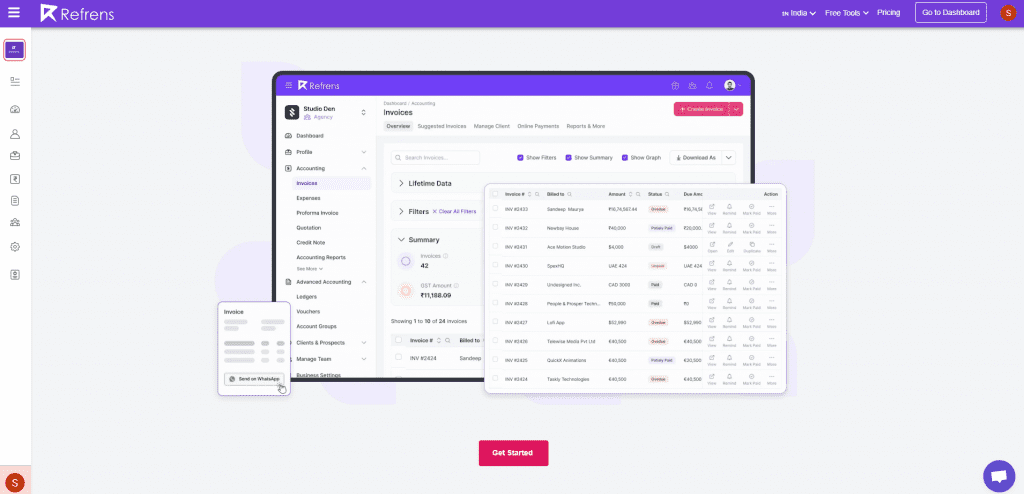 Refrens simplifies inventory and expense management, automatically updating stock levels and facilitating efficient expense tracking. Its simplified invoicing feature with easy customization makes it perfect for your inventory invoicing needs.
You can also generate e-invoices for various invoice types, credit notes, and debit notes. It enhances collaboration, making communication with accountants seamless and reducing time-consuming exchanges. It also boosts cash flow by sending automated payment reminders to clients via WhatsApp and email.
Furthermore, Refrens places a strong emphasis on security, providing peace of mind with secure cloud storage, role-based access control, and frequent software updates. These measures are in place to guarantee the safety and currency of your data, ensuring that it remains protected and up-to-date.
Pricing
Free Plan: free plan for small businesses to create up to 50 documents/year
Premium Plan: Pricing starts from as low as ₹100/month or $2.5/month depending on the number of users & features
Ratings

Wait though! Do you know everything there's to know about invoicing? Why not check out our blog on Invoicing Basics: Everything You Need To Know, just to be sure?
2. Zoho
Zoho Inventory is a notable inventory invoicing solution suitable for businesses of all sizes. Its feature-rich toolkit is valuable for optimizing essential operations. The software simplifies the invoice creation process by swiftly gathering data from sales orders, and offering a variety of customizable templates for a personalized touch.
A strong suit of Zoho Inventory is its centralized billing system, enabling effortless import and export of invoices. This maintains organized data storage on a secure central server and monitors invoice statuses to ensure prompt payments. For Indian businesses, Zoho Inventory ensures GST compliance, simplifying the management of GSTINs, tax codes, invoices, and e-way bills.
Moreover, Zoho Inventory offers easy integration with popular platforms like Shopify, Etsy, as well as essential business tools such as Zoho CRM and Zoho Books. This streamlines online payments through options like PayPal and Razorpay, catering to diverse business requirements.
With its serial and batch tracking features, Zoho Inventory provides in-depth inventory insights and generates comprehensive reports covering inventory aging, vendor payments, sales details, and inventory valuation.
Pricing
Free Plan: There is a free plan with limited functionalities for businesses with revenue <50K USD / 25L INR, limited to 1 user + 1 accountant
Premium Plan: Pricing varies from $20 – $275/month depending on the number of users & features
Custom Plan: There is no mention of custom plans on the website, but you can have add-ons according to your requirements.
Ratings
Capterra- 4.4⭐/5
G2- 4.5⭐/5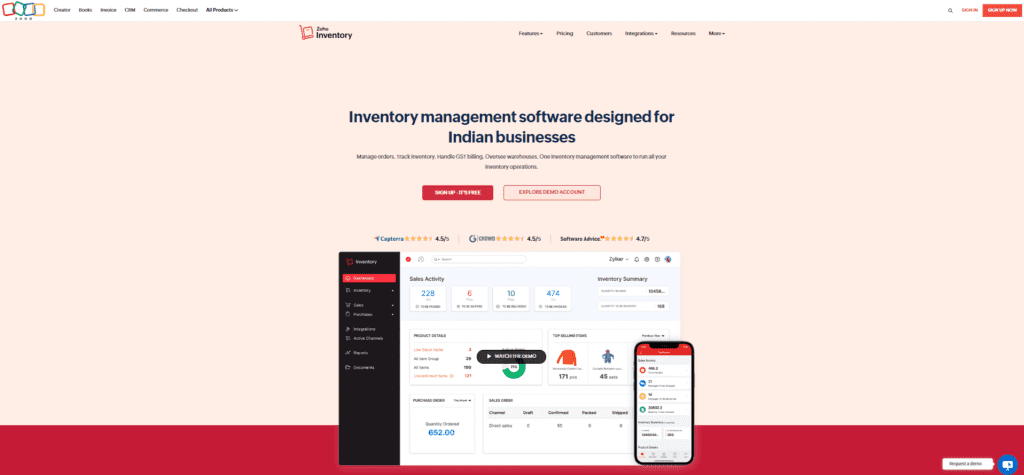 Zoho and 9 other platforms provide great bookkeeping services too! Explore our One-Stop Guide For Best Bookkeeping Software solutions!
3. Xero
Xero is a notable inventory invoice software solution, offering businesses a quick and efficient way to manage their inventory and invoicing needs. Xero seamlessly integrates stock tracking into invoices and orders. This ensures that your invoicing process is not only accurate but also highly efficient.
Invoicing with Xero is also a breeze. The software allows you to create invoices and orders with preset details, saving you time and effort. You can also customize online invoices, adding your logo and setting payment terms to enhance your brand identity.
Moreover, Xero offers flexibility in payment options. Customers can choose from various payment solutions, including debit and credit cards, direct debit, and one-click payments, making it convenient for them to settle their bills.
Another time-saving feature is automatic reminders. Xero takes the hassle out of chasing payments by sending automated reminders. You can customize the frequency and timing of these reminders to suit your needs.
Pricing
Free Plan: There is no free plan, just a free trial
Premium Plan: Pricing varies from $25 – $54/month depending on the number of users & features.
Ratings
Capterra: 4.4⭐/5
G2: 4.3⭐/5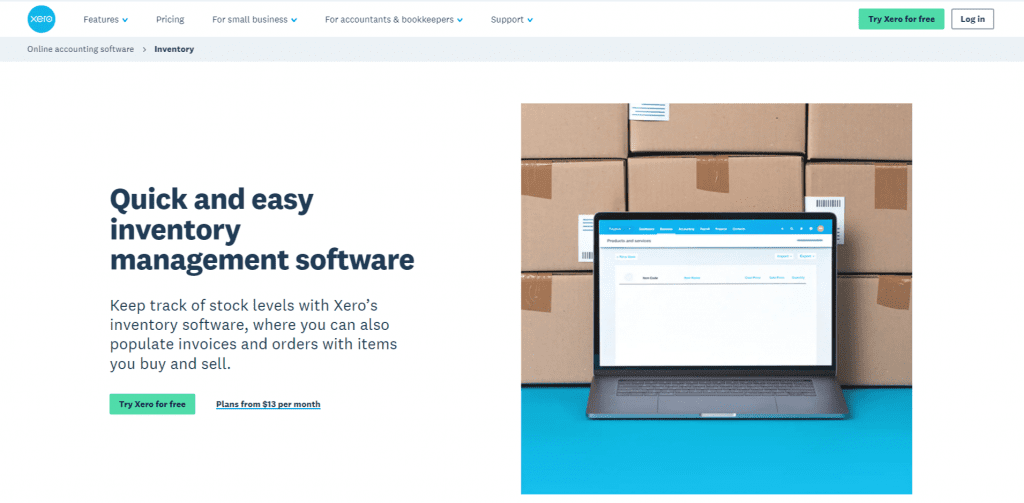 4. Odoo
Odoo emerges as a top-tier inventory invoice software, offering a holistic solution for businesses to enhance warehouse efficiency and simplify invoicing processes. With Odoo, you can transform your warehouse operations and streamline invoicing, ultimately boosting productivity and profitability.
Its modern warehouse management software optimizes warehouse performance with a smart double-entry inventory system, ensuring efficient stocking methods and improving internal operations. Automation is at the core of Odoo's inventory management, making replenishment fully automated to prevent stockouts.
Real-time dynamic reports and customizable dashboards keep businesses informed and enable data-driven decision-making. Odoo Inventory seamlessly integrates with other Odoo Apps like Sales, Purchase, and Accounting, ensuring real-time updates and efficient stock management.
Pricing
Free One App: For a single app, unlimited users, at no cost.
Odoo Online Standard: Rs 580/user/month, includes all apps.
Odoo Online Custom: All apps at Rs 890/user/month, available online or on-premise with advanced features."
Ratings
Capterra- 4.1⭐/5
G2- 4.2⭐/5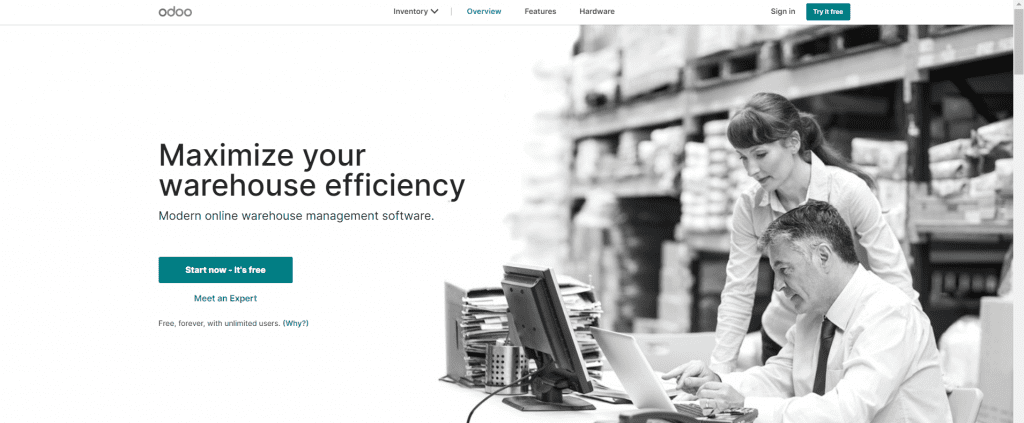 5. Vasy ERP
Vasy ERP emerges as the leading inventory invoice software solution, specifically tailored to meet the diverse needs of retail, supermarkets, and multi-store/franchise businesses. This cloud-based platform revolutionizes the retail landscape, focusing on efficiency and customer satisfaction.
It offers a wide array of features, including rapid checkout options, simplified returns and exchanges management, the creation of loyalty programs, and support for various payment methods. It enables businesses to manage multiple billing counters seamlessly, integrates weight-scale data accurately, and facilitates swift cash transactions. The software even incorporates WhatsApp for direct customer communication and feedback collection.
Notably, Vasy ERP excels in inventory management, providing centralized control, label and barcode generation, stock audits, and extensive support for multiple product variations. It empowers businesses to handle pricing strategies effectively, receive real-time stock alerts, and effortlessly manage stock transfers between different outlets and warehouses.
For financial management, Vasy ERP offers centralized reporting and accounting, simplifying GST return generation. Its robust business analytics and forecasting tools enable data-driven decision-making, with access to over 100 detailed reports for in-depth analysis.
Pricing
Free Plan available
$90 yearly with a free trial
Ratings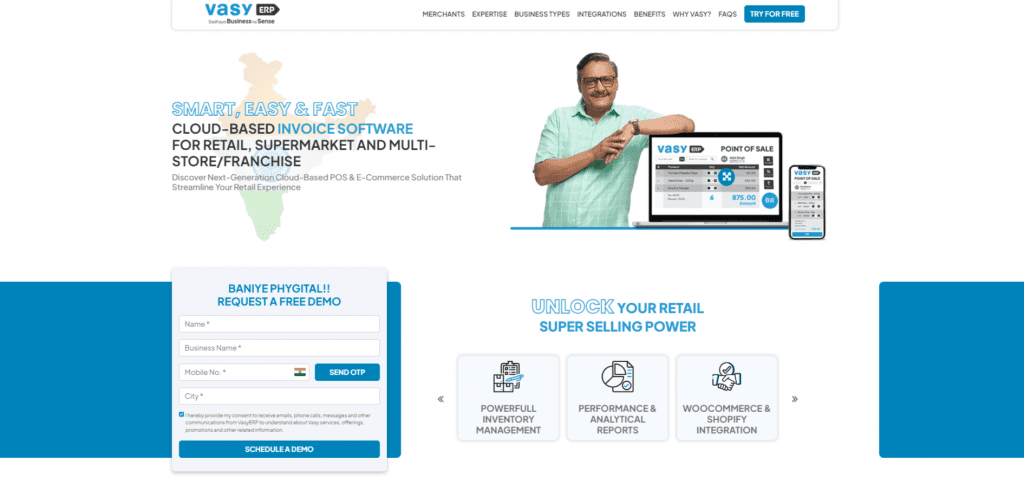 An inventory invoice software like Vasy ERP is most suitable for retail shops and distributors. Explore more from our Top 10 Billing Software for Retail Shops and Distributors!
6. Marg
Marg is the top inventory invoice software, transforming how businesses manage their operations. It's a versatile solution suitable for businesses of all sizes, making inventory management, billing, and more a breeze.
Marg's key features include efficient billing, improving speed with quick searches, shortcuts, and barcode scanning. It handles sales, purchases, invoices, and payment tracking seamlessly. Order calling simplifies the process by allowing mobile connectivity, enabling direct customer orders through QR code scanning.
Warehouse management becomes efficient as you track stock across various locations from a centralized dashboard. Purchase management streamlines bills, vendor details, and orders while automating reorder points for smarter buying decisions.
Connected banking integrates online banking within Marg ERP, simplifying transactions across 140+ banks. It's GST-ready, handling billing and return filing with ease, ensuring error-free compliance. WhatsApp integration lets you send invoices and reports directly to customers.
Marg ERP 9+ maximizes inventory efficiency, offering insights for informed decisions. Barcode scanning, advanced inventory tracking, and over 1000 MIS reports enhance control. It simplifies reorder management across multiple locations and monitors deliveries.
Pricing
Varies between $350 – $1150/ Full License depending on no. of users (additional users charged at $150/per user extra)
Ratings
Capterra- 3.4⭐/5
G2- 4.3⭐/5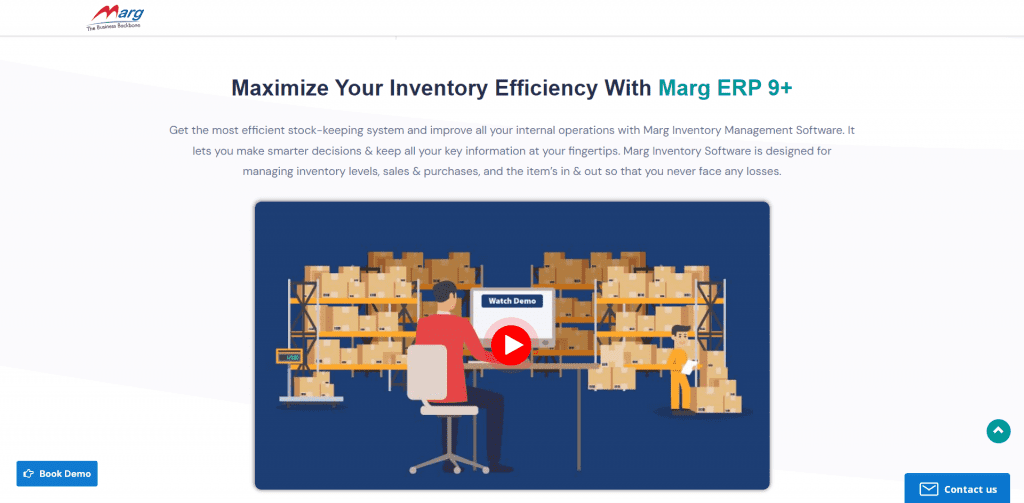 7. GoFrugal
GoFrugal is a leading inventory invoice software designed to streamline inventory operations for businesses. It offers comprehensive features that empower businesses to maintain optimal inventory levels, improve customer service, and boost sales.
This software provides real-time insights into inventory status, allowing businesses to manage fast-moving items and reduce stagnant stock. It caters to various industries, including retail and restaurants, helping them optimize stock levels, minimize waste, and avoid stockouts.
Its key features include an inventory management app for perpetual stock audits, AI-based demand forecasting, and batch and expiry tracking. GoFrugal offers multi-warehouse and outlet management from a single platform, ensuring ROI tracking and inventory automation.
GoFrugal's GST Billing software simplifies invoicing, inventory management, and financial reporting, ensuring seamless GST compliance. It integrates with various POS accessories and provides real-time insights through the WhatsNow app.
Small businesses benefit significantly from GoFrugal's GST Billing software, which streamlines invoicing, automates tax calculations, and ensures efficient GST compliance. It also offers data security and integrates with bookkeeping solutions.
Pricing
OnPremise – ₹18000- ₹85000/license depending on the number of features
Cloud – Ranging between ₹5000- ₹11000 annually depending on the number of features
Ratings
Capterra- 4.4⭐/5
G2- 3.4⭐/5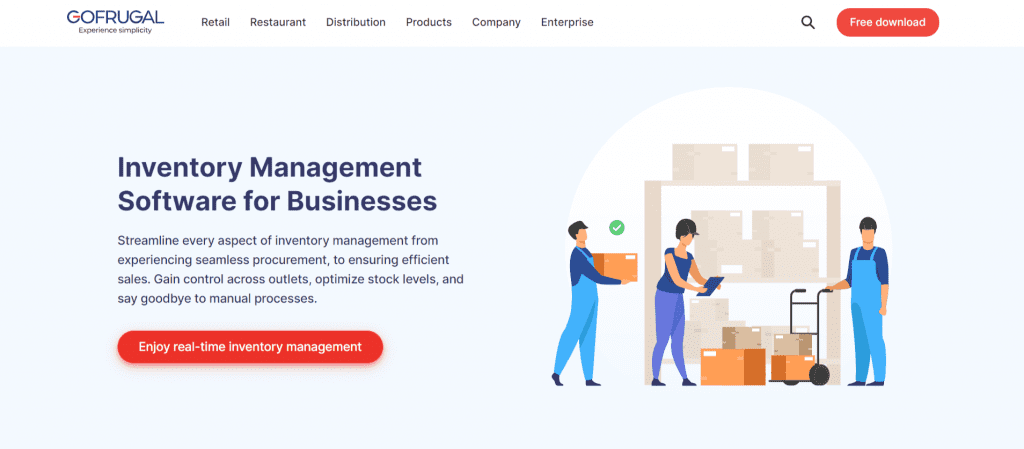 You may also need e-way bill software while the transfer of inventory from one place to another. Check out our extensive list of Best e-Way Bill Software for easy compliance.
8. Vyapar
Vyapar is a premier inventory and invoicing software that empowers businesses to streamline their operations and boost profitability. With its user-friendly interface and rich feature set, it transforms inventory management and financial processes.
Its free inventory management software is a safeguard against customer loss due to stock shortages. It analyzes sales reports to make informed procurement decisions and optimize inventory levels. You can effortlessly monitor and manage your inventory from anywhere, placing orders and restocking supplies on the fly. Barcode scanning ensures quicker and more precise billing, while automated updates maintain inventory accuracy.
The real-time inventory control feature automates order placements with suppliers, ensuring preparedness for fluctuating demand. The software also simplifies operations by converting delivery challans into GST invoices. It automates tasks, reduces errors, and saves valuable time and effort. Offering multiple payment options enhances the customer experience and fosters trust.
Vyapar places a high emphasis on data security, implementing routine backups to Google Drive and local storage, providing peace of mind for your business.
Pricing
Silver Plan: ₹3,399/yr – 10 E-way bills/month, 3 companies & firms, plus 15 features.
Gold Plan: ₹3,999/yr – Unlimited E-way bills, firms & companies, plus 15 features.
Ratings
Capterra- 4.4⭐/5
G2- 4.6⭐/5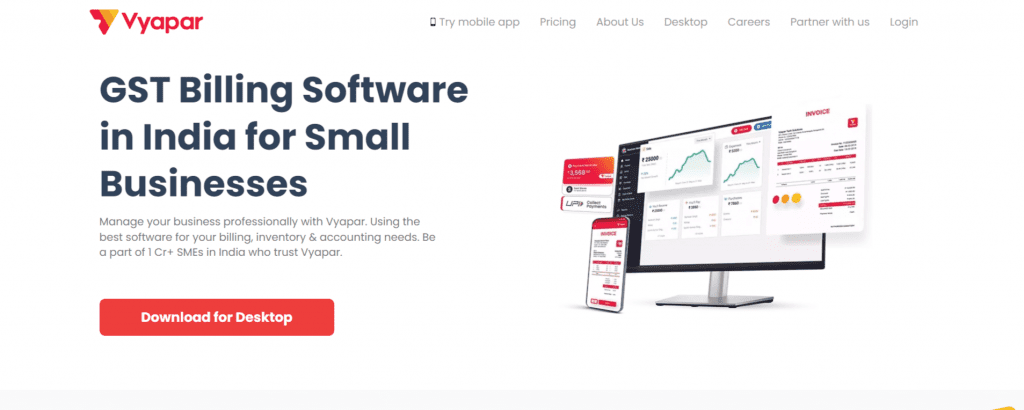 9. ProfitBooks
ProfitBooks free software has redefined inventory and invoicing processes, making it seamless and hassle-free. Its user-friendly interface simplifies the tracking of stock, purchases, and sales orders, all without locking you into any commitments or obligations.
Invoicing becomes effortless with professional invoices and integrated payment gateways supporting multiple currencies. The software provides comprehensive inventory management, streamlining purchase workflows, stock adjustments, batch tracking, and the option to create multiple users and warehouses, all while efficiently handling multiple currencies.
It also allows unlimited invoices, contact management, tracking of payables and receivables, online payment collection, customizable invoices, and the use of custom fields. Expense management is simplified with automatic tax calculations, while detailed sales reports offer valuable insights for business growth.
Pricing
Silver Plan: ₹3,399/yr – 10 E-way bills/month, 3 companies & firms, plus 15 features.
Gold Plan: ₹3,999/yr – Unlimited E-way bills, firms & companies, plus 15 features.
Ratings
Capterra- 4.4⭐/5
G2- 4.6⭐/5

10. QuickBooks
QuickBooks is well-regarded in the field of inventory invoicing software, providing essential solutions suitable for businesses of varying sizes. It simplifies inventory management, providing effortless tracking of stock levels, pending orders, and real-time updates as you buy and sell products. This real-time visibility empowers you to make informed decisions about reordering and ensures you stay ahead in the business game.
QuickBooks also offers real-time inventory valuation, which automatically adjusts your balance sheet as you conduct daily operations, ensuring the accuracy of your financial records. Furthermore, it enhances organization by consolidating purchase orders and vendor information in one accessible location, simplifying the reordering process.
In addition to its inventory prowess, QuickBooks offers an array of essential business features. It enables efficient expense tracking, facilitates the creation of professional invoices, and provides instant insights into your business's performance through customizable reports and dashboards. It even aids in managing cash flow by supporting recurring payments and timely bill management.
Pricing
Free Plan: There is no free plan, just a free trial
Premium Plan: Pricing varies from $30 – $200/month depending on the number of users & features
Ratings
Capterra: 4.4⭐/5
G2: 4.4⭐/5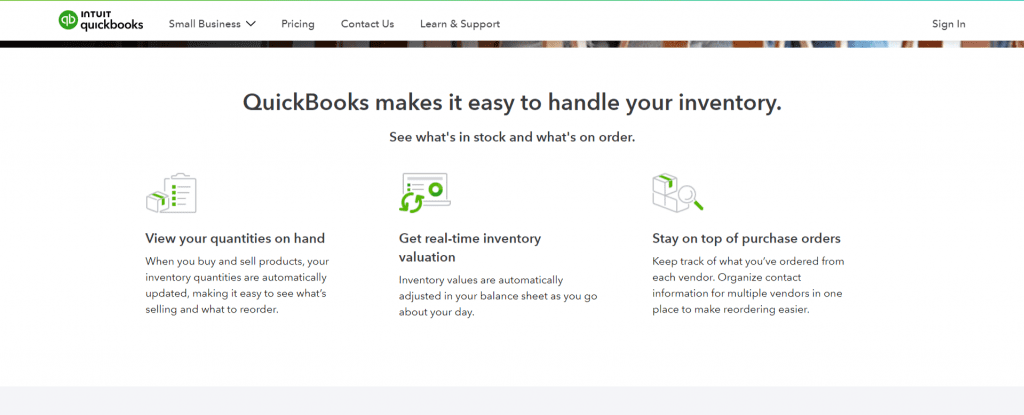 Seems like an amazing software, right? Unfortunately, it's not available in India. Though no worries, we have created a comprehensive guide of Top Free Quickbooks Alternatives for Small Businesses to keep your business activities seamless.
Conclusion
The world of inventory invoice software is replete with options to meet the diverse needs of businesses today. Whether you're a small retail store, a large multinational corporation, or somewhere in between, there is a software solution tailored to streamline your inventory management and invoicing processes.
These software options offer a wealth of features to help you stay organized, save time, and make informed decisions. So, take the time to explore these options, assess your specific requirements, and choose the one that best aligns with your business goals. With the right inventory invoice software at your disposal, you can unlock new levels of efficiency and profitability in your operations.
Explore more with our Top 12 Best Billing Software For Small Businesses and if you need any help with choosing the correct software that is most suitable for you, our blog on How To Choose The Best Invoice Management Software will come quite handy to you!