The restaurant industry is buzzing at an unprecedented pace, and juggling orders, payments, and customer relations can sometimes feel overwhelming. One vital element that can smooth out these operations and boost efficiency is top-notch billing software for restaurants. The right billing software not just guarantees quick and accurate transactions, but also offers insightful data that can enhance your restaurant's performance.
Choosing the perfect restaurant billing software is not a one-size-fits-all affair. It should be customized to your restaurant's unique demands and challenges. Several factors like the size of your business, the complexity of your menu, your staff strength, and your clientele can significantly shape the choice of software you need. This blog post aims to help you navigate the process of selecting the ideal billing software for restaurants.
We'll dive into the pivotal role that restaurant billing software plays, explore the key features to consider when choosing one, and present an exhaustive review of the top billing software options in the market right now.
Regardless of whether you're a cozy café owner planning to revamp your billing system or a manager at a large restaurant chain in search of the most efficient software, this blog post will offer valuable insights to help you make the best decision. So, let's embark on our journey into the world of billing software for restaurants.
Understanding the Role of Restaurant Billing Software
Billing software for restaurants plays an integral role in managing operations. It's a game-changer, from handling orders to processing payments, and even elevating the customer experience. Let's delve deeper into how restaurant billing software can significantly bolster your restaurant's functionality and efficiency.
1. Streamlining Order Management
One primary role of restaurant billing software is to make order management efficient. This is particularly vital during peak hours when the volume of orders can skyrocket. Billing software ensures orders are instantly relayed to the kitchen, avoiding confusion that could arise from handwritten orders. It can manage separate tabs for customers, split bills, and keep track of ongoing orders.
2. Enhancing Billing Accuracy
Restaurant billing software significantly boosts the precision of transactions. It negates manual calculation errors, ensuring all prices, taxes, and additional fees are correctly included. This results in a swift checkout process and enhanced customer satisfaction. Moreover, billing software keeps track of discounts and promotions, ensuring they are applied correctly.
3. Improving Customer Experience
In today's digital era, customers value businesses that utilize technology to improve their experience. Using restaurant billing software, customers can review their bills, make a payment, and even provide feedback with just a few clicks. This not only expedites the process but also imparts a modern, professional image to your restaurant.
4. Generating Insightful Reports
Restaurant billing software can create various reports offering invaluable insights into your operations. From sales reports to inventory status and staff performance metrics, this data can guide your business decisions.
5. Simplifying Tax Compliance
Tax calculations and reporting can be daunting for restaurant owners. A reliable restaurant billing software simplifies this process by automatically calculating taxes on every transaction and generating necessary reports for tax filing.
Key Features to Look for in Billing Software for Restaurants
Choosing the best billing software for your restaurant requires a meticulous evaluation of its features. Here are some key features to consider when choosing restaurant billing software.
User-friendly Interface: Billing software may have numerous features, but if it's not user-friendly, it can cause more problems than it solves. Look for software that's easy to navigate, with intuitive controls and straightforward processes.
Inventory Management: Efficient restaurant billing software should offer a comprehensive inventory management system that tracks your stock in real time and provides valuable data about your inventory usage.
Order Tracking: The software should provide real-time order tracking, from placement to delivery, to ensure prompt service and improve the dining experience.
Integration with Other Systems: The ability to integrate with CRM systems, reservation platforms, or third-party delivery apps is another essential feature to consider.
Reporting and Analytics Capabilities: Your billing software should be able to generate a range of reports and provide analysis tools to help you derive actionable insights.
Payment Processing Options: In this digital age, customers appreciate a variety of payment options. Your billing software should accept all major credit cards, mobile payments, and digital wallets.
Cloud-based vs On-Premise: Finally, consider if you want a cloud-based system or an on-premise one.
By considering these features, you can select a billing software that fits your restaurant's needs and improves its operations. In the next section, we will compare the top billing software for restaurants, providing a comprehensive overview to guide your choice.
Top 10 Restaurant Billing Software
1. PetPooja – Streamline Billing & Operations
Petpooja delivers a dynamic restaurant POS software, designed for effective management of all restaurant functions. Its user-friendly interface allows for swift order-taking, bill processing, and Kitchen Order Ticket (KOT) generation. The software accommodates bill-splitting, table merging, and smooth application of discounts and coupons.
A distinctive feature is its inventory management system, which supports item-wise auto deduction of stock, sends low-stock alerts and generates end-of-day inventory reports.
Petpooja's POS system automates reporting, providing error-free updates on day-end sales, online orders, staff actions, inventory usage, and more.
The platform houses an online ordering system, facilitating online menu management, order acceptance, payment collection, and revenue checking without the need for multiple screens.
Petpooja further augments its POS system with a marketplace for add-ons like CRM tools, analytics, customer service, and operations, and supports integration with over 150 third-party services, all from a single dashboard.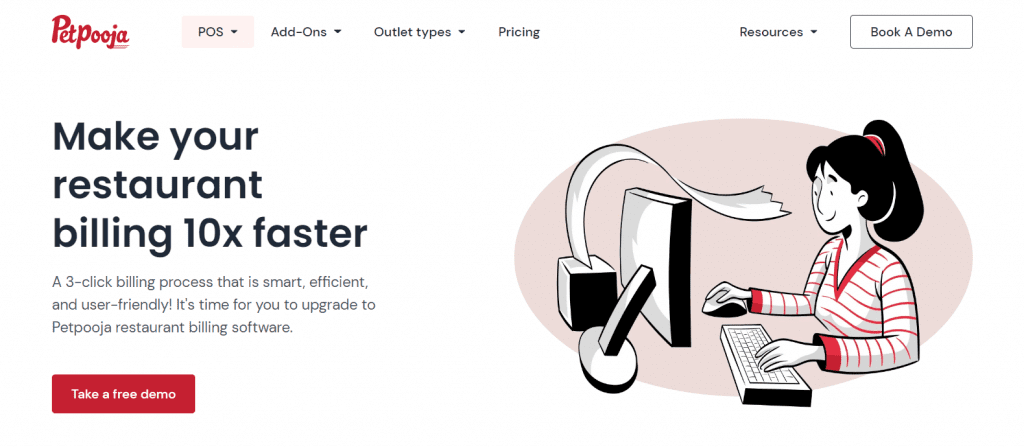 Pricing
₹7000 per outlet per year
Ratings
2. UrbanPiper – Prime POS for Efficient Restaurant Management
UrbanPiper's Prime POS is a web-based restaurant management solution focused on optimizing operations, including billing. Its easy setup and anywhere access make it an effective operational tool.
Prime POS enhances efficiency with its quick, reliable billing and Kitchen Order Ticket (KOT) management system. This system minimizes order errors, optimizes food costs, and reduces wastage.
The platform also offers a unified screen for managing online orders, decreasing the chances of missed or erroneous orders and ensuring a smooth customer experience.
Prime POS presents a centralized reporting dashboard, furnishing operational and sales data for a comprehensive business analysis, aiding informed decision-making.
Real-time inventory visibility ensures that stock-outs are a rarity. Prime's integrated Kitchen Display System sends orders directly from the POS to kitchen screens, boosting staff productivity.
Pricing
Pricing is custom according to your requirements
Ratings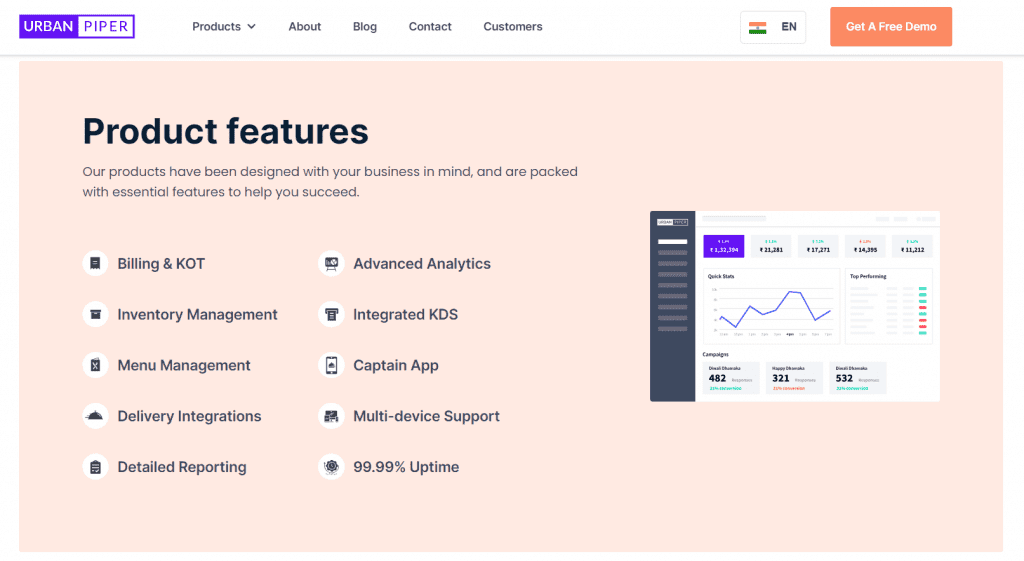 3. MargERP – Streamlining Restaurant Management
MargERP presents a comprehensive, cloud-based restaurant management solution focused on enhancing operations, including billing. Easy setup and accessibility from anywhere add to its convenience.
MargERP shines with its automated invoice processing, designed to negate the need for manual data entry, making invoice management both efficient and accurate. This feature especially benefits restaurants handling high volumes of invoices.
The platform provides real-time insights into food costs. It enables restaurants to track expenses as invoices come in, promoting a more accurate view of their expenditures, and aiding in better food cost management and profitability.
MargERP also includes accounts payable management feature and an integrated restaurant accounting system. It facilitates tracking of price changes, shortages, and errors, and provides real-time updates on inventory costs. This helps restaurants track food costs in real-time, leading to a better understanding of menu profitability.
Finally, MargERP offers a restaurant invoice scanning solution, saving significant bookkeeping time each month, and ensuring efficient work delegation and close supervision.
Pricing
Varies between $350 – $1150/License depending on no. of users (additional users charged at $150/per user extra)
Ratings
Capterra- 3.4⭐/5
G2- 4.3⭐/5

4. MarginEdge – Simplified Restaurant Management
MarginEdge provides a cloud-based restaurant management solution to streamline operations, including billing. The platform ensures easy setup and anytime, anywhere access.
Key among its features is automated invoice processing, designed to remove manual data entry, thereby making invoice management more efficient and accurate. This is especially useful for high-volume restaurants.
The platform offers real-time insights into food costs, allowing restaurants to track expenses as invoices come in for a more accurate financial view. This helps in better food cost management and profitability.
MarginEdge also includes a menu analysis tool. It allows restaurants to see theoretical costs based on real-time ingredient prices, helping identify the most profitable menu items and those needing adjustment.
Finally, MarginEdge introduces back-office efficiencies ranging from bill payments to ordering and syncing with accounting and POS systems, streamlining operations and boosting efficiency.
Pricing
$300 per month per location
Ratings
Capterra- 4.6⭐/5
G2- 4.4⭐/5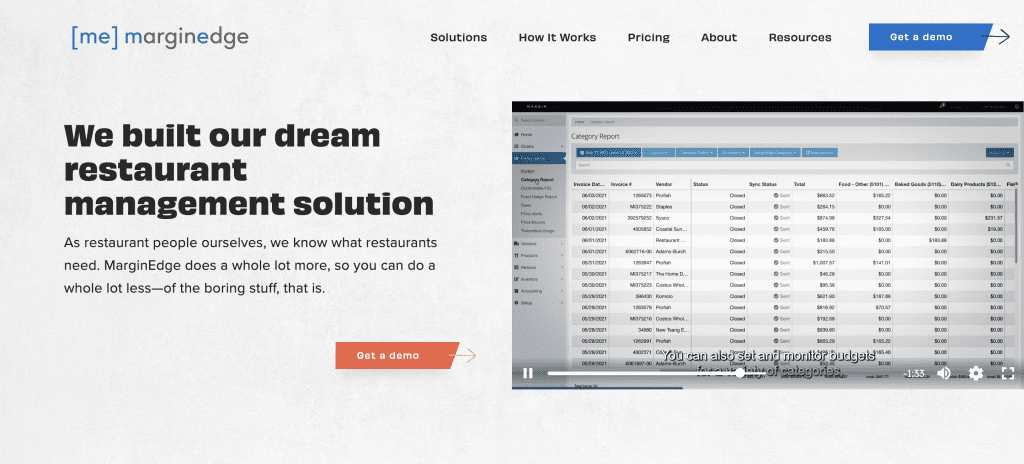 5. ChefMod – Bridging Culinary, Billing and Finance
ChefMod, designed by restaurant professionals, presents a unique restaurant management solution aimed at harmonizing culinary and financial processes to streamline operations and improve cost control.
ChefMod delivers automatic cost accounting for the financial team while simultaneously empowering chefs to manage savings. This twin-pronged approach leads to efficient management of both culinary and financial aspects, thus enhancing cost control and profitability.
With an emphasis on user-friendliness, ChefMod enables restaurants to swiftly and effectively take charge of their business operations. The platform fosters a seamless connection between culinary and financial teams, promoting streamlined operations, time-saving and cost control.
Pricing
Pricing is custom depending on your business requirements
Ratings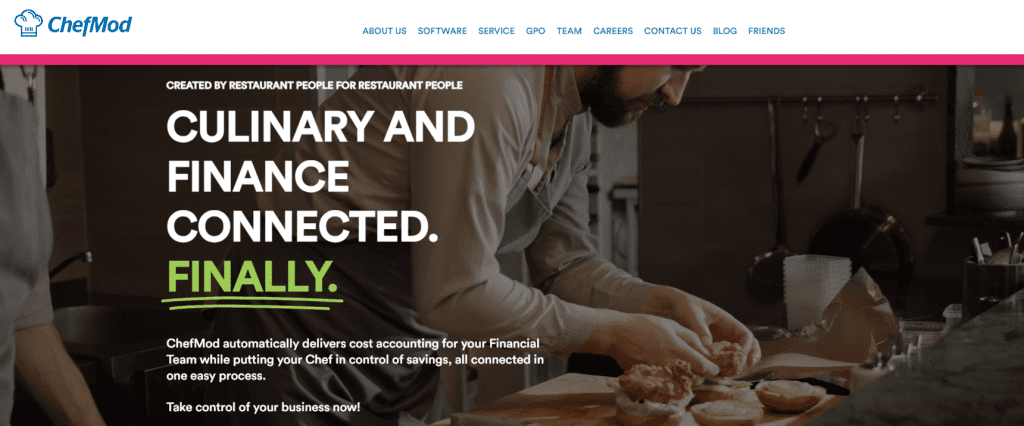 6. Refrens – Ideal Billing Software For Catering Providers
Refrens is a comprehensive business operating system trusted by 150000+ businesses across 178 countries. While it doesn't serve restaurants, it is an ideal fit for someone offering catering services.
Its auto-assist feature helps you create quotations, invoices, and all types of accounting documents quicker than any other system available in the market. You can also send these invoices directly over WhatsApp and email with just a single click. You can also track when clients view them.
Not only billing, but you can also automate accounting, lead management, inventory & expense management – everything in just one place.
See how Refrens billing software can streamline your invoicing process>
Pricing
Free Plan: There is a free plan for small businesses to create up to 50 documents/year
Premium Plan: Its affordable pricing varies from $7 – $20/month depending on the number of users & features
Ratings
Capterra: 4.9⭐/5
G2: 4.5⭐/5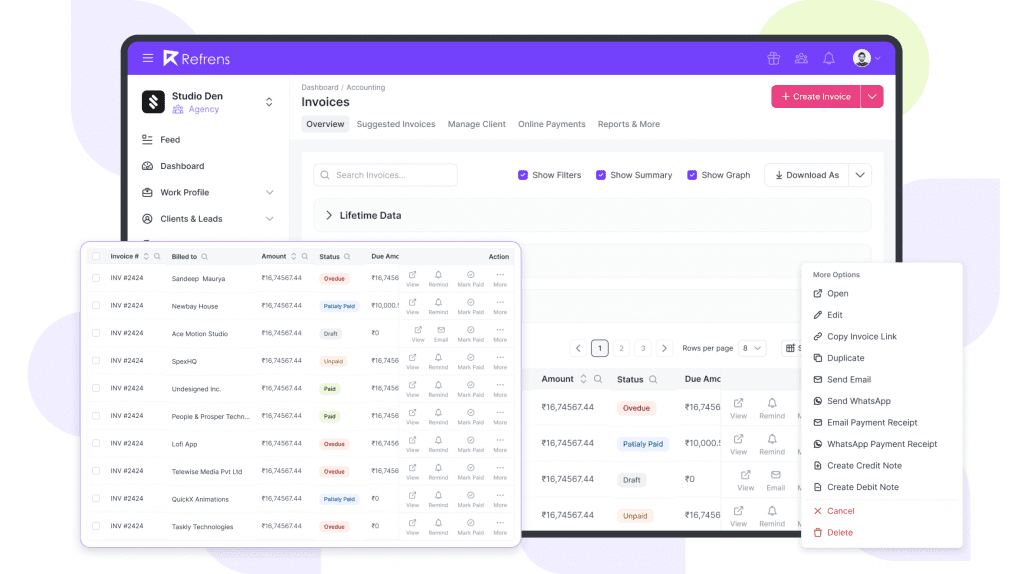 7. Restaurant 365 – Unified Restaurant & Billing Management Solution
Restaurant365 consolidates operations, billing, accounting, and workforce management into a single platform, eliminating the need for separate systems.
The software enhances accounting by automating the creation of daily sales and labor entries in your general ledger using data directly from your POS. This feature boosts accuracy and streamlines performance.
Restaurant365 offers prime cost control via real-time tracking tools. Operators can swiftly perform administrative tasks, better control costs, and maximize margins.
The platform also manages the employee lifecycle, reducing administrative work. This enables managers to focus more on guest experiences and productivity.
Lastly, Restaurant365 provides real-time data, accessible and shareable via custom reports, to inform decisions, identify opportunities, and drive growth.
Pricing
Essential- $435 per month, per location
Professional- $635 per month, per location
Custom- Custom pricing plans are available for advanced use cases
Ratings
Capterra- 4.3⭐/5
G2- 4.3⭐/5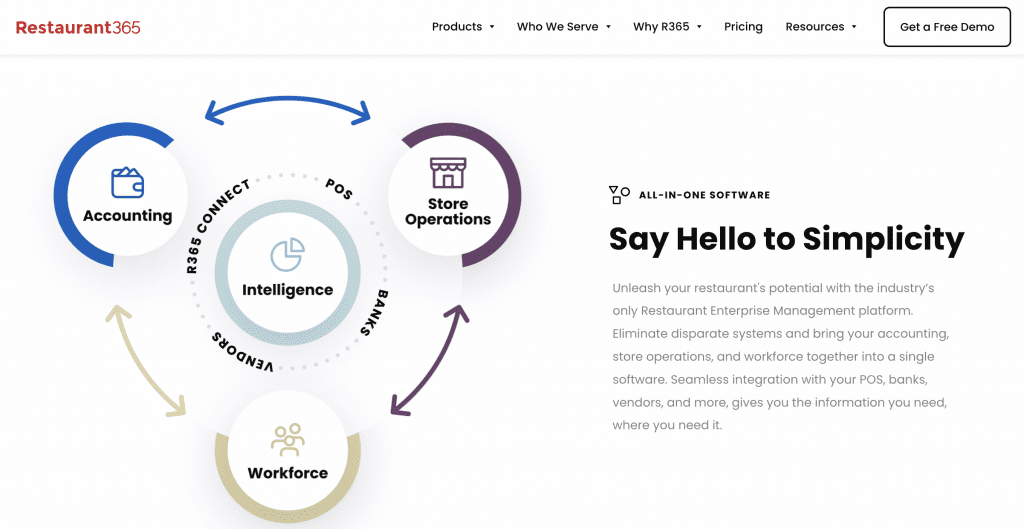 8. GO Frugal Restaurant POS – Cloud-Based ERP Solution
Gofrugal's Restaurant Management Software in USA offers a comprehensive suite of features designed to streamline restaurant operations. The Restaurant Point of Sale feature provides quick and efficient billing, offering a visual representation of table and steward availability, due bills, and Kitchen Order Tickets (KOT) at a glance.
The software also integrates online orders from any food aggregator directly into the restaurant management system, allowing for efficient management of delivery with the restaurant's own delivery app.
The software also includes a CRM and Loyalty feature, attracting customers with personalized offers, coupons, vouchers, and happy hour offers. The Business Intelligence feature provides actionable reports to manage operations smoothly, generating real-time dashboards with more than 350+ MIS reports for quick decision-making, understanding trends, and optimizing operations.
Additional features include ONDC, which allows restaurants to join India's revolutionary e-commerce initiative; OrderEasy, for processing delivery and takeaway orders; GoSure – StockPick, for error-free, hassle-free Inventory Management; and GoDeliver, for assuring 100% hassle-free deliveries with real-time updates.
Pricing
On-Premise: One-time payment ranging between ₹18000-₹85000 depending on your feature requirements.
Cloud: Ranging between ₹5000-₹11000 annually depending on your feature requirements.
Ratings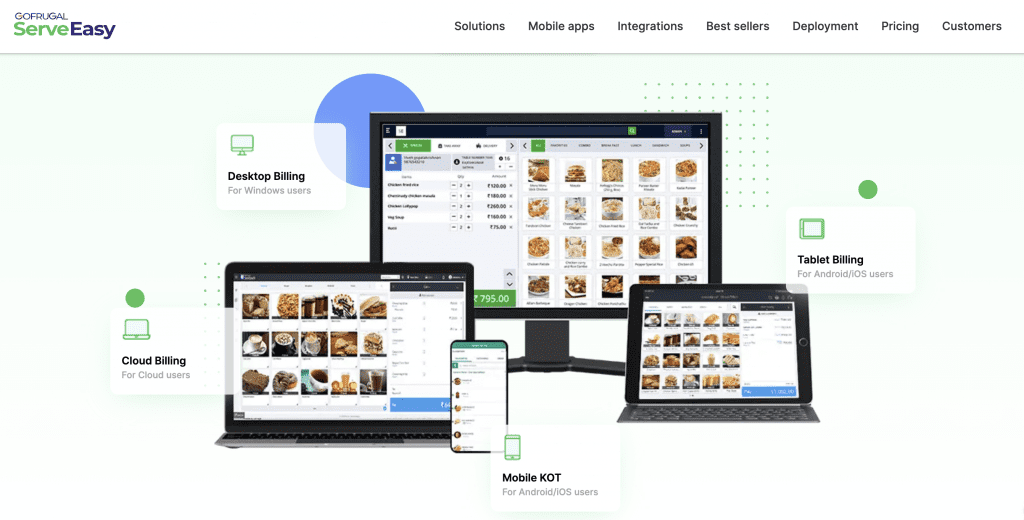 9. MarketMan – Comprehensive Restaurant Management System
MarketMan is a cloud-based inventory management software tailored for restaurant and hospitality operations. It offers real-time alerts, paperless ordering, and inventory control by integrating with your Point of Sale (POS) system.
The software is accessible from anywhere via a PC, tablet, or mobile app, offering flexibility for restaurant owners and managers.
It streamlines the ordering process, reducing errors and time spent on reconciliations. MarketMan also provides accounts payable automation, allowing businesses to track price changes, shorts, and errors in real-time, contributing to a better understanding of menu profitability.
It also facilitates delegation and supervision, allowing businesses to assign tasks to their employees while maintaining tight control. The software caters to restaurants, suppliers, and partners, offering different features and benefits to each group.
Pricing
Varies from $179-$399 per location per month depending on no. of features, vendor integrations, and invoice scans.
Ratings
Capterra- 4.7⭐/5
G2- 4.6⭐/5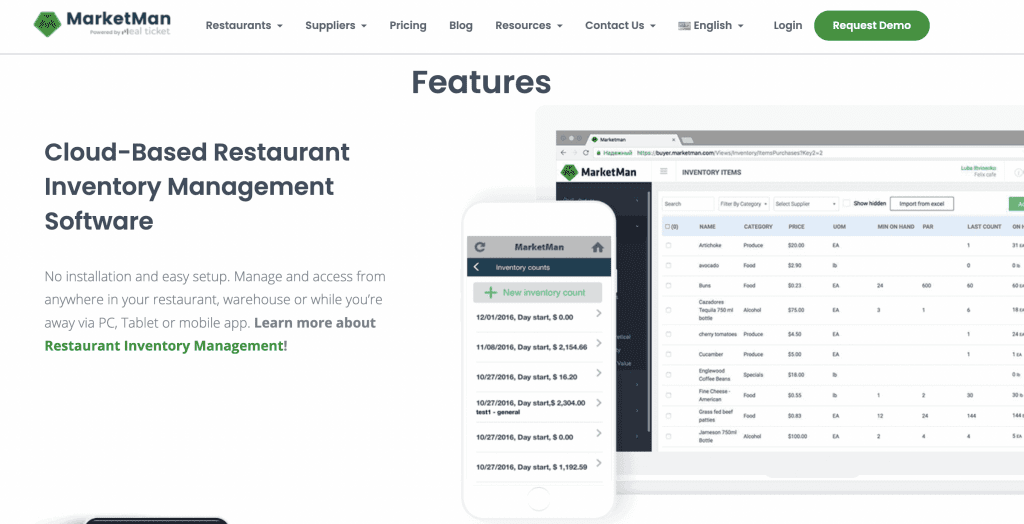 10. LimeTray – Simplifying Restaurant Management
LimeTray presents a robust suite of cloud-based restaurant management tools, including an efficient Point of Sale (POS) system for streamlined order management and billing.
Its platform supports seamless integration with online and third-party orders, along with other POS systems and payment methods, making billing and management effortless. An integrated inventory management system aids in accurate billing and stock control.
The platform also offers insightful reporting and analytics, driving data-informed decision-making. A fully-integrated Customer Relationship Management (CRM) system enables precise billing and effective marketing.
With dedicated customer support and a personalized account manager, LimeTray ensures smooth operations. A free demo on their website offers a glimpse into these features.
Pricing
Ratings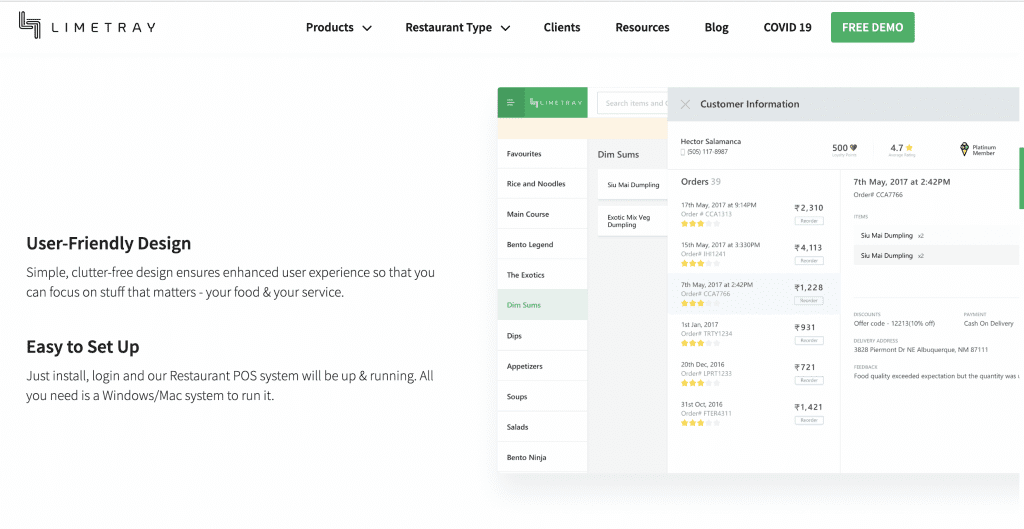 Conclusion
Choosing the appropriate billing software for your restaurant can profoundly impact your operations and customer experience. It's not just about payment processing; it's also about enhancing your operational efficiency, improving customer service, and gaining valuable business insights.
Ultimately, the best software for your restaurant should meet your unique needs, integrate with your existing systems, and be user-friendly. By making the right choice, you're investing in your restaurant's future, setting it up for success in a competitive industry.
Recommended read
Industry-wise top invoicing & billing software>