Managing a medical shop involves various tasks, with billing being a key one. The right billing software can simplify operations, increase accuracy, and boost productivity. In our fast-paced world, manual billing can be slow and prone to errors. Specialized billing software for medical shops provides a solution.
This software can significantly reduce time spent on manual calculations and paperwork, leading to savings in both time and cost. It automates the billing process, creating accurate invoices and receipts. This improves efficiency and reduces administrative work. One of the main benefits is increased accuracy, leading to happier customers and fewer billing disputes.
Specialized billing software often includes extra features like inventory management for efficient stock tracking and automatic reordering of medications. Prescription management features simplify the process of verifying and filling medication orders accurately. Using the best billing software can streamline operations, increase accuracy, and improve efficiency, leading to better customer service and increased profitability.
Key Features of a Billing Software for Medical Shops
To choose the best billing software for a medical shop, it's essential to consider specific features that cater to the unique needs of the healthcare industry. Here are some key features to consider when evaluating billing software options:
1. Prescription Management
Medical shops often deal with prescription-based sales. Look for billing software that simplifies prescription management processes by seamless integration with electronic prescription systems, allowing for direct retrieval and processing of electronic prescriptions. The software should enable the storage and quick retrieval of patient prescription history, facilitating accurate dispensing and order fulfillment.
2. Pricing and Discounts
Billing software should provide flexibility in managing pricing structures and applying discounts to ensure accurate billing and customer satisfaction. It should have flexible pricing options to define different pricing structures for different customer groups, such as retail customers, wholesale clients, or insurance-covered patients. The software should allow for the application of discounts, promotions, or special pricing rules based on various criteria, such as product categories or customer loyalty.
3. Reporting and Analytics
Comprehensive reporting and analytics features enable medical shop owners to gain valuable insights into their business performance. Look for billing software that offers detailed reports on sales performance, including revenue, profit margins, top-selling products, and trends over time with the ability to generate financial reports, such as income statements, balance sheets, and cash flow statements, to assess the overall financial health of the medical shop.
4. Inventory Management
Efficient inventory management is crucial for medical shops to ensure the availability of medications and supplies while minimizing stockouts and expiration losses. The software should provide real-time visibility into inventory levels, allowing you to monitor stock quantities and make informed purchasing decisions. It should offer an Automatic Stock Reordering feature that automatically generates purchase orders or alerts when stock levels fall below a certain threshold, ensuring timely restocking and the ability to track batches and expiry dates of medications to prevent the sale of expired products and optimize stock rotation.
Recommended read: Invoice Like A Pro: A Comprehensive Invoicing Guide
Top Billing Software for Medical Shops
With Refrens, you can automate your billing process, create professional invoices, quotations, e-invoices, and other accounting documents, and also get actionable insights via reports to keep track of your income and expenses.
Refrens can be a game-changer for you if you are dealing with pharmacy or biotech products in wholesale. It can help you manage your inventory and expenses in one place, automatically updating your inventory with every invoice or expense entry. It also provides a powerful sales lead management system, allowing you to capture leads automatically, manage multiple sales pipelines, and convert leads faster than ever.
With its robust system promising an uptime of 99%, Refrens ensures that you can run your business operations without any interruptions. As your business grows, Refrens can adapt and scale alongside, meeting your evolving needs at every stage of growth. So, if you're looking for a platform that can help you manage and grow your business, Refrens is worth considering.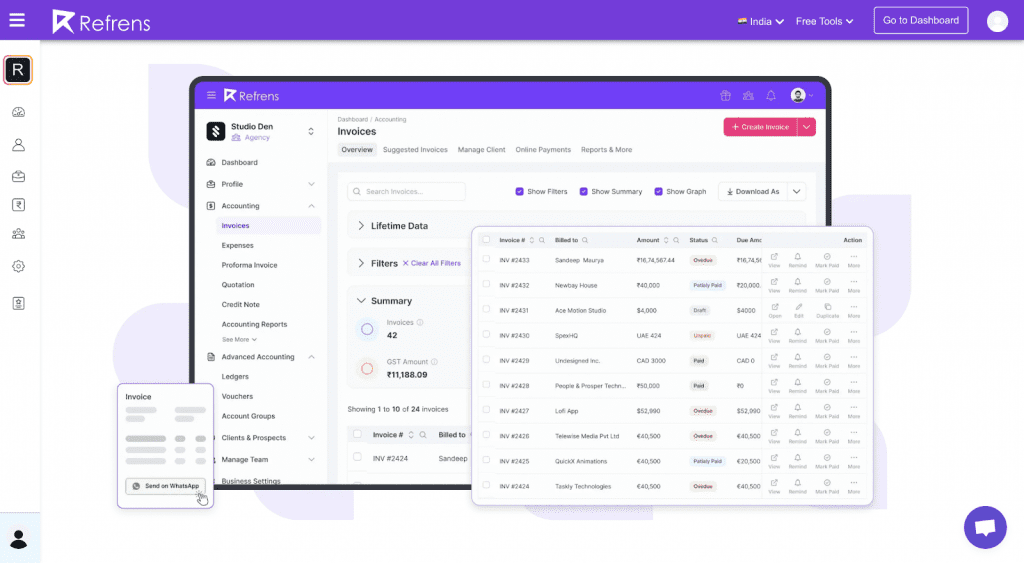 Winpharm
WinPharm, a product of Interactive Business Systems (IBS), is a top-notch software solution for hospital pharmacies. It's designed for Windows and stands out for its affordability and ease of use.
You can use WinPharm as a standalone tool or integrate it seamlessly with your existing Electronic Health Record (EHR) System. It's also designed to handle the pharmacy aspects of Computerized Physician Order Entry (CPOE) and meets the "Meaningful Use" standards for Healthcare Information Technology incentives.
WinPharm isn't new to the game. It and its earlier versions have been serving hospital pharmacies since 1977. IBS, the company behind WinPharm, is North America's oldest provider of hospital pharmacy systems and is well-regarded for its customer service and support.
In a nutshell, WinPharm is a reliable, user-friendly, and affordable hospital pharmacy management solution. It offers the flexibility to work with other healthcare systems and comes from a provider with a proven track record in the industry.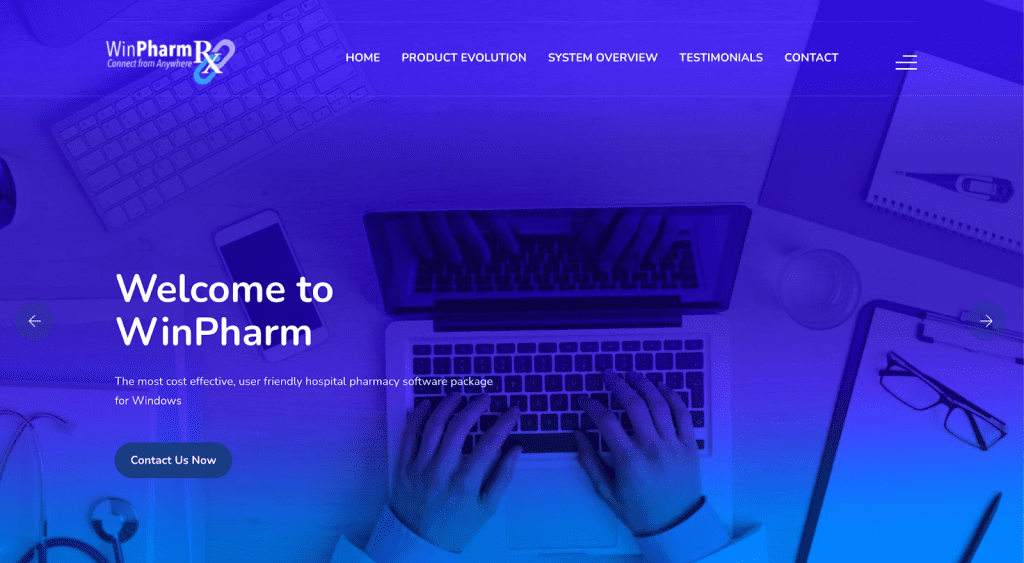 Also read: 23 Best Business Management Software In 2023
Marg ERP9+
Marg Pharmacy Software is a user-friendly tool designed to simplify pharmacy management. It's packed with features that streamline operations and boost efficiency.
One of its key features is stock management. This allows you to monitor your inventory, set stock levels, and keep everything up-to-date. It also has an expiry management feature that tracks products nearing their expiry date, helping you avoid losses by returning these items to the supplier in time.
The software supports both paper and electronic prescriptions, which helps you serve more customers by keeping track of their health evaluations. It also has a rack management feature that makes it easy to locate items during billing by maintaining rack-wise stock records.
It has an online purchase import feature that eliminates manual data entry, and a re-order management feature that helps you keep track of product movement and set re-order points.
The software suggests substitute medicines with the same composition and strength and provides a free drug helpline with information on over 4.5 lakh medicines. It also offers 24×7 ordering, a feature for generating doctor's and MR's commission, a family ledger management feature, and supports digital payments, connected banking, and delivery and shipping. All these features make it a comprehensive solution for pharmacy management.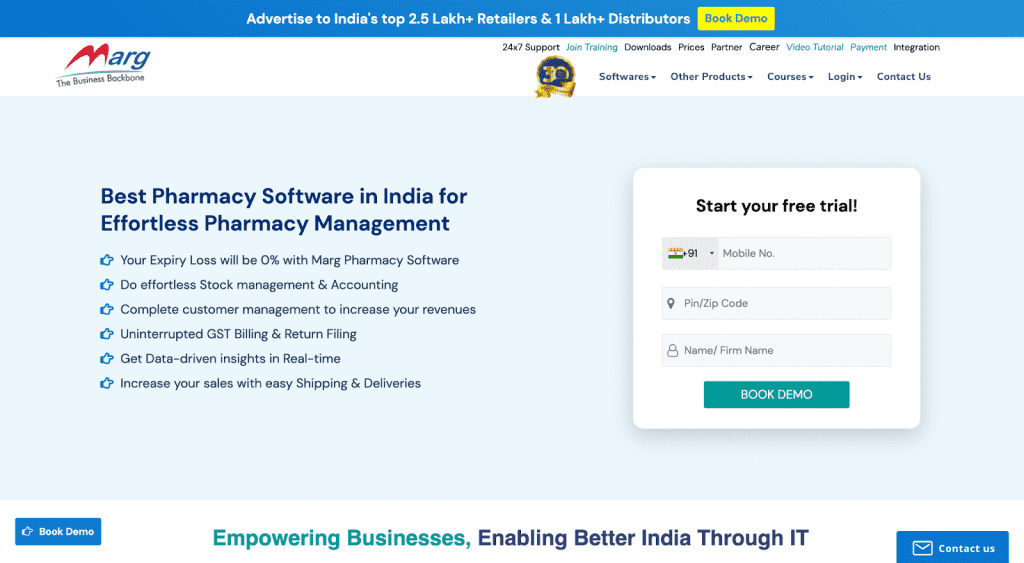 BestRx
BestRx is a robust pharmacy management software tailored to the unique needs of independent pharmacies. It's packed with features that help streamline operations, such as synchronizing patient prescriptions, automating patient data entry, and identifying drugs that impact profitability.
The software is a comprehensive solution for independent pharmacies aiming to grow their business. It's built on extensive industry knowledge and a strong commitment to community pharmacies. This means it delivers user-friendly tools, innovative features, and top-notch customer service, allowing pharmacies to focus on their patients.
BestRx offers two main products: BestRx and BestPOS. BestRx is a powerful solution that not only saves money but also helps boost profits. BestPOS, on the other hand, integrates seamlessly with BestRx, connecting the prescription and sales aspects of your pharmacy.
The software is designed with the needs of independent pharmacists in mind. It also offers excellent customer support, including extended helpline hours, short wait times, and a U.S.-based support team. Plus, BestRx partners with various organizations to ensure they deliver the best possible service.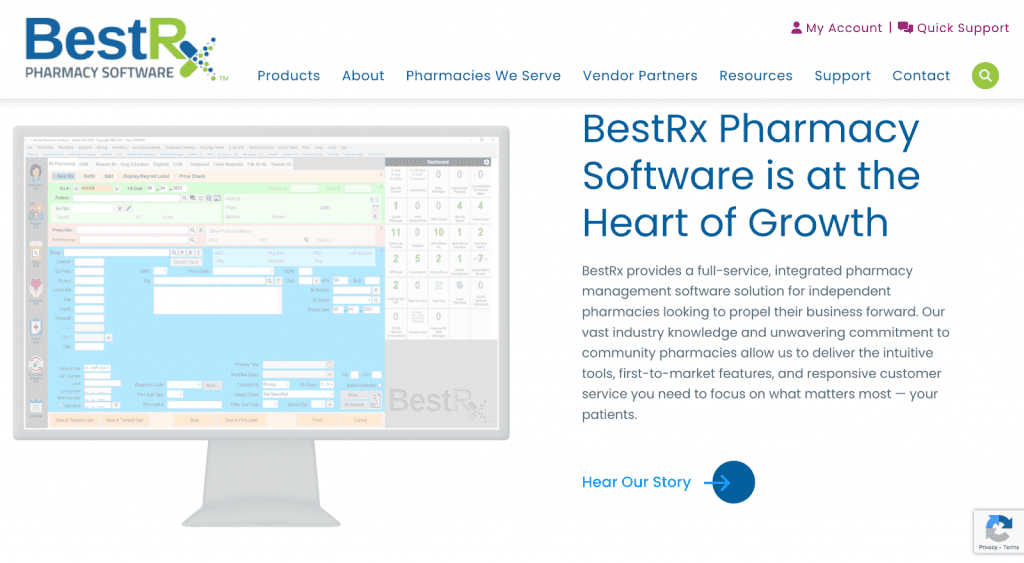 PrimeRx
PrimeRx, a product of Micro Merchant Systems, is a top-tier pharmacy management system designed to enhance patient care and boost pharmacies' financial success. It caters to various types of pharmacies, including retail, specialty, long-term care, compounding, health systems, 340B, mail order, and physician's offices.
The system is designed to create a seamless connection between patients, providers, payers, and caregivers. With over three decades of experience, PrimeRx understands the challenges pharmacies face and provides solutions to help them thrive.
PrimeRx offers a range of key features. Its inventory management system allows pharmacies to transfer certain medications between stores. It also supports prescription transfers, making it easy for patients to select their preferred pickup location. The software can scan pricing across all stores and manage home delivery and curbside pickup services.
PrimeRx also supports loyalty programs, allowing patients to access a pharmacy's loyalty program at any location. Plus, its Multi-Pharmacy Inventory Management feature provides access to patient accounts across all stores. By embracing future technology, PrimeRx guides pharmacies into the future, ensuring they evolve in a well-considered manner.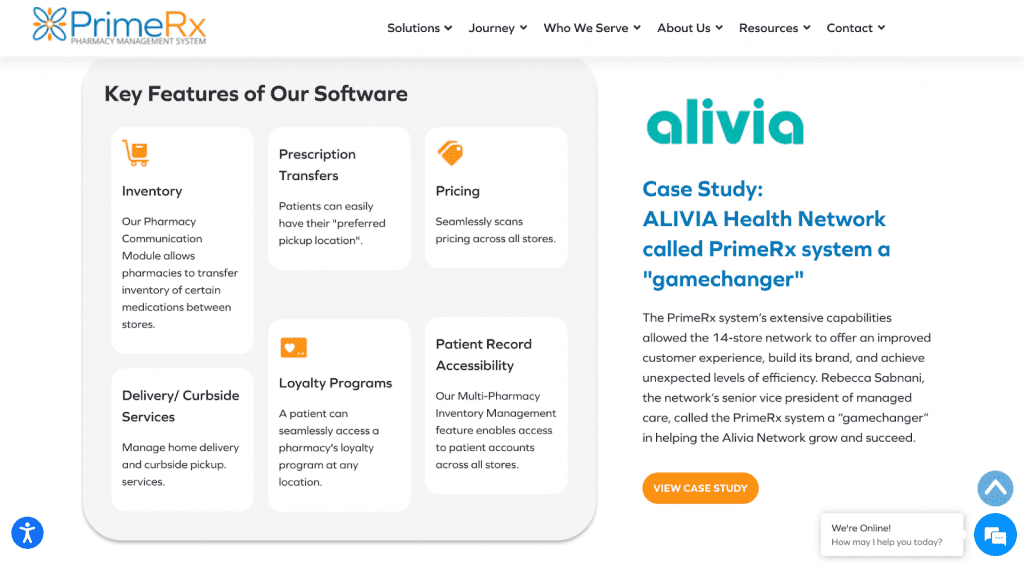 Gofrugal
GoFrugal's Medical Store Software is a comprehensive tool designed to streamline operations in retail medical stores. It handles everything from medical billing and inventory management to accounting.
One of its standout features is the ability to offer superfast checkouts, ensuring a smooth and efficient checkout experience for customers. The software excels in inventory management. It includes expiry batch tracking, which helps identify products nearing their expiration date. This feature helps prevent stock wastage and manage inventory more efficiently.
GoFrugal's software also offers margin tracking. This allows you to monitor the cost of goods sold and the profit margin for each drug, helping you make informed purchasing decisions.
The software comes with integrated accounting capabilities. It can generate accurate Bank Reconciliation Statements and automate statutory report generation for filing GST/ VAT/TDS/TCS. Plus, it ensures compliance with mandatory regulations through regular stock auditing.
Also read: How To Create GST Invoices In 2 Minutes? & Best E-Invoicing software to create invoices seamlessly
GoFrugal's software also supports the launch of your own online pharmacy. It allows you to upload thousands of product images quickly and launch your online ordering app. It also provides instant alerts for better price approvals and discount management.
Lastly, the software offers robust customer management. It allows you to group your customers based on their previous purchase history, helping you provide a personalized shopping experience.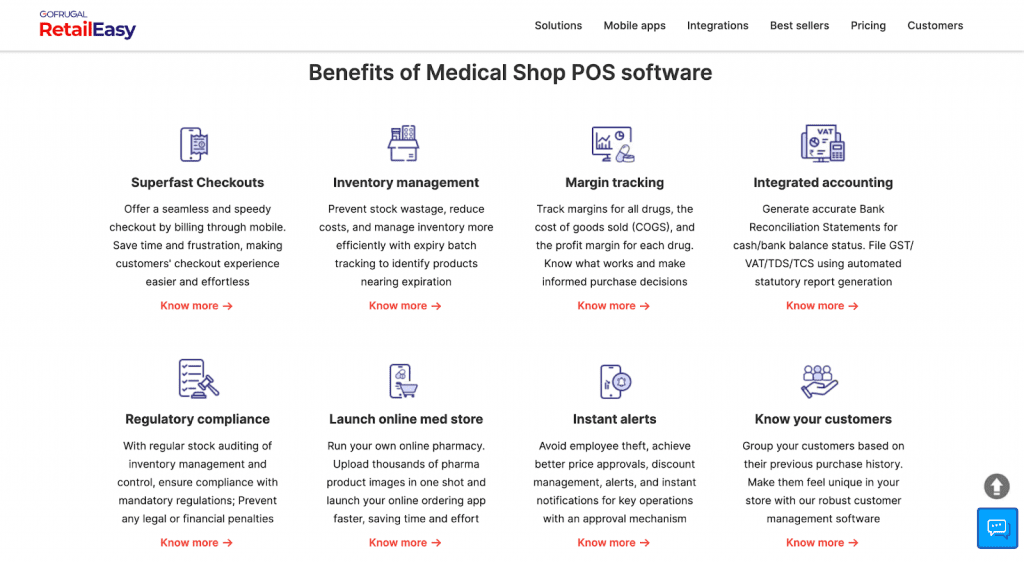 PioneerRX
PioneerRx Pharmacy Software is a comprehensive tool designed to empower pharmacists. It adapts to the ever-changing landscape of independent pharmacy, offering an advanced, customizable workflow. This allows pharmacists to focus more on patient care and enhanced clinical services.
The software boasts a range of key features. Its eCare Plans are automatically generated as you update your patient's profile and can be submitted directly within the pharmacy software. This intuitive system documents your patient interactions in the proper formats for payer submission.
PioneerRx's Point-of-Sale (POS) system offers a truly integrated experience. It allows you to complete patient transactions while also receiving alerts for potential interventions, tracking patient loyalty status, and viewing other medications in the queue. The software also excels in inventory management. It offers automated ordering capabilities, ensuring your business always has the supplies it needs.
Also read: Top 10 Benefits Of Automated Invoice Processing
Above all, PioneerRx values its customers. When you sign up with them, your pharmacy will work with a team of certified pharmacy technicians, accounting specialists, and hardware support experts. This ensures you receive the best possible support, helping your pharmacy thrive.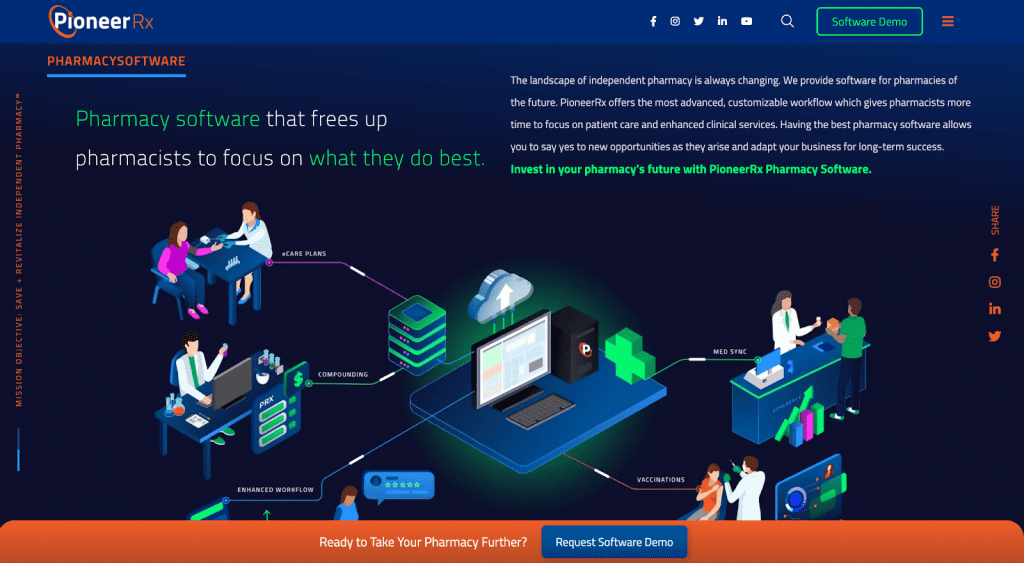 RX30 Pharmacy System
Rx30 Pharmacy Management Software is a top-tier solution designed to streamline operations and automate prescription processing in community pharmacies. With over four decades of experience, Rx30 is equipped with a range of tools to enhance patient service and boost business growth.
One of its standout features is prescription processing. This allows pharmacies to complete a refill request in mere seconds. The software is customizable to your pharmacy's workflow, ensuring efficiency and optimal results. It offers a quick and intuitive prescription filling process, guaranteeing top-notch service for your patients.
Rx30 also introduces the Virtual Pharmacist. This feature starts processing prescriptions and refill requests even before your pharmacy opens. It automates the process, saving time and increasing productivity by consistently scanning the refill queue.
The software also includes features to streamline workflow, optimize inventory and ordering, improve claims processing and reconciliation, and enhance reporting. These integrated solutions make Rx30 a comprehensive pharmacy management system.
The team behind Rx30 is committed to the community pharmacy industry. They offer a partnership that can significantly enhance your pharmacy operations, making Rx30 a reliable choice for your pharmacy management needs.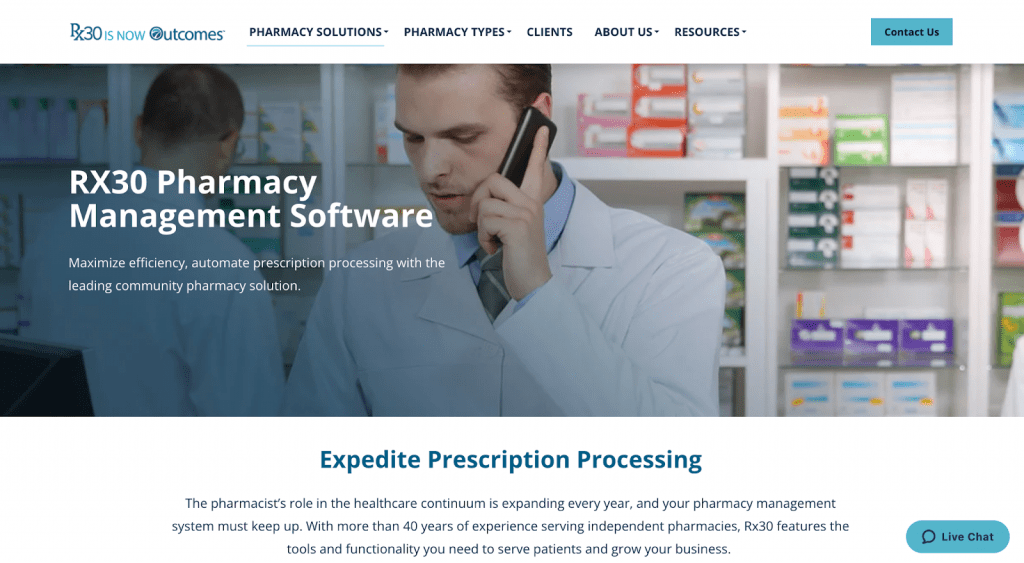 RXVantage
RxVantage is a healthcare management system that operates in the cloud, connecting medical providers with life science experts. It's a platform that brings together the educational resources of life science companies and a self-service portal for medical practices, creating a seamless connection.
Medical practices can use RxVantage to find and connect with sales representatives. They can schedule meetings or training sessions, explore assistance programs, and send notifications to their team. On the other hand, representatives can use the platform to communicate with local practices, boost their online presence, arrange meetings, and receive reminders and requests.
One of the standout features of RxVantage is its ability to provide easy access to representatives. Whether a provider is looking for information on a new FDA-approved drug or device, a billing manager needs advice on reimbursement, or a patient requires financial assistance, life science experts are readily available. The system makes it easy to find and contact these experts, allowing users to message, call, or request a meeting to get the information they need.
Another key feature is the provision of video conferencing. This allows practices to connect with life science experts from anywhere, ensuring the best care for patients. Remote meetings can be conducted as seamlessly as in-person meetings.
Lastly, the RxVantage mobile app, available for iOS and Android, offers added convenience. It allows users to schedule more meetings and provide real-time responses to providers from any location, enhancing efficiency and responsiveness.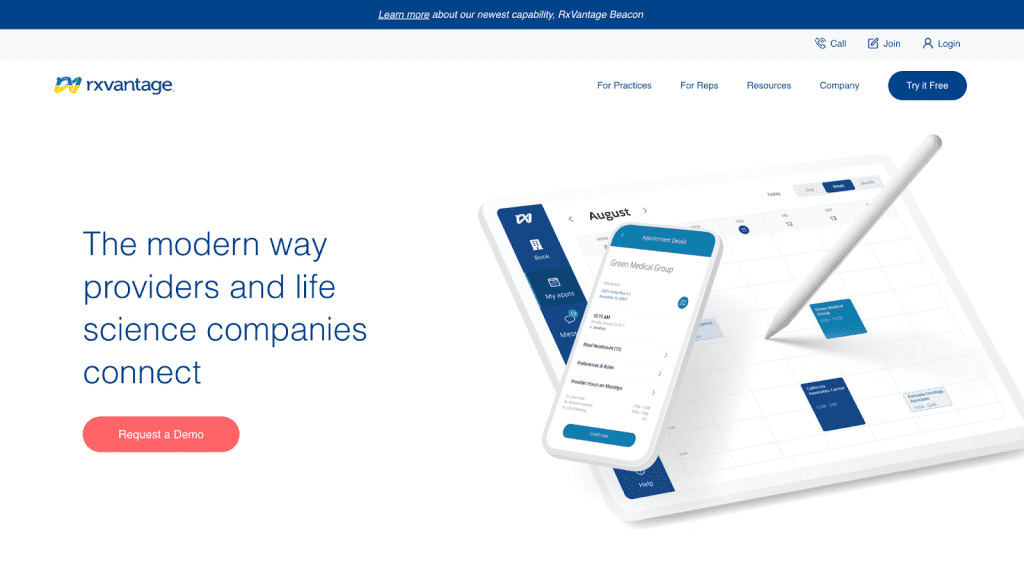 Liberty
Liberty Software provides a cutting-edge pharmacy software platform, designed with a focus on enhancing efficiency and patient safety. Built on Microsoft's latest technology, the platform is user-friendly, enabling new employees to start filling prescriptions with minimal training.
The software is equipped with a range of features tailored for pharmacy success. It offers a customizable workflow, including stages like RPh Check, Count Que, and Final Product Check, allowing it to adapt to your pharmacy's specific needs. It also sends automatic text and email alerts to patients about refill reminders and prescription readiness.
A unique feature of Liberty Software is the Five Star Dashboard, which aids in managing your pharmacy's five-star rating. It calculates your performance metrics and helps identify patients who may be affecting your rating negatively. The software also integrates Drug Facts and Comparisons, providing valuable information during the prescription filling and pharmacist verification process.
The software is proactive in managing patient refills, offering tools like Auto Refills and Refill Management. Other features include advanced bin management, AWP reclaim, manufacture coupon management, inventory control, accounts receivable, insurance audit report, customizable prescription labels, pharmacy task management, DIR fee monitoring, document management, extensive reporting, and a flexible data view.
In addition to the pharmacy management software, Liberty Software also offers a point-of-sale software designed specifically for pharmacies and a cloud-powered office management system for managing multiple stores.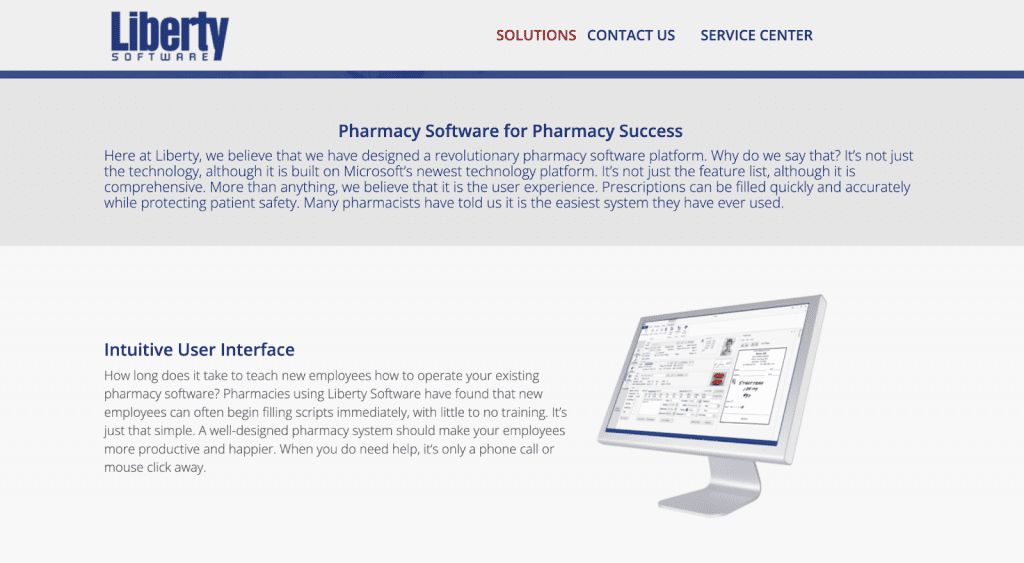 Also read: 9 Ways To Make Your Invoicing Process More Effective
Considerations for Choosing the Right Software
When selecting billing software for a medical shop, it's important to consider several factors to ensure it meets your requirements and aligns with your business goals. Here are some key considerations to keep in mind:
1. Budget and Pricing Models
Evaluate the cost of the billing software, including upfront fees, subscription plans, and any additional charges. Consider whether the software offers a pricing model that fits your budget and provides good value for money.
2. Scalability and Customization Options
Assess the scalability of the software to accommodate your business growth. Determine whether it allows for the addition of new products, customers, and locations. Additionally, consider if the software offers customization options to tailor it to your specific workflows and requirements.
3. User-Friendly Interface and Ease of Use
The software should have an intuitive and user-friendly interface that enables your staff to quickly learn and navigate the system. Consider software that offers training materials, customer support, and ongoing updates to ensure smooth adoption and optimal utilization.
4. Customer Support and Training
Look for billing software providers that offer reliable customer support, including access to technical assistance, troubleshooting, and software updates. Additionally, inquire about the availability of training resources or onboarding programs to help your staff effectively utilize the software.
Recommended read: Industry-Wise Top Invoicing & Billing Software In 2023
Conclusion
Selecting the best billing software for your medical shop is a crucial decision that can significantly impact your business operations and efficiency. By considering key features such as inventory management, prescription tracking, pricing and discounts, insurance processing, and reporting capabilities, you can find a software solution that meets your specific needs.
Investing in specialized billing software designed for medical shops provides numerous benefits, including time and cost savings, enhanced accuracy, streamlined workflow, improved customer service, and compliance with regulations. The right software empowers your medical shop to handle billing processes more efficiently, resulting in improved productivity, reduced errors, and increased customer satisfaction.
Before making a final decision, carefully evaluate different software options, considering factors such as budget, scalability, user-friendliness, and customer support. Take advantage of software demos, free trials, and customer reviews to gain insights into the software's performance and suitability for your medical shop.
By choosing the right billing software, you can optimize your operations, improve financial management, and ultimately contribute to the success and growth of your medical shop.
Also read: 8 Invoicing Tips For E-Commerce Businesses
Also read: Top 10 Best Restaurant Billing Software
Also read: Top 12 Best Billing Software for Small Businesses