Despite the great recession, the freelance workforce continues to grow, according to a new study, and there are no indications of a slowing soon.
According to a survey from Upwork, a freelancing platform, freelance employees contributed $1.3 trillion to the US economy in annual wages, up to a $100 million increase from 2020.
Freelancers have a lot going on, from client acquisition to task management. As a freelancer, you must acquire a solution that automates repetitive tasks from sales to sending automated emails to lead management. To increase your chances of success as a freelancer, one of your first decisions should be how to handle operations – particularly invoices, bookkeeping, clients, and projects.
To attract and retain clients for the long term and earn glowing client evaluations, freelancers require a scalable online invoicing, accounting, time tracking, and client management system. Otherwise, it's all too easy to overlook the revenue-generating chores that help expand the firm and always play catch-up.
This is where CRM software may benefit freelancers by serving as a Customer Relationship Management solution.
CRM software enables freelancers to organize their tasks while keeping track of all their pertinent information and notes. Additionally, the CRM system's pricing point must accommodate freelancers' limited budgets.
Understanding CRM
Customer Relationship Management or CRM is a business platform that enables freelancers and enterprises to manage their customer and prospect interactions. CRM tools for freelancers centralize all your client data, including emails, payments, phone calls, and sales. The primary benefits of utilizing a CRM program are improved contact management, increased client satisfaction, and automation of your sales process.
The best CRM tools to grow your business can help you streamline your operations, freeing up time for more sophisticated activities that produce better outcomes. These technologies can aid in the management of procedures, the tracking of KPIs, and the analysis of your sales funnel. Additionally, you can utilize specific features such as conversations and task assignments.
Benefits Of Using CRM For Your Business
According to LinkedIn's 2020 State of Sales Report, top-performing marketers have greater confidence in their CRM analytics than their counterparts. 53% of the top category are highly confident, whereas only 32% of the bottom group are extremely confident.
This demonstrates a direct correlation between sales efficiency and comprehensive data, which results from the effort spent on data cleaning and integrity.
The advantages of utilizing CRM tools to grow your business are limitless, as they may assist you with the following processes:
Establishing your sales targets
Create effective time management for freelancers
Evaluating your clients' likings and performances
Managing contact details, including mobile numbers and emails
Assessing your results weekly, monthly, or annually
Identifying your buyer character
Tracing all connections on a single platform
Following-up communication with valuable techniques on email marketing to build a freelance business
Generating reminders and notifications to call back, send messages, or collect quotes
Monitoring after-sales support and client perceptions of this stage of service
Best CRMs For Freelancers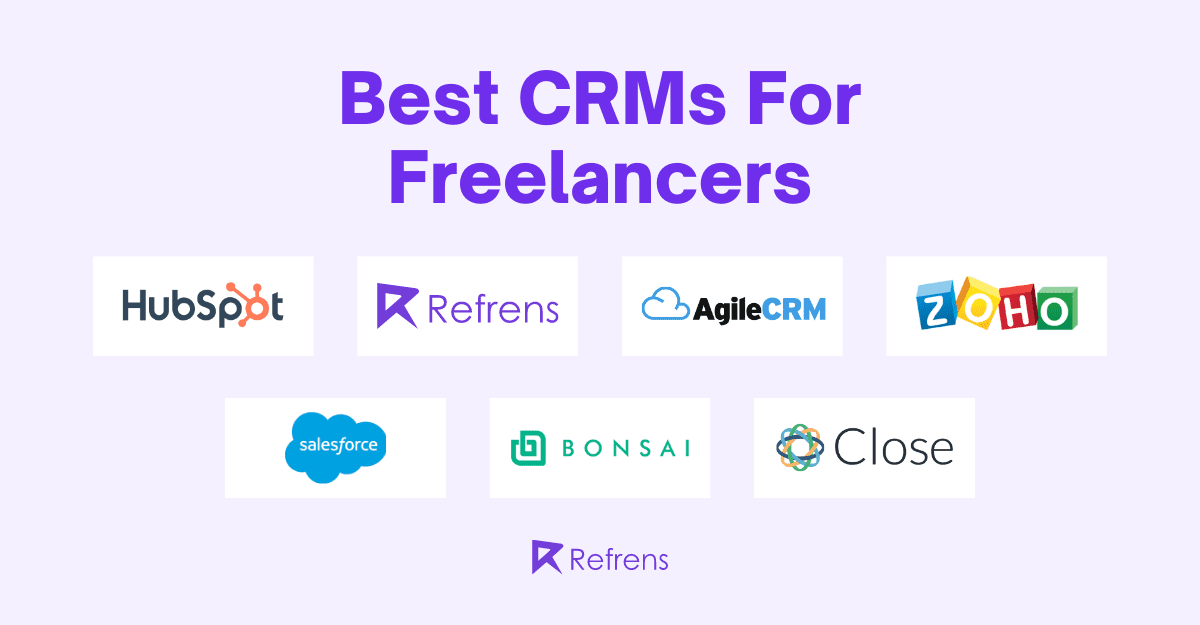 1. Refrens
Refrens is an all-in-one business operating system for 150k+ freelancers, agencies, and businesses across the world. Freelancers can not only manage client relations but also manage their online presence, leads, invoicing, accounting, expenses, payments, and more.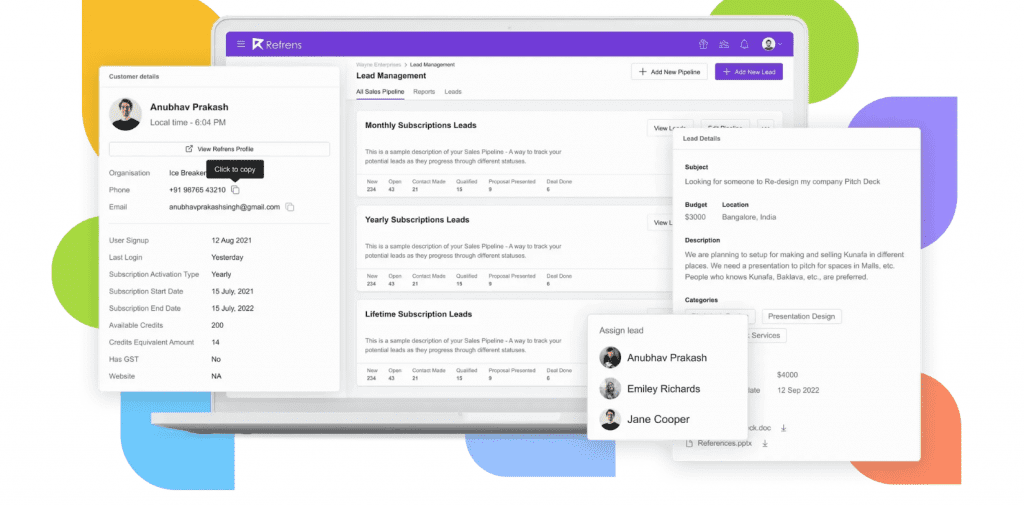 Refrens CRM helps you:
Create contact us, lead capture, and survey forms
Capture leads automatically from your website, social media, and other platforms
Communicate with leads over WhatsApp and Email, Keep track of it in one place.
Create & manage roles, and control access levels for each team member
Get auto-reminders, so you never miss a follow-up
Send quotations & invoices in a few clicks without the need for manual data entries every time
See why Refrens CRM is an ideal choice of thousands of freelancers >
2. HubSpot
HubSpot offers one of the most excellent free customer relationship management systems available. It supports an infinite number of users and unlimited contacts and provides every necessary tool you'll need to manage a freelance writing firm.
Several features of Hubspot are contact management, HubSpot integration with Outlook or Gmail, email outlines and monitoring, and tools for project management such as meetings and email scheduling. Third-party software integrations, email monitoring, landing pages, advertisement management, live chat, and simple chatbots that may be integrated into your website are also available.
Each service sector has a three-tiered plan: content management systems, promotion, sales, customer support, and operations, enabling you to adapt the CRM to your specific requirements.
3. Agile CRM
Agile CRM is widely regarded as the most versatile CRM tool, hence named "Agile." This is because, compared to more complex CRM software, its design is so simplistic and straightforward to use. This CRM application was created primarily for freelancers and small enterprises interested in starting and perhaps eventually selling an eCommerce business.
It includes a timeline board that displays all of your interactions with the application. If freelancers require additional marketing features, some are available, like LinkedIn marketing automation, emailing, newsletters, and tracking.
Agile CRM provides a free package with ten users and one thousand contacts, but without marketing tools. The premium plan begins at $8.99 a month and increases to $47.99 a month. Freelancers can easily register directly on their website.
4. Zoho CRM
One of the essential features that Zoho offers is real-time access to your business's sales pipeline data. Zoho CRM keeps track of your prospects, activity statistics, and even your emails and splits it so you can watch your sales pipeline at every stage. This makes it a perfect CRM for businesses looking to expand.
Zoho can be intimidating for first-time CRM users. While the dashboard is straightforward, there are numerous tools and capabilities which may make it difficult to use.
Freelancers can pick between a free edition and a $12 per month premium. Begin with a 15-day free trial to determine the perfect plan for you.
5. Salesmate
This is an all-in-one feature-packed CRM for freelancers. The plan starts from $12 a month, and most freelancers will be able to afford the premium $24 a month plan.
For the price paid, you will get access to the best sales pipeline software, with multiple other features like Power Dialer, Workflow Automation, Sales Reports, and many more. Both plans have Calling and SMS marketing features.
All of these are fully customizable, so you can build a more convenient dashboard for yourself if the one Salesmate offers are not suitable enough according to your requirements.
You can also set up automated sequences of emails or text sequence notifications for personalized emails or texts for select clients. It also provides access to insightful reports and measures your performance.
In short, is a unified customer journey platform that helps you automate your sales, marketing, and customer support processes.
6. ClientJoy
Clientjoy is an all-in-one CRM software that helps manage leads, proposals, contracts, invoicing, and payments for a streamlined client lifecycle.
With Clientjoy CRM freelancers, small businesses & agencies can:
– Manage sales pipeline with high efficacy and transparent data
– Warm up their sales prospect with email sequences.
– Create and send Documents like proposals, contracts, estimates, contracts, and agreements for your Prospects & Clients.
– Update Clients in Real time & Transfer Files/Media etc in Client Portal which keeps tabs on your interaction & exchanges with your Clients.
– Send one-time, split, or recurring invoices & get paid faster with auto-reminders to their clients.
– Send a professional appointment booking link to your prospects & clients.
– Monitor all your activity across Clientjoy's Intelligent Dashboard.
Due to its ease of use and powerful features at a competitive price, ClientJoy is a popular choice for those looking to manage and grow their business.
Clientjoy is available at $149 for life and also includes a 14-day free trial. Pay once and use Clientjoy forever.
7. LeadSquared
LeadSquared is a fast-growing CRM built to manage all your leads and clients in one place. Its pricing starts at Rs. 1250 per user per month and provides integration with email, phone, SMS, and WhatsApp service providers.
If you advertise your services on different platforms, LeadSquared allows you to capture leads from Ad platforms, service directories, marketplace aggregators, and more.
8. Close
Close is the best CRM for self-employed that simplifies lead management via an intuitive interface. The platform includes built-in phone, SMS, and email capabilities, centralizing your interactions with prospects and clients.
This platform is ideal for small and medium-sized enterprises that require a CRM solution with email marketing capabilities. All users need to describe their copy, and Close will automatically create a whole email marketing campaign for them. Users benefit from comprehensive email tracking and the ability to create several email accounts.
Close can also assist business owners in assessing the performance of team members. The software can measure and rank team members' success based on sales engagement, written emails, phone calls, and time spent speaking with prospects.
The Starter package begins at $29.75 per user per month. This plan is limited to four custom fields, two thousand leads, and four thousand contacts.
9. Bonsai
Bonsai is an all-in-one solution that simplifies freelancers' client administration, bookkeeping, and project management. Freelancers who are swamped by paperwork will find Bonsai quite beneficial, as this CRM software automatically produces and fills your documentation for each new project. Additionally, Bonsai creates templated agreements and legally enforceable electronic signatures. This will streamline your paperwork and save you considerable time.
Additionally, Bonsai enables freelancers to carry out their tasks more efficiently by centralizing all project information in a single area – the Bonsai interface. Freelancers can create new projects and add details about them and social networking and contact information. Bonsai may assign tasks and keep track of all active projects in a client's portfolio.
Monthly fees for Bonsai begin at $16. The plan covers all basic Bonsai capabilities, such as client and project management.
10. Salesforce
Salesforce is another outstanding CRM tool for freelance writers, offering options for large and small organizations. Salesforce, like HubSpot, provides helpful instructions to assist you in getting started in the realm of CRMs.
The Salesforce software is one of the best CRM tools to grow your business; that is relatively simple to use, as it was built to address the most frequent business challenges. Salesforce Feedback Management helps engage customers and users with relevant, personalized surveys. It is especially advantageous for people in banking, healthcare, communications, journalism, retail, and not-for-profit organizations.
Salesforce's system is cloud-based, so you may access it from any computer or smartphone. Salesforce provides some of the most remarkable customer support to complement its outstanding features. They have a simple initial setup process, easy modification, contact management capabilities, lead creation, and reporting.
Salesforce is available for $25 per user per month (paid annually) and includes a 14-day free trial.
11. EngageBay
EngageBay is a free all-in-one CRM software that works great for freelancers. It helps you manage your clients, projects, emails, and more—all in one place.
With EngageBay, you get a free plan with 500 contacts and 1,000 emails a month. It's an easy way to keep track of your client's contact information and notes on each client relationship, the latest updates and interactions, and files shared with them. EngageBay can also replace any calendar tool you may be using because its online appointment scheduler is easily integrated with your inbox.
EngageBay is used by many solopreneurs and freelancers who may be looking for free or affordable alternatives to some of the more expensive and established names in this market.
Free plan users can always upgrade to a paid plan that starts at $15 a month.
Boost Your Business With The Best CRM Tools
The best CRM tools to grow your business are available for companies, assisting users in managing leads and increasing sales. Utilizing publicly available CRMs is critical to the success of any freelancer, as they enable you to develop and manage relationships with clients, plan your work, and forecast future opportunities and revenues.
Finding the best CRM software is essential for managing customers and improving your workflow as a freelancer. You may improve efficiency, streamline processes, and maintain an edge in the fiercely competitive freelancing market with the help of these potent technologies. If you are looking for USA-based software, you can check out CRM Software USA.
The CRM tool you choose will rely on the kind and level of your work, whether as an individual or a business, considering the benefits and drawbacks of each and determining which is best for assisting you in reaching your business goal.
Also read: Top Sales CRM For Small Businesses: Our Best 10 Picks