While attracting new freelance clients has its appeal, maintaining existing freelance clients will yield you a higher ROI over time – and it will cost 5 to 25 times less.
However, how can you develop a client retention strategy that keeps your present freelance clients engaged and satisfied?
If you want to keep your most valuable or favorite freelance clients coming back to you with additional work, you'll need to attempt some of the strategies mentioned below.
What Is Client Retention?
Client retention is a company's capacity to convert one-time customers into recurring customers and keep them from switching to a competitor. It's a type of metric which lets you know whether your product and service quality satisfy your current clients. Most subscription-based businesses and service providers rely on it as well.
Moreover, If your freelance clients aren't renewing their contracts or abandoning your campaigns, you'll need to constantly seek out new freelance clients in order to stay in business.
Retaining current clients, on the other hand, requires far less effort and is far more cost-effective than constantly pursuing new clients.
Obtaining a new client necessitates hours of work, potentially an advertising budget, and a great deal of effort, however keeping an existing client pleased is significantly less time-consuming.
Over and above, according to a study, it can cost up to 5 times more to acquire a new customer than it does to keep current customers.
Hence, client retention is a must for any freelancer.
Why Is Client Retention Important?
Maintaining high customer retention is critical and important since no freelancer would like to lose a customer.
According to data compiled by Harvard Business School, you may raise profits by 25 to 95 percent by simply increasing retention rates by 5%.
These statistics make a lot of sense when you think about it. When clients are retained at a high rate, you don't have to spend nearly as much money on marketing, sales, and all of the other costs associated with onboarding.
At the end of the day, good client retention improves the cost-effectiveness and efficiency of every area of your freelancer business — it's a game-changer.
14 Ways To Retain Freelance Clients For Long-Term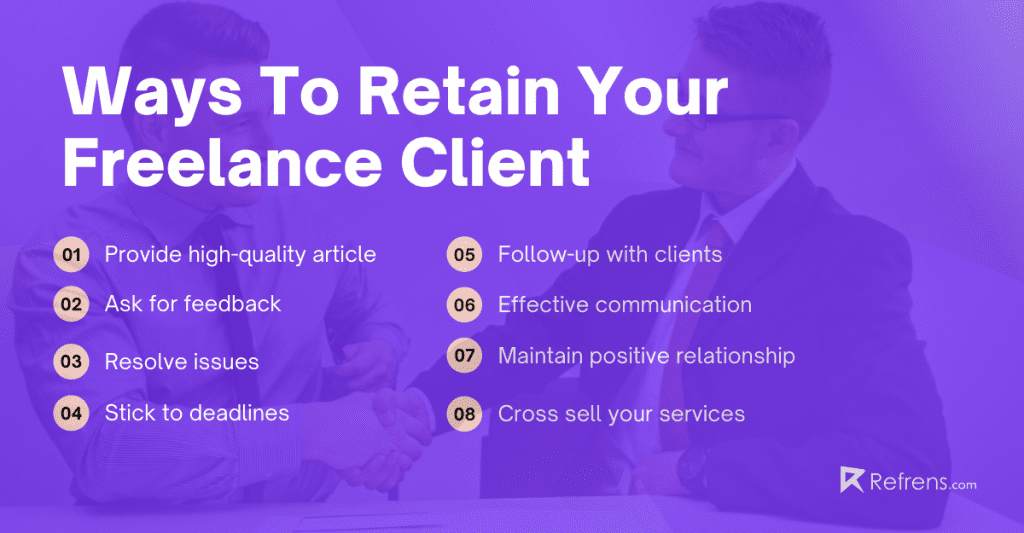 Provide High-quality Services
First and foremost, the quality of your work will influence whether or not a client will return to you for further work.
Using facts makes your work more credible, and detailing improves quality. Before you start working, make sure you understand your freelance brief and gather criteria so you can ensure your work meets customer expectations.
Ask For Feedback
It's critical to be a skilled communicator if you want to keep long-term freelance clients. Request feedback from your clientele on the work you've done for them.
Even if things appear to be going well, monthly meetings might be beneficial. If you can't meet in person, communicate via phone, Skype, or other means. Since collecting feedback is very important.
What matters in your business is that you stay in touch. It can make a world of difference in your client's long-term satisfaction.
Resolve Issues
When difficulties emerge, as they will, be ready to assist in their resolution as soon as possible. If the task is unclear, for example, you may need to ask further questions or make revisions. Furthermore, if the task's problem isn't one you're familiar with, make suggestions for how to solve it.
You must be prepared to address difficulties and maintain the status quo. Keep in mind that you're trying to make them happy, even if the desired modification isn't something you'd do.
Be Truthful
Another approach to keeping long-term freelance clients is, to be honest with them. Even if you're telling them something they don't want to hear, most clients appreciate honesty.
Let them know, for example, if the task they've requested can't be completed in the timeframe they'd want. Alternatively, be honest if the workload is something you can't handle right now.
If you want to establish a long-term freelance connection with your customer, you must work as a team and be honest with them. If you need someone else's help to address a problem, be upfront about it.
Make A List Of All The Mistakes You've Made And What You've Learned From
When you're working for someone else, you're bound to make mistakes. If your client is dissatisfied with something, strive to make it right as soon as possible so that you can retain them as a long-term freelance client.
Accept criticism, correct errors, and apologize if the situation calls for it. Take what you've learned and ask for clarification the next time something isn't clear.
It's not acceptable, though, to keep repeating the same mistakes for the same client. They'll eventually get tired of it and move on to another freelancer who can perform a better job.
Your customers must be able to rely on you to do an excellent job every time. Make sure you don't repeat your mistakes.
Stick To Deadlines
Making sure you fulfill deadlines is another approach to keep long-term freelance clients. You run the danger of losing your client's business if you routinely miss deadlines.
Why should a client choose you over someone else who will do the same job but meets deadlines you never meet as a freelancer? Make sure you give yourself enough time to complete the assignment and make the deadline.
Make Yourself Available
You don't have to respond to a text message at 3 a.m. to be available for your client's needs. The availability of resources must be reasonable.
However, you must send automated text messages and SMS alerts stating that you will be ready to answer queries concerning projects or assignments. Provide a few various ways for your freelance clients to contact you, or ask them what their favorite form of communication is.
As a freelancer, keeping your freelance clients satisfied is critical to your business's success and future.
Client Testimonials Should Be Made Public
Clients can feel certain that they are working with a skilled professional that has proven experience thanks to positive comments from previous tasks. If you have a website or a LinkedIn page, you might want to consider posting client testimonials there.
Cross-Sell Your Services
Clients may not be aware that you have more work to offer. They may be unaware that their website's content isn't SEO-friendly, or that you also provide copywriting services.
Cross-selling and upselling your services can be as simple as sending a brief email with a list of the services you offer, followed by a phone call.
Check out how to price your first-time customers.
Provide Discounts Or Freelance Packages
To keep freelance clients interested, consider giving discounts or free services. When discussing a larger job with an existing client, for example, you could offer a 5% discount or a free revision with your final draft. It's entirely up to you whether you're willing to make a minor sacrifice in order to get an additional job.
Check out when to offer early pay discounts to your clients.
Follow-Up With Customers
Don't be scared to contact clients with whom you've previously worked. You must have the confidence to ask the questions if you want to keep your clientele.
You might want to let them know about a new writing service you offer or simply keep in touch. Being at the right place at the right time could help you secure a current or future project.
Keeping in touch with clients demonstrates that you care about their business as well.
Learn how to improve client experience as a freelancer.
Create And Maintain A Positive Relationship With Your Customers
Making personal relationships with your clients can help them feel like they're dealing with a person, and it can also help you stand out from the crowd. In your emails, phone calls, and discussions, be nice but professional to create a customized experience for your customer – one in which they, too, feel invested in the connection.
Clients Should Be Respected
It's critical that you show respect to your freelance customer. When you treat them with respect, they will treat you with respect in return. This greatly aids in the development of professional bonds between the two of you. Your freelance clients must understand how important they are to you.
Effective Communication
Although it may sound typical, communication is crucial. It has the capacity to make or shatter your client's relationship.
Begin by asking some patent questions about your job and attempting to gain a thorough knowledge of the client's needs.
After you've figured out what your client needs, tell them how you can help them get what they desire in the future.
Check out the 7 client communication skills.
Conclusion
As a freelancer, you never know when or where you'll meet new customers, which is why you should do everything you can to keep them, especially in the beginning. They're the reason you get to make a living doing what you love!
It's a unique feeling to know that you'll have enough work to accomplish and that you'll be able to generate money from it.
As a result, consider having long-term clients to be a blessing in freelancing.
You can surely boost your chances of retaining clients and growing your freelance business by using the tactics suggested above.
Good luck with your freelance work!