Web designing is your business, so getting paid for your web design makes sense. You work with clients for financial gain and intellectual and creative delight. Pricing your services, on the other hand, can be difficult.
While pricing is an art, finding your sweet spot can take some time. Understanding the most crucial factors will help you ensure your services generate a good profit. We've put together web design cost guidelines.
This web design pricing guide will show you how to figure out how much to charge for your design tasks and what aspects to consider. We'll also look at the various methods for demanding prices from clients. So, let us dig in!
The Cost of Creating a Website on Average (And Why It Matters for Your Pricing)
The amount of money set aside for a web design project significantly impacts the outcome. It might help or hinder what features and functionalities you add and how much time you devote to the design and User Experience (UX).
Setting your fees as a web designer is crucial to ensuring that you are fairly compensated for the time and money spent on projects. You may not make a profit if your rates are too low, and if your prices are costly, you risk losing customers to your competitors.
Because of how scalable a website might be, it can be challenging to determine how much to charge for it. For example, people can put together a website for a few dozen of dollars each month using do-it-yourself Content Management Systems (CMS) or alternative website builders.
However, freelancers with practical experience who build a WordPress site from the ground up could price anything from $500 to $10,000. Agencies may levy even higher fees.
Web hosting and a domain name bare the minimum charge for creating a website. There are also premium plugins and themes and maintenance and security features, and the vast website design prices might make determining what to charge challenging.
Are you new to pricing your clients? Check out this article to learn how to ace that pricing strategy.
7 Things to Consider When Pricing Your Web Design Services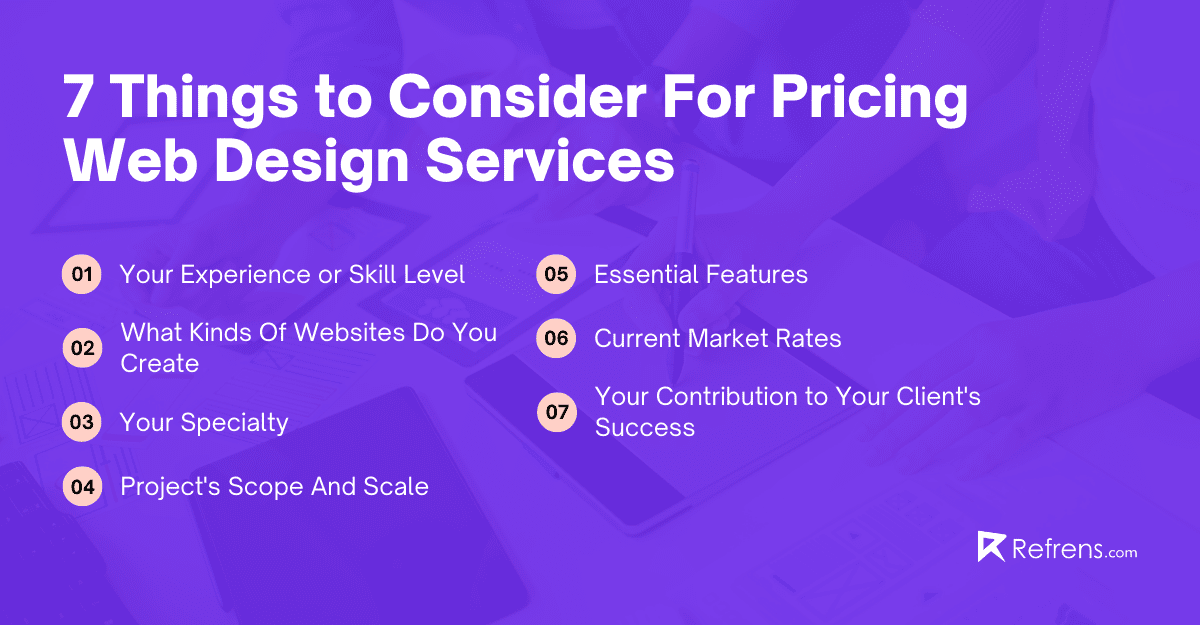 There is no clear solution to how much you should charge for web design services. However, a few essential considerations can assist you in making your decision. Let's look at the factors.
Your Experience or Skill Level
When calculating website prices, it's good to think about how much experience you bring to a project. The variations in web design pricing are determined mainly by factors such as certifications and designer experience.
Clients will be willing to pay more for more sophisticated and specialized talents. You can raise or lower your charges as your experience and skills grow.
Having a website portfolio of high-quality web design work on hand can assist justify higher fees and persuading clients that you can meet or exceed their expectations. Consider studying what other developers with your skill level charge if you're looking for a ballpark price range.
Check out the most essential soft skills of a freelancer.
What Kinds Of Websites Do You Create
The type of websites you build may have an impact on your pricing. For example, a personal webpage requires significantly less effort than a commercial website, such as an enterprise-level eCommerce platform like Wix or Shopify or realtor website design.
Certain features and capabilities, such as integrated payment systems and shopping cart functionality, take longer to build and implement. Furthermore, clients who seek complex, custom-built websites typically incur higher costs. Creative websites tend to do really well.
Naturally, you should consider your skills and the type of work you can provide for a client. Your charging capacity will be limited if you're just getting started and can put together the bare requirements.
Your Specialty
The topic you specialize in is similar to the type of websites you build. Some sectors have budget-conscious customers. Clients in the personal finance specialty are likely to be focused on saving money and finding the best offers, which can be challenging.
It may be wise to begin in smaller niches with less competition, and you can easily stand out, which could also help you find work through word-of-mouth marketing. However, if the pay rates are low, you might consider moving on once you've gained some valuable expertise.
The Project's Scope and Scale
In web design costs, the scope of a project is critical. You can charge substantially more if you're creating a new website from scratch than merely updating an existing one.
It's also worth remembering that some clients may make suggestions that gradually expand the scope of a project, which might not be an issue if you're paid by the hour.
If you're offering a fixed rate, you'll want to factor in the costs of possible modifications and requests. That's why it's essential to have the specifics of the project's scope spelled out in writing upfront.
The Essential Features
The more complicated and extensive the features your web design customer demands, the higher your fees. As we've already mentioned, certain types of websites may demand certain features and solutions.
For example, suppose an internet business owner hires a freelancer to create their website. In that case, you can anticipate them to require payment gateways, product pages, and possibly the ability to cater to specific consumer groups, such as wholesale buyers.
You'll have to charge your client based on the amount of work to be done, mainly if it includes creating custom solutions. It considers the time spent setting up and configuring additional features and functionalities and the cost of any tools or plugins you'll need to do so.
Current Market Rates
Observing how your peers price their work is one method to understand what you can charge or what potential clients can handle. You might use freelance marketplaces like Fiverr or Upwork, or our experts:
In general, you should think about:
Services that are provided
Clientele and niche for web design
Technology and tools
The freelancer's location
All of these factors, as well as others, might influence pricing approaches. You'll want to make sure that you're also trying to come up with costs that work for you while using current rates as a guide.
Your Contribution to Your Client's Success
The ideal method to price your services is to charge proportional to the amount of value you provide to your client. It's one thing to create a beautiful new website. Your assistance will be even more beneficial if you can additionally design a website that assists them in achieving their company objectives.
You can make more money by marketing your services as a continuous Return on Investment (ROI) rather than a one-time investment. You may, for example, charge a percentage of the total expected profit if your design improves revenue from direct sales.
It may also be advantageous to charge your clients according to the size of their business. Global corporations, for example, will be in a better position to pay competitive rates than small business owners.
Finally, try expanding your services to include user research, content marketing, and other areas. You may even propose using Google Analytics to set up and monitor performance tracking.
What Should You Charge for Your Web Design Services?
You must determine what to charge web design clients and how to charge them. There are several approaches, the most frequent of which is:
When you charge hourly, you simply charge for the number of hours done. This may be your best option when you're first starting because most clients expect it, and it also assists you in gaining a better grasp of how long each job takes.
Flat prices allow both parties to focus on the end value of the deliverable. You risk underestimating the time and effort required to finish a job and satisfy the client.
For recurring tasks, this is essentially flat-rate charging. If your abilities and schedule allow it, you can earn retainers by providing other services such as website maintenance, copywriting, SEO, hosting management, and more.
It's worth remembering that, as your experience and efficiency develop, charging hourly may eventually mean completing twice as much work for the same money. If your current pricing method isn't functioning, you may always switch to a different one.
What Is The Cost Of A Business Website?
You can spend hundreds of thousands of dollars to build a business website.
For example, commercial website design costs range from $2,000 to $75,000, while annual website upkeep costs cost $400 and $60,000. However, these costs depend on your website's size and features. For a better understanding of the costs of the website, you can consult some of the best financial websites to come to a conclusion
The average website development and maintenance cost, subdivided by business type, is shown below. (The figures are just for reference)
Small Business website with 8 to 16 pages – costs $2,000 – $9,000
Corporate website with 25 to 75 pages – costs $10,000 – $35,000
E-commerce website with 100 to 1000 products – costs $10,000 – $35,000
Database-driven website or application websites with 20 to 2000 pages – costs $6,000 – $75,000
Also Read: Cost of hiring a shopify developer
Which Web Design Services Should You Charge Nothing For?
Knowing what and how to charge for your services is critical for long-term success as a business owner, and it's also vital to know when not to bill customers. In other words, providing complementary services on occasion may be desirable.
For example, when you're hired to construct a website for a customer, it's commonly assumed that you'll offer a responsive result. When you're repeating some of your previous work from a similar project, you may choose to charge less (or none at all).
You may also decide to offer it 'on the house if you're working for a significant and long-term client who needs a solution that you can swiftly put together utilizing technology like a CMS. Complimentary services can be considered a method to express gratitude, so many firms give loyal customers end-of-year gifts.
Conclusion
It takes time to figure out how to price your web design services, but it's well worth the effort. Your rates influence the types of clients you attract and the quality of work you can do. Furthermore, as a business owner, the rates you charge are critical for success and long-term viability.
We explored seven critical elements that will influence how you price your web design services in this article, including your skill level, project scope, and market pricing. You can select whether to charge clients hourly, fixed rates, or monthly fees once you've determined what price to charge for a website.