Freelancing has grown in popularity as massive as approx 1.1 billion, as more people leave typical 9-5 jobs in favor of becoming their boss and picking the work they want to accomplish.
This is due to the rise in popularity of technological advancements and the ability to link clients with freelancers worldwide, allowing more people to accomplish what they enjoy on their own time and without the constraints of regular hours.
Moreover, on-demand freelancers are filling up the gaps in your team, and they are the ones that are keeping your company running.
Over and above, freelance work has become a common stepping stone to full-time employment.
These freelancers save money for most businesses, even if their fees are high. Because in the end, they add value to your projects. Isn't that appealing?
This upcoming research will help you explain how using freelancers can save your company.
Why Hire A Freelancer?
When you need a specialized function filled, you may choose to hire a skilled freelancer. Professional creative talent, for example, can record and produce a commercial for you if you don't have an innovative in-house team.
Even if your organization has previously launched campaigns, hiring someone who does it regularly and understands what the final product should look like can ultimately save you time and money while delivering high-quality output.
When Is It Appropriate To Hire A Freelancer?
When your business needs flexibility, freelancers are ideal. You may need to expand your workforce and hire people to accomplish the same work as your full-time employees for a limited period. You can perhaps have a specific project in mind that requires someone with particular abilities. Regardless, freelancers assist in filling any holes in your team's expertise.
Some may consider outsourcing projects dangerous but using a professional service marketplace can ensure that the correct person will be found for the assignment.
Check out when to hire a freelancer Vs Full-time employee.
The Advantages Of Hiring a Freelancer For Your Company
There are numerous reasons why hiring freelancers is a wise decision for any company, particularly when it comes to creative initiatives.
Whether you need assistance with your call center, marketing video production, making sales call with a power dialer or access to more creative-driven personnel, outsourcing this job to specialists is your best bet. The following are the top benefits of hiring freelancers.
Freelancers Are Experts
When you employ freelancers to work on your project, they bring a diverse set of skills. They've polished their particular skills with other brands and are masters in their sector because they're contractors.
Extreme Scalability For Your Team
With so many projects on the go, finding one person who matches each campaign might be difficult. You may require the services of a translator, a musician, or an audio producer from time to time.
If you have a lot of tasks coming in, freelancers are the most incredible way to fill in the gaps. The freelancer can move on after completing a project, and you can move on to the next campaign. Contractors are used to operating on a project-by-project or time-frame basis. In fact, for a freelancer, short-term work is the norm.
A Large Talent Pool Tailored To Your Needs
When you hire a freelancer, you're probably seeking someone who has abilities that your present employees don't have. You want to employ someone who can accomplish something that no one else in your office can do professionally right now.
There's a strong reason for you to outsource your work. Even the most pleasing colleagues can't do everything, even if you have an excellent in-house team. To complement your team's strengths and take your brand forward, you can employ a freelancer depending on your exact skills, budget, and availability.
Reduced Total Cost
Hiring a freelancer is less expensive than onboarding full-time employees who may or may not be needed after completing a project. You can swiftly and efficiently fill the creative gap for your projects by using a freelance marketplace rather than wasting time and money on hiring, onboarding, and training a new permanent team member.
You probably don't have professional studio equipment unless your company already produces videos or podcasts. Working as a freelancer allows you to work from home, utilize your equipment, and avoid paying for benefits, saving you money on office, equipment, and benefits.
When you hire a freelancer, there is no danger to you because the contract is negotiated correctly ahead of time. You may agree on what they will be paid and what costs you will or will not cover before beginning the project with a well-written contract, providing peace of mind and continued savings.
Help Your Company From Burnout
If you use freelancers for well-defined and budgeted projects, you can help keep your company's burn rate low. The scope and investment can be limited unless there is a demonstrated ROI on a small scale. Freelance talent platforms can flexibly scale up a work approach once positive unit margins and revenue models have been validated.
Ways Hiring Freelancer Can Save Your Company Money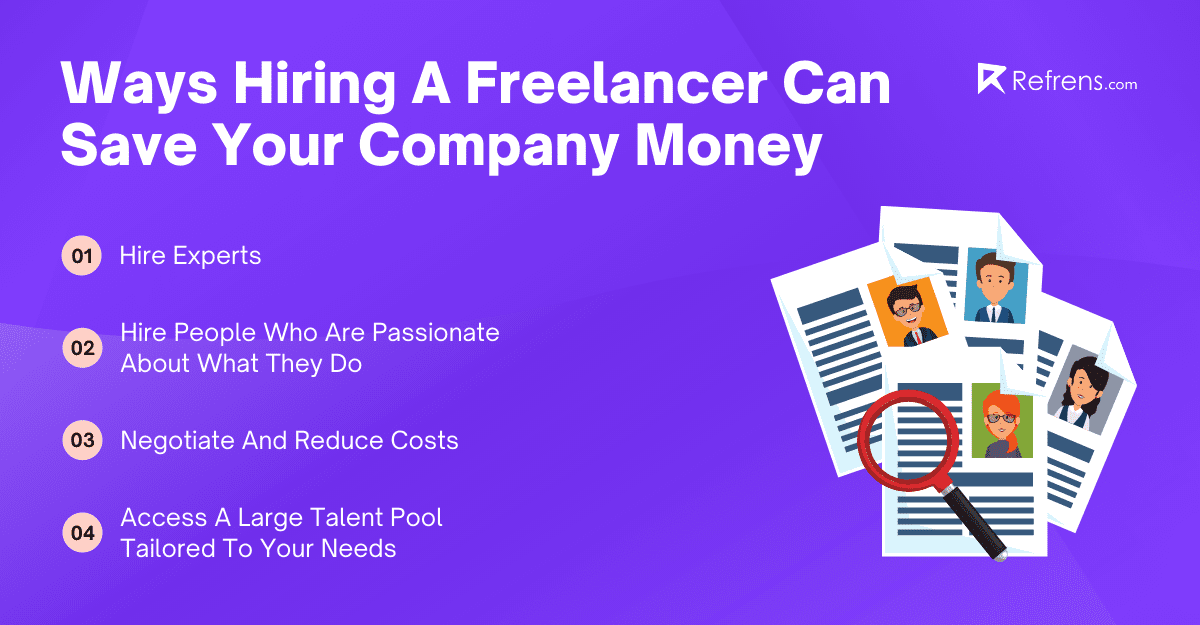 Bring In Experts
"Is this role your specialty?" inquire your potential freelancer.
Make sure the candidate has specialized experience for the job you're looking for, and don't be fooled by generic skills; you'll end up paying for subpar service. If you need someone to work on social media, make sure they have a voracious hunger for Facebook and Twitter. Dabblers will not suffice. If you require editorial assistance, inquire if the freelancer edits for enjoyment. Scrutinize her blog for the refined vibe.
Hire Freelancer Who Are Passionate About What They Do
"Are you 100 percent enthusiastic about doing this work?" ask your prospect.
Hire freelancers passionate about the task and have a learner's mentality to do your freelancers and yourself a favor. You may have to hire less experienced freelancers, but with your help, their enthusiasm for the job will outweigh any technical issues.
The inspired work will benefit you.
Check out the 27 proven ways on aligning freelancers with your company's goal.
Pay A Higher Price
"How much will you be happy working for?" inquire your freelancer.
Most clients don't care about happiness, which is essential. Don't be scared to pass on a freelancer if you can't afford their happy wage and can't find a way to reward them.
Your work quality and their pleasure are inextricably linked.
Increase your offer by 5% to 10% when you've found happy pricing. Your kindness will make the freelancer squeal with delight, motivating them to produce their best work.
Extra compensation can go a long way toward establishing and maintaining a successful freelance-client relationship.
When More Pay Isn't A Possibility, Negotiate
"If more money isn't an option, how else can we make you happy?" inquire the freelancer.
Freelancers that are satisfied with their remuneration produce the most outstanding results. However, just because a freelancer is out of your financial reach doesn't mean you can't make her happy with benefits.
Begin Negotiating Benefits
Many companies earn airline miles by purchasing in bulk. For folks who enjoy or need to travel frequently, those points are equivalent to dollars. The same may be said for hotel points. By combining airline and hotel points for a vacation package, you can impress a potential freelancer while saving money.
Get inventive with your compensation to attract the best staff and keep them happy.
Also read: How to decide between hiring In-house vs freelancers or agency engagement>
Solved Your Problem?
A freelancer can definitely assist you with a new project or pick up the slack when you need extra support from your team, and they can often provide valuable insight into your project or campaign.
When you locate the perfect talent, you can save time and money while putting out a product that has been handled by a professional who is available when you need it. 
Don't be afraid to delegate your creative effort to someone who already understands your requirements.
The moment to incorporate skilled freelancers into your company model is now. Start using freelancing marketplaces like Refrens to accomplish projects and promote your brands. So, what exactly are you waiting?
Now is the time to post a job!