Getting quality clients is one of the most difficult aspects of freelancing. Whether you're just starting out as a freelancer or looking to expand your current customer base.
It can feel like you're spending more time seeking clients than really working as a freelancer on some days. You owe it to yourself to put your time to the best possible use.
However, at some point in their careers, every freelancer has experienced a feast or famine cycle. You know how it goes: everything comes at once, there are so many deadlines, and you end up buried in work.
Therefore, it is essential for freelancers to create a sales funnel to avoid the famine period and to enjoy the feast all year long.
In the most basic terms, a sales funnel is the path that visitors to your website follow from the moment they arrive until the moment they make that all-important purchase. The goal of a sales funnel is to guide site visitors down the road to a successful sale.
Moreover, even if the business is booming, it's critical to have a plan in place for attracting new freelance clients or keeping your present ones. Getting new freelance clients is especially vital if any type of freelancing job
As a result, focusing on how to obtain freelance clients is critical if you want to maximize your business's potential.
You don't have to spend money on advertising efforts to succeed. There are alternative, less time-consuming ways to find clients—and instead of you looking for them, they'll find you.
Where Do Freelancers Find Clients?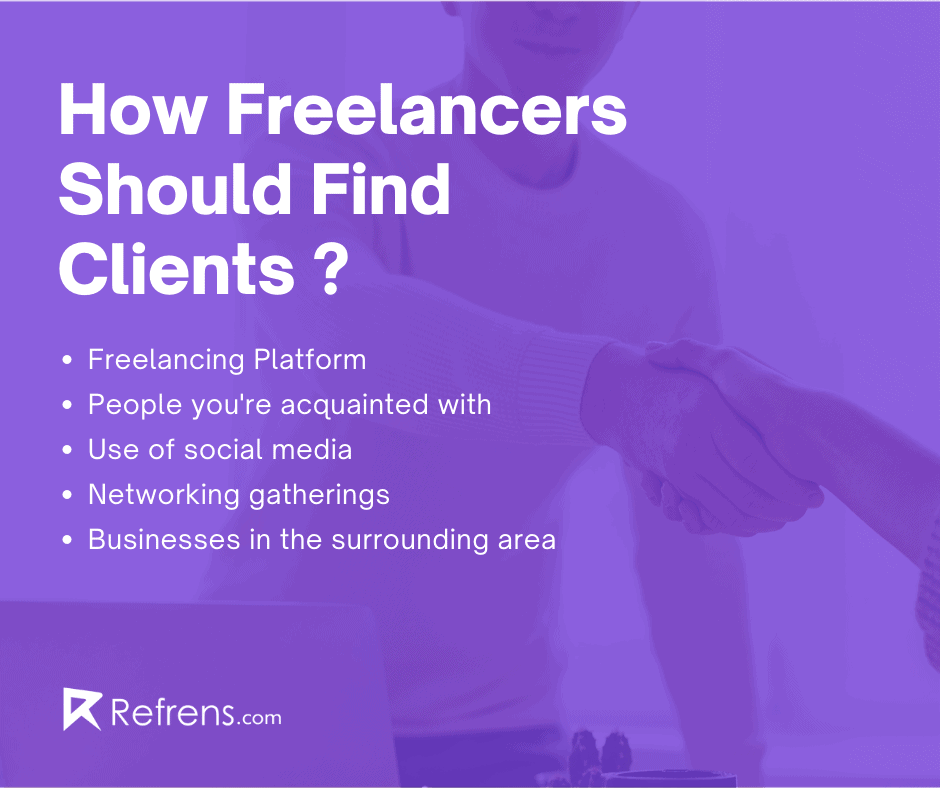 Freelancing Platforms
You should begin your freelancing business by searching for clients on a freelance jobs marketplace.
Why? Because freelance platforms make it easy to discover paying clients fast and securely.
Every freelancing site is a little different, but they all have the same goal of assisting freelancers in finding work.
Whether it's by assisting clients in finding you, or by assisting you in finding clients.
You can use Refrens to find clients; it's a terrific tool.
Refrens is a wonderful way for freelancers to find clients in their niche quickly, with over 50,000+ agencies and freelance professionals on the network.
Beginner and experienced freelancers both will find clients in a limitless numbers. You also get to choose your own fee.
There is no set commission fee; it varies from project to project. It charges about 15-20% of the project's worth.
There is no cost to register.
Refrens would serve as a bridge between you and your client, allowing you to spend less time looking for unproductive leads.
You can use Refrens to generate documents such as online invoices, quotations, and proforma invoices.
You can hire freelancers in a variety of fields, including content writing, graphic design, digital marketing, and more.
Hence, Refrens is a great tool for starting your career as a freelancer.
People You're Acquainted With
Start telling your family, friends, past classmates, and professional connections about your freelance services.
Moreover, you would be amazed at what a little word-of-mouth can do for your freelancing career.
In reality, the majority of freelancers obtain employment through friends and family.
Since, they are already familiar with you, which adds to the trust element. When they need a service, people are significantly more inclined to hire someone they know or who has recommended to them.
When you start sharing with your current network, your message will eventually spread to their networks, opening up new doors for you.
Use Of Social Media
When looking for clients, don't forget the importance of social media. Your future clients are almost certainly already on one or more platforms, giving you a free and simple opportunity to connect with them.
It's also a wonderful opportunity to meet and network with other freelancers in your area and adjacent fields who may be able to send you clients or include you on one of their projects.
Let's take a look at the many social media platforms you can employ to your advantage.
LinkedIn is an excellent tool for finding clients regardless of your sector because it is a site created around building professional relationships.
You'll be able to create a professional profile (which may double as a CV), upload compelling samples and case studies of your work, and build a strong network of potential leads.
It's a good idea to take their skills tests and enhance your freelancer profile so that freelancing clients can find you easier.
Receiving skill endorsements and recommendations from previous clients or coworkers can also help you build trust with potential clients.
Another useful tool for freelancers to get new clients is Twitter.
You may utilize the platform to develop authority in your profession by sharing relevant ideas, information, and industry news.
It's also a good location to start talking with firms about freelancing opportunities.
Always maintain your profile professionally, including a link to your portfolio and contact details. The more professional your internet presence is, the more opportunities you'll have to meet new people who require your services.
Because Instagram is largely a visual platform, it's a fantastic location for graphic designers and artists to display their work.
Make sure you post regularly to appeal to Instagram's algorithm and perform some hashtag research to attract more people.
You may also use the app to connect with other freelancers and reach out to businesses and agencies searching for someone with your talents and imagination.
Reddit works a little differently than the other social media networks mentioned, and it's usually anonymous, but it's still a great place to look for freelance employment.
You can find freelaning clients by following the following subreddits (forums within the site):
r/hireawriter ; r/forhire ; r/hireawriter ; r/forhire ; r/freelance_forhire ; r/remotework ; r/workonline ; r/freelance
These micro-communities can have hundreds of thousands of members, each with their own set of rules and uses. It's really simple to join and start engaging with them.
You can use specific forums to create meaningful posts that push people to contact you, and you can use others to search for job openings and send direct messages to apply.
For many freelancers, Quora is a terrific untapped unexplored platform.
Furthermore, freelancers might make use of this site by beginning to answer queries from people in their expertise. Once they begin to respond, and if people like their responses, they will upvote them, you will gradually become well-known on Quora.
For example, if a content writer responds to numerous inquiries and one of the companies loves his or her responses, they can approach him or her to create a blog post or content for their company. As a result, freelancers can broaden their reach in this fashion.
Networking Gatherings
In-person networking events have a far higher human element than online networking events, making it much simpler to leave a lasting positive impression on a potential client.
Look up networking events in your area on Google, join social media groups, and use apps like Meetup and Eventbrite. Depending on the size of your city, there will undoubtedly be some (or a slew) of events.
These are fantastic opportunities to develop actual relationships in your business, which can lead to new projects.
Businesses In The Surrounding Area
Local companies are another excellent source of freelance clients.
Make connections in your neighborhood, learn about the issues they're dealing with, and tailor a proposal on how your services may help.
You never know when your local bar could want a new menu design or your dentist's website may require improved SEO for a specific keyword for example like "Turkey teeth".
Reaching out to local companies will expose you to far less competition (perhaps none) than chatting to potential clients online.
4 Steps To Landing Your First Client As A Freelancer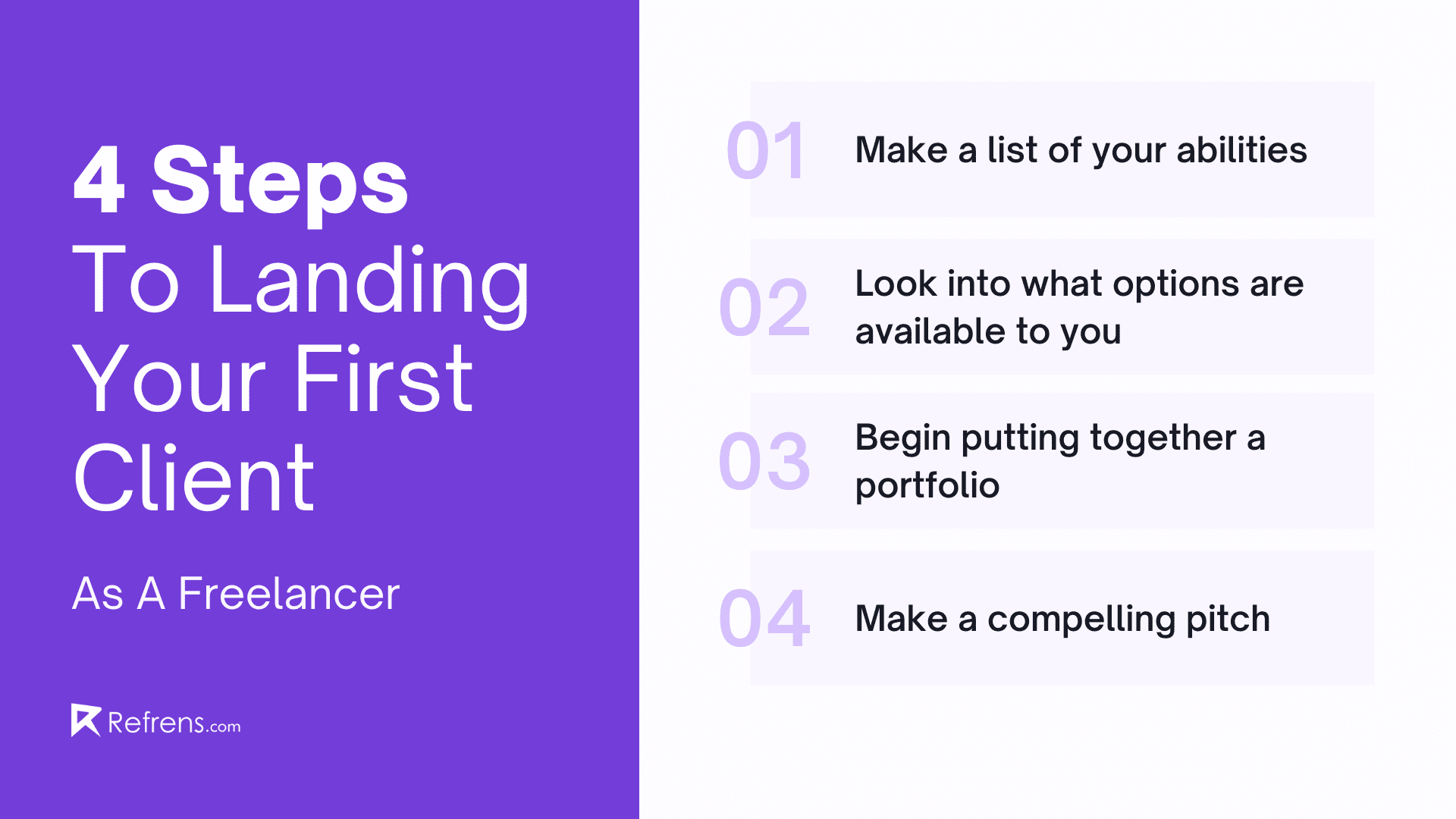 Now that we've discussed where to locate freelance clients, let's talk about how to actually win them over.
Make A List Of Your Abilities
First, you must have a thorough awareness of your own abilities to properly highlight them.
While most people have a rough notion of their core service offering, many people make the error of ignoring determining their talents and then struggle to successfully present themselves.
Your ability to package and sell your expertise effectively is crucial to gaining clients.
So, think about which hard and soft abilities you excel at and write them down. Computer languages, SEO, and writing are examples of hard talents, while communication and time management are examples of soft skills.
The hard talents are what you'll pitch – they're the solutions to your future clients' problems — but you'll emphasize your soft skills throughout the process to really stand out.
Look Into What Options Are Available To You
You'll figure out how to present your expertise to clients now that you know everything there is to know about what you have to offer.
This is when you'll start looking into what options are currently available to you.
So, rather than pigeonholing yourself into a niche based on what you believe is in need, do some research to see what jobs are genuinely in demand. You'll be able to precisely determine how to arrange your expertise to appeal to them in this manner.
Scrolling through advertisements on freelance employment sites in your broad sector is one of the simplest ways to conduct market research.
Pay attention to the types of jobs that are being advertised, the advertising prices, prominent industries, prevalent customer concerns, and the talents that are being requested.
Also, pay attention to the keywords they mention, as you'll want to match them.
Essentially, the goal is to gain a solid understanding of what clients want before wasting time creating a portfolio or pitch that is useless. Use your research to help you decide how to proceed with the next steps.
Begin Putting Together A Portfolio
So, now that you know what your present clients want, it's time to start putting together your portfolio.
This phase seems to generate a lot of delays, but it's actually quite simple to put together a portfolio. I'll keep my word.
To land your first freelance client, you only need to exhibit one or two well-targeted samples.
And, owing to your study, you already have a good idea of what paying clients want. Use this information to help you create or select your sample.
So, if you're a writer who notices that email copywriting is a hot job right now, take a look at what a customer is looking for and whip up a brief portfolio piece that solves their difficulties.
This methodology discusses in further detail how to become a freelance writer, but it can be utilise in any industry.
Create a case study to go with your portfolio sample to illustrate your approach to the what, why, and how. Also, if you're creating a case study based on a sample from a previous job, make sure to highlight the end results you achieved.
Now that you've completed your focused portfolio piece, you can send it to the client who inspired it with a killer pitch. Moreover, you'll have an in-demand portfolio piece to present to others as well.
The main point to remember is that you shouldn't spend months developing a vast portfolio of samples that may or may not appeal to anyone. Create brief, targeted samples instead, and you'll be able to start freelancing straight away.
And after you start doing freelance work, you can (and should) steadily expand your portfolio while the work is still fresh in your mind.
Make A Compelling Pitch
You want your pitch to be quick and to-the-point about the value you can provide to the client, whether you're in person or online.
Your prospective client is far more concerned with themselves, their objectives, and their problems than with you and your achievements.
So, instead of sympathizing with your 4.0 GPA or complete career experience, start by empathising with the problem or gap they need to fill, which you have researched in step two.
After that, join the dots. This is a simple but extremely powerful base formula for your pitch:
"By providing C, I help X in completing Y."
This formula will be use again and again because it works. It communicates directly to your target client, describing the value you can provide and how you may do it.
This is a fantastic first pitch, especially when delivered in person. However, you should prepare to expound on it, and you should have your sample and any testimonials on hand to back up your claims.
The core concept is the same when pitching your services online, but you'll be laying everything out at once.
Here's an example of what that will look like:
Describe your ideal customer.
Determine their issues.
Put the value they seek into words and position yourself as the answer to their problems.
Provide evidence to back up your allegations.
Finish with a strong call to action.
If you personalize this presentation to each individual client, you'll be able to land your first client in no time.
Hence, these methods will help you find freelancing clients.
How To Build A Sales Funnel That Will Blow Your Mind?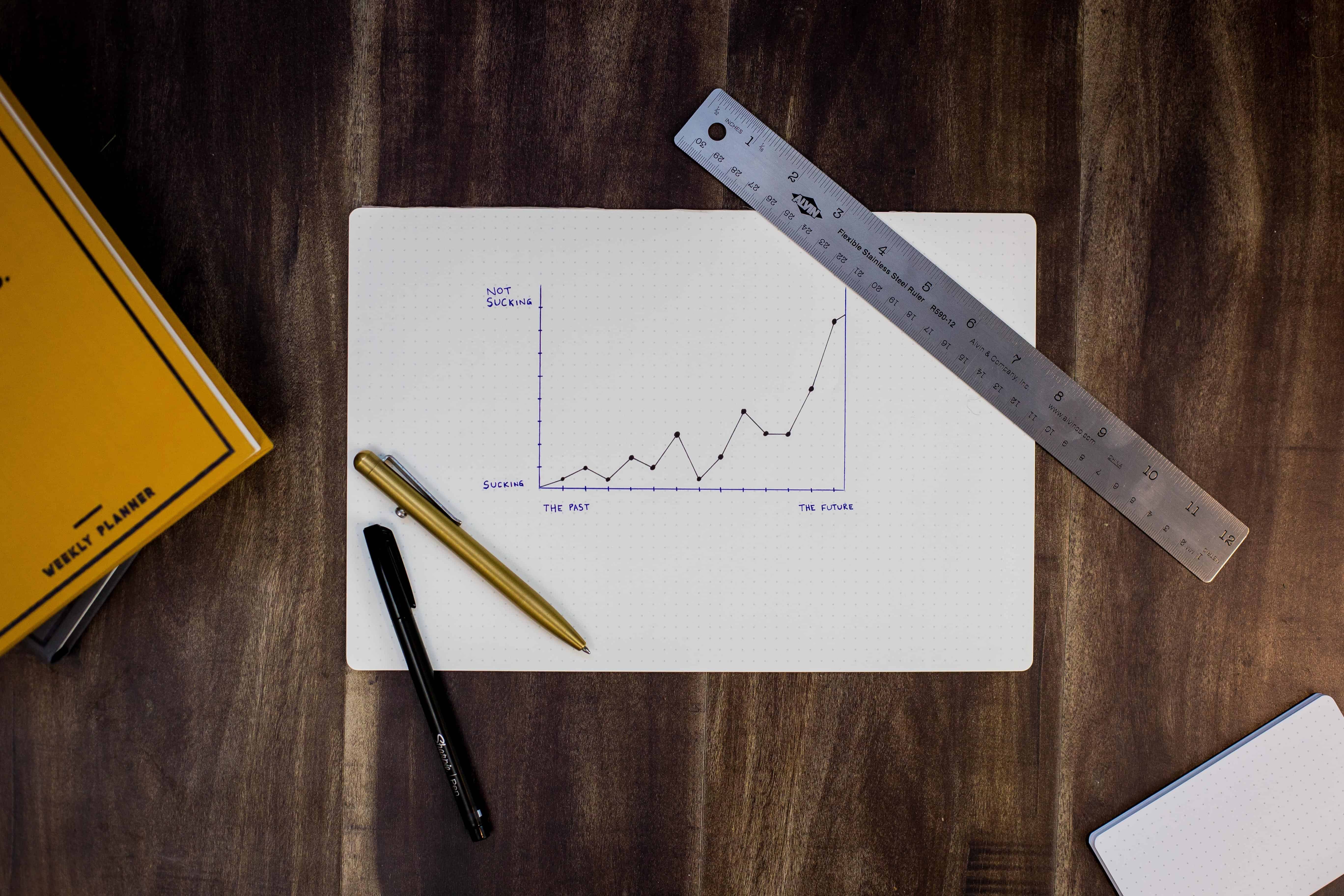 Take a look at this simple six-step strategy for setting up a successful sales funnel on your website.
Step 1: Determine who your target audience is and do some research on them
The first step, is the most important, and we believe this to be true. Before you begin optimizing your site for the sales funnel, you must first determine who your funnel is intended for. After you've figured out who your target market is and what they want to buy, the next steps become a lot easier.
Step 2: Make your landing page more effective
After you've gathered all of the necessary information about your target audience, it's time to customise your website landing page to their preferences. Varied populations have different interests, therefore you can't expect to appeal to all of them with the same generic website.
Step 3: Make a preliminary offer
Do you recall the enticing deals that drew you to the storefronts? In this case, you must create a similar offer to get customers to consider your products or services. Once you've nailed that, you'll be able to showcase your primary offerings while also creating a mental map that will prepare them for the next offer on the horizon.
Step 4: Prepare to upsell
When you notice that a consumer has purchased or is about to purchase one or more of your products, just offer them an upgrade. Depending on your industry, this could be a better product or a more extensive service package.
Step 5: Don't be afraid to give discounts
The customer has progressed quite far down the funnel at this point. But you're not out of the woods yet, because they haven't made that crucial BUY NOW button. Now you may lure them with the polar opposite of an upsell: further discounts. This is for clients who are unsure about making a purchase owing to financial constraints.
Step 6: Reward your supporters
That extra attention is appreciated by all. And if you can make your consumers feel unique, they'll be more likely to come back for more. Ascertain that your customers are satisfied with their purchases. Request their useful comments, and be prepared to answer to any questions or issues they may have.
If you follow the above guidelines carefully, you'll be able to develop an online sales process that appeal to the target demographics.
Conclusion
By now, you should have a good idea of where to look for freelance work, how to position yourself to clients, and how to keep a regular stream of clients coming to you.
The basic fact is that a successful freelancing business requires clients.
You'll have to put in some extra effort at first to get your name out there, but with time, you'll find that you can establish yourself as a brand in your field.
Let's go over what we talked about once more. If you follow these steps, you'll be on your way to obtaining your first freelance customer and running a profitable freelancing business in no time:
From the list above, choose two to three client-building streams.
Take the time to think about your abilities in depth.
Carry out market research. Begin personalizing your skillset to meet the needs of your prospective client.
Spend some time honing your portfolio and pitch.
To acquire referrals, establish your authority online and consistently provide a wonderful experience to your clientele.
Finally, you'll be unstoppable if you create your own marketing funnel.
If you're still interested in learning more about the steps you'll need to take to start freelancing, go here to learn everything you need to know.
Did you enjoy it?