In the dynamic world of small businesses, every minute and every rupee counts. Efficiency, accuracy, and organization are not just desirable traits; they are the bedrock of successful operations. One area where these qualities are particularly crucial is billing. billing is the lifeblood of a business's cash flow, and managing it effectively is paramount to maintaining healthy finances. If you are looking for the best billing software for small businesses, this article is for you.
In the digital age, manual billing methods are no longer viable or efficient. They are time-consuming, prone to human error, and can lead to delays in payment. This is where billing software comes in. With the right software, small businesses can automate and streamline their billing process, ensuring they get paid promptly and accurately.
This article will delve into the unique billing needs of small businesses, the challenges they face, and the features they should look for in invoicing software. We will also review some of the best billing software for smalll businesses, providing a detailed analysis with feature overviews, pricing, and reviews to help you make an informed decision.
Comparison of Invoicing Software
| Feature | Refrens | Tally | MyBillBook | Vyapar | Zoho | Swipe |
| --- | --- | --- | --- | --- | --- | --- |
| Document limit | 50/year free – unlimited paid | Unlimited paid | unlimited docs paid only | unlimited paid only | 100/year free | Unlimited Free |
| Custom fields | Yes | Yes | 1 to unlimited (depending on the plan) | No | Yes | Yes |
| Custom columns | Yes | Yes | Yes | No | No | Yes |
| Custom branding (logo, header, footer, font size, type, color, etc.) | Yes | Yes | Yes | Yes | Yes | Yes |
| Multiple templates | Yes | Yes | Yes | Yes | Yes | Yes |
| One-click conversion from one document to another | Yes | Yes | Yes | Yes | Yes | Yes |
| Recurring invoices | Yes | Yes | No | No | Yes | Yes |
| E-way bills | Yes | Yes | Yes | Yes | Yes | Yes |
| E-Invoicing | Yes | Yes | Yes | Yes | Yes | Yes |
| Send via email, pdf, print | Yes | Yes | Yes | Yes | Yes | Yes |
| Send via link | Yes | No | Yes | No | Yes | Yes |
| Send via WhatsApp | Yes | No | Yes | Yes | No | Yes |
| Email read status | Yes | No | No | No | No | Yes |
| Email Branding | Yes | Yes | No | Yes | Yes | Yes |
| Email Scheduling | Yes | No | No | No | Yes | No |
| Automatically collect testimonials when payment is received & marked paid | Yes | No | No | No | No | No |
| Pricings | Unlimited docs – Plans starting at 1200/year | 8496/year for single user, single PC – 25488/year for multi-user, multi PCs | Unlimited docs – Plans starting at 2599/year | Pricing starts @ 599/year for mobile, @2399/year for desktop, @2799/year for both | Unlimited docs – Plans starting at 8988/year | Premium starts at 1299/year |
Top 12 Best Billing Software for Small Businesses
There are numerous billing software options available, but not all of them are well-suited to the needs of small businesses. Here are three top options that stand out for their user-friendly design, robust features, and positive customer reviews.
1. Refrens
Refrens.com, the leading business operating system, has established itself as a go-to platform for freelancers, agencies, and small businesses worldwide. Its comprehensive suite of features helps businesses manage their complete operations in just a single system.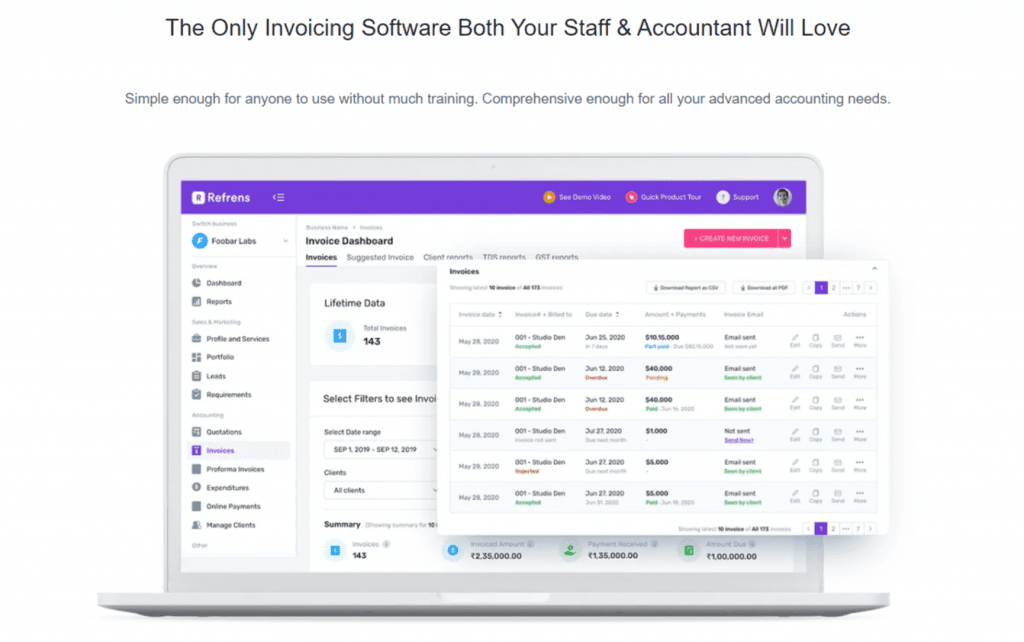 Features
With users across 178 countries, Refrens provides an extensive range of tools and functionalities including invoice generator, bookkeeping, lead management, and online networking. I​​t helps users create quotations & invoices, collect payments, send automated reminders for unpaid invoices, create ledgers & vouchers, generate advanced accounting reports, manage inventory & expenses, create an online business profile, automate lead capture & manage them, and more.
Pricing Plans
Free Plan: There is a free plan for small businesses to create upto 100 documents/year
Premium Plan: Its affordable pricing varies from $7 – $20/month depending on the number of users & features
Ratings
Capterra: 4.9⭐/5
G2: 4.5⭐/5
2. FreshBooks
FreshBooks is a cloud-based accounting software service designed for owners of small client-service businesses. Established in 2004 by Mike McDerment, Levi Cooperman, and Joe Sawada in Toronto, Ontario, the platform has evolved from its origins as an electronic invoicing program for IT professionals.

Features
Over the years, FreshBooks has expanded into a comprehensive suite of accounting systems, offering a wide range of subscription-based features ​​that include invoicing, accounts payable, expense tracking, time tracking, retainers, fixed asset depreciation, purchase orders, payroll integrations, mileage tracking, double-entry accounting, and industry-standard business and management reporting.
Pricing Plans
Free Plan: There is no free plan
Premium Plan: Pricing varies from $8.50 – $27.50/month depending on the number of billable clients
Custom Plan: Custom pricing for specialized features for large businesses
Ratings
Capterra: 4.5⭐/5
G2: 4.5⭐/5
3. HoneyBook
Honeybook is a comprehensive platform that combines invoicing & billing with other business operations. Founded in 2013 by Oz and Naama Alon, Dror Shimoni, and Shadiah Sigala, Honeybook offers a powerful suite of features designed to streamline business processes.

Features
It allows users to create invoices, proposals, and contracts, set up payment reminders, and collect payments. It also offers features for scheduling meetings and automating emails and tasks. What sets Honeybook apart is its exceptional client management features.

You can manage clients and bookings directly from the platform, making it a great option for businesses that offer services on a booking basis, such as consultants or event planners. This capability makes Honeybook an ideal choice for businesses seeking a comprehensive solution that covers all aspects of their service-based operations.
Pricing Plans
Free Plan: There is no free plan
Premium Plan: Pricing varies from $15 – $63/month depending on the number of users & features
Ratings
Capterra: 4.8⭐/5
G2: 4.5⭐/5
Have a travel agency? take a look at best billing & accounting software for travel agencies >
4. Paymo
Paymo is a project management tool that also offers strong invoicing & billing capabilities. Additionally, Paymo offers a dedicated client portal and specialized tools for tracking project profitability. Paymo is ideal for businesses that need to closely link their project management and invoicing processes.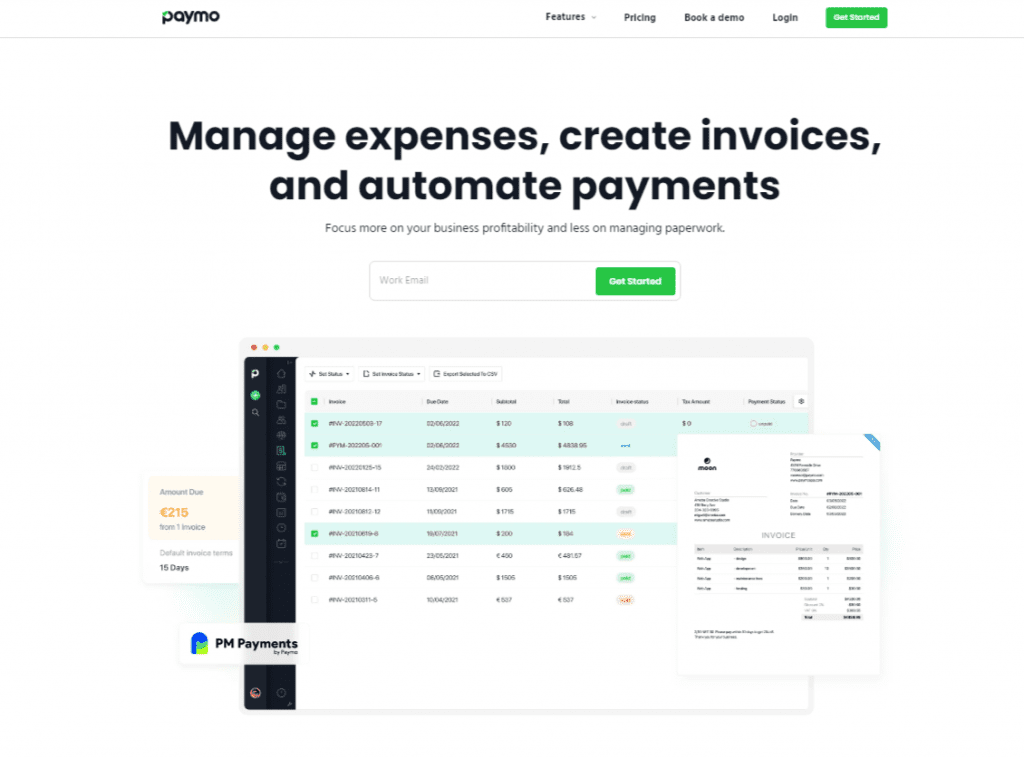 You take care of growing your business, and let someone else take care of keeping the records of your success! Check out our extensive list of Best Bookkeeping Services for streamlined financial management.
Features
Users can create, customize, and share invoices, convert projects into estimates, and track expenses. Its project management features are robust, including task management, time tracking, and resource scheduling. This makes it a comprehensive solution for businesses that manage complex projects with multiple team members ensuring streamlined project execution and integrated financial management.
Pricing Plans
Free: For 1 user & upto 3 clients
Premium Plan: Pricing varies from $5 – $21/user/month depending on the number of clients & features
Ratings
Capterra: 4.7⭐/5
G2: 4.6⭐/5
5. Zoho Books
Zoho Books, developed by the software company Zoho Corporation, is an integral component of their comprehensive suite of business, collaboration, and productivity applications. Established in 1996 by Sridhar Vembu and Tony Thomas in Pleasanton, California, Zoho Corporation now operates globally.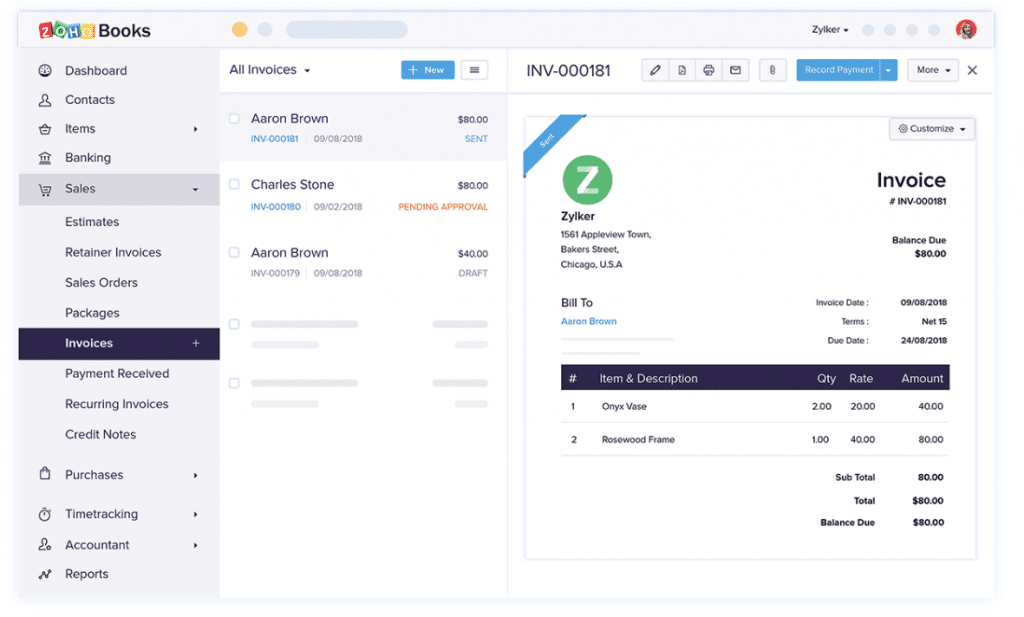 Features
Zoho Books is a cloud accounting platform for growing businesses. It streamlines business transactions, tracks income and expenses, automates business processes, and connects with systems like CRM, Inventory, and Subscription tools. Moreover, Zoho Books ensures accessibility across multiple mobile platforms, including iOS, Android, and Windows, enabling users to manage their financial operations conveniently.
Pricing Plans
Free Plan: There is a free plan with limited functionalities for businesses with revenue <50K USD / 25L INR, limited to 1 user + 1 accountant
Premium Plan: Pricing varies from $20 – $275/month depending on the number of users & features
Custom Plan: There is no mention of custom plans on the website, but you can have add ons according to your requirements.
Ratings
Capterra: 4.4⭐/5
G2: 4.5⭐/5
6. Wave
Wave is a company that provides financial services and software for small businesses. It was founded by Kirk Simpson and James Lochrie in 2009 in Toronto, Canada.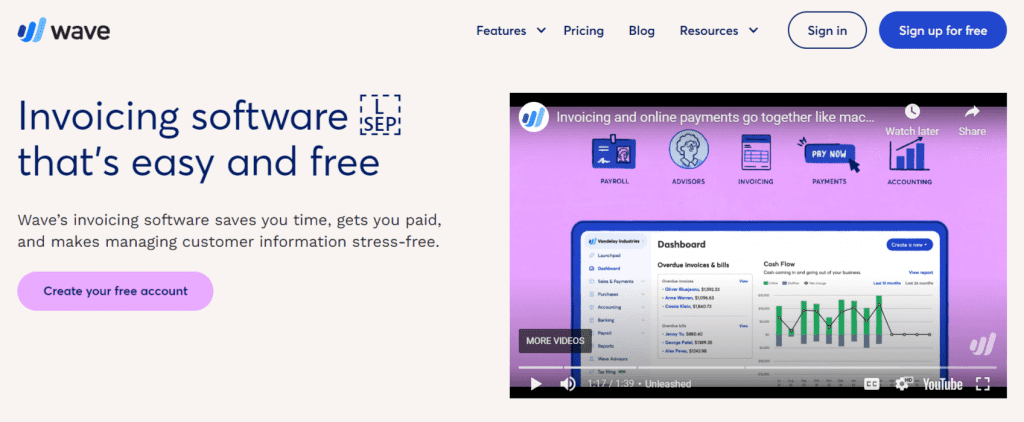 Features
Wave distinguishes itself by offering a range of free software tools specifically designed to cater to the needs of small businesses which includes free accounting, invoicing, and receipt scanning software, while its additional services like payments and payroll are pay-per-use.
Pricing Plans
Wave's invoicing and accounting software is free. They charge for payment processing and payroll services. Payment processing costs around 2.9% + 60¢ per transaction for credit cards and 1% for bank payments.
Ratings
Capterra: 4.6⭐/5
G2: 4.4⭐/5
7. Invoice Ninja
Invoice Ninja was founded in 2014 by Hillel Coren & Shalom Volchok to serve freelancers and small businesses. Recognizing the unique challenges faced by these entities, Invoice Ninja developed a comprehensive suite of features tailored specifically to their requirements.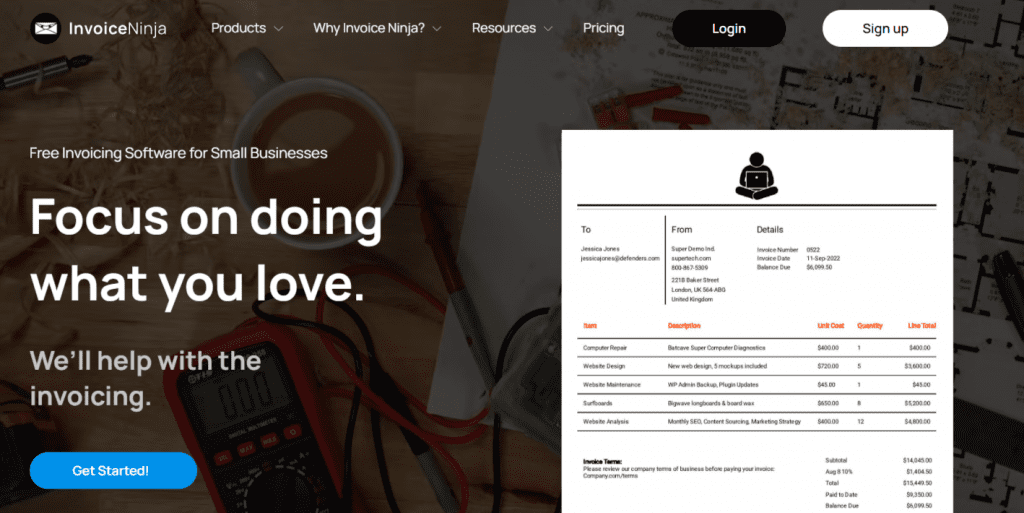 Features
It offers a suite of features for businesses to create, send, and track invoices/bills, and manage expenses. By providing these essential tools, Invoice Ninja empowers freelancers and small businesses to streamline their invoicing processes, enhance financial management, and ultimately focus on their core operations.
Pricing Plans
Free Plan: There is a free plan with limited functionalities for businesses with 20 or fewer clients
Premium Plan: Pricing varies from $10 – $44/month depending on the number of users & features
Ratings
Capterra: 4.8⭐/5
G2: 4.5⭐/5
9. Sage Business Cloud Accounting
Sage Business Cloud Accounting, formerly known as Sage One, is a global software company. The company was founded in 1981 in Newcastle, England.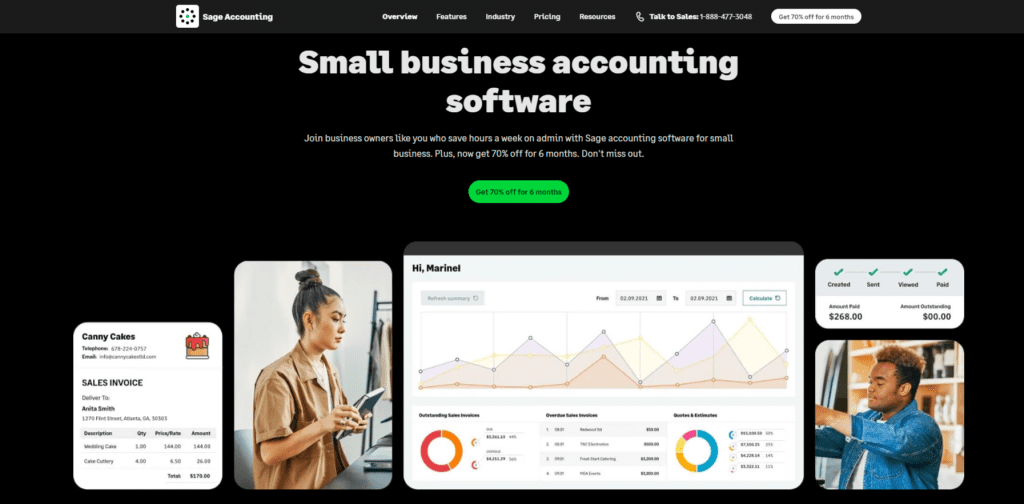 Features
Sage Business Cloud is a set of small business management tools that offers accounting, payroll, payments, and time-tracking tools. It includes mobile apps that accept business payments, manage and pay bills, and payroll functions.
Pricing Plans
Accounting Start: $10/month for basic accounting suited for freelancers & sole proprietors
Accounting: $25/month for more advanced features for small businesses
Ratings
Capterra: 4.1⭐/5
G2: 4.2⭐/5
10. QuickBooks
QuickBooks is an accounting software package developed and marketed by Intuit. The company was founded in 1983 by Scott Cook and Tom Proulx in Mountain View, California.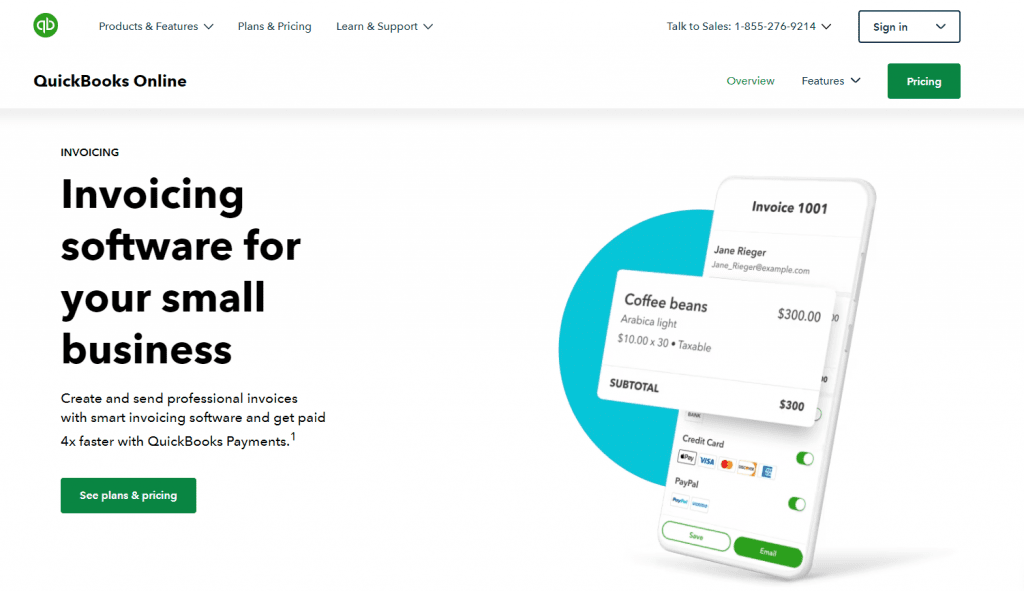 Features
It offers on-premises accounting applications as well as cloud-based versions that accept business payments, manage and pay bills, and payroll functions.
Pricing Plans
Free Plan: There is no free plan, just a free trial
Premium Plan: Pricing varies from $30 – $200/month depending on the number of users & features
Ratings
Capterra: 4.4⭐/5
G2: 4.4⭐/5
11. Xero
Xero is a New Zealand-based software company that develops cloud-based accounting software for small and medium-sized businesses. The company was founded in 2006 by Rod Drury and Hamish Edwards.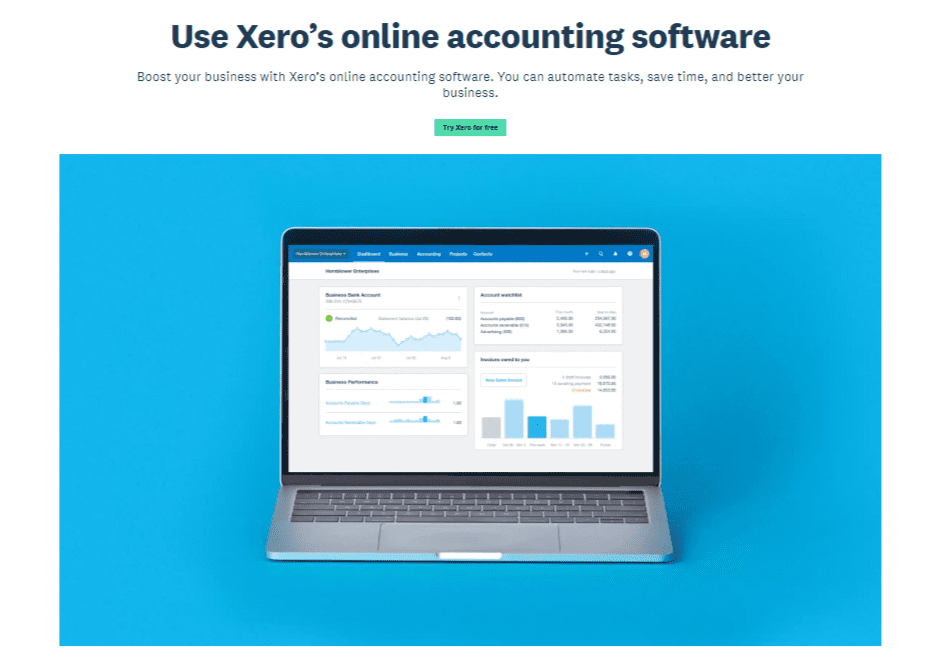 Features
It provides features such as automatic bank feeds, invoicing, billing, accounts payable, expense claims, fixed asset depreciation, purchase orders, bank reconciliations, and standard business and management reporting.
Pricing Plans
Free Plan: There is no free plan, just a free trial
Premium Plan: Pricing varies from $25 – $54/month depending on the number of users & features
Pricing Plans
Capterra: 4.4⭐/5
G2: 4.3⭐/5
12. Bill.com
Founded in 2006 by René Lacerte, Bill.com is a provider of cloud-based software that automates back-office financial operations for small and midsize businesses.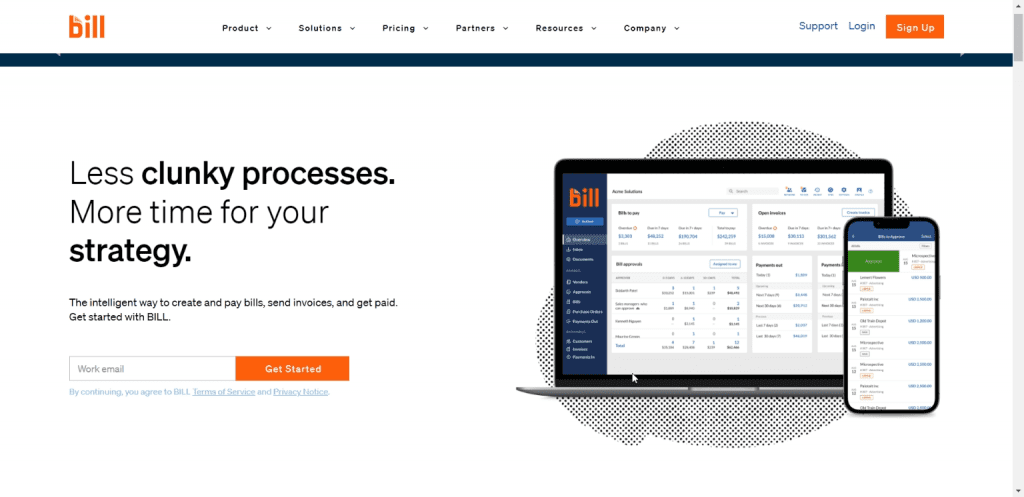 Feature
Bill.com offers digital payments, invoice management, approval workflows, document management, integration with accounting software, financial reporting, and compliance features. It streamlines financial operations, improves cash flow, automates processes, enhances collaboration, and provides transparency and efficiency for small and midsize businesses.
Pricing Plans
Free Plan: There is no free plan, just a free trial.
Premium Plan: Pricing varies from $45 – $79/user/month depending on the number of freatures
Custom Plan: Custom pricing for specialized features for large businesses
Ratings
Capterra: 4.2⭐/5
G2: 4.3⭐/5
Recommended read: Best Billing Software For Retail Shops & Distributors>
Essential Features of Billing Software for Small Businesses
Given these challenges, it's clear that small businesses can greatly benefit from billing software. However, not all software is created equal, and it's important to choose a solution that is tailored to the needs of small businesses. Here are some key features to look for:
1. Ease of Use
Small businesses don't have the time or resources to spend on complex software with a steep learning curve. The software should be intuitive and easy to use, even for those without a background in accounting.
2. Affordability
Budget is often a concern for small businesses. Look for software that offers a good balance between cost and features. Some software providers offer tiered pricing plans, so you can start with a basic plan and upgrade as your business grows.
3. Multiple Currency Support
If you have international clients, you'll need software that can handle multiple currencies and automatically calculate exchange rates.
4. Integration with Other Systems
The software should be able to integrate with other systems you use in your business, such as your accounting software or project management tools. This can help streamline your workflows and reduce the need for manual data entry.
5. Automated Recurring Invoices
If you need to send recurring invoices, look for software that allows you to set up automated billing cycles.
6. Customizable Invoices
The software should allow you to customize your invoices to match your brand. This includes adding your logo, changing the color scheme, and modifying the layout.
7. Customer Support
Good customer support is essential, especially if you're new to using billing software. Look for providers that offer multiple support channels, such as email, phone, and live chat.
Running a restaurant or catering business? check out our analysis on top billings software for restaurants to make an informed choice>
How to Choose the Right Billing Software for Your Small Business?
Choosing the right billing software for your small business is a crucial decision that can have a significant impact on your operations. Here are some factors to consider:
1. Budget
Consider how much you are willing to spend on GST billing software. Remember to factor in both the upfront cost and any ongoing fees. Some software providers offer a free trial, which can be a good way to test out the software before committing to a purchase.
2. Specific Features Requirements
Make a list of the specific features you need in invoicing software. This could include things like recurring invoices, multiple currency support, or integration with other systems. Use this list to evaluate potential software options.
3. Size and Complexity of Your Business
The size of your business and the complexity of your billing needs will also influence which software is right for you. A freelancer with a few clients will have different needs than a small business with dozens of clients and complex billing arrangements.
4. Customer Support
Consider the level of customer support provided by the software provider. Do they offer support via multiple channels? What are their response times like? Good customer support can be invaluable, especially when you're getting set up with new software.
5. User Reviews
Finally, look at user reviews to get a sense of what it's like to use the software. Reviews can provide valuable insights into the software's strengths and weaknesses and can help you make an informed decision.
Challenges Small Businesses Face in Billing
Small businesses face a unique set of challenges when it comes to billing. Unlike larger corporations with dedicated accounting departments, small businesses often have limited resources and personnel to handle billing. This means that business owners or employees often have to juggle billing with their other responsibilities, which can lead to inefficiencies and mistakes.
One of the primary challenges is tracking payments from multiple clients. Small businesses often work with a variety of clients, each with its own payment terms and methods. Keeping track of who has paid, who hasn't, and when payments are due can be a complex and time-consuming task.
Another challenge is managing recurring invoices. Many small businesses operate on a subscription model or have ongoing contracts with clients, requiring them to send regular invoices. Setting up and managing these recurring invoices can be a tedious process without the right tools.
For businesses that operate internationally, dealing with different currencies can also be a challenge. Exchange rates fluctuate constantly, and calculating conversions for each invoice can be a hassle.
Lastly, maintaining accurate financial records is crucial for tax purposes and for understanding the financial health of the business. However, without an organized system in place, keeping track of all invoices, payments, and expenses can be a daunting task.
Also read: Best 10 Billing Software for Medical Shops
More on Billing software:
What is a Billing Software?
Billing software is a comprehensive tool designed to handle the invoicing and payment process for goods and services offered by a business. It automates the creation of invoices and receipts, ensuring that they are accurate, professional, and delivered promptly to clients. This type of software often includes features like tax calculation, multiple currency support, and the ability to track payable and receivable accounts, which streamlines the financial transactions of a business.
The primary goal of billing software is to make the billing process more efficient and reduce the manual effort involved in billing and accounting tasks. It enables small business owners and freelancers to focus more on their core business activities rather than getting bogged down with administrative work. With user-friendly interfaces, billing software can be easily adopted by individuals without extensive accounting knowledge, simplifying financial management for businesses of all sizes.
What is the difference between Billing Software & Invoicing Software?
Billing software and invoicing software are often used interchangeably, but they serve slightly different functions. Billing software encompasses the entire process of generating bills for services provided or goods sold, tracking payments, and managing debtor accounts. It's a broader system that includes invoicing as one of many features, along with other functionalities such as subscription management, time tracking for billable hours, and sometimes even inventory management.
Invoicing software, on the other hand, is specifically designed to create and send invoices to customers. It focuses on the documentation required for transactions and typically includes features for customizing the invoice design, setting up payment terms, and automating recurring billing. While invoicing software may have some features for tracking payments, its primary function is to facilitate the creation and distribution of invoices, making it a subset of what comprehensive billing software offers.
How does Billing Software work?
Billing software streamlines the entire process of charging clients for goods and services. Here's a simplified explanation of how it typically works:
Setup: Users start by inputting their business details, including contact information, services or products offered, and pricing. They may also customize the invoice template by adding their business logo and choosing a layout that aligns with their brand.
Client Information: Next, client details such as names, addresses, and preferred payment methods are entered into the system. This data can usually be saved and managed within the software, making future billing faster and more efficient.
Invoice Creation: When it's time to bill a client, the software uses the provided details to generate an invoice. The user selects the client, adds the products or services provided, and the software calculates the total cost, including taxes and discounts.
Invoice Delivery: The software then sends this invoice to the client, often via email, directly from the platform. Some systems allow for invoices to be printed or sent through other methods if required.
Payment and Tracking: Once the invoice is sent, the software can track the status of the payment. Users can see at a glance which invoices are pending, paid, or overdue. The software may also send automated reminders to clients about their outstanding balances.
Reporting: Billing software often includes reporting features that allow businesses to track their sales, monitor overdue payments, and understand their financial health. This is essential for maintaining cash flow and for when tax season comes around.
Integration: Many billing software solutions integrate with other business systems such as accounting software, CRM platforms, and payment gateways, creating a seamless flow of data across business operations.
By automating these processes, billing software significantly reduces the manual work involved in billing, minimizes errors, and ensures that financial transactions are managed effectively and professionally.
Can Billing Software integrate with other systems?
Yes, billing software can integrate with various other systems, which is one of its most powerful features. Many modern billing systems are designed to work seamlessly with other business tools such as accounting software, project management tools, CRM (Customer Relationship Management) systems, and payment gateways.
This integration capability allows for the automation of data transfer between systems, reducing the need for manual data entry, which can save time and minimise errors. For example, when an invoice is paid, the billing software can automatically update the business's financial records in the accounting software. Similarly, integrating with a CRM system can help ensure that client information is up-to-date across all platforms.
The ability to connect with payment gateways also simplifies the process of receiving payments, allowing clients to pay directly through the invoice using various payment methods. This helps in speeding up the payment process and enhancing the customer experience. Integration features are not universal, though, so it's important to verify that the billing software you select can integrate with the specific systems you're already using or plan to use in your business operations.
How can billing software streamline the invoicing process for small businesses?
Billing software can significantly streamline the invoicing process for small businesses in several key ways:
Automation: Billing software can automate routine tasks such as generating invoices, sending reminders for payments, and following up on overdue accounts. This means less time spent on manual data entry and more time available for other business activities.
Templates and Customization: Pre-designed templates and customization options allow businesses to quickly create professional-looking invoices that align with their branding. This not only saves time but also presents a consistent and professional image to customers.
Accuracy: The software reduces the likelihood of human error by automatically calculating totals, taxes, and discounts. This accuracy is crucial for maintaining trust with clients and ensuring that the business's finances are in order.
Time Tracking: For service-based businesses that bill by the hour, many billing software options include time-tracking features that directly tie work hours to invoices, simplifying the billing process for both the business and the client.
Multiple Payment Options: By integrating with various payment gateways, billing software can offer customers multiple payment options, making it easier for them to pay promptly and reducing the payment turnaround time.
Financial Reporting: Small businesses can use billing software to generate financial reports that give insights into revenue, pending invoices, and overall cash flow. This is essential for informed decision-making and financial planning.
Record Keeping: The software keeps a record of all invoices and payments, which is invaluable for accounting purposes and can be critical during tax season or financial audits.
Scalability: As the business grows, billing software can easily adapt to handle a larger volume of invoices and clients, which means the invoicing process remains efficient regardless of the company's size.
By incorporating these features, billing software helps small businesses manage their billing processes more efficiently, saving time and money while also improving accuracy and the customer payment experience.
What are the benefits of using cloud-based billing software for small enterprises?
Cloud-based billing software offers numerous advantages for small enterprises:
Accessibility: Cloud-based billing software allows business owners and staff to access billing information from anywhere, at any time, as long as they have an internet connection. This flexibility is particularly beneficial for small businesses that operate on-the-go or have remote employees.
Cost-Effectiveness: With cloud-based billing software, small enterprises typically don't have large upfront costs for hardware or software. Instead, they can often use a subscription model that better fits their budget and scale as needed.
Security: Data security is handled by the billing software provider, who will typically offer strong security measures and regular backups. This is crucial for small businesses that may not have the resources for extensive cybersecurity.
Integration: Cloud-based billing software easily integrates with other online business tools, streamlining the flow of information across applications and improving overall operational efficiency.
Up-to-date Software: The billing software is updated automatically by the provider, ensuring that small businesses always have the latest features and security updates without having to manually install anything.
Scalability: As small enterprises grow, their cloud-based billing software can scale with them, offering additional features and capacity to match their expanding needs.
Automated Backups: Cloud-based systems typically include automatic backups, ensuring that billing data is not lost and can be recovered in case of an incident.
Customer Support: Providers of cloud-based billing software usually offer robust customer support, which can be a lifeline for small enterprises without a dedicated IT department.
Reduced IT Workload: With the billing software hosted offsite, small businesses can enjoy reduced IT maintenance tasks, as the provider handles the technical upkeep.
Environmental Benefits: Cloud solutions can be more environmentally friendly, as they reduce the need for paper invoicing and allow for a more digital, paperless billing process.
Incorporating cloud-based billing software into their operations allows small enterprises to stay agile, minimize administrative overhead, and keep their focus on core business activities.
How does billing software integrate with other financial systems in a small business?
Billing software typically integrates with other financial systems within a small business through APIs (Application Programming Interfaces) or built-in integrations provided by the software developers. Here's how this integration generally works:
Accounting Software: Billing software can connect directly to accounting systems, ensuring that all financial data related to sales, expenses, and cash flow are automatically updated in the company's ledgers. This means transactions recorded in the billing software will reflect in the accounting system in real time, allowing for accurate and up-to-date financial reports.
Payment Gateways: Integration with payment gateways allows billing software to process payments online. Once a payment is made, the billing software updates the invoice status as paid and records the transaction, which is then synced with the business's financial records.
Banking Systems: Some billing software can link with bank accounts, enabling direct bank feeds. Transactions are automatically matched with invoices and expenses, making reconciliation processes much smoother and reducing manual entry.
Customer Relationship Management (CRM): Integrating with a CRM system means that all customer data is aligned with the billing process. When a sale is made or a service is provided, the billing software can pull the necessary details from the CRM to generate an invoice.
Payroll Systems: For businesses that bill based on hours worked, billing software can integrate with payroll systems to ensure that billable hours are correctly calculated and paid out accordingly.
Tax Services: By connecting with tax services or software, billing software can help small businesses calculate and report taxes with greater accuracy. This is especially beneficial when dealing with sales tax, VAT, or other regional taxes.
Inventory Management: For product-based businesses, billing software integration with inventory management ensures that stock levels are automatically updated when sales are made, keeping inventory data accurate without manual stocktakes.
Project Management Tools: Billing software can pull data from project management tools to accurately bill clients based on project progress or milestones achieved, ensuring that billing is aligned with the work done.
Through these integrations, billing software serves as the central hub for all financial transactions, ensuring consistency across different financial systems and enabling small businesses to have a comprehensive view of their financial health.
Can billing software for small businesses support multiple currencies and tax rates?
Yes, billing software for small businesses can indeed support multiple currencies and tax rates, which is essential for businesses that operate internationally or have a diverse customer base. Some software from above that provides this functionality:
Refrens: This billing software caters to a global audience with users across 178 countries, indicating its capability to handle multiple currencies. Such a feature allows businesses to invoice clients in their local currency, charge their local tax, and automatically handle the conversion rates and related calculations.
FreshBooks: Known for its robust set of features, FreshBooks also includes multiple currency support, making it easier for small businesses to manage international clients and apply the correct currency to invoices and bills.
Zoho Books: As part of the Zoho suite, Zoho Books is designed for growing businesses, and it also offers multi-currency support. It can deal with different tax rates, which is advantageous for businesses that have to charge VAT, GST, or other local taxes based on the client's location.
These examples of billing software provide the necessary tools for small businesses to operate on an international scale, handling various currencies and complying with multiple tax jurisdictions, thereby making it simpler to conduct business globally without having to worry about manual currency or tax calculations.
What security measures should we look at in billing software to protect sensitive financial data?
When evaluating billing software for safeguarding sensitive financial data, prioritize the following five security measures:
Data Encryption: Essential for protecting data both during transmission and while stored, encryption ensures that sensitive information remains secure from unauthorized access.
Two-Factor Authentication (2FA): This adds an extra layer of security, requiring not only a password but also a second factor, such as a code sent to a mobile device, to access the billing system.
Compliance with Industry Standards: The software should adhere to key regulations like PCI DSS for payment processing and GDPR for data protection, depending on your region and customer base.
Role-Based Access Controls (RBAC): This feature restricts system access to authorized users based on their roles within the organization, minimizing the risk of internal data breaches.
Regular Backups and Data Recovery: The provider should offer automated backups and a clear, reliable plan for data recovery, ensuring business continuity in the event of data loss.
By ensuring these security measures are in place, you can significantly reduce the risk of data breaches and safeguard your financial information effectively.
How does billing software improve client relationship management for small businesses?
Billing software can enhance client relationship management for small businesses in several ways:
Timely Invoicing: By ensuring that invoices are sent out on time, billing software helps maintain a professional image and demonstrates reliability, which clients appreciate.
Transparency: Detailed invoices clarify charges, which can increase trust. Billing software can provide itemized breakdowns of services or products, helping clients understand exactly what they are being charged for.
Payment Convenience: Offering multiple payment options through billing software makes it easier for clients to pay in the way that suits them best, improving their overall experience.
Consistent Communication: Automated reminders and follow-ups for payments keep the communication lines open with clients regarding their financial interactions, reducing the chance of misunderstandings or overlooked payments.
Record Keeping: Keeping accurate records of billing and payment history within the billing software allows small businesses to quickly resolve any queries or disputes, reinforcing client confidence in the business's management.
By improving these aspects of client interaction, billing software not only streamlines financial transactions but also contributes positively to customer experience and satisfaction.
What are the cost considerations when choosing billing software for a small business?
When selecting billing software for a small business, cost considerations play a pivotal role. Here are key points to keep in mind:
Subscription Model: Many billing software options use a subscription model with monthly or annual fees. Compare the costs against the features provided to ensure you're getting value for money.
Tiered Pricing: Look for tiered pricing options, which allow you to pay for only the features you need. As your business grows, you can move to a higher tier with more advanced features.
Free Trials and Plans: Some billing software providers offer free trials or even free plans with limited functionality. This can be a cost-effective way to start out, especially for businesses with fewer clients or simpler billing needs.
Additional Costs: Be aware of any additional costs such as setup fees, support charges, or fees for extra users, which can add up over time.
Payment Processing Fees: If the billing software processes payments, there will be associated fees. It's important to understand these costs, as they can vary significantly between providers.
Carefully evaluating these cost factors can help ensure that the billing software you choose aligns with your business budget and financial goals.
How user-friendly is billing software for non-technical small business owners?
Billing software is generally designed with the non-technical user in mind, ensuring that small business owners can navigate the system without a steep learning curve. Here are a few aspects that contribute to the user-friendliness of most billing software:
Intuitive Interface: Modern billing software typically has a clear, intuitive interface that guides users through the process of setting up their accounts, creating invoices, and managing payments.
Step-by-Step Tutorials: Many billing software providers offer step-by-step tutorials, onboarding processes, and tooltips to help users understand how to use different features.
Customer Support: Good billing software companies provide robust customer support through multiple channels like live chat, email, and phone support to assist non-technical users with any questions.
Automation: Features such as automatic tax calculations, recurring payments, and invoice reminders reduce the amount of manual work and knowledge required to manage the financial aspects of a business.
Customizable Templates: Pre-designed invoice templates that can be easily customised with a few clicks allow business owners to create professional-looking invoices without needing design skills.
The focus on ease of use ensures that even small business owners with minimal technical background can effectively use billing software to manage their financial operations.
What are the latest trends in billing software for small businesses?
The billing software industry is continually evolving, with new trends emerging as technology advances. For small businesses, the following trends are particularly noteworthy:
Automation: Enhanced automation features are a significant trend, reducing manual data entry and the potential for human error. Automation includes sending out invoices, payment reminders, and thank you notes post-payment.
Mobile Optimization: With the increasing use of mobile devices, billing software is becoming more mobile-friendly, allowing business owners to manage invoicing and payments on the go through their smartphones.
Cloud-Based Solutions: The shift to cloud-based billing software continues to grow, offering small businesses the benefits of scalability, remote accessibility, and reduced IT infrastructure costs.
Integration Capabilities: Billing software is increasingly offering better integration with other business tools such as CRM systems, project management apps, and accounting software, creating a more interconnected business management ecosystem.
Artificial Intelligence (AI) and Machine Learning (ML): AI and ML are being incorporated into billing software to provide predictive analytics, which can forecast cash flow and customer payment behaviors, and automate repetitive tasks.
Payment Gateway Diversity: There's a trend towards supporting a wider range of payment gateways and methods, including digital wallets and cryptocurrencies, providing more options for customers to make payments.
Security Enhancements: As cyber threats evolve, billing software providers are continually enhancing security features to protect sensitive data, including the use of blockchain technology for secure transactions.
Sustainability: Eco-conscious small businesses are looking for billing solutions that support paperless operations, reducing the environmental impact of their billing processes.
Customization and Personalization: Billing software now offers greater customization and personalization of invoices and communication, allowing businesses to enhance their brand presence and improve the customer experience.
Subscription-based Billing Features: As the subscription business model gains popularity across various industries, billing software is incorporating more features to manage recurring payments and subscription management efficiently.
These trends indicate that billing software is becoming more powerful, flexible, and user-friendly, which is beneficial for small businesses aiming to streamline their billing processes and improve their overall financial management.
How does billing software facilitate compliance with financial regulations for small businesses?
Billing software can be instrumental in helping small businesses comply with financial regulations through several key features:
Tax Compliance: It can automatically calculate and apply the correct tax rates to invoices, ensuring that businesses charge the appropriate amount of sales tax, VAT, or GST as required by law.
Record Keeping: The software maintains detailed records of all financial transactions, which is essential for auditing purposes and for complying with laws that require businesses to retain financial records for a certain number of years.
Reporting: Billing software typically includes reporting capabilities that can generate financial reports required by regulatory bodies, making it easier to prepare for and complete audits or tax filings.
Data Security: Reputable billing software is designed with strong security measures to protect sensitive financial data, thus helping businesses comply with data protection regulations such as GDPR.
Updates and Upgrades: As financial regulations change, billing software providers can update their systems to incorporate new compliance requirements, which means small businesses don't need to worry about staying up-to-date with the latest changes.
By automating and streamlining these aspects of financial management, billing software greatly assists small businesses in maintaining compliance with less effort and lower risk of error.
Can small businesses customize billing software to fit their unique billing cycles?
Yes, small businesses can often customize billing software to fit their unique billing cycles. Modern billing software solutions usually provide flexible settings to accommodate different billing frequencies, whether it's weekly, bi-weekly, monthly, quarterly, or on a custom schedule. This is particularly useful for businesses that operate with a subscription model or that have varying billing cycles for different clients or services.
The customization process typically involves setting up the billing cycle parameters within the software dashboard, where you can specify the start date, end date, and frequency of the invoices. Additionally, many systems allow for automated recurring billing, which is ideal for subscriptions and contracts with a fixed billing period.
Moreover, billing software often lets businesses tailor payment terms and due dates to match their cash flow needs and client agreements. By providing these customization options, billing software ensures that businesses can align their billing processes with their operational requirements and client expectations.
What types of reporting and analytics features do billing software offer for small businesses?
Billing software often comes equipped with a range of reporting and analytics features designed to give small businesses insights into their financial performance. Here are some of the key types of reports and analytics that you might find:
Financial Reports: These include standard financial documents like profit and loss statements, balance sheets, and cash flow statements.
Accounts Receivable Reports: Track outstanding invoices and payments due, providing insights into which clients owe money and how long invoices have been outstanding.
Revenue Reports: Break down revenue streams by time period, client, or service to identify where the business is making most of its money.
Expense Reports: Categorize and track business expenses to monitor cash outflow and help manage budgets effectively.
Tax Reports: Simplify the preparation for tax time with reports that calculate the total tax collected and payable.
Payment Method Reports: Analyze which payment methods are most popular among clients and how they impact the speed of payment.
Client Reports: Gain insights into client behavior, such as average payment time, frequency of purchases, and total revenue per client.
Sales Tax Reports: Keep track of sales tax liabilities and ensure that all taxes are accounted for correctly.
Time Tracking Reports: For businesses that bill based on time, these reports detail how much time has been spent on different projects and tasks.
Forecasting and Trends: Some software offers prediction tools that help forecast future revenue, cash flow trends, and can even alert to potential late payments.
Custom Reports: Users can often create custom reports tailored to specific KPIs or business metrics they wish to track.
Having these reporting and analytics tools at their disposal, small businesses can make data-driven decisions to improve their financial health and operational efficiency.
How does billing software for small businesses handle payment processing and follow-ups?
Billing software for small businesses typically includes features that streamline the payment processing and follow-up procedures:
Payment Gateway Integration: Billing software can integrate with various payment gateways, enabling clients to pay directly through electronic means such as credit cards, bank transfers, and online payment services.
Automated Invoice Delivery: Once an invoice is generated, the software can automatically send it to clients via email or other electronic means, often with a link or button to make a payment immediately.
Payment Confirmation: After a payment is processed, the software can automatically update the invoice status to 'paid' and send a receipt to the client, confirming the transaction.
Reminders and Notifications: The software can be set up to send automatic reminders to clients for upcoming or overdue payments, reducing the need for manual follow-ups.
Payment Tracking: Business owners can easily track which invoices have been paid, are due, or are overdue, enabling them to follow up accordingly.
Record Keeping: All payment transactions are recorded and can be easily accessed for reference or during financial audits, ensuring transparency and accountability.
By automating and organizing payment processes, billing software helps small businesses improve their cash flow management and maintain good relationships with clients through timely and efficient billing practices.