With an increasing number of Indians turning to freelancing, they're looking for quick ways to attract clients from all around the world. While attracting clients from all over the world, they must find a reliable and secure mode of international payment gateway.
To reach the rest of the globe, digital businesses require excellent online marketing and a dependable payment partner.
India has one of the world's largest freelancer communities, it saw a 46% growth in new freelancers and now it's the world's second-fastest-growing market for the gig economy.
According to projections, India's freelancing economy is expected to rise from $20 billion to $30 billion by 2025. One of the main concerns of the community is receiving funds in a fast, secure, and safe manner.
Four out of every five freelancers work for both international and domestic businesses. According to a survey, 41% of freelancers have experienced extremely rapid growth in the last 12 months, and 80% of them work with foreign clientele.
India has freelancers from all over the world. Furthermore, self-hosted E-commerce models are commonly used for international selling, with SaaS platforms being used for seamless cross-border E-commerce.
However, with so many various online payment alternatives available, determining which one is best for you and your clients can be tricky and to understand which aspects to think about while making a decision on overseas payments.
International payment gateway
As your company expands internationally, it has to deal with a variety of currencies. When customers see a product's pricing in their own currency, they are more likely to buy it.
International payment gateway allows international customers to make payments in their own currency. They provide the highest level of security to avoid fraud during transactions. It also accelerates transaction processing by speeding up and simplifying the process.
Choosing a payment gateway for your e-commerce store or as a freelancer or start-ups is quite tricky. While working full- or part-time jobs, many Indians choose to work as freelancers.
Though there are numerous advantages of freelancing, it is not all sunshine and rainbows. Accepting payments is one of the issues that freelancers face. As a freelancer, they don't get consistent payments. They will be paid based on the project's deadline or project period. Uneven payment cycles can lead to a wide range of financial outcomes.
Hence, for financial management & when finding the ideal payment gateway for their e-commerce firm, a freelancer or small business owner should evaluate a number of things.
Factors to consider while choosing an international payment gateway
Legal: The first step is to legally establish a firm and then install a payment gateway with a tax ID number. After that, a third-party processor is chosen from which you can receive money via the internet.
Cost: Cost comprises the setup fee, monthly fee, and transaction fee. The number and value of your transactions must both be evaluated while determining the most effective ones for your organization.
Cards: If your consumers frequently pay you with different sorts of cards, such as a debit card or a Diners Club card, ensure your payment gateways handle that card. Unlike Refrens, which accepts all major credit cards.
Exchange rate: The exchange rate is the fee charged by credit card companies such as VISA and Mastercard to the receiving bank for each payment made with a credit card. This rate covers the issuing bank's transaction handling costs as well as efforts made to reduce the risk of fraudulent transactions.
Processing time: Payments are normally authorized instantly, the funds are kept for a few days before being sent to your account. This is to allow for the handling of refunds and charge-backs. Depending on the payment service provider, these holding periods can range from 1 to 7 days. Hence, choosing Refrens Payment gateway which provides the shortest turnaround times in the industry.
Currency: Allowing your customers to pay in their own currency is critical. You should look at the fees associated with foreign currency transactions.
Additionally, any service you choose should be able to save customer information for future purchases, charge credit cards automatically according to pre-set subscription schedules, and offer retry options for failed transactions.
A payment gateway can be hosted off-site (the consumer is directed to the payment processor's website to submit their information) or non-hosted (the customer is not directed to the payment processor's website) the customer will be able to enter the details without leaving your website. Each of which has its own downfall and pros
Security: It's critical to ensure that the gateway you choose meets PCI DSS level 1 requirements. Thus, using an integrated system like Refrens payment gateway will be a wise and affordable choice.
Finally, see if your payment gateway can connect with your invoicing or accounting software, so that when an online payment is made, the associated invoice in your bookkeeping system is updated automatically.
Hence, Refrens Payment Gateway will save a lot of time and work as you won't have to manually track payments and update the payment information in your accounting system as they come in.
Payment Gateway is very useful for freelancers and online business
Getting a digital platform to collect payments online can help your company operate better in the long run. From the customer's perspective, a quick and seamless checkout experience is essential. These capabilities are enabled through a payment gateway, which makes online buying as simple as possible.
It has been noticed that if the checkout/payment method is tiresome or confusing, more than 40% of customers will cancel their transaction. However, the research found that impulse purchases account for 40% of all online orders, so having a simple payment option will surely improve sales.
The concepts of payment gateways are easy to understand, hence no prior knowledge is required making it more feasible.
With a personalized checkout page, a payment gateway aids in rapid checkout. As a result, the checkout page can be customized to meet the needs of the customer.
Integrating a payment gateway is simple and may be done by a merchant or e-commerce business that already has a website or application for the company. They are frequently compatible with security standards such as PCI DSS and others, ensuring secure transactions.
Issues that overseas clients confront when using a payment gateway
In order to receive their own payments, trade companies pay significantly more than they should. Flat fees of $20–50 can be charged to businesses on incoming wire transfers. In addition, intermediary banks may be in the middle of a transaction and impose a separate wire fee.
Fraudsters have also discovered and exploited flaws in internet payments. This is one of the key reasons why many business owners, whether large or small, or freelancers, resist using online payment methods.
User experience challenges are critical from both the seller's and the buyer's perspectives. If a merchant's or even a local business's online payment option is easy to use, it naturally attracts customers. With so many transactions taking place online, even vendors and small company owners want a user-friendly interface.
Payment gateway is updated on a regular basis. It makes it tough for customers to grasp the system and impossible to operate or switch to another programme.
Different countries demand an extra working day to transmit money in order to assure timely payment runs, making it harder to track payments.
Both parties attempting to collect on products are affected by exchange rates. Banks charge a foreign currency premium, which can be rather high compared to the mid-market rate.
Refrens Payment Gateway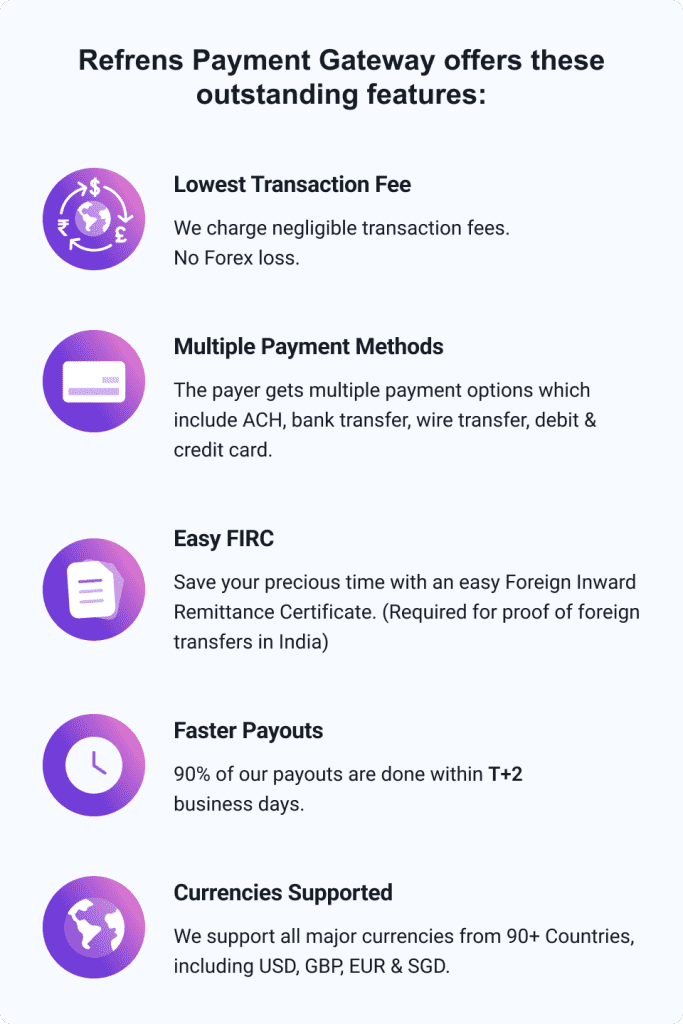 It can be difficult for a freelancer or a start-up to find a reliable payment provider. Different foreign payment gateways, such as PayPal, TransferWise, Xoom, Checkout, Stripe, and Instamojo, have higher transaction fees, longer processing times, and a tiring registration process. exchange fees, and hidden fees.
Refrens, on the other hand, is a full-service gateway for freelancers and businesses.
It has the lowest transaction fees of 1.8% with 0% forex charges. The exchange rates are higher than google live rates. The process of registering yourself is very easy and less troublesome.
Refrens payment gateway is most preferred because of these features:
Secure transaction
90+ Currencies
Easy KYC process
Lowest transaction fee
Different Payment options
Faster pay-outs
Data protection
Anytime Live support

Immediate benefits of using Refrens International Payment Gateway for your Business
Accept Payment from Anywhere, Anytime – With Refrens, you can send invoices and accept payments from anywhere in India.
Shortest Settlement Time – Refrens offers its users the fastest turnaround time by settling the money in T+2 business days.
There is no need for integration; simply complete your KYC and begin collecting payments. There is no requirement for any application or third-party integration
Client Payments are Protected and Secured Using SSL – Every payment made by the client is protected and secured using SSL.
Take Multiple Cards – they accept Visa, Mastercard, American Express, and a variety of other major credit cards.
Charges 1.8 percent and are completely transparent about their pricing (inclusive GST). There are no hidden fees and restrictions with minimum Forex Fees.
Unlimited Non-GST and GST invoices can be created, managed, and tracked for free.
Accept Advance Payments – Accepting advance payments is simple as long as the online payment options are enabled.
Refrens is the ideal payment gateway for receiving international payments in India because of its low rates, quick turnaround time, and complete transparency.
Additionally, using Refrens to create invoices, quotations, and estimates (through the estimate maker, for example) is absolutely free. It may be used to create invoices and accept payments from clients all over the world, allowing you to demonstrate professionalism to your clients at the lowest possible cost.
Conclusion
As you can see, there are a plethora of excellent international payment gateway companies. There are numerous aspects to consider while assessing your alternatives.
Consider how much you're willing to spend, when you need to start accepting payments and receiving funds, how much customer service you'll need, and if the international payment gateway you're considering will be able to interface successfully with your company's other accounting systems. Then choose the option that best suits your company.
If you are a freelance writer and looking to up your marketing game, check out our marketing manifesto framework to know the best strategies.