In today's fast-paced business world, having the right financial management tool is crucial. FreshBooks has long been a favorite for many, offering a blend of invoicing, expense tracking, and time management features. However, as businesses grow and need to evolve, there's often a search for FreshBooks alternatives that might offer a different set of functionalities or cater to specific industry requirements.
If you're one of those inquisitive minds, wondering if there's a tool out there that might be a better fit for your unique needs, you're in the right place. This blog delves deep into the top alternatives to FreshBooks, breaking down their features, pricing, and user ratings.
Whether you're a freelancer, a small business owner, or running a larger enterprise, our comprehensive list will guide you in finding the perfect match for your accounting software needs. Dive in and discover which of these alternatives aligns best with your business aspirations.
Top FreshBooks Alternatives
Refrens provides a comprehensive accounting & bookkeeping system catering to businesses seeking alternatives to FreshBooks. It streamlines accounting tasks like creating and sharing GST invoices, estimates, and receipts. Automated reminders for unpaid bills and hassle-free global payment collection through multiple methods optimize cash flow. The platform's robust reporting capabilities offer valuable financial insights, while inventory and expense management automation further enhance efficiency.
Refrens also simplifies accounting through ledgers, profit and loss statements, and balance sheets. It supports GST invoices, proforma invoices, quotations, and purchase orders. The platform offers inventory and expense management automation, easy customization, multi-currency invoicing, and client management. Users can also handle multiple businesses and team members within one account.
Refrens stands as a robust alternative to FreshBooks, offering comprehensive financial management tools for businesses to streamline invoicing, payments, reporting, and more. Its user-friendly interface and diverse functionalities make it a valuable option for freelancers, small businesses, and larger enterprises alike. With its array of features and flexibility, Refrens aligns well with businesses seeking a versatile financial management solution.

Pricing
Free Plan: free plan for small businesses to create up to 50 documents/year
Premium Plan: pricing starts from as low as ₹100/month or $2.5/month depending on the number of users & features
Ratings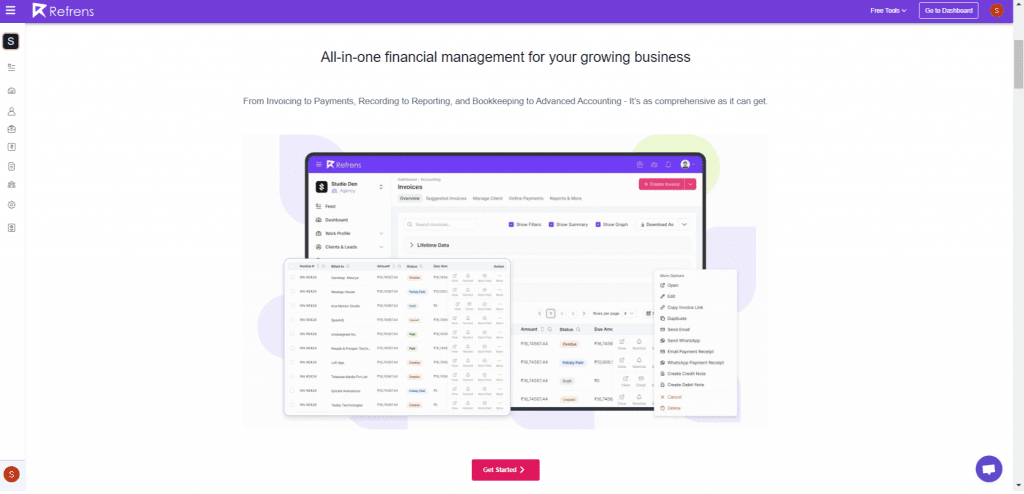 2. Oracle NetSuite
NetSuite ERP is a versatile cloud-based ERP system tailored for rapidly expanding medium to large businesses. It streamlines various essential tasks, from inventory and order management to billing and financial oversight. Users can personalize their dashboard to view relevant reports and performance metrics specific to their role.
NetSuite ERP stands as a strong competitor to FreshBooks, boasting a comprehensive range of features. These include accounting, asset management, payment handling, demand forecasting, warehouse and inventory management, supplier management, manufacturing, and invoicing. Pricing is determined by the modules chosen, any additional features, and the number of users. For those seeking more options, consider exploring other alternatives to NetSuite ERP.
Pricing
There is a one-time implementation fee for the initial setup. The annual License is customized based on the core platform, optional modules, and the number of users.
Ratings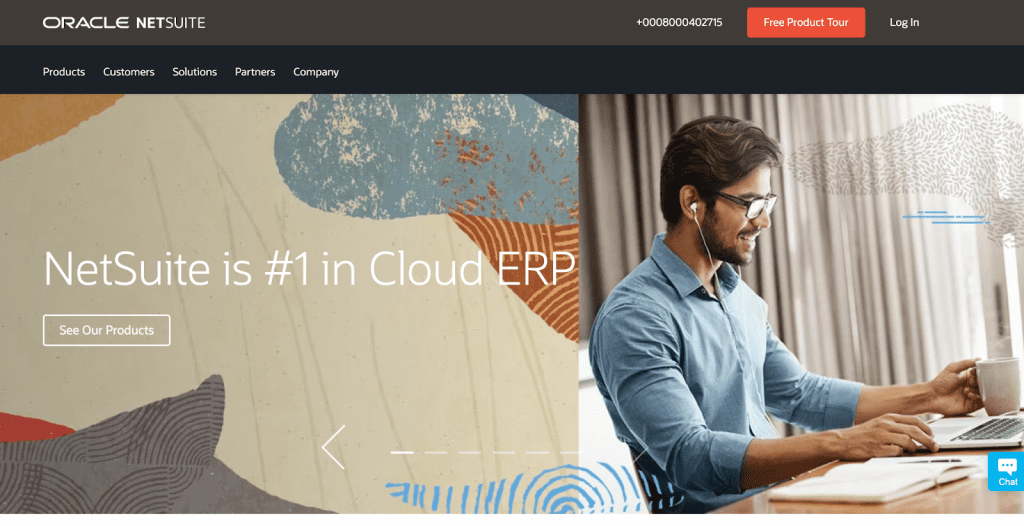 3. Xero
Xero stands out as a top-tier financial management app, especially popular among our list of premier accounting tools. Tailored for small businesses across various sectors, many accountants label it as an "essential tool for financial tasks." Xero is user-friendly and equipped with high-quality features that bridge crucial accounting gaps.
The company collaborates with several accounting systems and third-party apps, enhancing its versatility. Starting at just $25 per month, you can access its features. For those needing more advanced tools, there are premium packages available.
These handle a larger volume of bills, invoices, and quotes and include payroll and multi-currency options. You can also explore its offerings with a 30-day free trial to determine its fit for your needs. For more options, consider checking out alternatives to Xero.
Pricing
Free Plan: There is no free plan, just a free trial
Premium Plan: Pricing varies from $25 – $54/month depending on the number of users & features.
Ratings
Capterra: 4.4⭐/5
G2: 4.3⭐/5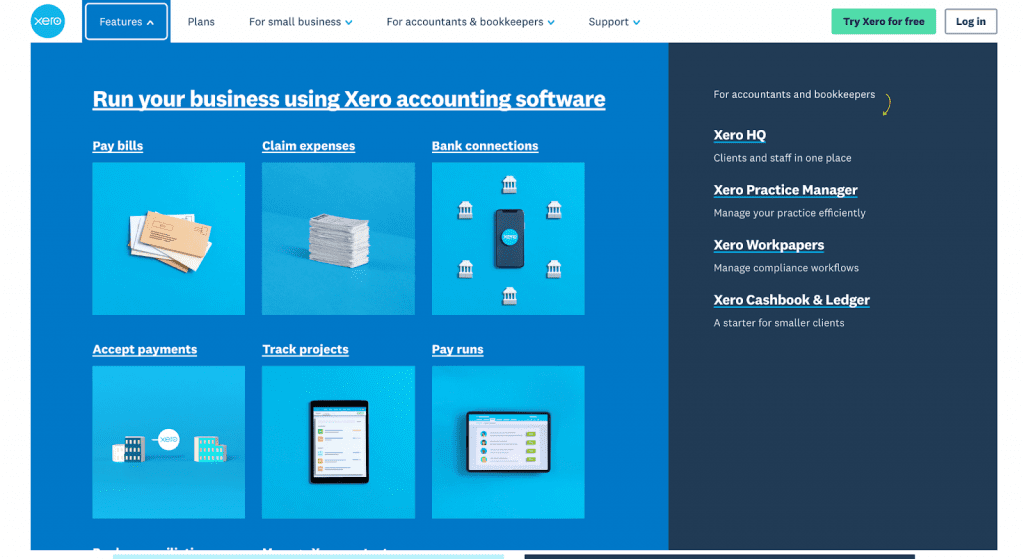 Own a small business? Do you know the Basic Finance Terms That Every Small Business Owner Should Know?
4. Wave
Wave Apps offers a complimentary, unified business solution that encompasses invoicing, accounting, and receipt scanning. It's perfectly suited for small businesses with fewer than 10 employees, as well as independent professionals like consultants, freelancers, and solo entrepreneurs. The platform is user-friendly, boasting a clear dashboard that provides quick access to all essential features.
Wave streamlines your accounting and invoicing tasks, allowing for efficient expense tracking, payment management, and employee and tax oversight. With Wave, generating and dispatching polished estimates, invoices, and receipts becomes a breeze. Its tracking features also ensure you maintain a clear view of your business operations. For those considering other options, there are several alternatives to Wave Apps worth exploring.
Pricing
Wave's invoicing and accounting software is free. They charge for payment processing and payroll services. Payment processing costs around 2.9% + 60¢ per transaction for credit cards and 1% for bank payments.
Ratings
Capterra: 4.6⭐/5
G2: 4.4⭐/5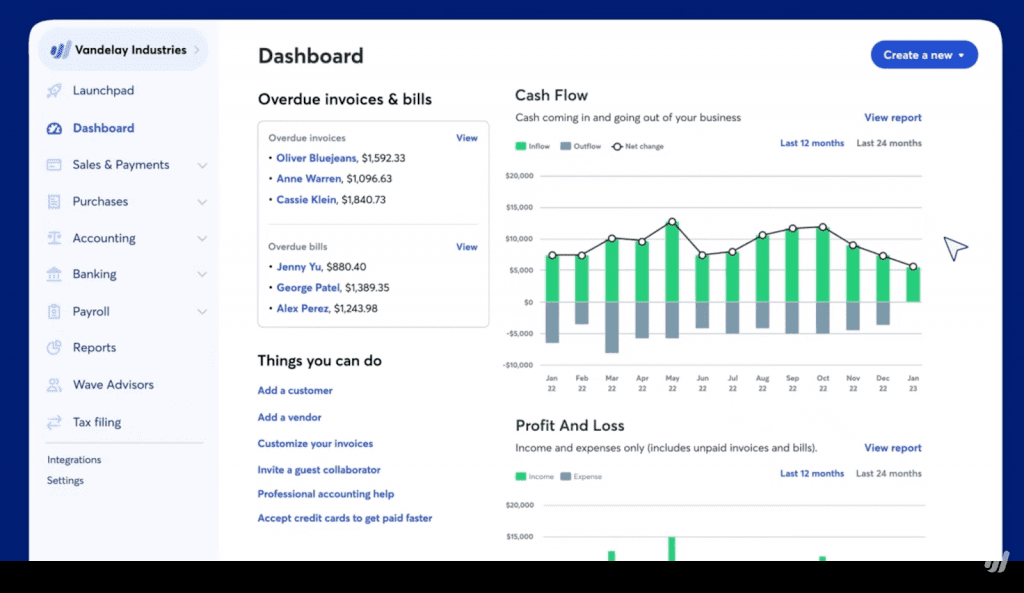 5. Bigtime
BigTime stands as a premier Professional Services Automation (PSA) tool, empowering businesses to grow by offering insights into operational metrics. Even in a remote work setting, it simplifies the management of time, expenses, and billing across multiple projects. Advanced features like resource allocation and tailored reporting allow for the swift identification of potential growth areas. With the inclusion of BigTime Wallet and a client portal, the custom invoicing and payment processing features ensure quicker payments.
Remarkably, users of BigTime have seen an average increase in their gross margins by 25% through its versatile tools. These tools encompass resource allocation, task management, project planning and monitoring, seamless billing and invoicing integrated with Quickbooks, and visual Gantt charts. Consider trying it out with a free trial.
Pricing
Bigtime offers the following plans depending on the number of features-
Essentials – $20 per user/month
Advanced – $35 per user/month
Premier – $45 per user/month
Projector – $60 per user/month
Ratings
Capterra: 4.6⭐/5
G2: 4.5⭐/5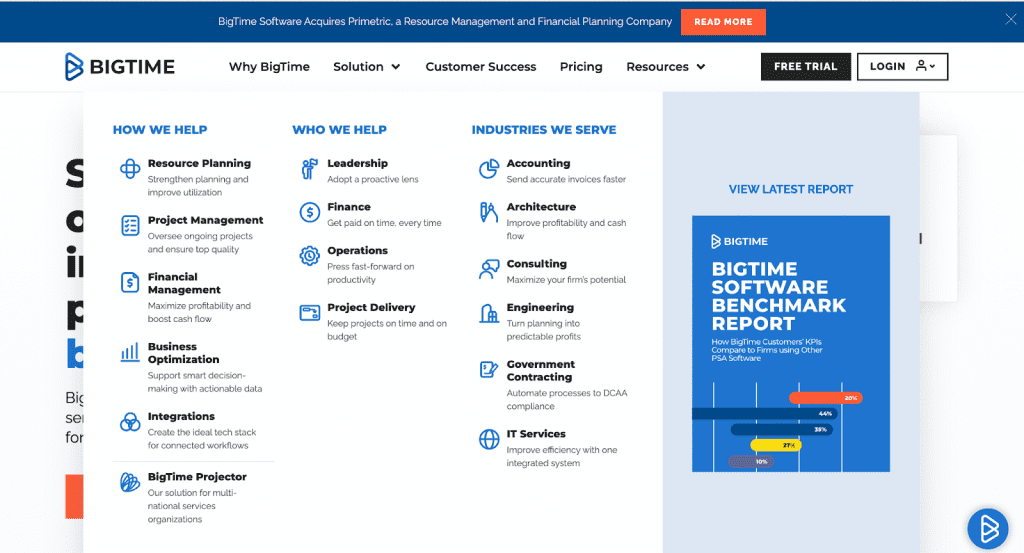 6. BQE CORE
BQE CORE, crafted by Architects, Engineers, and Professional Service Practices, is a comprehensive practice management tool. It allows firms to manage operations, from project management to billing. Designed to streamline business operations, it centralizes data, automates tasks, and lets firms focus on client service. The platform enhances cash flow, refines project management, and offers advanced artificial intelligence insights.
BQE CORE caters to various sectors, including architecture, engineering, and legal services. Accessible from any device, it provides a native app for both iPhone and Android. Additionally, CORE offers over 200 report and invoice templates to cater to diverse contract needs.
Ratings
Capterra: 4.3⭐/5
G2: 4.5⭐/5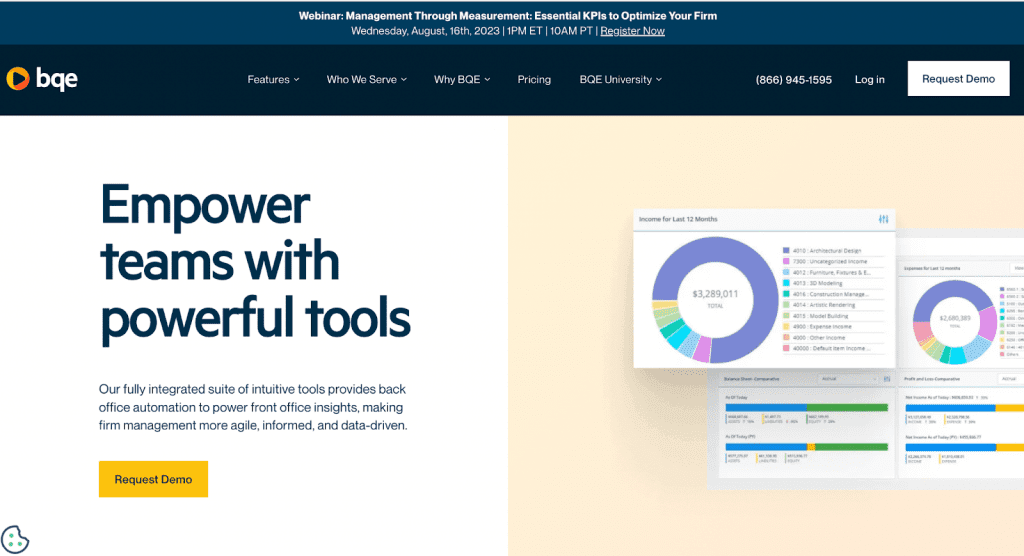 7. Zoho Books
Zoho Books is an effective accounting tool tailored for expanding businesses. It provides user-friendly features that enable small businesses to efficiently handle their finances and maintain a healthy cash flow. With Zoho Books, businesses can effortlessly send polished invoices and facilitate online payments.
It also aids in understanding and optimizing company expenses. Key financial insights can be gleaned from comprehensive reports like cash flow statements, balance sheets, and profit and loss accounts. Zoho Books stands as a commendable alternative to FreshBooks, boasting functionalities like contact management, project time tracking, inventory oversight, customizable invoice templates, and real-time bank updates.
The platform supports 10 languages other than English and offers mobile apps for Android, iOS, and Windows for on-the-move financial management. Its open API ensures smooth integration with other business tools you might be using. For those seeking additional options, consider exploring other alternatives to Zoho Books.
Pricing
Free Plan: There is a free plan with limited functionalities for businesses with revenue <50K USD / 25L INR, limited to 1 user + 1 accountant
Premium Plan: Pricing varies from $20 – $275/month depending on the number of users & features
Custom Plan: There is no mention of custom plans on the website, but you can have add ons according to your requirements.
Ratings
Capterra- 4.4⭐/5
G2- 4.5⭐/5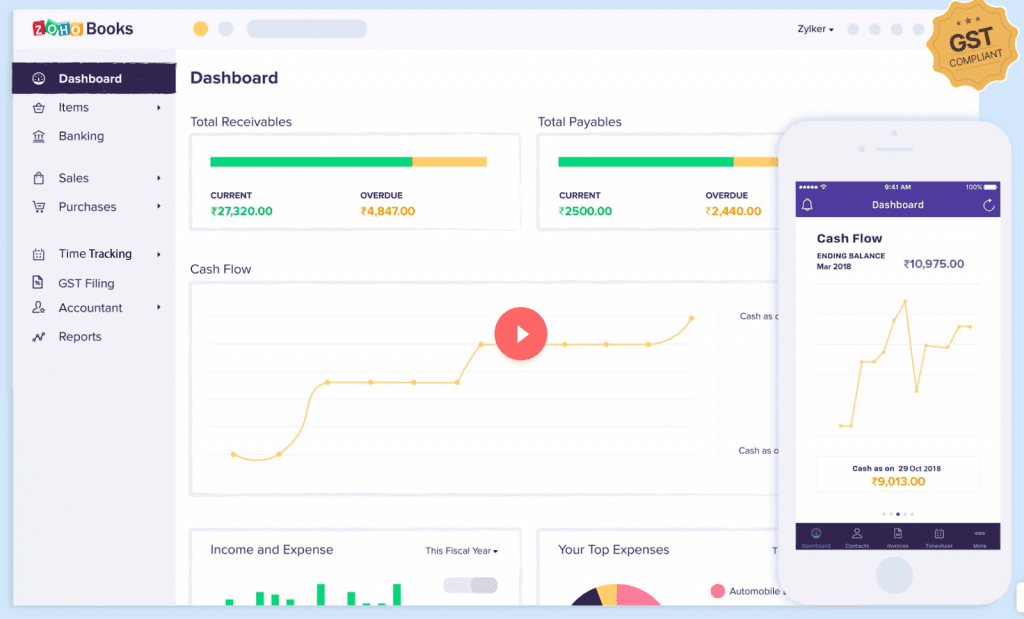 8. Sage Intacct
Intacct is a sophisticated cloud-based accounting software tailored for small to medium-sized businesses ready to transition from beginner accounting tools. Recognized by the AICPA as a leading finance system provider, Intacct equips finance experts with the insights they need to make informed decisions. It's especially beneficial for sectors like retail, healthcare, and wholesale distribution that require rigorous financial tracking.
The software also integrates seamlessly with apps like Salesforce, Development Sandbox, Clarizen, and Paychex. Intacct serves as a compelling upgrade from basic to intermediate accounting systems. The platform provides a mobile browser for both Android and iOS users. Its flexible, quote-based pricing ensures it's accessible for businesses of all sizes.
Beyond standard accounting features like accounts payable, accounts receivable, and multi-currency support, Intacct also offers advanced functionalities such as automated journal entries and bank reconciliation. For those exploring more options, consider checking out other alternatives to Intacct.
Pricing
Accounting Start: $10/month for basic accounting suited for freelancers & sole proprietors
Accounting: $25/month for more advanced features for small businesses.
Ratings
Capterra: 4.2⭐/5
G2: 4.3⭐/5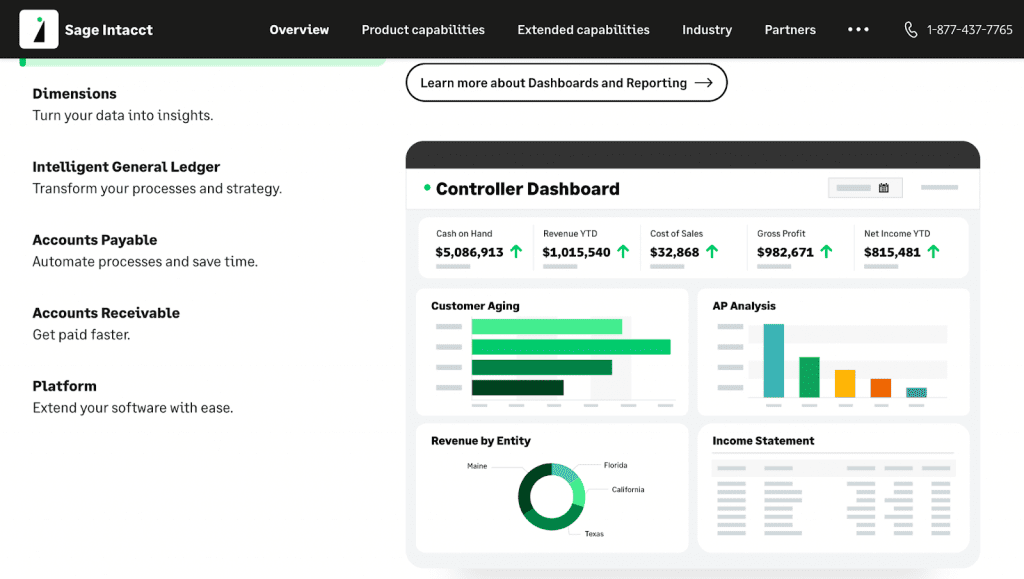 9. ZipBooks
ZipBooks is an intelligent accounting software tailored for contractors, small businesses, and accountants. Beyond traditional accounting, we simplify online invoicing and time tracking. Our platform boasts a user-friendly interface with a streamlined design, ensuring accessibility from anywhere. With ZipBooks, you won't encounter invoice watermarks, data sales, or unsolicited "partner" emails.
As a seasoned accounting software, ZipBooks offers advanced features like automated transaction imports, bank account reconciliation, and tailored reporting. For accountants, ZipBooks enhances bookkeeping with integrated time-tracking, direct client messaging, and payroll integration.
Pricing
A free plan is available with a limited number of features. Paid plans ranges between $15-$35 with an option to customize.
Ratings
Capterra- 4.5⭐/5
G2- 4.7⭐/5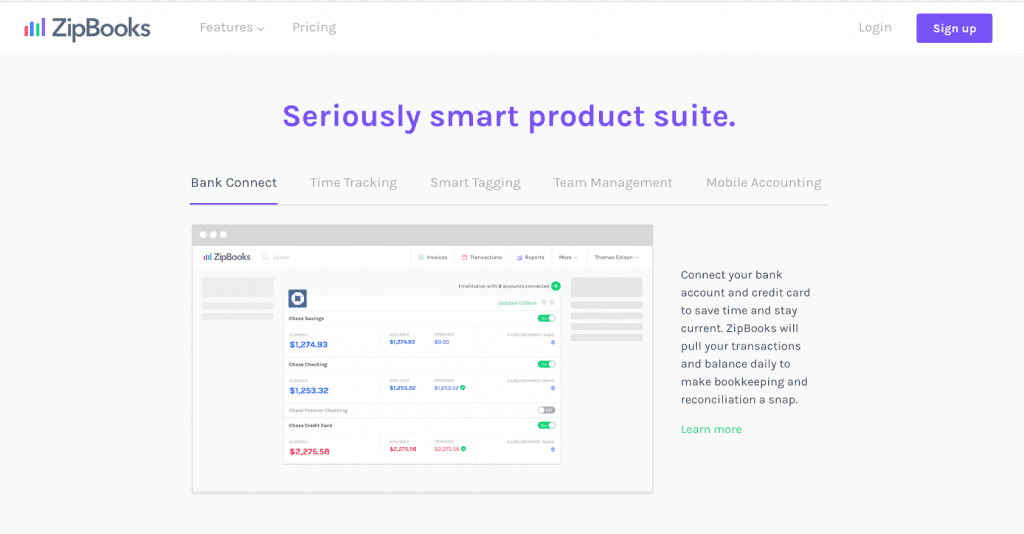 Looking for the best bookkeeping services? Our blog on Best Bookkeeping Services got you covered!
10. QuickBooks
QuickBooks Online shares many similarities with FreshBooks, from their names to their cloud-based accounting systems. However, when it comes to reporting capabilities, QuickBooks Online stands out. Every QuickBooks plan offers fundamental reports such as profit and loss statements and balance sheets.
Opting for advanced plans provides access to more detailed analyses, including inventory and profitability reports. Furthermore, seasoned QuickBooks users have the flexibility to craft personalized reports and showcase them on visually appealing dashboards.
For those seeking even more customization, there's the option to integrate QuickBooks data with Excel. This robustness makes QuickBooks Online an exceptional tool for effortlessly visualizing, managing and making informed decisions based on your financial data.
Pricing
Free Plan: There is no free plan, just a free trial
Premium Plan: Pricing varies from $30 – $200/month depending on the number of users & features
Ratings
Capterra: 4.4⭐/5
G2: 4.4⭐/5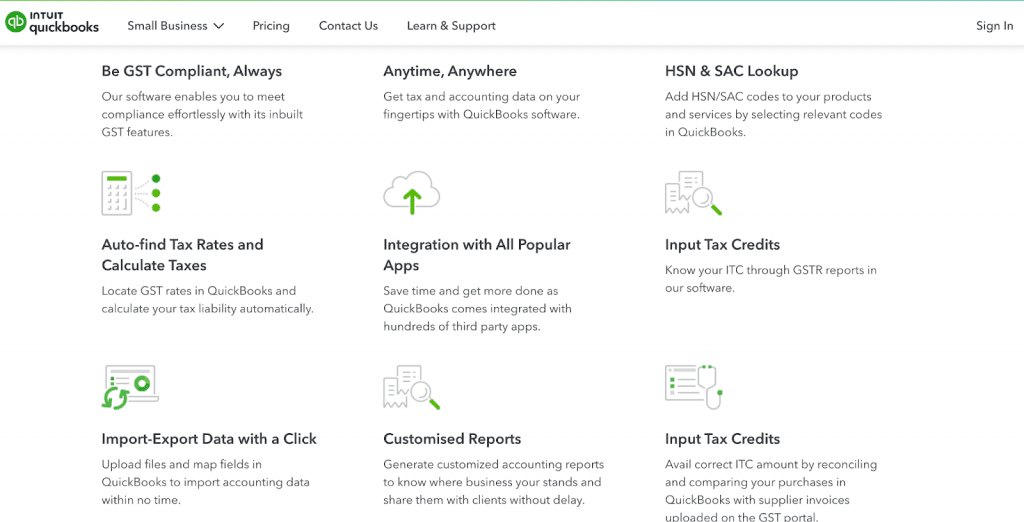 Recommended Read: Top Free Quickbooks Alternatives for Small Businesses
Conclusion
In summary, as businesses evolve in a rapidly changing landscape, the quest for an ideal accounting software calls for the need for versatility, scalability, and tailored functionalities. While FreshBooks has been a reliable choice, the spectrum of alternatives demonstrates a rich variety of options available to suit diverse business needs. Whether prioritizing comprehensive ERP features, user-friendly interfaces, specialized industry solutions, or advanced reporting capabilities, these alternatives ensure that businesses can efficiently manage their finances, facilitate growth, and navigate the complexities of financial management with confidence.
Have a small business? Read our comprehensive list of 12 Best Billing Software for Small Businesses