Efficient bookkeeping forms the bedrock of successful businesses, enabling entrepreneurs to track their financial health, make informed decisions, and ensure compliance. In the digital age, bookkeeping software has emerged as an indispensable tool, simplifying these complex tasks and empowering businesses to focus on growth.
In this comprehensive list, we delve into some of the best bookkeeping software options available today. From intuitive interfaces to advanced features, these solutions cater to a range of business sizes and requirements. Join us as we explore the features, pricing, and user ratings of each software, helping you make an informed choice for your bookkeeping needs.

Choosing the Right Bookkeeping Software: Key Factors to Consider
Selecting the ideal bookkeeping software is a crucial decision that can significantly impact your business's financial management and growth. Here are key factors to help you make an informed choice:
1. Business Size and Complexity:
Consider the scale and complexity of your business operations. Some software suits freelancers, while others cater to small businesses or larger enterprises. Choose software that aligns with your business's specific needs.
2. Features and Functionalities:
Assess the features each software offers. Look for essentials like invoicing, expense tracking, and financial reporting. Depending on your industry, you might need additional features such as inventory management, payroll, or tax support.
3. User-Friendliness:
A user-friendly interface is essential for smooth operations. Complex software might hinder efficiency, so opt for one that's intuitive and easy to navigate.
4. Integration Capability:
Check if the software integrates seamlessly with other tools you use, such as CRM or e-commerce platforms. Integration saves time and streamlines data sharing.
5. Cloud-Based vs. On-Premises:
Decide whether you prefer cloud-based or on-premises software. Cloud-based options offer accessibility from anywhere, real-time updates, and collaborative capabilities. On-premises software might offer more control over data but lacks the flexibility of cloud solutions.
6. Scalability:
Choose software that can grow with your business. As your business expands, the software should accommodate increased transactions, users, and features.
7. Budget Consideration:
Evaluate your budget and choose software that offers the best value for your money. While free plans might be suitable for startups, investing in a paid plan can unlock advanced features and support.
8. Customer Support:
Quality customer support ensures timely resolution of issues. Look for software that offers reliable customer support through various channels.
9. Security and Compliance:
Your financial data's security is paramount. Ensure the software complies with data protection regulations and employs encryption protocols.
10. User Reviews and Recommendations:
Research user reviews and seek recommendations from peers in your industry. Real-world experiences can provide insights into how the software performs in practical scenarios.
To summarise, the right bookkeeping software should align with your business's unique needs, streamline operations, and provide clear financial insights. By considering these factors, you can confidently select software that acts as a strategic partner in your business's financial journey.
Top 10 Bookkeeping Software
1) Refrens
Refrens presents an all-encompassing accounting and bookkeeping solution for your business. The platform streamlines various accounting tasks, including the creation and distribution of GST invoices, estimates, and receipts.
It incorporates automated reminders for outstanding bills and facilitates seamless global payment collection through multiple channels, optimizing cash flow dynamics. Robust reporting capabilities provide insightful financial perspectives, while the automation of inventory management and expense tracking further elevates operational efficiency.
Furthermore, Refrens simplifies accounting processes through ledgers, profit and loss statements, and balance sheets. It accommodates GST invoices, proforma invoices, quotations, and purchase orders. The software offers automation for expense management and inventory tracking, easy customization, multi-currency invoicing, and efficient client management. Additionally, users gain the ability to manage multiple businesses and team members under a single account.
With its user-friendly interface and versatile functionalities, Refrens emerges as a valuable choice for freelancers, small businesses, and larger enterprises alike. Its diverse feature set and adaptability make it a compelling solution for those seeking robust financial management capabilities.
Pricing
Free Plan: free plan for small businesses to create up to 50 documents/year
Premium Plan: Pricing starts from as low as ₹100/month or $2.5/month depending on the number of users & features
Ratings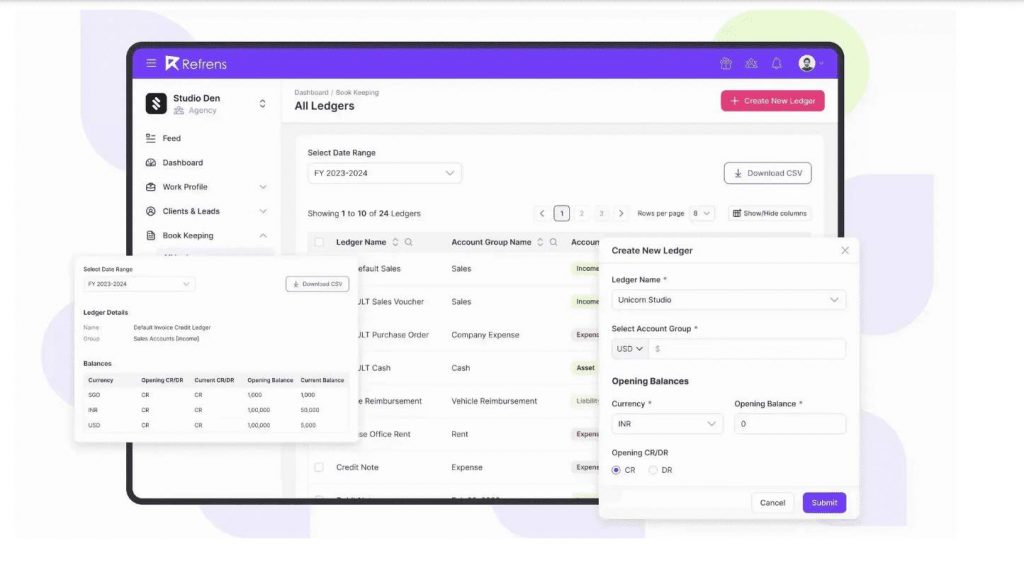 2) Zoho Books
Zoho Books is a comprehensive bookkeeping software that simplifies financial management for small businesses. It offers effortless invoicing with customizable GST invoices and automatic reminders.
The software supports manual journals for important transactions and an organized chart of accounts to capture financial information. Expense tracking is made easy with features like expense categorization and auto-scan for receipt data extraction.
Zoho Books also provides seamless banking integration with real-time cash flow updates and automatic reconciliation. With Zoho Books, you can generate various financial reports instantly, making it a preferred choice for seamless and efficient bookkeeping.
Pricing
Free Plan: There is a free plan with limited functionalities for businesses with revenue <50K USD / 25L INR, limited to 1 user + 1 accountant
Premium Plan: Pricing varies from $20 – $275/month depending on the number of users & features
Custom Plan: There is no mention of custom plans on the website, but you can have add-ons according to your requirements.
Ratings
Capterra- 4.4⭐/5
G2- 4.5⭐/5
Zoho also provides invoice inventory services. Explore our extensive list of Top Inventory Invoice Software for seamless invoicing!
3) QuickBooks
QuickBooks is a leading bookkeeping software that offers a stress-free solution for maintaining accurate books. It provides a live bookkeeper who understands your business, brings your financials up to date, and manages your books with guaranteed accuracy.
The software offers a cleanup and setup phase where the bookkeeper goes through your books line by line, ensuring all past transactions are organized correctly. After the cleanup, you get ongoing support to keep your bookkeeping on track.
QuickBooks also provides essential reports, including profit and loss statements and balance sheets, prepared by QuickBooks-certified bookkeepers. These bookkeepers average over 10 years of experience working with small businesses, ensuring proven expertise and total peace of mind that your books will be ready by tax time.
With QuickBooks, you can focus more on growing your business while the software takes care of the bookkeeping. It's a comprehensive solution that offers seamless collaboration with bookkeepers, making it a top choice in our list of best bookkeeping software.
Pricing
Free Plan: There is no free plan, just a free trial
Premium Plan: Pricing varies from $30 – $200/month depending on the number of users & features
Ratings
Capterra: 4.4⭐/5
G2: 4.4⭐/5
Also read: Top 10 Best Accounting Software For Travel Agencies
4) Bench ( By FreshBooks)
FreshBooks is a top-tier bookkeeping software that offers a suite of services designed to protect your profits and save you time. It provides expert bookkeeping services and tax preparation specifically designed for small businesses.
When used in conjunction with FreshBooks, Bench provides a time-saving financial solution that keeps your finances flowing smoothly. It allows for fast and easy invoicing and payments, while also handling your bookkeeping, tracking expenses, and maximizing your tax deductions and returns.
With FreshBooks, you get a dedicated bookkeeper who imports bank statements, prepares monthly financial statements, and reconciles accounts. This ensures your books are always up to date, giving you a transparent view of your business's health.
FreshBooks also offers stress-free tax services with unlimited tax advisory to keep small businesses 100% compliant at tax time and throughout the year. This combination of FreshBooks accounting software and Bench virtual bookkeeping services makes it easy to make smart financial decisions at any stage of your business.
Pricing
Lite: $13.60/mo – Invoices, expenses, estimates for 5 clients.
Plus: $24.00/mo – More clients, recurring bills, receipt capture.
Premium: $44.00/mo – Unlimited clients, project tracking, customization.
Select a custom plan with advanced features, lower fees, and support.
Ratings
Capterra: 4.5⭐/5
G2: 4.5⭐/5
Also Learn: Top 10 FreshBooks Alternatives
5) Xero
Xero is a comprehensive online accounting software designed specifically for small businesses. It provides a unified platform where you can view all your invoices, contacts, balances, financial information, and accounts online. This makes it easy to keep track of your business's financial health.
Xero's key feature is its ability to easily sync your bank with your financials, automating tasks like invoicing and reporting. This provides real-time financial data, simplifying end-of-year tax returns. Xero also facilitates real-time online collaboration, allowing your employees, bookkeeper, or accountant to work with you on the online accounts from anywhere. This ensures everyone has access to the same up-to-date financial information.
Xero also offers customization options to suit your specific needs. You can connect other apps to the Xero accounting software, making it easier to run your small business.
Pricing
Free Plan: There is no free plan, just a free trial
Premium Plan: Pricing varies from $25 – $54/month depending on the number of users & features.
Ratings
Capterra: 4.4⭐/5
G2: 4.3⭐/5
In case you don't want to do bookkeeping yourself, you can always hire someone! Check out our list of Best Bookkeeping Services for hassle-free bookkeeping!
6) NetSuite
NetSuite is a cloud-based accounting software that simplifies the process of recording transactions, managing payables and receivables, collecting taxes, and closing the books. It provides real-time access to financial data, enabling timely, accurate reporting and greater control of financial assets.
NetSuite offers a unified platform where you can gain real-time insights into numerous financial metrics. It automates repetitive tasks like creating journal entries or reconciling account statements, saving finance teams dozens of hours every month.
One of NetSuite's standout features is its ability to work from anywhere, anytime because your data is stored in the cloud. It also seamlessly integrates with all other pieces of the suite, including financial management capabilities, inventory and order management, HR, customer management, e-commerce, and more.
Pricing
There is a one-time implementation fee for the initial setup. The annual License is customized based on the core platform, optional modules, and the number of users.
Ratings
7) Sage
Sage is an easy-to-use online accounting software designed for freelancers and medium-sized businesses. It offers affordable monthly and annual bookkeeping subscription plans, and its cloud accounting system is secure, customizable, and accessible 24/7.
One of Sage's standout features is its intuitive software that allows you to get set up quickly and easily, taking control of your accounts without delay. It also ensures you stay informed on the latest legislation changes, including tax updates.
Sage allows for collaboration using the latest accounting apps and can be accessed from any device. You can customize reports, track key metrics, and manage your finances on your own terms.
Pricing
Accounting Start: $10/month for basic accounting suited for freelancers & sole proprietors
Accounting: $25/month for more advanced features for small businesses.
Ratings
Capterra: 4.2⭐/5
G2: 4.3⭐/5
You might also benefit from 10 Tips For Financial Success In Your Freelance Business
8) ZipBooks
ZipBooks is an accounting software that provides a comprehensive platform for managing financial transactions. It offers a suite of features that simplify bookkeeping and accounting processes.
The software's accounting feature includes reconciliation, a full suite of reports, auto-categorization, and intuitive color coding. This allows for efficient tracking of transactions and easy management of payables and receivables.
In addition to its robust accounting capabilities, ZipBooks also offers invoicing and billing features. Users can create and send invoices in seconds, accept payments via major credit cards or PayPal, and automate billing processes with auto-billing and automated payment reminders.
ZipBooks also provides intelligent insights based on data analysis. These insights can help users make informed decisions that could have a significant impact on their business operations. The software is designed to be accessible anytime, anywhere, making it a convenient tool for businesses of all sizes.
Pricing
A free plan is available with a limited number of features. Paid plans range between $15-$35 with an option to customize.
Ratings
Capterra- 4.5⭐/5
G2- 4.7⭐/5
9) Wave
Wave is a free accounting software designed to simplify bookkeeping. It offers a range of features that make tracking income and expenses effortless. With Wave, you can connect unlimited bank and credit card accounts in seconds, and the transactions will automatically appear in your bookkeeping, eliminating the need for manual receipt entry.
The software provides robust reporting that gives you a clear view of your business health. It shows month-to-month or year-to-year comparisons, helping you identify cash flow trends. Wave uses real, double-entry accounting software, which is appreciated by accountants.
Wave also organizes your income, expenses, payments, and invoices neatly, making tax time a breeze. It allows you to get started in minutes and is easy to use across any device and any place.
On the security front, Wave takes it very seriously. Bank data connections are read-only and use 256-bit encryption. Servers are housed under physical and electronic protection. Wave is PCI Level-1 certified for handling credit card and bank account information.
Pricing
Wave's invoicing and accounting software is free. They charge for payment processing and payroll services. Payment processing costs around 2.9% + 60¢ per transaction for credit cards and 1% for bank payments.
Ratings
Capterra: 4.6⭐/5
G2: 4.4⭐/5
10) Tally Prime
TallyPrime is a robust bookkeeping software designed to streamline business management. It offers an all-in-one accounting system for recording transactions and bookkeeping, making it a valuable tool for businesses. TallyPrime enables the quick creation of professional-looking invoices and provides a pre-defined chart of accounts. It efficiently manages accounts receivable and payable and offers insightful financial reports. The software also supports inventory management, multi-currency transactions, sales and purchase management, and payroll management.
However, it is not cloud-based. Additionally, for those unfamiliar with accounting or new to the software, TallyPrime can seem complicated due to its multitude of features.
Pricing
TallyPrime Silver: USD 630 – Single-user edition
TallyPrime Gold: USD 1,890 – Multi-user edition
TallyPrime Server: USD 9,450 – For medium and large enterprises
Ratings
Capterra: 4.4⭐/5
G2: 4.4⭐/5
Conclusion
In today's business landscape, proficient bookkeeping software has transformed from a luxury into a necessity. The multitude of available options, each presenting distinct features and advantages, emphasizes the significance of aligning your selection with your business's specific requirements.
Ranging from user-friendly interfaces to collaborative cloud-based platforms, these solutions empower entrepreneurs to adeptly oversee their finances, make well-informed choices, and maintain regulatory compliance. As you embark on the path of financial optimization, keep in mind that the apt bookkeeping software serves as a foundational pillar of success, guiding you towards smoother operations and heightened business efficiency.

Also learn: 14 Top Productivity Tools For Entrepreneurs And Small Business Owners