As a freelancer, it can be hard to conceptualize that you're operating a small business.
A freelance business is unique because it's typically a one-person operation but requires some of the same structural support as a larger operation.
For example, a freelance business requires special attention to finances. From budgeting for marketing to properly filing out a 1099k tax form, there are a lot of finance-related tasks that you may not have thought about when starting your freelance business.
So, we're going to review ten ways to set your freelance business up for success.
Let's get started.
1. Decide On Your Business Structure
Early in your business journey, you'll need to decide on a formal business structure for your company.
If you're working on your own, you can choose to remain a sole proprietorship or become an LLC (limited liability company). Each has its own advantages and challenges, so do your research and decide carefully.
If you have a business partner, you'll need to decide whether you should incorporate your company or stick with a basic LLC. With both, you'll be responsible for legal forms and need to pay the associated fees.
You may also need to file a DBA (doing business as) with your county or state to use a fictional business name and open a business checking account (more on that in a bit). Having a legal business name is another important step in your journey since it establishes credibility and affords other opportunities.
Understanding the nuances of your operation through "Know Your Business" practices is also essential, as it ensures you are aware of the legal, financial, and operational aspects specific to your freelance business. This knowledge is crucial in making informed decisions that align with your business goals and compliance requirements.
2. Keep Your Expenses In Check
You have to spend money to make money, right? But that doesn't mean throwing profit out the window or going into debt when you're starting your business. You must keep your expenses in check.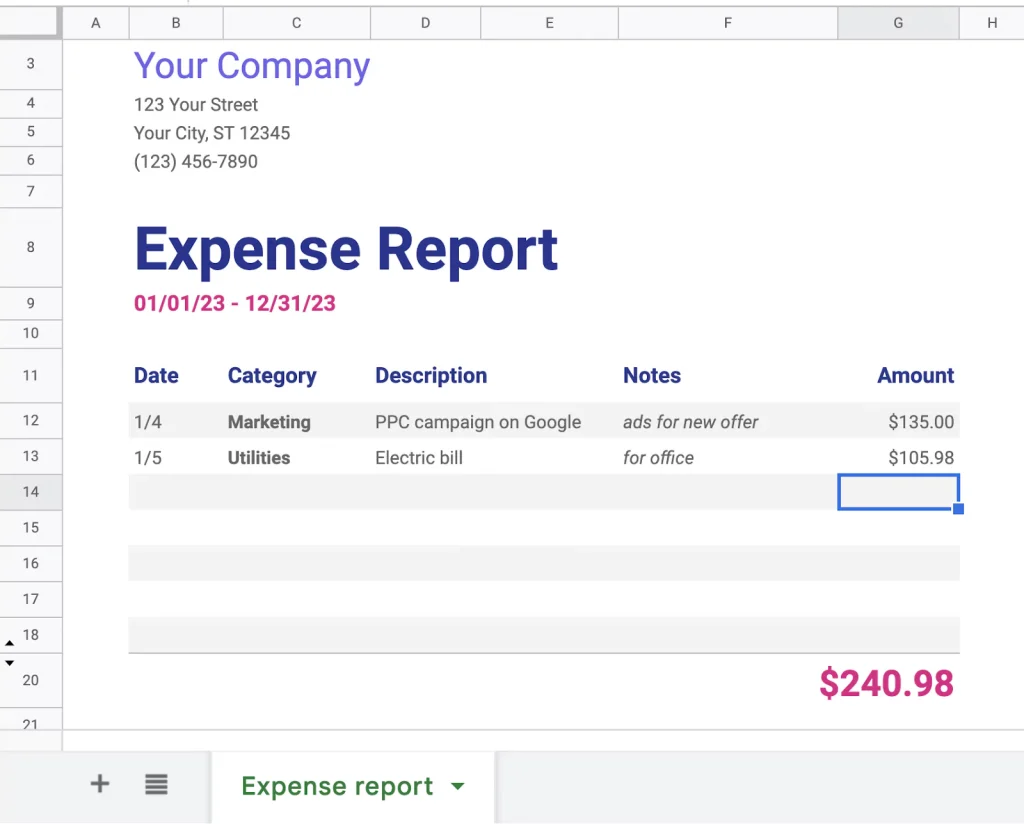 Start by creating a budget. List your expenses. See what's essential, what you can reduce, and what you can eliminate entirely.
Identify where you're overspending and what is providing a productive return on investment (ROI).
Once you've set some monthly, quarterly, and annual spending parameters, you'll better understand how much you can spend and remain profitable.
3. Track Your Time And Don't Undercharge
As a freelancer, letting your time on a project slip away from you, especially when you're new to the game, is easy.
Some freelancers charge per project, and others charge hourly. While it's always important to be mindful of time, you'll want to be particularly mindful when charging a flat fee. That's because spending more time working won't get you paid more.
When you audit your schedule and track your time more carefully, it's easier to understand how much to charge for certain services. It also enables you to see where you're wasting time. With that awareness, you can better optimize your days.
4. Pay Your Quarterly Taxes
One of the trickiest parts of freelancing is filing your taxes. As an employee, your employer takes taxes out of your wages, but freelancers don't have that luxury.
You must set aside money from every invoice to cover federal and state income taxes. Experts recommend saving 30% of your earnings for taxes.
Another layer to taxes as a freelancer is quarterly estimates. Basically, this requires paying quarterly installments that equal 25% of the total amount you paid in taxes the previous year. Paying these taxes on time is important, so you're not charged any penalty fees.
If you're based in the United States, this is easy to do on the EFTPS website. In fact, you can set up your payments for the entire year at once if you'd like.
Check out how to handle taxes for international payments in India.
5. "DIY" Whenever Possible
As a freelancer, you'll wear many hats to pinch pennies to reduce your expenses. When you're starting out, taking a do-it-yourself (DIY) approach will help you keep your costs low.
You can also cut your normal business expenses by using free online resources. For example, consider using business card templates and a logo maker instead of paying a graphic designer to create a brand for your business.
Looking to become a UX designer and start your career off on the right foot? Our blog has got you covered with all the information you need to get started!
Although doing things yourself to start out will help propel your business, it may not be sustainable long term. You may need to start delegating tasks if you decide to scale or grow your freelance business.
However, by taking a DIY approach early on, you'll better understand what different tasks require, making hiring easier.
6. Open A Business Bank Account
Earlier, we mentioned the importance of starting out as legitimately as possible. When you create a business entity, you should also open a business bank account. This is easy to do when you get a tax ID number for your business.
The benefit of creating a bank account specific to your business is that it makes it easier to track your finances. With the rise of fintech solutions, entrepreneurs and freelancers now have access to innovative options such as a fintech business bank account that offer advanced features tailored to the needs of modern businesses, providing seamless integration with accounting software, real-time transaction monitoring, and automated categorization of expenses. Tracking what goes in and out of that account simplifies tax time.
Plus, having a separate bank account from your personal account can make it easier to set boundaries with spending.
7. Save Six Months Of Living Expenses
When you get a paycheck every other week, it's easy to set up a savings account or retirement plan on autopilot and forget about it. It's a lot harder when your salary depends on finding paying clients and meeting deadlines.
Since you can't always guarantee the stability of your contracts or the growth of your customer base, it's smart to set aside savings. You should ideally set aside six months of living expenses for unforeseen events.
Yes, it's easier said than done. But it is possible. As long as you're strategic and commit to it.
Every time you get a payment, after your tax savings come out, put a percentage, 5–10%, for example, into a savings account. It's even better if you can set it up to be done automatically any time there's a deposit.
Once your savings reach your goal of six months (or more) of living expenses, you can start to grow your wealth by investing money effectively. Don't risk your entire savings, but investments can be an excellent way to increase your savings and diversify your wealth.
8. Streamline Your Lead Generation And Sales Strategies
Freelancing isn't always as promising as it first appears. Sometimes it's difficult to find a client, especially if you're new to the game. You'll need to find high-paying projects or gigs to stay afloat because gaining the first client doesn't guarantee you'll get the next one immediately.
That said, it's important to understand how long it takes to generate leads and close deals. Sales cycles differ from business to business, but the time between the first contact and a signed contract can take months in some situations.
You can help streamline the sales cycle by creating well-crafted marketing materials. This is fairly easy with the support of AI and other sales and marketing tools. For example, you could make a short video with the help of a text-to-speech platform to showcase case studies, testimonials, and more.
9. Keep A List Of Qualified Leads And Follow Up
Since landing clients can take quite a bit of time and effort, keeping a running list of qualified leads is important so you have potential clients to reach out to if one of your contracts ends.
In running any business, including freelance businesses, you may need to determine when your potential customers are most active when they are ready to make a purchase, place an order, and so forth.
One of the best tools that'll help you with this is HubSpot lead scoring because it does lead scoring best and helps you get the information you need.
As you compile this list, make a note of email addresses, phone numbers, websites, and so forth so you can easily reach out to these people to pitch your services.
An alternate approach is to keep a waitlist of clients who have expressed interest in your services. That way, you'll have a committed list of potential clients to add to your roster if one drops off.
10. Prioritize Client Retention
Another way to save time and resources on landing clients is by prioritizing client retention. After all, your roster of clients is full. You don't need to make an effort to land new ones.
To keep your clients returning and doing long-term business with you, you need to ensure that you're serving them in a way that meets their needs. This means going above and beyond to produce the results they are paying you for.
A good way to make sure you're making your clients happy is by opening the door to feedback and adjusting to improve if necessary.
Final Thoughts
Applying these tips to your freelance business operations will help you prioritize financial security.
By managing your expenses properly and working hard to keep your roster of clients full, keeping your freelance business out of financial hot water should be no problem.
Cheers to years of profitable business ahead!