If you are just a newbie starting a new business or looking to efficiently run your already established business, having great software tools at your disposal can help you run your business operations smoothly like a well-oiled machine.
In this article, we will discuss the most essential business management software solutions to effectively manage your business operations.
But before we move ahead, I would also like to point out that if you are just starting out, your time would be better spent on figuring out how to grow your business than spending time figuring out what software works better.
The thumb rule is before you try to automate anything with software, try to do it manually until you figure out the process and know what you need to automate.
Don't run around straightly jumping into any software like a headless chicken.
Trust me, I have been there and wasted so much time that I could have rather spent on trying to find a product market fit.
So if you are just starting out, don't spend much time reading this or any other articles – just get an overview (so you know what solutions exist if things break), and only look for software for things you can't do on MS Office or Google Workspace.
Cool then, now that we have set the context, let's get started with top business management software!
1. Website-building Software
You can't do business without setting up a shop, can you? It doesn't have to be a brick & mortar store – it can be a website, a listing on an e-commerce platform, a profile on freelancing platforms, or even a social media page. Basically, a place where people can find your business.
We would only talk about the best software for building websites or business profiles, as other things are easy to figure out.
1) Wix (for beginners)
Major features:
Multiple profession-wise templates,
In-built SEO tools, live chat, blogging functionalities, e-commerce integration
Cheaper than Webflow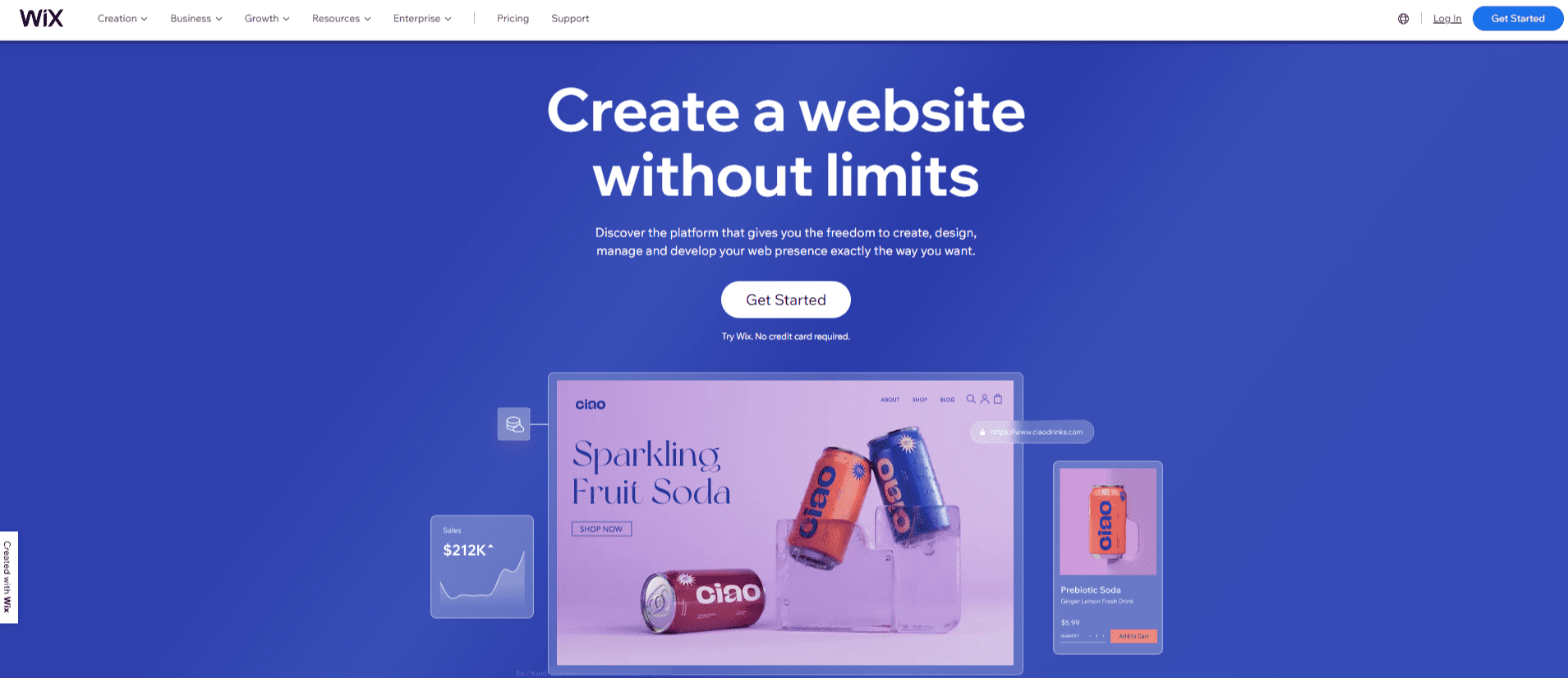 2) Webflow (for advanced use cases)
Major features:
Most advanced website-building software
Best for creating advanced interactions
More design freedom
100% customizable
Also Read: Steps to improve website security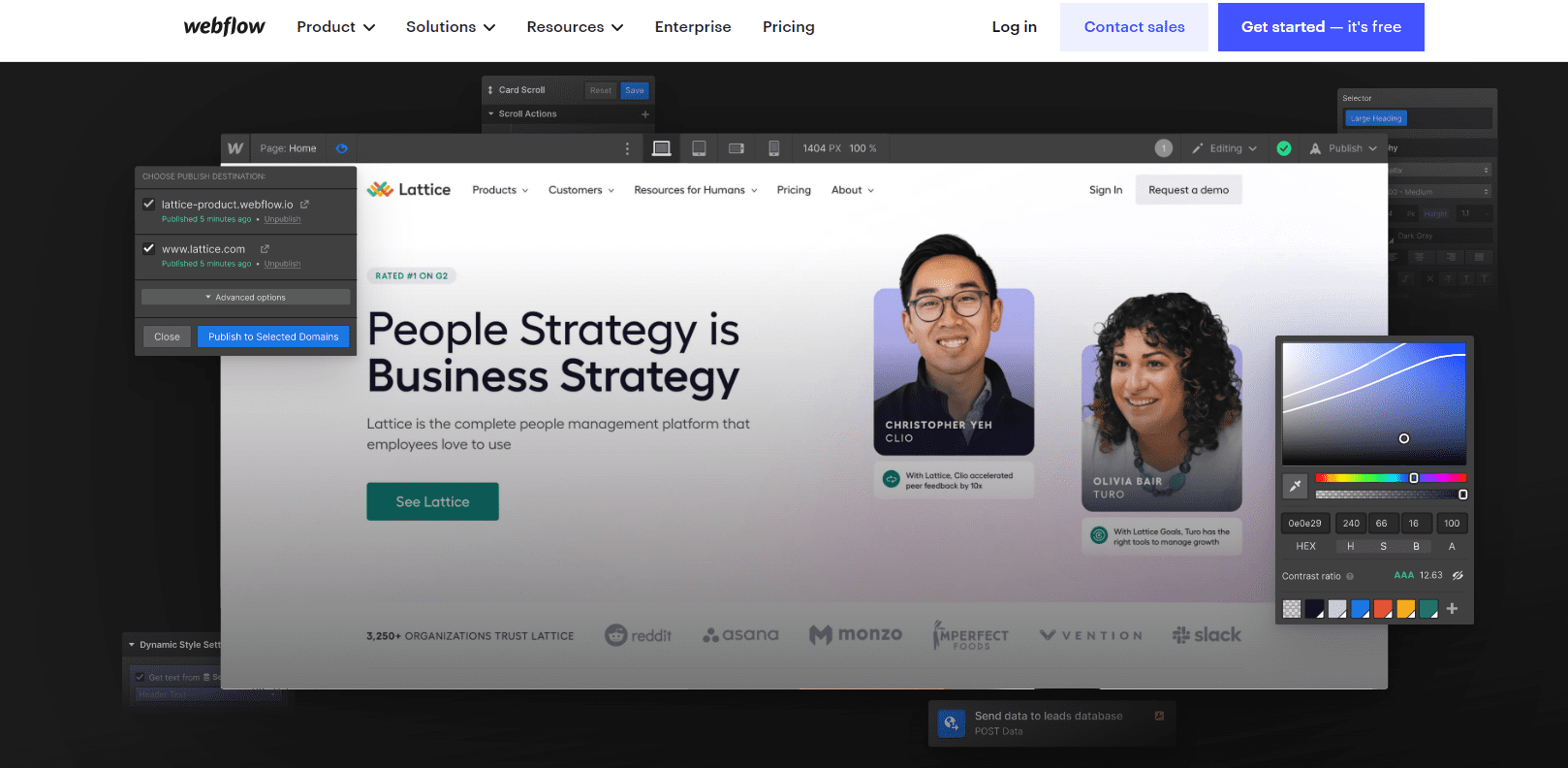 3) Refrens Profile
Major features:
List your business, projects, services, testimonials, and everything your potential clients would need to know about your business
No coding knowledge is required, is free, and helps you get started in minutes
Access advanced tools like a lead management system, invoicing & accounting, payments, inventory & expense management, and networking
(See Why Having a Refrens Profile is Better than Having a Website)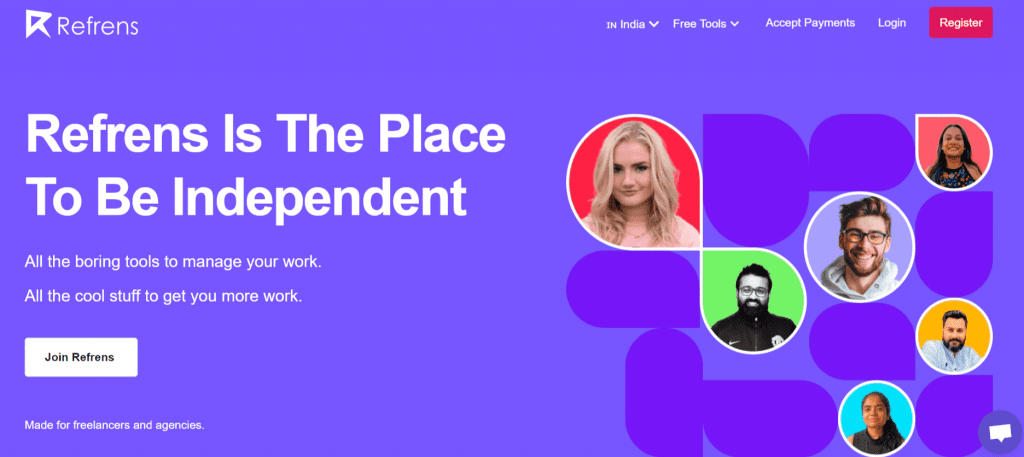 If you want to run an e-commerce business, Shopify would be the ideal option for you. It has a wide range of themes and templates that can help you quickly get started. It also has an in-built payments processing system and a strong app ecosystem which helps you quickly add features & functionalities to your e-commerce website. If you are just starting out, you can hire a Shopify Developer to help you build your e-commerce site. Moreover, when it comes to dealing with your logistics and shipping efficiently, one of the excel route planner is Upper that can seamlessly integrate with your Shopify store to smooth out the delivery operations.
The way you manage your accounting & finance can make or break your business. Good accounting software helps you create quotations, invoices, and other accounting documents; manage and track your income & expenses; create reports & generate insights; calculate taxes & more.
Here are some of the best accounting software:
1) Refrens
Major features:
Create & share customized invoices, quotations, and more
Insights via Reports, track income, and expenses
Share your accounting documents easily on Email, WhatsApp, and any other channels
Track invoice views & send auto-reminders for invoice dues
Collect payments domestically and internationally
Automatically update your inventory when you create an invoice or an expense
Pricing: ₹3000- ₹10000 per year
Best for: Freelancers, agencies, and small businesses
Also Read: Industry-wise best billing software
2) Zoho Books
Major features:
Automatically calculate GST and generate reports
Follow-up payment using automatic alerts
Track expenses and record bills
Automatically fetch bank statements from the bank into your account
Manage more than one project, add tasks, and assign them to employees
Generate invoices based on on-task time or fix costs for any project
Stock tracking inventory features, sales orders, and purchase orders
Client Portal
Pricing: ₹9000 – ₹96000 per year
Best for: Small to medium size businesses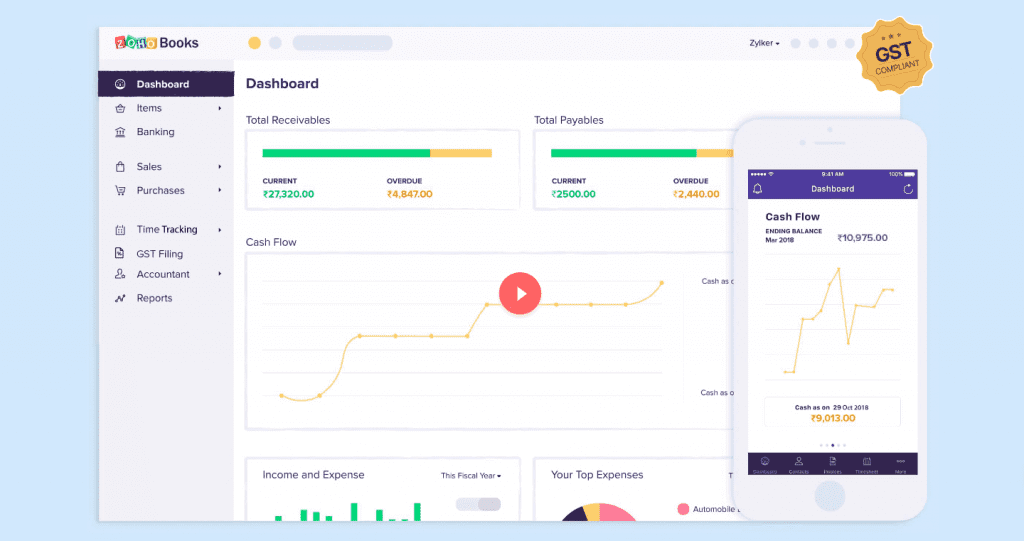 3) Freshbooks
Major Features:
Invoicing, expense management, time tracking, project management
Send estimates and proposals with a Plus plan or higher
Collect payments, track sales tax, generate reports
Use log hours and automatically put them onto the invoice
Automatically check and balance to ensure compliance and accuracy
Set up recurring billing and client retainers
Pricing: ₹10000 – ₹39600 per year
Best for: small businesses
More to check out: Invoicing Software for Small Businesses

Running a restaurant or catering business? check our analysis of top restaurant billing software to make an informed choice>
Also read: Top 5 E-Invoicing Software
3. Lead Management Software
Once someone shows an interest in your product/service but hasn't bought it, they become your lead. Managing leads efficiently can help you increase your lead conversion rate and grow your revenue.
There is no lead management system that caters to every business's needs. An LMS that works for one business, might not be the ideal choice for another business. For example, if you are a large enterprise, you can use an LMS like Salesforce; and if you are a freelancer, agency, or a small business Refrens would be a better choice for you.
Also Read: What is lead management?
1) Refrens
Major features:
Automate lead capture from your website, social media, and other platforms with web forms
Communicate with leads over WhatsApp and Email
Never miss a follow-up with auto-reminders
Get a salesmen-wise tracker and daily sales reports
Create quotations, send them over Email/WhatsApp, and track them
Convert quotations into invoices with a single click
Best for: Freelancers, agencies, and small businesses
2) Salesforce
Major features:
Automatically track emails, calls, and meetings
Manage pipelines & generate reports
Create email campaigns
Best for: Medium to large size businesses
Check out this article on how to generate more leads.
Have a travel agency? take a look at best billing & accounting software for travel agencies >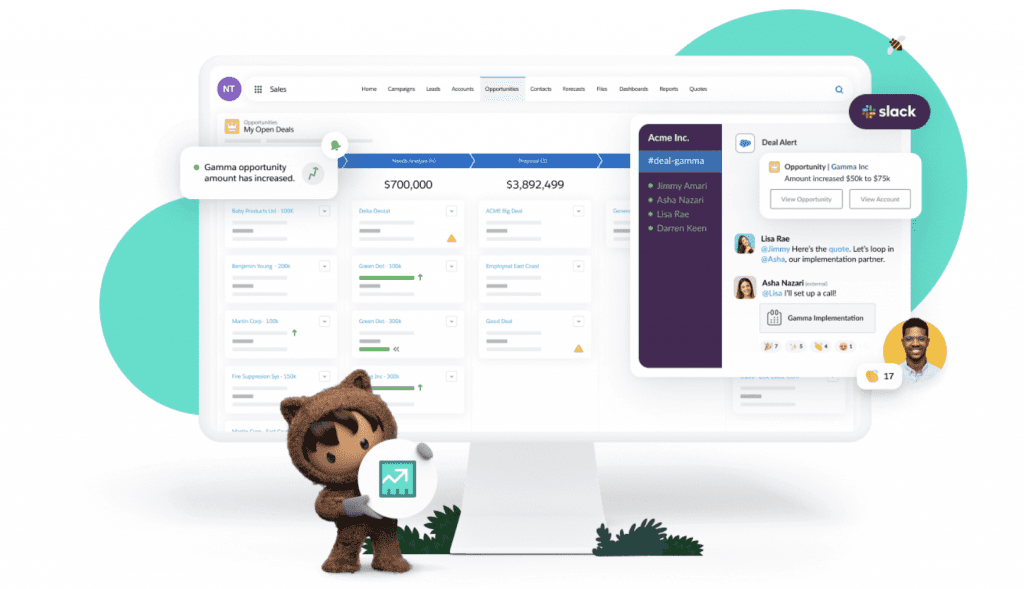 3) ActiveCampaign
Major features:
Manage priorities with lead scoring
Automatically send emails based on lead score
Get an overview of the sales pipeline and lead history
Best for: Small to medium size businesses
Top lead management software in 2023

4. Customer Relationship Management (CRM) Software
CRM software helps businesses easily manage and track all the communication with their clients & leads and nurture customer relations.
1) Salesforce Sales Cloud
Major Features:
Pipeline and Forecast Management
Customizable reports and online dashboards
Automatically track emails, calls, and meetings
Create Email Campaigns
Best for: Medium and Large size businesses
2) Monday.com
Major Features:
Set up auto reminders, due-date notifications, and assign tasks to teammates
Automate your sales pipeline
Collaborate with your team in a shared workspace
Integrations with Slack, Google Drive, and other platforms.
Best for: Small to Large size businesses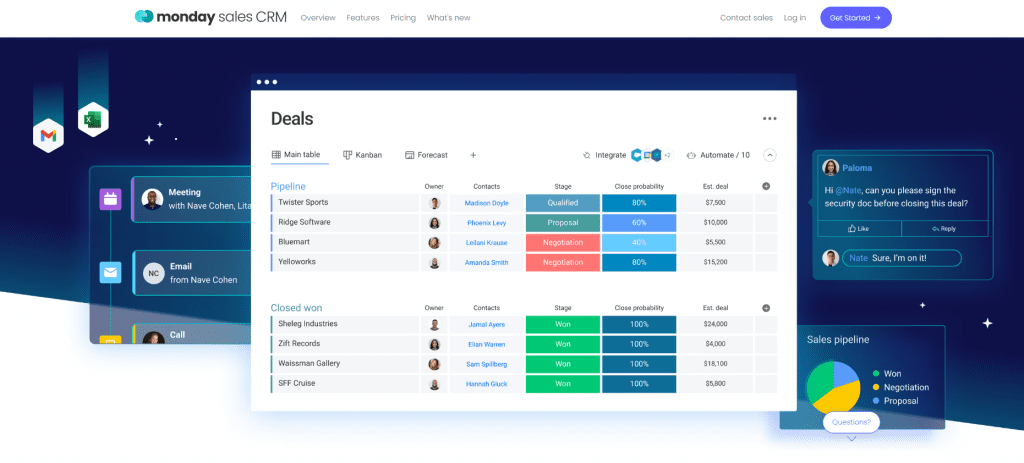 3) Hubspot
Major Features:
Contact deal and task management
Email tracking and engagement notifications
Email templates and scheduling
Document sharing, meeting scheduling, live chat
Best for: Small to Large size businesses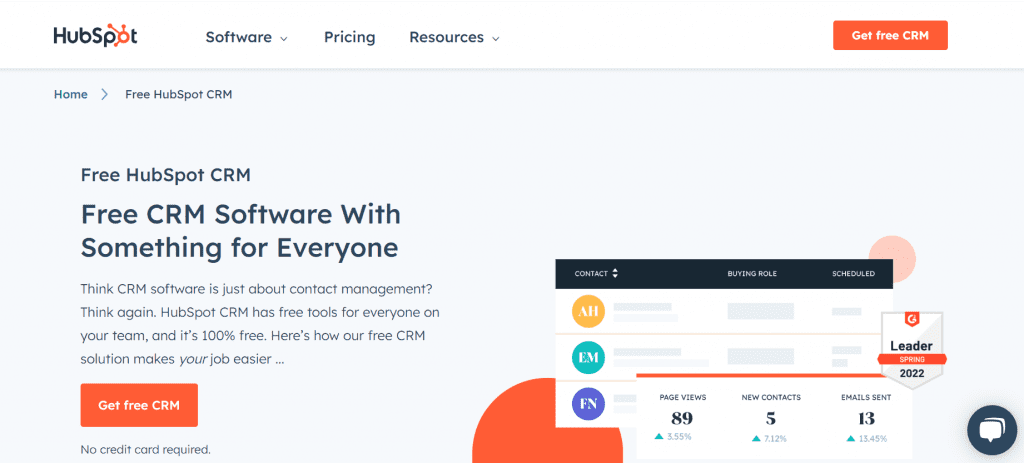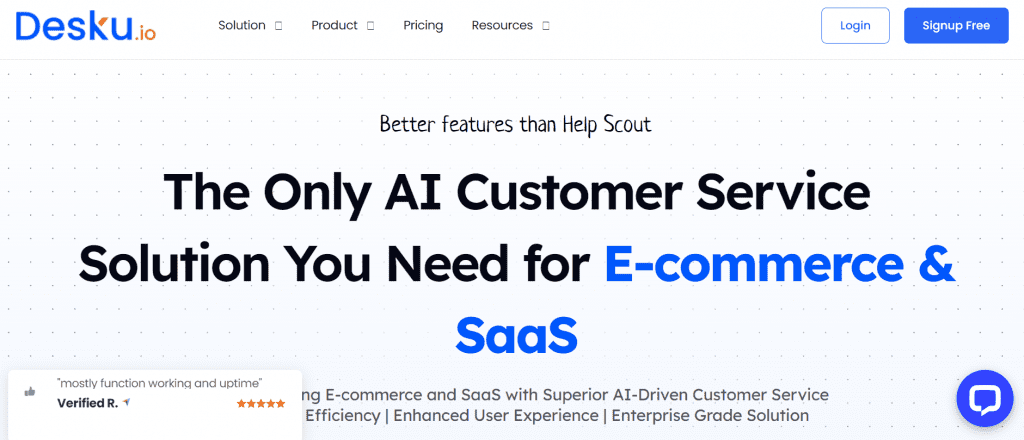 Major Features:
Improved and accelerated automated customer support.
Offers a comprehensive suite of customer support tools, including a live chat, helpdesk, knowledge base, and chatbot module.
API-driven technology enables users to trigger bulk notifications instantly from the platform.
Offers customization options to meet the specific needs of the audience, allowing segmentation based on geography or personalized messages for individual recipients.
Best for: Freelancers and Small Business
5. Project Management Software
Project management software help businesses with project planning, scheduling, resource allocation, and change management. Here are some of the best project management software to consider from –
1) Asana
Major Features:
Visualize project data through the list, board, timeline, calendar, and workload views.
Time tracking tool to visualize time spent on tasks.
Customize fields, rules, and forms.
Also Read: Tips for juggling freelance projects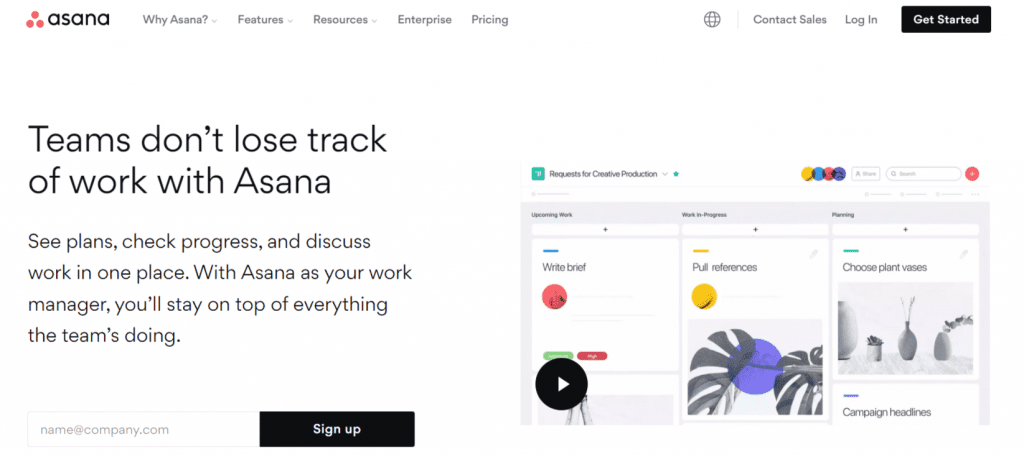 2) Jira
Major Features:
Create project issues and collect data through form by importing existing work.
Track KPIs for progress, priorities, and workloads.
Templates for finance, marketing, and legal teams.
Visualize project data through list, board, timeline, and calendar views. See how Asana compares with Jira so you can make a decision between the two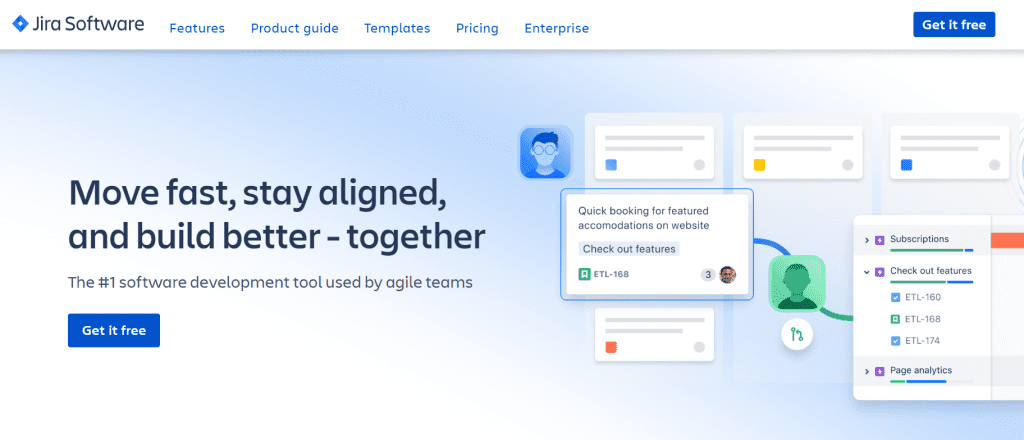 3) Airtable
Major Features:
Build an internal or external app with the Interface Designer.
Data integration from Google, Salesforce, and Jira to Airtable.
Visualize project data through the grid, Kanban, gallery, Gantt, and calendar views.
Custom automation with granular control over rule scripting.
Checkout: How to get better projects through networking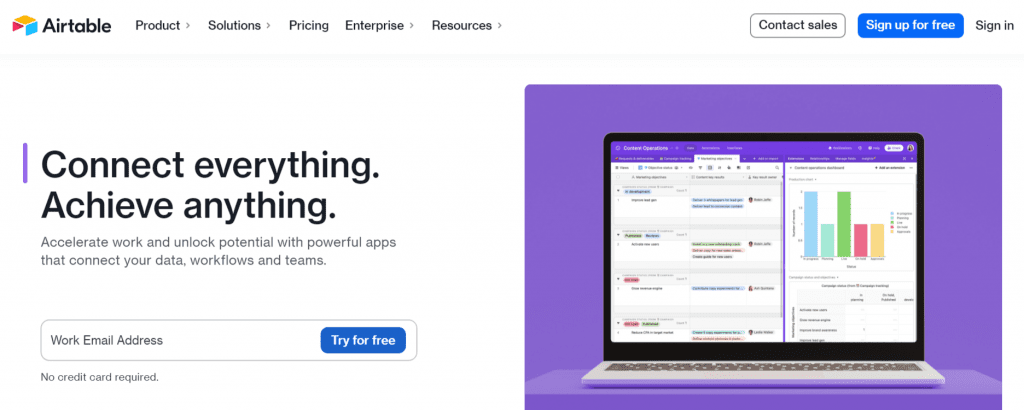 6. Human Resource (HR) Management Software
HR software helps you with employee onboarding, applicant tracking, managing payroll & benefits, storing employee data, etc. Here are some of the best HR management software to consider from –
1) Rippling
Major Features:
Onboarding/offboarding automation
Global payroll and attendance management
Job board integrations and application tracking
Learning & compliance management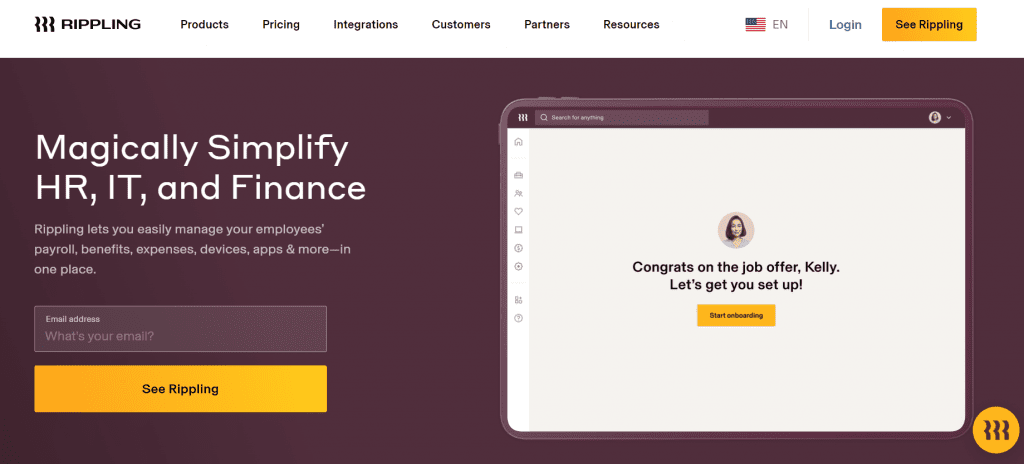 2) Gusto
Major Features:
Full-service payroll management
Automated calculations of the team's hours, PTOs, and holidays
Track workforce & project costings, get custom reports
Manage applicant tracking, onboarding, and employee benefits

4) GoHire
GoHire.io was founded in 2016 by a team of passionate entrepreneurs led by Chris Smith who saw the potential of using technology to make the hiring process more efficient and effective. The company's mission is to use data and analytics to help businesses make better hiring decisions, and they have developed a platform that does just that.
GoHire.io's platform helps businesses by providing them with access to data that they can use to make informed decisions about which candidates are the best fit for their open positions.
Top features:
Fast and simple job publishing across top sites and social platforms
smart search to find your candidates in seconds
Streamlined applications and messaging
Remove manual tasks with hiring automation
Schedule interviews in no time
Make informed hiring decisions driven by data
Candidate feedback and evaluations
3) BambooHR
Major Features:
Manage employee onboarding, offboarding, and applicant tracking
Employee records, workflow management, reporting & analytics
Performance management and employee well-being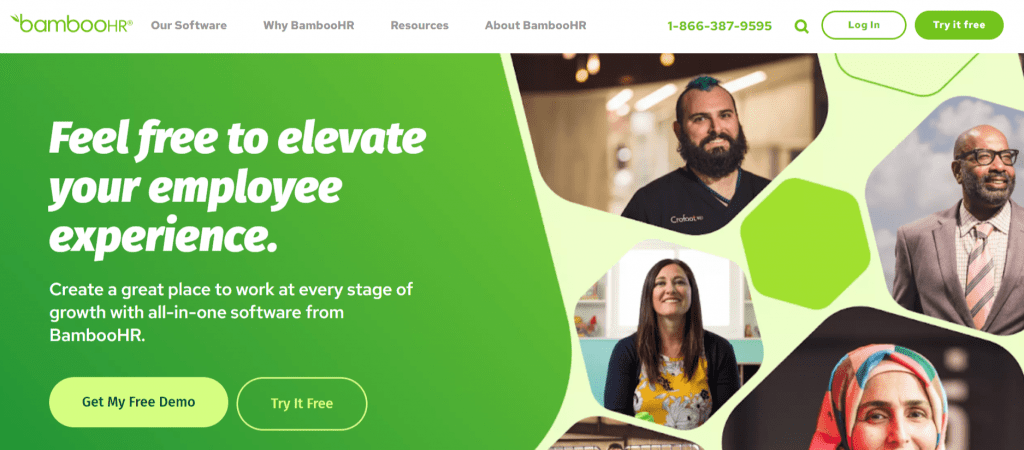 7. Inventory Management Software
If your business is dealing with physical products, the way you manage your inventory can make or break your business. Inventory management software helps you record, manage, and track inventory to improve operational efficiency.
There is no single best inventory software for all businesses, as the features change according to the type of business you operate. For example, the way a manufacturer manages inventory will be drastically different from the way a wholesaler, small business owner, e-commerce seller, or other business manages their inventory.
1) Refrens
Major features:
Automatically update your inventory whenever you create an invoice or record an expense
Save time while creating invoices, delivery challans, and other accounting documents by adding item details automatically
Easily manage & keep track of your inventory in one place.
Best for: Small businesses
2) Katana
Major features:
Real-time tracking of inventory across multiple locations & sales channels
Assign barcode numbers
Batch tracking for perishable and make-to-stock/order items.
Best for: Manufacturers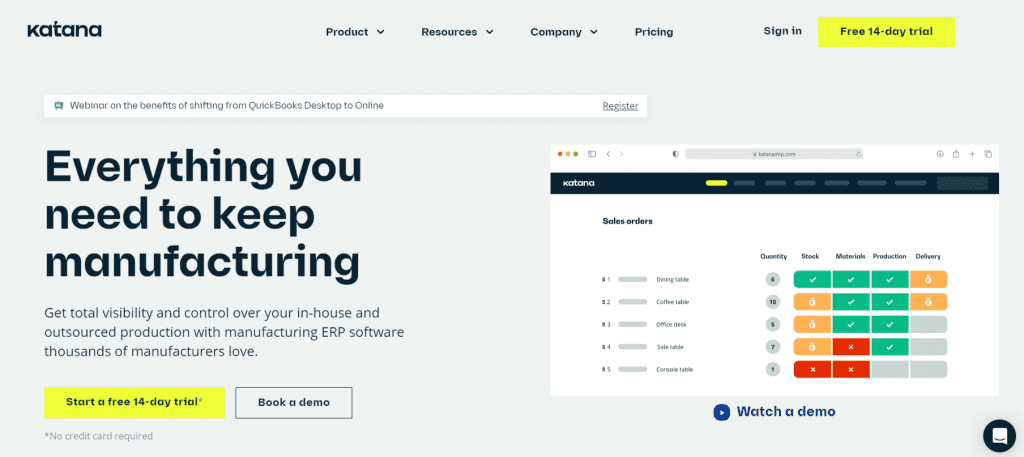 3) Zoho Inventory
Major features:
Real-time tracking
Avoid stockouts with low inventory alerts
Accept back orders and automatically place orders for out-of-stock items
Create e-way bills, delivery challans, and other accounting documents
Best for: Medium to large size businesses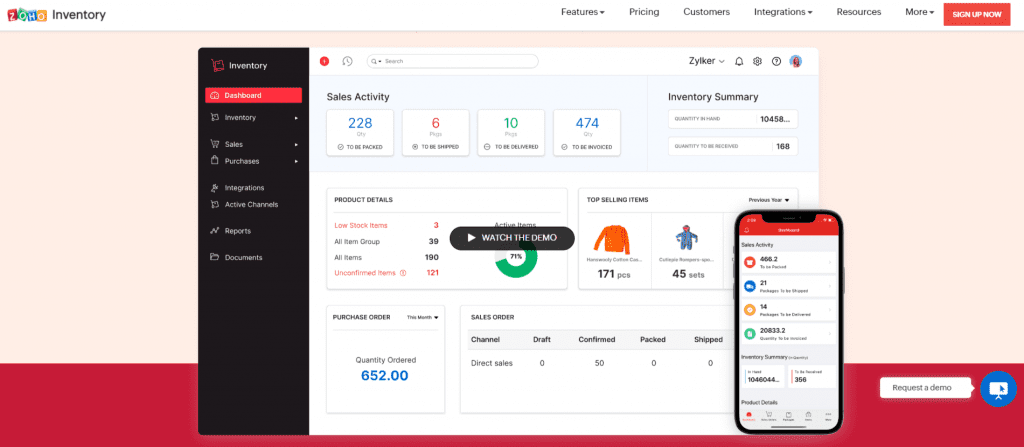 4) Ordoro
Major features:
Sync orders, inventory, and shipping details with e-commerce platforms
Manage multiple shipping options and compare prices of different delivery services
Manage dropshipping

Booking and Scheduling Software
1. Omnify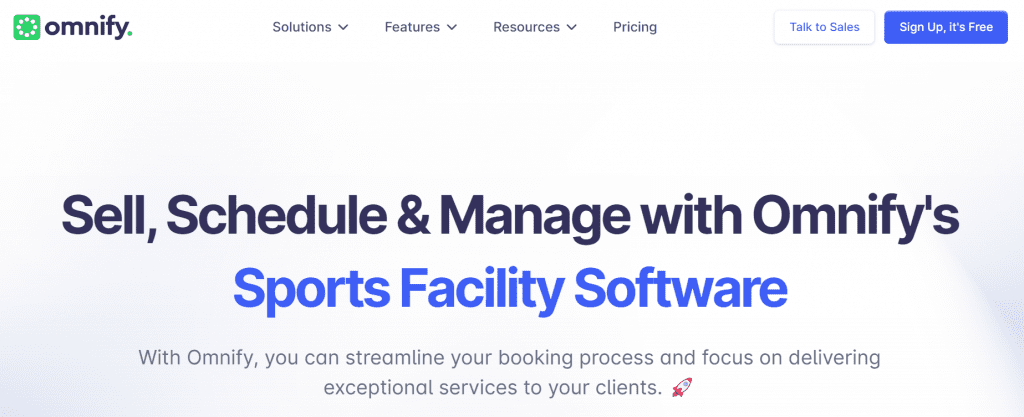 Omnify is a comprehensive booking and scheduling software designed to support service businesses and professionals in various industries, such as fitness, wellness, education, recreation, and more.
Here are a few of the Omnify features that make it popular. Have a look!
A Personalized Service Store for a faster and better way to sell.
Seamless Scheduling for clients to take care of their bookings and subscriptions.
Automated Emails to simplify communication with clients and staff.
Online Recurring Payments to get paid on time.
Zapier Integration- Integrate all the favorite tools you need
Advance Analytics – Stay ahead with smart insights
Online Waivers, Automated Waitlists, Membership Management & More!
Pricing- Starts at $0 (Free Forever Plan) to $499/mo (starts at), billed annually
Best For- Small businesses, Medium-size businesses, and Large Enterprises.
Recommended read: Best Billing Software For Retail Shops & Distributors>
Conclusion: Business Management Software
That's it then! I know that there are many other software that I am missing here, but the point here was to figure out the ones that can help you manage your major day-to-day operations.
Just one tip that I would like to share is that you should look for software that can help you replicate your existing process. What I mean here is don't adopt software that will make you unnecessarily change your current process to forcibly fit into its workflow – unless it improves the efficiency of your operations.
P.S. if you have a large vendor base and want to streamline your expense management process, you should consider reading this UpGrad case study >
Also Read: How to hire a Shopify developer?