Google is the biggest search engine of this time of the internet. Every writer wants to get ranked in the top position by writing fully optimized content.
If you are a writer and looking for the same spot, you need to beat around 7 million blogs. Yes, you heard it right. Around 7 million blogs are published on the internet daily on different topics using various platforms.
To make it possible, you need to first pay attention to the optimization of your content. No doubt, it is impossible to do when you are writing because you can focus on writing or SEO.
This is where you will find SEO tools as a must-have product for your writing career. Whether you are a freelance writer or running your blog, you need to keep some tools in your access for ranking better.
There are hundreds of SEO tools available on the internet due to which you may get confused while picking the right one to drive traffic. To make sure you get the best SEO tool to drive traffic, we have enlisted only 7 SEO tools that are perfect to choose for your freelance career.
Let's get started and explore the following list with a brief description of all tools.
Best SEO Tools for Writers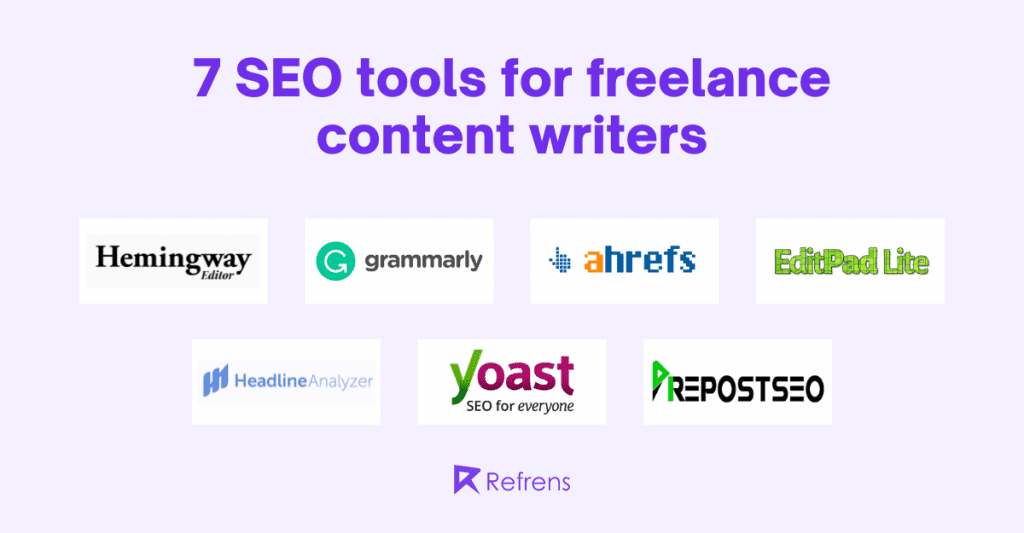 Whether you are going to explore our list of tools or from any other website, you should know how we have chosen these tools. To choose the following tools, we have done an analysis based on different sections of writing a blog.
Along with this, we have done complete testing of the tools to find the best features. We have checked all the tools and found the following with basic to advanced features or functions.
1. Ahrefs
At the top of our list, we have ranked Ahrefs which is considered the best tool for every type of SEO task. It does not matter whether you have stuck in the keyword research process or competitor's analysis.
Ahrefs has a complete set of tools that you can utilize in different sections of your writing as well as SEO. The only thing that you have to do is to understand the interface of the tool and how to use its various tools from the list.
For your ease, the platform has enlisted all the tools in a vertical bar on the left side of the screen. So, it would be pretty simple and easy for you to access any tool by browsing it with a single click.
In turn, you can deal with almost every task related to SEO in your writing using this simple tool. The only problem with the tool is higher packages that make it hard for a freelance writer to choose it.
Especially, beginners won't be able to choose this tool because of budget issues that they may have in this regard.
Also Read: Freelance Writer Rates
2. Editpad
When it comes to writing SEO-friendly content, it is important to have a look at your researched data along with the written text. It might not be possible if you are using an online text editor on your device.
The reason is you have to write in that editor by keeping the minimizing limit in mind. In simple words, it will not enable you to minimize the tab to your desired ratio and keep an eye on the content and the chrome tab side by side.
Additionally, you will not get surety that your content will be saved if the device will get turned off accidentally. Therefore, you need a text editor that will enable you to write comfortably and keep an eye on multiple chrome tabs.
Editpad is offering the best text editor that you can utilize in this regard. This tool will enable you to write a blog post or a few lines in the same box without any hurdle.
You don't need to deal with the toolbar that you may have been getting hard to remember while using an online program. Similarly, the tool will enable you to get an idea about word count, mistakes, and many other factors on the same screen.
In short, you will be able to get comfort in case of your work savage as a freelance writer. Along with this, you can also use different tools from its tool list to make your work error-free.
3. Prepostseo
Prepostseo is one of the best platforms that you can utilize in different sections of your writing. On the third list, we have a comprehensive platform with 200+ tools for writers, SEO experts, and developers.
Being a freelance writer, it is important to note that your content is 100% unique. This platform offers you to check the uniqueness of your content before publishing it or sending it to your buyers.
Additionally, this tool will enable you to rewrite the entire text or those copied lines within a few seconds. In short, Prepostseo is offering a wide collection of tools that can be utilized in different stages of your writing.
If we say that this platform will be enough to deal with every task of writing, it might be right. You only need to explore your desired tool by checking the list available on the platform.
4. CoSchedule's Headline Analyzer
According to all writers and many SEO experts, a headline is the only way to engage the reader and encourage him to open the website. It is one of the most important sections of your blog post or article.
CoSchedule is one of the best headline analyzers available on the internet. By using this tool, you can make sure that the title or headline you have written for your blog is fully optimized.
This tool will enable you to get an idea about the word selection that you have done for writing the title. It will let you check whether you are using enough power words, emotional words, and interacting words or not.
If your headline lacks any of the important words, it will show you there. Along with this, it will show the SEO score of your title which will enable you to get an idea about what you need to do for making it more optimized.
5. Grammarly
We all know that grammar mistakes are the main problems for many writers. It will not only ruin your writing career but also make it less optimized or make it useless.
This is where you will find Grammarly the best choice for you. It is an AI-based tool that can understand your given text, analyze it, and show all the grammar errors in your writings.
This tool will highlight all those mistakes that you need to clear before publishing your content. Along with this, if you are using the wrong set of words, it will also show you on the screen.
In turn, you can easily make your content 100% grammatically correct. Additionally, the word replacement will make your content more readable and easy to understand.
6. Hemingway Editor
On the sixth rank, we have a Hemingway editing app that will enable you to get an idea about your content's performance. The tool has been designed with a fine interface having SEO aspects.
It will show your text highlighted in different colors as per the nature of the improvements. In the right bar, you will be able to see which color is indicating which problem or improvement.
By using this tool, you can also check the readability score as well as the overall performance of your text. It will enable you to check how much percentage a word has in the overall text.
All in all, this tool is the perfect choice if you want to get an idea about your text mistakes and how you can improve them.
7. Yoast SEO
When you have done the writing of your task, you need to check for SEO score. It might not be possible if you are thinking to do it manually because you may leave a factor or don't know how to do it properly.
Yoast is one of the best tools available online for analysis in terms of SEO. You only have to enter the text inside the dedicated box and format it properly.
In the bottom section, you will get a content assessment screen with the overall score and all sections mentioned separately. You can easily get a look at the given sections and make sure that you have done the right work.
If the tool is showing issues in your writing, you can also improve it or eliminate those mistakes from your work. In turn, you can make sure that your content is fully optimized and ready to publish or deliver.
Final Wrapping
The above list of tools has been designed after a comprehensive analysis of the tools available on the internet. Being a freelance writer, you should use all of these tools to make your content more optimized and easy to rank.