It is widely known that eCommerce is flourishing. With 93 percent of all internet users worldwide having made an online purchase, this trillion-dollar business is expanding and not showing any signs of slowing down.
Freelancing entails taking on the role of a specialized employee who is recruited by a business to assist in enhancing its current operations.
Are you curious about how they manage to recognize the lucrative side of eCommerce?
Keep reading for a list of 10 ways freelancers can profit from eCommerce.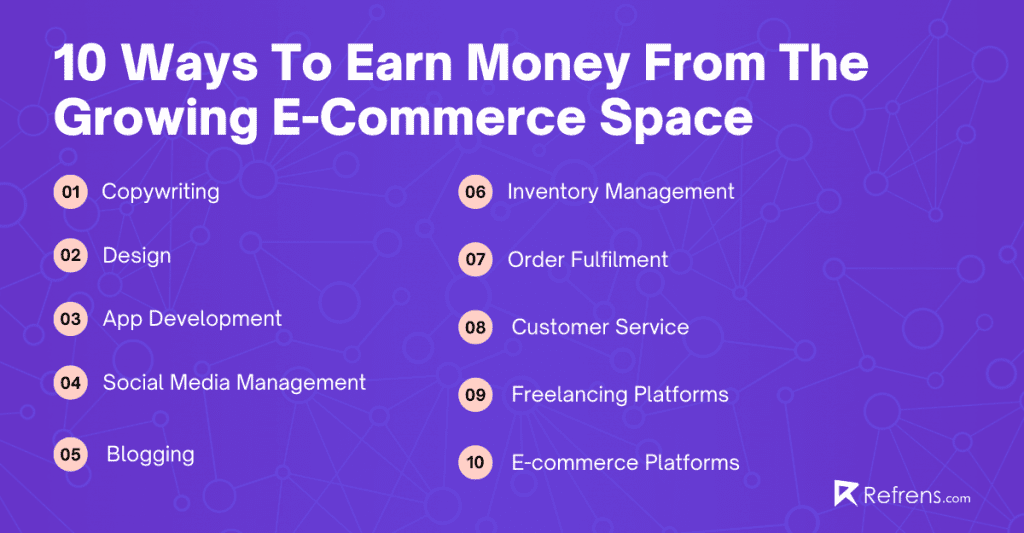 1. Copywriting
It's more critical than ever to grab customers' attention as the eCommerce market becomes more crowded.
The optimization of product pages mainly relies on interesting product descriptions and keywords. To convince clients to make a buy, eCommerce teams are looking for freelancers.
Customers have a wide range of options in the modern world. Thus, a freelance copywriter who can draw in a reader is more desirable than ever and will be paid accordingly.
Want to become a copywriting superstar? Check out our blog for some insider tips and tricks to kickstart your journey!
2. Design
E-commerce companies such as Shopify, are eager to cultivate a strong social media presence and are willing to allocate resources towards this objective. Integrating Shopify with your Instagram account can aid in engaging with your audience on social media platforms.
Freelance web designers are a great asset to any eCommerce team because they are challenging to find and even more difficult to replace.
Check out how to price yourself as a freelance graphic designer.
3. App Development
App Development is a significant specialty service that e-commerce companies are ready to pay for. The number of people eager to make purchases on their mobile phones rises along with the popularity of eCommerce. To understand your target audience you have to do in app survey for good service.
For mobile app development, you will need a development team. This is where the role of application engineers comes into play. They can be part of an in-house team or you could consider hiring a dedicated mobile app development team if the in-house team does not have enough technical knowledge.
Any eCommerce team will benefit significantly from having an app that makes this process easier. These engineers can provide the technical expertise needed to develop an effective and user-friendly mobile application.
4. Social Media Management
Social media is one of the most effective marketing tools for this generation. One of the best-growing methods for businesses is to maintain active and exciting social media accounts.
E-commerce companies are looking for engaging content that will persuade readers to buy. eCommerce companies are willing to spend to have a vibrant social media presence.
Check out how freelancers can use social media platforms to boost their freelancing business.
According to studies, two-thirds of consumers want to feel connected to brands. Therefore, it makes sense to make an effort to encourage two-way communication whenever possible. It holds for all your social media channels, whether you're managing TikTok followers or Instagram management services that primarily include video content.
5. Blogging
A community that customers may join is something that many eCommerce teams aspire to build. A blog with advice on using their product is one approach to achieve this, and it promotes interest and builds a base of devoted followers.
As a result, businesses routinely search for qualified freelance writers to contribute to their blogs.
Read more about how to become a professional content writer in India.
6. Inventory Management
Any organization dealing with inventory knows how challenging it can be to strike the right balance between having just enough on hand and not having enough.
Many firms rely on independent contractors to maintain and track inventory following their unique company requirements.
7. Order Fulfilment
Customer satisfaction is dependent mainly on professional and effective order fulfillment. Many eCommerce businesses opt to outsource this activity to guarantee it is completed well and free up their time for more urgent concerns.
Another crucial ability that businesses are looking for is freelancers who can expertly monitor orders and relieve stress from store owners.
8. Customer Service
Outstanding customer service is an essential strategy many eCommerce organizations and B2B2C eCommerce platforms like WooCommerce or Shopify use to differentiate themselves from the competition.
To ensure that their customer support teams are composed of highly skilled and motivated individuals who are dedicated to delivering excellent customer service, many e-commerce companies rely on the expertise of a reliable workforce management platform. By utilizing this platform, businesses are able to efficiently schedule their employees or independent contractors, ensuring that they are available to attend to their client's demands at all times. This approach enables businesses to increase their client happiness, while also ensuring that their customer support teams are working at peak efficiency.
Check out when to hire a freelancer vs a full-time employee.
9. Freelancing Platforms
As a freelancer, it might be challenging to sift among employment opportunities and choose the one that best suits your skill set. Using a website like Refrens to find freelance work is one of the least stressful methods to start freelancing. Refrens is a platform for freelancers and small businesses to generate more leads and manage their finances.
10. E-commerce Platforms
Choosing an E-Commerce platform to work with is another approach to reducing the burden of choice. A sound freelance financial plan is crucial, whether your goal is to make a fortune on Etsy or sell your most recent goods on Vinted or Depop. You can choose from several well-known eCommerce platforms provided by Clever Ecommerce, giving you access to several already well-established firms seeking to develop and optimize their operations by, for example, moving to a composable commerce architecture. Going with a composable architecture essentially means separating the headless storefront from the backend, thus providing greater flexibility. The flexibility provided by a composable architecture also opens up opportunities for eCommerce businesses to use specialized tools like the Shopify subscription app, which can streamline recurring payments and foster customer loyalty.
Also Read: BigCommerce vs. Shopify vs. SquareUp – Making the Right Choice
Also Read: How to hire a freelance Shopify developer?