SEO is believed to be a low-hanging fruit for e-commerce companies. When creating online storefronts, search engines are sometimes given little to no consideration, despite the fact that SEO offers one of the best returns on investment (ROI) of any eCommerce marketing endeavour.
Instead, each year, businesses spend billions of dollars on advertising, and this cost is only increasing.
Contrarily, SEO primarily requires upfront work; however, if you rank, you can efficiently produce sales without any ongoing expenses.
In light of this, knowing SEO best practices might aid in your e-commerce company's development.
In this step-by-step guide, you will learn how to optimize the SEO of your e-commerce site to rank higher, increase your click-through rate, improve user experience, and get more targeted traffic. All of which will, of course, increase online sales.
Before we drop blog links for you to deepen your knowledge, let us understand the necessary steps to increase organic traffic.
6 Steps To Increase Your E-commerce Website Traffic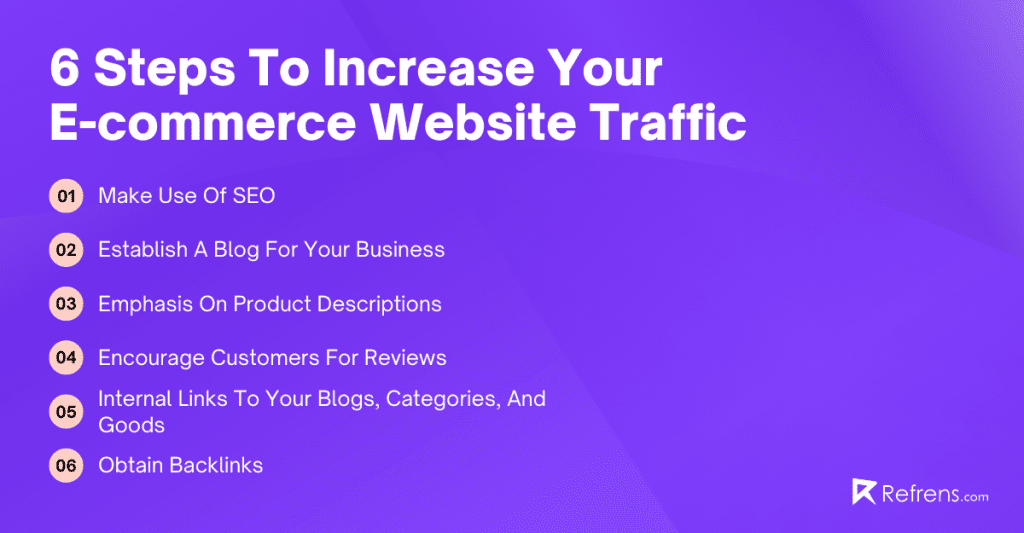 1. Make Use Of SEO
Your items or blog entries may rank higher on search engine results pages with the use of search engine optimization (SEO) (SERPs).
But how can you use it to increase visitors to an eCommerce website?
Start by doing keyword research.
To locate the terms you need to target, pick a trustworthy keyword research tool. Make sure to concentrate on transactional keywords, keywords with significant search volume, and keywords with minimal competition.
The next step after choosing the ideal keywords is to strategically place those keywords on your website.
Here are a few "hot areas" where your primary keyword should be placed:
a. The website address
b. The website's primary heading (H1)
c. The subsections (H2 and H3)
d. In the page's meta description
e. At least once in the page's main body of text. Although some SEO experts advise including the keyword in the first 150 words, there is no solid proof that doing so leads to improvements.
Doing this keyword practice will definitely help you increase your SEO game.
2. Establish A Blog For Your Business
People will trust you if you help them and give them sound advice. Think of blogging as a chance to accomplish that. Your target market can have various inquiries about how to use your product properly and which of your products might be the greatest fit for them. If you work in the fashion sector, your content should motivate readers, follow current fashions, and offer practical advice.
The secret to creating a community around your brand is regular blogging. Build a story around the various scenarios in which you might utilize the product for yourself. A consumer will buy a product from another platform if she reads about it on one platform.
3. Put An Emphasis On Product Descriptions
Your e-commerce website must go into great detail regarding your products. Use keywords wisely and keep the article interesting. Make your product descriptions stand out because they are the focal point of your business since it revolves around these products. Include photographs from the product's e-commerce store that illustrate both its appearance and intended use. Additionally, you have the option to avail product photography services for obtaining detailed images of your product.
4. Encourage Your Customers To Submit Reviews
Customers should be encouraged to leave product reviews on the product pages. Websites like Amazon, Snapdeal, and Flipkart also encourage users to do this. Search engines give websites that consistently produce high-quality, original material top rankings.
You have a fantastic opportunity to add original material to your e-commerce website with the aid of your own user base. As you give all of your customer's information about specifics like the quality, dependability, and other unique features of the products you are selling, you can also increase your sales.
5. Internal Links To Your Blogs, Categories, And Goods
There is a connecting exercise you can conduct that can have a more immediate impact on your eCommerce SEO even though backlinks are more difficult to acquire on your own or organically. It's called internal connecting.
You pass link equity to your blog, category, and product pages when you internally link to them. Additional internal links linking to particular products or pages give Google more reason to give this page priority.
Internal linking is not simply a smart practice for SEO, but there are also indications that it is effective.
6. Obtain Backlinks For Your Websites, Blogs, And Product Categories
When another website links to one of your goods, sites, blogs, or other content, that is known as a backlink. This tells Google that the other website considers your material to be reliable and thought it was worthwhile to link to. The likelihood that you will rank increases with the number and quality of backlinks. You can use many SEO software, such as Seo PowerSuite, Ahrefs, SEMrush, and Moz, to track your backlinks and monitor their impact on your website's search engine ranking
One of the best strategies to improve your eCommerce SEO and attract referral traffic from other websites is to build backlinks. But obtaining these links can be difficult. You can improve your chances of obtaining links by using a few different strategies.
Publish as a guest on other websites: See if the marketing departments of other businesses will allow you to write for them if you have brand partners or friends who work there. This almost guarantees a connection back to your most important pages. Check out the best SEO tools for a freelance content writer in this blog!
Websites that pay affiliates. You can pay affiliate websites to list your products on their blogs if you have the money to do so. Yes, they will receive a portion of every transaction generated by their blog, and you might have to pay them to be mentioned, but this should increase brand awareness and boost sales.
Make fantastic content. By producing content that others want to link to, you can obtain organic links. No question, right? The requirements for high-quality material have, in fact, increased. This page from The Sole Supplier, which transforms concepts from pop culture, education, and sports into shoe designs, is a terrific illustration of attention-grabbing material (and links).
You can use advanced eCommerce link-building strategies like broken link building, reverse image search link building services, statistics roundups, and other techniques for even more savvy digital marketers!
At last, eCommerce SEO requires persistence, time, and patience.
Driving organic traffic has never been simple, and today's eCommerce firms find it particularly challenging. But that does not imply that it cannot be done. You're sure to enhance your organic traffic by adhering to at least a few of the eCommerce SEO best practices discussed in this article.
Best Shopify SEO Blog To Help You Grow Your Organic Traffic
Moreover, you can also hire a Shopify developer to make the work easier for you.
Are You Prepared to Drive Organic E-commerce Traffic?
From social media to paid advertisements to email, there are many ways to increase visitors. However, only search traffic is dependable, cost-free, self-sufficient, and quite simple to obtain.
Learning the ins and outs of eCommerce SEO methods can alter your business if you want your site to get a lot of traffic and attract the visitors you want.
Sales can increase tremendously as a result of a straightforward SEO effort. What's best? You don't need to wait years to accomplish it. It won't take you long to get there if you follow this advice.
Additionally, your last and best option would be to work with an SEO professional who can assist you with all the hassle.
Also Read: How to hire a Shopify developer?