Within the past few years, social media has grown into a powerful aspect that has a significant impact on the growth of society and business in general. Currently, YouTube and Facebook are considered to be the most popular and visited social media platforms preferred by many people. However, you cannot manage to run all the social media platforms alone unless you hire a social media manager for that.
Therefore, to manage all your social media operations, you need an excellent social media tool that will help you manage all these operations. There is a lot of information about social media tools that you need to know to make the right choice. Let's dive deep into more details.
What is a Social Media Tool?
Social media tools are used to simplify the process of running different parts of social media campaigns. It doesn't matter whether you want to collect a lot of information regarding the latest market trends, content shares within various platforms, and tracking to monitor the general performance of your business. You will realize that you cannot do this work manually since there are lots of aspects that need to be monitored keenly.
Check out the top social media platforms to boost your freelance business.
If you choose the right social media tool, you will get it easier to process your social media data and gather insights that will help you predict the future of your business. This article outlines some of the best social media tools you can use to manage your business's social media platforms.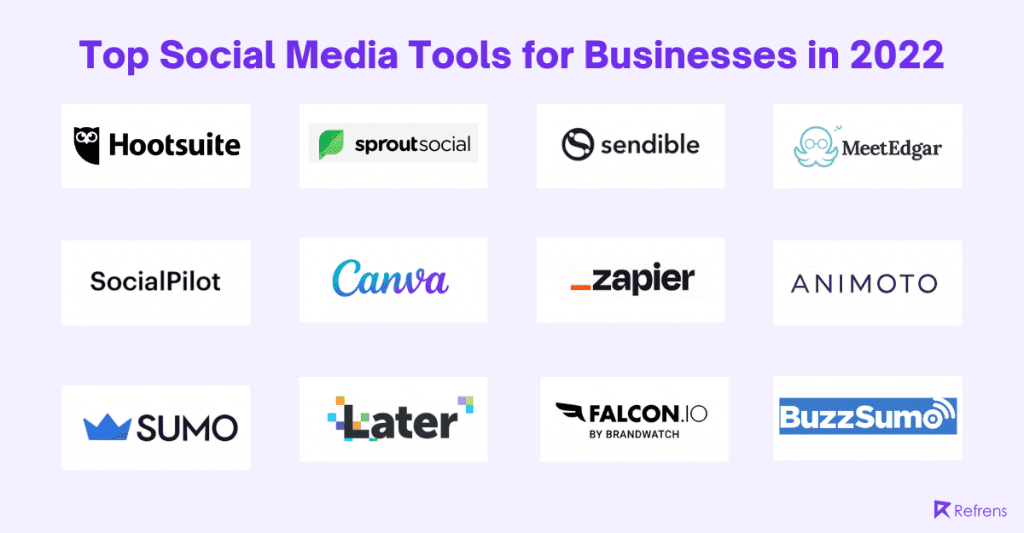 1. Hootsuite
Hootsuite is an advanced all-in-one social media tool that allows you to post, monitor, share, and enhance engagement within different social media platforms. Provided that you have this tool, you can easily e of your business from a single platform and collect data that reflects the engagement rate across different platforms.
This tool allows you to monitor the kind of data your customers like to engage with, giving you a clear picture of the main areas you need to capitalize on and get better results. The data gathered by Hootsuite is used to help in determining the main areas that every business needs to focus on, increasing customer engagement and the amount of revenue generated by the business.
Furthermore, if you do not want to purchase the paid version, you can use Free Hootsuite Alternatives to help you enhance consumer engagement and revenue for your business.
2. Falcon
Falcon is an incredible social media tool that is mainly designed in a way that business owners can monitor all the operations across different social media platforms. If you opt to use Falcon, you can easily schedule bulk posts meant to be published on different social platforms. Falcon is a great tool, especially if you intend to enhance consistency on your social platforms for the well-being of your business.
When a business has about four different social media platforms that a single person manages, there are high chances that the social media manager is likely to focus on one side. Falcon can help you schedule different posts you want to be posted within a particular time frame based on your business needs. Its ability to integrate with varying platforms of marketing businesses use makes Falcon stand out.
3. Later
Later is a popular social media tool used in managing visual posts. This tool works better when used on Instagram and Pinterest. In addition, it has a limited capacity that allows it to work on Twitter and Facebook. The tool allows you to schedule images using the drag and drop feature makes it easy to use. Later enables you to integrate your content on other platforms such as Twitter and Facebook to enhance engagement.
4. Animoto
Do you want to create videos to publish on different social media platforms? Animoto has your back covered. Creating and editing videos is considered one of the most challenging tasks among most social media managers. This mainly occurs if you are dealing with marketing data you intend to present to your market audience. This tool will offer guidance on what needs to be done on your videos to make them engaging and attract a broad market audience to ensure that your message reaches many people.
Animoto works well when you intend to integrate your video content with Hubspot, among other popular platforms. It also gives you free slide templates eliminating the need to begin working from scratch.
5. Sumo
Sumo is one of the best social media tools with a collection of essential features, such as the A/B testing used in business websites. Using this tool in your social media data operations allows your market audience to share your content with their close friends and family. Also, it can work hand in hand with other tools to create a collaborative platform that gives you a lot of exposure on different social platforms.
You can opt to use the free version or acquire the pro version, to which you can easily subscribe for a total of $39 monthly. It enables your customers to share your social media content on their social platforms, enhancing diversity.
6. Zapier
Zapier is popularly known as an automation platform because it combines different technology applications that can be easily linked together and operate as a single entity. When you combine different applications, you will come up with zaps that are used to trigger different aspects, such as messages from different individuals on Facebook and other social media platforms you are using.
When running a business and you take part in content marketing to promote your business progress, you can use Zapier to help you promote all the content you publish on the business website by creating zaps and sending them on different social media platforms.
7. Canva
Canva gives you a chance to capitalize on the power of visual content when creating posts for your social media accounts. This is one of the best social media tools since it focuses on enhancing engagement within your social platforms. Once you have access to Canva, you can easily generate professional images that you can incorporate on different social platforms to convey a specific message and engage with your audience.
Besides, you don't need to be a professional graphics designer to use this tool; you only need a basic understanding of graphics and what you want to generate. It gives you an idea through the provided templates giving you ideas about what you can use. You can use the free version or acquire the premium version, which costs $119.99 monthly.
8. MeetEdgar
MeetEdgar is an exceptional social media tool mainly tailored to help automate social media posts. Apart from helping you create a schedule for how you intend to publish the posts, this social media tool also helps you to make the content visible to as many people as possible to enhance engagement. The tool can easily scan your preferred links and generate content ideas depending on the links provided.
This tool works better for those business owners who are not confident with creating social media posts. You can easily subscribe to the package that works well for you, depending on the number of social media platforms you intend to manage.
9. SocialPilot
SocialPilot is good at enhancing collaboration within a business setting since it brings together members from different business departments and different business social accounts. Also, you can use this tool if you want to relinquish the management of your social media accounts management to someone outside the business. You only need to create an account for them to access the social media accounts and do their work.
Also, you can restrict every individual in what they need to do on social accounts. For instance, others can have the ability to schedule posts, while others can create content that is placed on pending mode before going live on the social media account. SocialPilot has different payment plans that begin at $85, depending on how you intend to use it. Scheduling social media posts is one of their unique selling points. For instance, if you want to schedule your video on TikTok, you can use their TikTok scheduler and make the most of it.
10. Sendible
Sendible gives business owners access to a wife platform they can use to manage different social platforms. Also, the payment plans for this tool are relatively cheap compared to other options available within the market. The tool can help you create a schedule for your social media posts, track engagement and reactions within the business platforms, and monitor your brand's outreach across the entire target market audience.
After collecting data from different platforms, you can use the customer relationship management option to help you learn more about potential customers and how you can persuade them. The basic plan for Sendible is $29 per month, while the premium package is $89 monthly.
11. Buffer
Buffer is good at helping business owners create schedules and manage different social media posts within different platforms. When using the tool, your team members are only responsible for adding posts along the queue waiting to be published, depending on your preferred schedule. In addition, you can use this tool to monitor the performance of your social media accounts and create a better way to engage with your audience.
This tool gives you the power to elevate team collaboration within your business, giving every member within the business a chance to contribute their ideas to the growth of the company's social platforms. To avoid overlapping content, everyone can easily share their content using the preset schedule model.
12. Sprout Social
This tool operates as a single platform where the business owner can manage the messages from different social platforms, saving time and resources. Sprout Social enables business owners to create smooth workflows to ensure that everything is working perfectly to avoid confusion or any inconvenience that is likely to be caused. The platform has a social inbox which makes communication an easy task.
Also, you can use this tool to collect data statistics from different platforms to ensure that you have a clear picture of what is happening in different scenarios across the platforms. Sprout Social pricing begins at $89.
13. Google Trends
Google Trends is a social media tool that Google invented to help business owners get customer insights online and analyze some of the queries they make on search engines. Google offers multiple suggestions once you enter a specific query helping you understand what potential customers search. As a result, this gives you ideas about some topics you can use to generate content that attracts readers from different localities.
This tool is good at uncovering trends and some of the rising keywords within your area of specialization. Also, you can use it to compare words to identify some of the terms that attract more interest. This tool is absolutely free as you won't need to pay anything to use it.
14. BuzzSumo
You can consider BuzzSumo a goldmine in terms of giving you better ideas for content creation. The tool can crawl across your social media accounts and identify some of the best topics to create content and the best time you need to generate content. BuzzSumo works by analyzing how your past content performed and the rate of engagement it got from the audience to give feedback on better content ideas.
It's a good choice if you want to analyze how your social media content is performing. The pro plan goes at $99 monthly.
15. Design Wizard
If you do not have a lot of expertise in design matters, Design Wizard is the best choice for you. This tool generates high-quality images that you can use on different social platforms to convey a specific message to your readers. You can opt to upload images on the platform, such as your brand logo, and make a few changes to it to make it appealing. The tool comes with a comprehensive library of images that hints at what you can do to make your visuals stand out.
When using this tool, you don't need to begin working from scratch since multiple templates can be used to convey a message. You can pay for the basic plan at $9.99 or the premium version at $49.99 monthly.
16. SocialBee
SocialBee is a social media management tool that empowers its customers to share content across multiple social networks from one place: Facebook, LinkedIn, Twitter, Instagram, Pinterest, Google My Business, and TikTok. Using such a tool, you're able to set a posting schedule, have content shared as planned, and then analyze the performance of your accounts.
SocialBee's best features are the Canva integration inside the app's post editor, the ability to set a posting schedule in a content calendar, and the option to customize the posts for each social media platform. Moreover, the tool offers analytics to evaluate the performance of your accounts and a real-time preview of your upcoming posts.
17. Kicksta
Kicksta is a state-of-the-art Instagram growth service, designed to help companies rapidly attract new followers to their social media profile. Notably, this tool focuses on generating organic growth, from real, engaged followers. That means you don't have any bots or spam accounts to worry about. You can even pin-point the specific types of followers you want to attract, by choosing "target accounts" for the system to use when finding you new fans.
Kicksta comes with useful onboarding courses to get you started, and a 14-day money-back guarantee. You can also leverage built-in tools to help you grow your business in other ways, like a convenient hashtag generator, and an engagement rate calculator to ensure you're interacting with the most valuable influencers for your campaign. Some plans also come with AI-enhanced targeting, and blacklists to eliminate irrelevant followers.
18. Keyhole
Keyhole is a leading social media analytics tool that shows the real-time performance of your campaigns. Just add your profiles, and Keyhole will pull every analytics you need to bolster your marketing strategy. The tool also has super helpful features like hashtag and keyword tracking, sentiment analysis, publishing & scheduling, competitive analysis, influencer management, and more.
But the best of all is Keyhole's unparalleled take on reports. Users can automatically generate shareable reports, which you can even download in PDF and XLS formats. You can also choose to share a live dashboard with teammates or clients to demonstrate a campaign's live performance.This incredibly easy-to-use tool comes with a free trial. Once expired, you can opt for the paid plans starting from just $39 per month.
19. Visme
Visme is a visual content creation tool that lets you create infographics, presentations, animations and other forms of visual content. Visme is easy to use, yet can be used to create professional-looking assets with little to no design skills.
Visme combines simplicity with flexibility. A large collection of templates and visual elements that can be included, allows you to create engaging visual content. Visme has a free basic plan that comes with most templates. Personal plan for design professionals starts at $12.25 per month. No matter your role or level of design skills, with Visme your work life is easier.
20. InVideo
InVideo is a powerful video editing tool that can help businesses and individuals create engaging videos for social media platforms. With its easy-to-use interface, InVideo allows you to create high-quality videos in just a few clicks. You can choose from a wide range of templates designed specifically for social media, including Facebook, Instagram, YouTube, and more. InVideo templates are optimized for each platform, ensuring that your videos are professional-looking and engaging to your target audience.
For example, InVideo can be used as a TikTok Video Editor, Facebook Video Editor, and more. You don't need to jump around for other tools at all. You can also add your own branding elements, text overlays, and music to make your videos stand out and align with your brand. InVideo also provides features that are specifically designed to help businesses optimize their social media strategy. Also, InVideo offers a variety of video marketing tools, such as calls-to-action and clickable buttons, which can help businesses drive traffic to their website or social media pages.
21. Statusbrew
Statusbrew is an all-inclusive social media management tool that helps users control every aspect of their social media marketing from a single dashboard. The tool is ideal for small- and medium- businesses and agencies looking to organize all their social media activity, boost social media growth metrics, and social ROI. Over 10,000 global companies use Statusbrew to effectively manage their social presence, including Samsung, Shopify, Spotify, Hilton, and others.
With its social media collaboration tool, Statusbrew helps businesses streamline complex approval workflows and brings the team together in publishing content, engaging with audiences, and managing campaigns to execute the marketing strategies. Using the tool's Publish feature, you may write, schedule, publish, and even preview posts across various social media channels including but not limited to Instagram, Twitter, Facebook, and LinkedIn.
22.  Goread.io
Goread.io is a platform that helps individuals and businesses grow their Instagram following. They deliver high-quality Instagram followers, likes, views, and comments. What sets them apart is their tailored solutions for each client's Instagram account, which ensures maximum exposure and genuine engagement. Their packages ensure active followers, likes, and views. This personalized approach enhances the authenticity and engagement of the client's Instagram account, resulting in more effective follower growth and credibility.
23. Onlypult
Onlypult is an easy-to-use platform for social media management. Users can plan and schedule posts, analyze accounts, create a multilink, and monitor comments on Twitter or YouTube.
The Publishing tool allows users to schedule posts on 14 social media, messengers and blogs including the most popular Instagram, Facebook, and LinkedIn. It has many useful features like AI text generation, post templates, an inbuilt editor, a calendar, and many other tools.
It is worth noting Analytics for Instagram and Facebook. The tool is designed to make an in-depth analysis of social media accounts. Moreover, send automatic reports to clients weekly or monthly.
Onlypult saves up to 15 hours a week on posting. It has a web version and iOS app. The trial period is 7 days.
Conclusion
PPCexpo shares the list of the best social media tools is wide, and you need to be keen to make a good choice. The secret is to understand your social media needs to be on the better end since your needs can help you determine what can work well for you. Also, you need to learn how different social media tools operate and their respective payment plans to identify what suits your budget to avoid digging deep into your business financial account.
Also read: How To Attract Clients On Instagram As A Freelancer