E-commerce businesses are flourishing like never before as more and more people are getting accustomed to online shopping mode.
Approximately there are 12 million – 24 million eCommerce websites across the globe!
(Well, that's an enormous number!)
As an e-commerce business owner, you already know the significance of the invoice you send across to your buyers as a purchase proof.
You must be acquainted with the importance of sending across invoices but do you know there are specific factors you need to keep in mind while creating your invoices?
Did you know 61% of invoices are paid late due to invoicing mistakes?
Yes! And if your invoicing mistakes are costing you a fortune, then this article is for you!
We will discuss the top 5 invoicing tips for e-commerce businesses and how they can benefit after implementing them.
Let's get started.
Why Is Invoicing The Essential Part Of Your Ecommerce Business?
Money is a crucial part of the business world; in fact, businesses are built on money. Therefore to make the money terms clear and your business flourish, it is important to keep proof of the purchase.
That said, apart from maintaining a proper track of invoices also helps you in dealing with legal matters including compliance with e-commerce sales tax regulations. If there is a legal dispute in the court, legal authorities first always ask for invoices and then carry on with the investigation.
Check out how to create an invoice online.
We know keeping a record of invoices is a tedious task, but the bottom line is invoicing is essential.
Invoicing Tips & Tricks For Ecommerce Business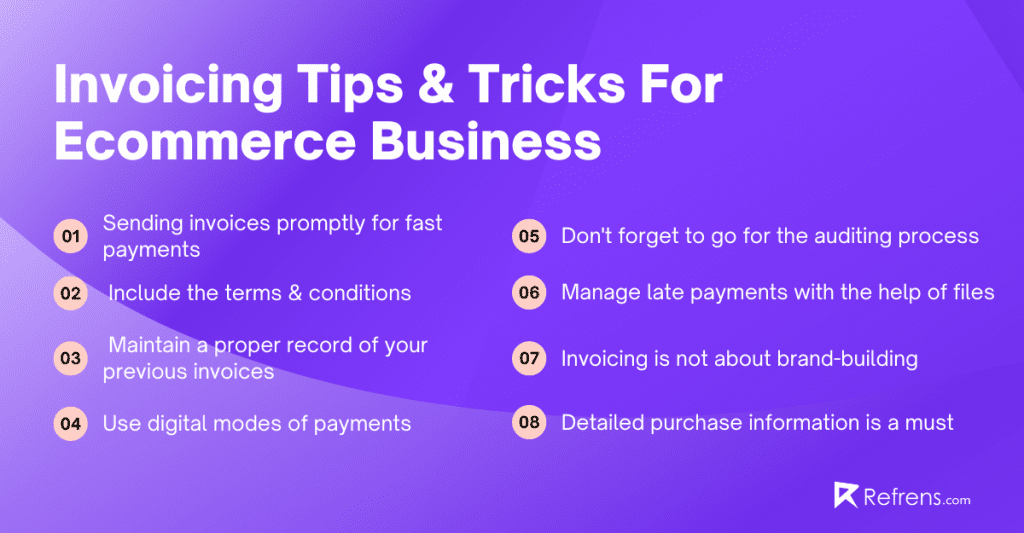 1. Sending invoices promptly for fast payments
If you want to get paid on time, then you have to send invoices on time. Many businesses suffer due to such situations.
Also, if you are the one who needs to send invoices after selling a product, then don't forget to send them in the package and emails as well. Additionally, you can enhance the convenience for your customers through the use of QR Codes. You can create a QR Code that links directly to the invoice, allowing them to easily access and make payments with just a scan.
Check out the best time to send invoices.
2. Include the document of terms and conditions on the invoice
Invoice is not just about sending numbers; there are more parts to invoices that businesses are legally bound to include, and these can differ from country to country.
Mentioning terms and conditions is an indispensable part of invoicing. You can mention it on the back or at the bottom of the invoice.
If your company has a specific timeline for releasing refunds and penalty charges, mention them and make it easy for the buyers to get the required information. Including terms of invoicing is important for an online business that offers an e-commerce solution, as buyers should be informed about all important details.
3. Maintain a proper record of your previous invoices
Invoicing is an integral cog of your business; hence it is essential to keep a proper record of your previous invoices to simplify your business accounting.
For instance, if you are filing taxes, then it is imperative to record your income and present the files neatly. Moreover, invoice records also help in providing essential information that is imperative for your business, like budgeting, revenue-generating, profits, etc.
Check out the tax tips for a freelancer.
4. Use digital modes to maintain the proper record of invoices
Gone are the days when people used to log in with all the payment details and keep it secured with paper and pen.
Managing your invoice records on paper is a difficult task. Also, there is an excellent chance of losing the sheets of paper!
If you are a one-person army handling all your business operations, then it is evident that when you pull off your selves to send invoices, you will make mistakes!
Therefore, leverage digital technology to generate invoices. The internet is filled with a plethora of options to generate invoices.
Online billing tools can help with a gallery of templates for every profession and help you accelerate your billing process. Business can also use reciept scanning apps to simplify, automate and streamline the entire process.
Recommended read: Best Billing Software For Retail Shops & Distributors>
5. Don't forget to go for the auditing process
If you are someone who is handling a big business, then it is imperative that you make your financial records undergo an audit.
These internal or third-party audits give you a complete overview of how the financial operations are being handled in your organization.
Also, transparent auditing helps you to manage your taxes and focus more on business requirements seamlessly.
Check out the top billing and invoicing software of 2023.
6. Manage late payments with the help of files
No matter how well you are in running your business, you can't avoid the risk of late payments and, in worst-case scenarios, no payments at all!
But having all the invoices on file can help you in protecting your business by helping you in taking legal action.
If you have everything on record, you can use it as legal proof to sue the party at fault in court. However, it is recommended that before escalating the issue into legal hands, try giving constant reminders to the other party.
Check out how to collect faster payments.
7. Invoicing is not just about getting payments; it is about brand-building
Make sure to send a professional-looking invoice and not the one that everyone on the internet is sending! Invoice is not just about getting the money. It is also about building a brand and reputation.
If you get your creative juices flowing, you can use the invoice as a great marketing tool and build your store's brand reputation. Just think for a moment how fantastic an aesthetically designed invoice would look on an arrived package.
Wouldn't it look amazing instead of a scrap of paper? Therefore go there and find your unique design!
8. Detailed purchase information is a must
Send across a detailed invoice of what you have sent, including the quantity, description, price, and person to get in touch with for any grievances.
This will help the customer to understand what they have been billed for and prevent any misunderstandings down the line.
If there is a discount offer, make sure to mention it too in the total.
Conclusion
Running an e-commerce business or subscription e-commerce business is easier said than done because it takes a lot of trial and error to be in the race. However, the invoice is not there to make your work harder. In fact, it is there to make it easier.
In this article, we have mentioned the best tips and tricks in the e-commerce industry for invoicing.
These tips are convenient and effective in growing the business exponentially but make sure that you implement them to save your time and resources.
Wait though! Do you know everything there's to know about invoicing? Why not check out our blog on Invoicing Basics: Everything You Need To Know, just to be sure?
Check out the 10 ways how you can earn more money from eCommerce business.