The gig economy is growing, and that means more people are freelancing. This rise of freelancers has opened new opportunities for employers to hire talent in an affordable way but has also posed challenges for those looking for work.
Let's look into how the growth of the freelance industry is changing the way companies think about hiring employees, encouraging more flexibility in the workplace, and giving new meaning to unemployment rates.
Check out everything you need to know about the gig economy.
What Factors Are Fueling The Freelancing Boom?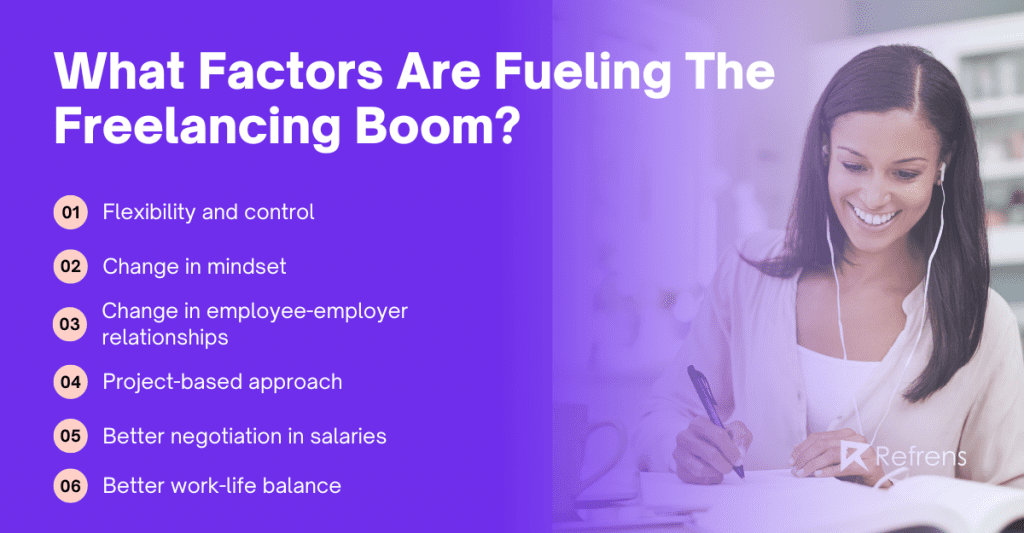 1. Flexibility and Control
People demand more flexibility and control over their work schedules, places of employment, and employers, as well as the ability to truly design their own career paths.
According to statistics, 70% of organizations reported using a hybrid work approach. It benefits both parties, helping them to be more productive and successful.
Numerous businesses have already begun putting ideas into practice, including well-known names like Salesforce, Spotify, Twitter, and Abode.
Moreover, 77% of remote workers believe their work is more productive when done remotely than in an office.
Hence, companies that choose to focus on that will really have a competitive advantage in terms of access to talent and in terms of building an environment that will be appealing to top talent that wants to work in an environment that is open, transparent, and hard-charging.
2. Change in Mindset
The beautiful thing about the past 24 months is how everyone has become so accustomed to working remotely. They began using Zoom, Google Meet, or any other platform for meetings and to solve concerns in any department.
Additionally, the playing field becomes so level that everyone's Zoom square is the same size. People are talking about how women and minorities are contributing at higher levels on Zoom, or how previously underserved areas of the organization are now more accessible to leaders and information.
3. Change in Employee-Employer Relationships
The consensus regarding the nature of the employee-employer relationship has gotten shakier. The social contract has been demonstrated to be different from what it was several generations ago during the course of several recessions, most recently in 2008.
The job contract is shattered, and as younger generations—in particular, millennials and Gen Z—enter the workforce, they declare, "That's not for me." They have a much more powerful conception of how they will develop their professions, one that is much more independent and unconnected to a particular company. Their existing abilities and developing portfolios are significantly more important. They feel safe and secure there. To them, being dependent on a single job really seems riskier.
Check out on the details that need to be included in freelance contract.
4. Companies are Taking The Project-Based Route
Project-based jobs have become more popular in recent years, and companies are hiring freelancers for full-time positions. In fact, the number of full-time project-based employees has risen. The trend is likely to continue as more companies realize that they can save money by not having to pay employees a salary but still get their work done on time and efficiently.
Check out 4 ways how hiring a freelancer will save you money.
Part-time projects are also becoming more common, which is good news for freelancers who may want an extra source of income but aren't looking for permanent employment or too much responsibility or stress.
Temporary positions are another area where freelancing has become increasingly popular—and it's easy to see why! Temporary workers often don't require long-term contracts or health insurance benefits; they tend not to be tied down by any kind of job description; they're available when needed.
5. Better Negotiation In Salaries
The freelancing boom is driving companies to new business models. Freelancers can negotiate their own salary, hours, and other benefits that are traditionally negotiated with full-time employees. Employers are more willing to negotiate with freelancers than with full-time employees because they're considered more flexible and adaptable.
Moreover, many employers choose to calculate eNPS (Employee Net Promoter Schore) not only improves customer loyalty and increases company performance.
For example, if your company has a fixed budget for travel or conference attendance but needs someone who can go on the road or attend conferences in different cities frequently, you might consider hiring a freelancer instead of keeping an employee on staff who only works part-time.
6. Better Work-Life Balance
Working from home has become less taboo, especially with the popularity of technology like Slack. With so many people working remotely and telecommuting on their own schedules, there are plenty of options out there for those who want more flexibility in their careers. It's just about being able to take off when you want. As a result of their increased flexibility, they now have a better work-life balance. Now, they are able to spend time with their families and devote more time to the activities they enjoy the most. Furthermore, businesses support this culture because it provides a better working environment for workers and freelancers.
Also read:
Best Places to Work Remotely in Bangalore>
An Inevitable Phenomena: Freelancing
The popularity of freelancing has been rising for years. There are several reasons for this, but its flexibility toward workers is one of the strongest.
Freelancers are able to pursue their interests and work on whatever they choose. Since they are not confined to a low-paying 9 to 5 desk job, they can also earn more money.
Companies can benefit from freelance work as well. One advantage that companies have is that they have access to a far broader talent pool. By using freelancers, they can acquire work of higher quality at a reduced cost.
Freelancing has a bright future and is expected to keep expanding as time goes on.
The freelancing trend isn't showing any signs of slowing down. More freelancers will work with clients from all over the world and will find 100% of their clients online.
As more freelancers transition to a digital working environment, competition will continue to rise.
The use of remote freelancers will become more widespread as a solution for businesses to handle an increase in work. Working with remote freelancers will be simpler than ever as remote collaboration tools like Slack, Google Hangouts, Asana, Trello, Github, and Dropbox (to mention a few) continue to grow in capability and refinement. These independent contractors can easily join teams as their expertise is required, "plug and play" into ongoing initiatives, and disengage once the project is finished.
There will be an increase in the number of freelancers selling goods. In order to complete bigger tasks, freelancers will increasingly work in distributed teams made up of people who have never met but often communicate online. A growing number of companies will transition to using the internet to connect freelancers rather than a trendy shared office environment.
Walmart, Pepper Content, Meta, Nintendo, and many other companies have begun to use freelancers on a project basis. Employing freelancers has offered them the flexibility they require in recent years. Compared to workers, they are much easier to find, and as a recruiter, you can at any time hire people with the talents you require.
Today, we're more likely to not see a freelancer meeting with a client at their office, making cold calls, or planning a mailing campaign than we are to see them working alone in a coffee shop, editing their freelance accounts, or working late at their bedroom computer to meet a client deadline. Both established businesses and start-ups are utilizing this employment system.
Check out the ideal place to work as a freelancer.
As significantly as any industry in the world, this one has changed a lot in the last ten years.
Nevertheless, we can only guess what the next ten years will hold for this industry that is developing so swiftly!