We all know that mastering social media is challenging and requires a significant amount of time, effort, and focus. Remember, all this marketing work is on top of the actual piece you provide for clients.
Don't you wish for social media checklist that was created exclusively for freelancers?
A checklist with actionable and repeatable actions that you may use daily?
Is there a checklist that might help you create a following and, more crucially, obtain more clients?
Unfortunately, there are none.
Therefore, we curated a list of strategies to help you create a significant social media presence.
Lock-In Your Target Audience
A clear target demographic is critical whether you serve a specialized niche or a more general pool of clients. You'll be promoting aimlessly if you don't have one, and aimless marketing wastes time and money.
It's an extra step, but it's critical. If you know exactly who you're attempting to target, you'll be able to make more educated and successful judgments as you progress through this process.
Building a "follower persona" is a fantastic place to start. Here are some dimensions that you can choose from:
Age
Gender
Location
Influencers they follow
Hashtags they use extensively
Active social media channels
Content-type they prefer
Buying triggers
Pain points
The beauty of this is that it can't get too detailed. "The more specific your follower persona is, the better."
Maintain Consistency
Social media networks adore consistency. The more consistent you are on a platform, the more your material will be shared with its user population.
Consider your social media a real-time PR update that keeps your audience "in touch" with your brand. This boosts customer engagement and encourages personal interaction with your audience, which leads to brand loyalty.
It's the most critical thing you can do to create credibility, build trust, generate leads, and improve your reputation. One of the factors that contribute to the adoption of a good growth strategy and ultimately to the success of your company is consistency in the brand message.
Pinterest, for example, recommends that users pin 15 to 25 times per day. If you surpass the prescribed level, you shoot yourself in the foot.
Track Social Media Trends
Working in a social media industry that evolves quickly can be challenging. It can make you curious to know more about what's hot and what isn't and how to incorporate social media trends into your plan. In addition to staying informed about the latest trends, harness the power of social media search tools to delve deeper into real-time conversations, user-generated content, and emerging topics, providing valuable insights for refining your strategy and staying ahead in the dynamic landscape of the social media industry.
We have outlined the most important trends to help you level up your social media game.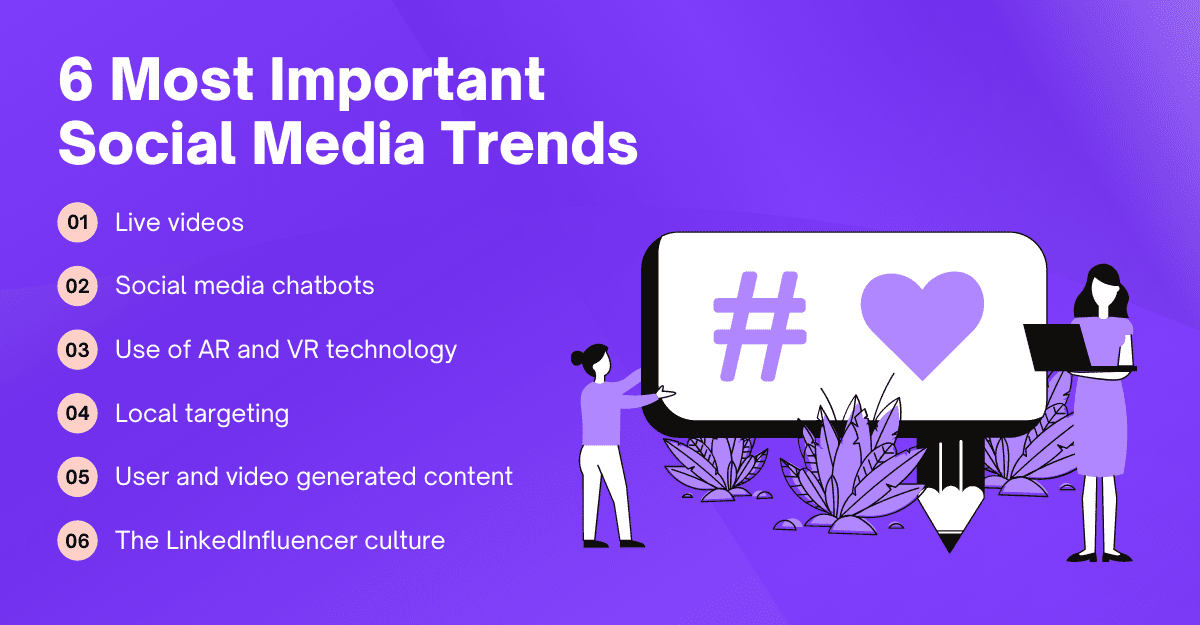 Timing Is Crucial
Unlike blogs and forums, social media platforms are a very other species. You can't just throw content out there and expect people to see it.
It would help if you had a strategy in place for posting content. Otherwise, your information will get lost in the shuffle. Encourage your viewers to write comments on your video as well.
As social media algorithms favor material that sparks discussion, you'll need the engagement of your followers to achieve more views. Every social media platform has this algorithm that demands to engage your audience in the best manner, whether it is Instagram, Facebook, or Twitter.
The best times to post on each platform are different. On Tuesdays, Wednesdays, and Fridays, for example, 9 am to 1 pm.
From Monday to Tuesday at 11 a.m., Instagram has the most engagement. So, if you want to attract people to your business through Instagram, make sure to choose the best time to post Reels and other content.
For LinkedIn, Tuesdays, Wednesdays, and Thursdays from 8 a.m. to 5 p.m. is the best time to post. Schedule LinkedIn posts for these times so you don't forget.
Making Your Material
Make content that is relevant to the service you provide. If you provide web design services, for example, publishing an article or creating a video about the process is a smart move. Posts that demonstrate a marketer's abilities will also assist them.
As a good rule of thumb, think of social media as an interactive portfolio. Bring only the job that you're most proud of to the front of the line.
Whether writing an article or filming a video, make your content valuable. Enough so that your potential readers or watchers become leads, not just followers.
Use New Engaging Options
Social media networks promote content made with freshly revealed features, and Pinterest and Instagram are great places to get inspiration. A recent example is Reels on Instagram, and this feature has drawn a lot of attention from users. Moreover, with an Instagram posts scheduler, you can align and schedule social media posts
Reels assist independent videographers in gaining a lot of visibility and business.
Instagram has extensively marketed this feature in an attempt to break TikTok's monopoly on short-form video sharing. But still, many TikTok users love tiktok to create videos. Moreover, these people are also buying TikTok likes, followers, and views for their uploaded videos.
As a result, it gives Reels a significant amount of real estate. Reels have strong points in terms of shareability, exposure, and discoverability.
There are reels, or short-form movies, on the Explore tab, Feed, Stories, and sections dedicated to hashtags, music, and effects, for example.
According to TechCrunch, Instagram has begun testing a new, full-screen variation of its main feed display that makes IG content look much more like TikTok, capitalizing on current usage habits.
Be Genuine
Do not plagiarize content. Be unique even if you don't have enough content to keep up with other freelancers.
Being genuine will assist you in gaining devoted fans. Note: The more dedicated your fans are, the more likely you will monetize them.
If you like a particular material, you can replicate it or find new ways to use it. Make sure you credit the original creators of User-Generated Content (UGC).
Industry Leaders To Follow
Following industry experts and employers on Twitter will keep you up to date on fresh opportunities.
On occasion, like and share their posts. People admire individuals who market their work. When you share a brand's content, you allow them to recognize you.
If required, leave helpful comments on their postings. And, if the situation calls for it, don't be afraid to call them out on their lies. While doing so, exercise utmost caution and don't appear to be a dogmatist. Gently introduce your suggestion.
Utilize Your Existing Followers
Not everyone has an account on each central social media platform, and someone with a strong Facebook following may be utterly unaware of Twitter. People like this do exist.
If you're one of them, this tip is for you. If you already have a large following on one social media site, you can encourage your admirers to follow your other accounts.
Include links to your social media profiles in your postings, especially if you're beginning. It's a good idea to build a following on all major platforms since you never know where your content will go viral. Furthermore, use social media analytics tools to compare your engagement rate across multiple platforms.
Putting All Of The Content In One Spot
So now you have your stuff as well as that of others. It's time to keep everything in one place, so you don't have to scamper every time you need to post.
The simplest (and cheapest) way to do this is to set up a simple calendar in Google Sheets.. For a while, it might suffice, but if you're looking for something more dynamic, try Trello or Notion, which are more flexible workplaces.
Examine What's Working, What Isn't, & How To Continue To Improve
At this stage, you should have a decent concept of how you want to approach social networking.
However, you must be able to change your strategy during the year.
You'll never know how well one campaign succeeded in another until you regularly evaluate your efforts. Taking a bird's eye view of your social media activities can help you put things in context. Look at your best-performing content and change your marketing plan if your material reaches a plateau.
A lot of excellent social media marketing starts with data management. In the short term, you can be reactive to make the most of your current campaigns and then proactive in the long run by applying what you've learned to your next strategy redesign.
You can see if your KPIs align with your firm's general aims or if they need to be altered based on your data.
Use Augmented & Virtual Reality
Immersive experiences are becoming increasingly popular among consumers. As a result, platforms like Instagram, TikTok, and others are increasingly using virtual reality (VR) and augmented reality (AR) as marketing tools. That's why they are paying more and more attention to AR VR development company.
Several brands are increasing audience engagement by providing complete immersive experiences (VR) that block out the physical environment or integrating digital features into a live view (AR).
Consider how L'Oréal allowed customers to "test on" various lipstick shades.
Using mobile cameras allows potential customers to have a realistic understanding of your products, services, and customer experience. As a result, you'll be able to directly influence their purchasing decisions, which will benefit your company.
If you haven't done so, think about how you may incorporate augmented or virtual reality into your social media marketing approach.
Time to Apply Some Strategies
You may be feeling overwhelmed by the fact that you have too many tasks to accomplish and not enough time to complete them. It's best to take it slowly but steadily.
Create a customer avatar for your ideal customer and develop marketing strategies based on it.
Don't worry about whether or not to use something; give it a shot and keep moving forward. Think about the individual you're trying to reach and their feelings and viewpoints, and you'll be OK.
Want to become a copywriting superstar? Check out our blog for some insider tips and tricks to kickstart your journey!