Have you ever considered that you'd never miss a deadline if you only had that one great tool as a freelancer? Or perhaps that one tool that can assist you in receiving money on time?
We've all wished for a tool to help us complete our duties more quickly and easily.
To make your work more accessible as a freelancer, we have thoroughly examined and assessed several superpower freelancing tools that will make your job more accessible, and you won't have to worry about missing any other deadlines or meetings any longer.
Over and above, freelancing is becoming the majority workforce in the Globe by 2027. It's contributing more than $1.4 trillion to the economy. The steady increase in the number of skilled individuals taking up freelancing will make it the majority workforce within the next few years.
Therefore, we won't overload you with 50 freelancing tools and merely talk about the top productivity apps covering everything from payments to marketing to financial management.
Top Freelancing Tools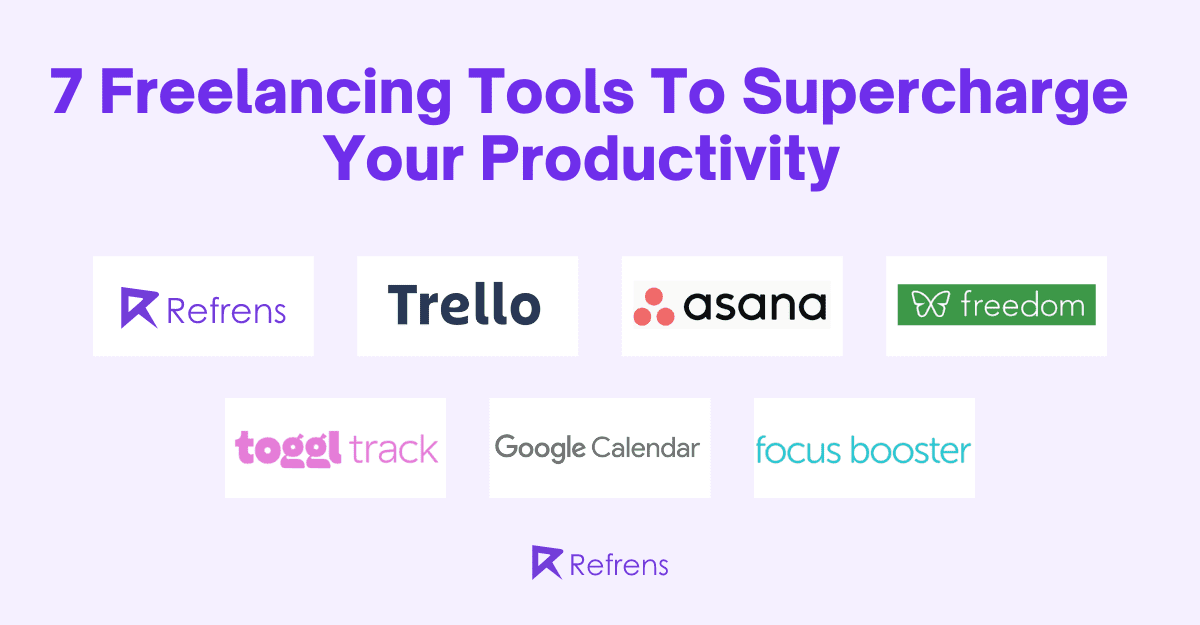 Portfolio Management – Refrens
Finding your first few gigs can be tricky if you're new to freelancing. There are, however, a plethora of websites like Upwork, and Fiver, that act as a marketplace for freelancers and those wishing to hire them, providing a simple way to get work. Here's the most fantastic app for looking for a job.
Thousands of businesses utilize Refrens every day to find a suitable service provider. Their team will work as a go-between you and the consumer, ensuring that you only receive high-quality leads and don't waste time on ineffective leads.
Moreover, it's a freelancer-friendly framework that allows them to collaborate with other freelancers, increasing their profile visibility.
All you have to do now is set up your freelance profile, and you're ready to go. On the platform, registration is free. You will undoubtedly be able to find employment here if you are a designer, SEO specialist, developer, or anything else. It also provides much versatility. Their commission rate is also relatively low; they charge 15-20% of the project's worth.
Invoicing And Payments- Refrens
Refrens is an all-in-one accounting and invoicing software tool. It streamlines, secures, and simplifies bookkeeping for your startup. With only a few clicks, it automates financial chores such as pro forma invoices, quotation format, invoicing, payment tracking, GST bill, customer follow-up, and hiring a freelancer.
Its services are free; you only have to pay if you accept foreign payments. They also have a premium service that gives you access to things like email scheduling, recurring bills, adding team members, inventory management, premium templates, and email monitoring, among other things.
Learn how to create an invoice online.
Project Management Tools
One of the most critical skills for a freelancer is task management. When there are so many distractions, you must maintain your attention on your assignment.
To manage your distraction, these project management tools listed below can help you manage your time and project from start to finish for quality outcomes and a satisfied client.
Trello
When you own your own company, you should stay well-organized. This high-tech online corkboard is the most popular project management freelancing tool.
It allows you to categorize your "cards" into lists. Tasks, projects, notes, shared files, and anything else that aids in the development of a personal workflow can be placed on those cards. Each card may contain a startling amount of information and are all shared.
The workboard can serve as a simple to-do list with a user-friendly layout for freelancers. Overall, it's a fantastic project management freelancing tool, and the best part is that you can use it for free.
Asana
It is used to keep track of progress and communicate about a task or project. Asana provides boards for visualizing work, which will allow you to identify which research is awaiting the completion of others. You can use the timeline tool to show how everything fits together with your team, while the "Workload" freelancing tool manages each team member's task.
Freelancers can use Asana to manage their projects. However, Asana suits better for enterprises, and freelancers can also opt for different Asana alternatives. You can also compare Trello vs Asana with your own assessment.
Time Management
Freelancers usually work on multiple tasks at once, and you must keep track of your time to invoice appropriately and on time. The time-tracking tool provided below can help you and any team members manage your time more effectively without interfering with your production. Check out the time management tips for freelancers in this post.
Toggl
Toggl time monitoring can operate in the background or be activated with a single click, and it can sync across many devices.
The browser extensions for Toggl Track allow you to start the timer immediately from online apps such as Asana, Todoist, Trello, and others. It's the best freelancing tool for staying focused on work, with features like the Pomodoro Timer, idle detection, and tracking reminders.
Synchronization Of Daily Schedule
Google Calendar and Calendly
A calendar quickly shared among all collaborators is vital to your operations when you need to keep on the same page with your clients or other collaborators daily. It's similar to having a virtual personal assistant, and it will allow you to make appointments without the use of a virtual assistant. A calendar is convenient for freelancers that work in consulting or a comparable field.
Many remote employees utilize Google Calendar, a simple and easy-to-use calendaring service for individuals. You could, however, use Calendly, and it's simply a virtual assistant that connects to Google Calendars, so you can schedule appointments and keep track of your clients. You can ask anyone to look at your availability and make plans based on it.
Moreover, If you're an entrepreneur who needs to schedule phone calls and in-person meetings, Calendly is the hidden gem you've been seeking. Calendly allows you to send clients and inquiries a link to check your availability and schedule an appointment.
Distraction Blocker
When you need to concentrate, you must eliminate any distractions. However, switching off with so many things vying for your attention in an ever-increasing digital environment might be challenging. The apps listed below will assist you in fighting back:
Freedom
Freedom software is for you if you're a serial procrastinator. Block apps on your computer, phone, or tablet to make your workday more effective. So don't go on Facebook, Twitter, or Instagram until you've finished your report.
Self-control
Is your willpower weak when stopping yourself from continuously checking email or social media? SelfControl is an application that restricts access to incoming and outgoing mail servers and websites for a set amount of time. You could, for example, limit access to your email, Twitter, and Facebook for 90 minutes.
FocusBooster
FocusBooster is a to-do list software based on the Pomodoro technique, a time management strategy that requires you to focus on a single activity for 25 minutes and then take a five-minute break. It's great for motivating you to stay on track.
Time-out
You must take regular pauses if you are to remain productive. However, when you work as a freelancer, it's easy to get into unhealthy habits and become enslaved to your desk for long periods. TimeOut will become your best buddy in this situation. The Mac programme will remind you to take breaks regularly to stay healthy and productive.
Escrow Management – Refrens
An escrow account is where your client or buyer deposits funds with an escrow service provider such as Refrens, and the funds are released to you once the project is completed and the client has confirmed or authorized it. Thanks to the escrow payment provider, the transaction between the two parties goes swiftly and safely. The escrow provider will transfer the payment to the seller's account as soon as the client gets and accepts the product or service.
Using escrow management will help you protect your business and make sure you get payments on time immediately after completion of work.
Bonus Tool
Time Camp
If you're looking for a perfect timer app for Windows, choose TimeCamp. It's a rich-packed time tracking software with powerful reporting (including built-in and custom reports), comprehensive project structure, and activity monitoring which helps fill timesheets in seconds. What's more, TimeCamp supports businesses no matter of their size with features like attendance management with timesheet approvals, invoicing, budgeting with project resource tracking, and many more. 
The tool also offers 30+ direct integrations with tools like Trello, Asana, Jira, Salesforce or Zendesk, but its Chrome Plugin can increase this number to 70+!
Scalefusion
Scalefusion is a mobile device management tool. It can be a super useful tool when you are your own boss, bring your own device (BYOD) for work. In case you lose your phone or laptop, Scalefusion can help you locate it using its GPS tracking capabilities. If you feel the contents of your phone are sensitive and need to protect it from falling in the wrong hands, Scalefusion can remotely lock and wipe the mobile device's data instantly. It works much like school asset management software in the education sector.
As a part of Scalefusion, you can also create a VPN Gateway(virtual private connection) to securely and anonymously surf the internet. You can also access a restricted website that is important for work but may be deemed incorrect by an ISP or others.
Jotform Sign
Every freelancer needs a way to create and share secure contracts with their employers. Using an e-signature tool like Jotform Sign makes this process easier. Create your own secure documents with e-signature fields and share them with just a link or embed them onto your website. Use one of their 600+ ready-made templates to get started and customize your documents to fit your brand.
Keep track of your collected e-signature data with Jotform Tables. Convert your data into professional reports to uncover new business insights and take note of the changes you witness to elevate your freelancing style.
Put Your Superpower Freelancing Tools To Use
Now, it's time to make your superpower tool for your new and existing clients while increasing your productivity.
Having the correct freelancing tools will go a long way toward ensuring the success of your freelance business. These freelancing tools will help you promote your work, communicate with clients and integrate with their current CRMs, and keep track of invoicing and bookkeeping. Moreover, it will free you to focus on the work you love while minimizing the inconveniences.