As a freelance graphic designer, it's important to establish the appropriate freelance graphic design rates. There are many aspects that are unique to you that must be considered when determining your prices, but picking a number out of thin air will not help you set realistic charges that compensate you properly and benefit your clients.
All of this is true regardless of how experienced a freelancer you are—and finding the correct graphic design rates as a novice is even more challenging. In this article, we will cover different strategies to price yourself.
Check out how to price your services for the first time in this article.
Factors To Consider Before Deciding On Your Freelance Graphic Design Rates
Let's talk about how to tailor pricing to your job and your clients' demands now that you have a few benchmarks to work with. It's not as simple as taking the above standards and running with them—they're only a starting point.
You'll need to consider numerous other factors while determining your actual freelance graphic design rates. Are you just starting off? Do you need the inflow for sustainability? Are you okay if your career takes a little while to kick start? All this plays a role in helping you set the base.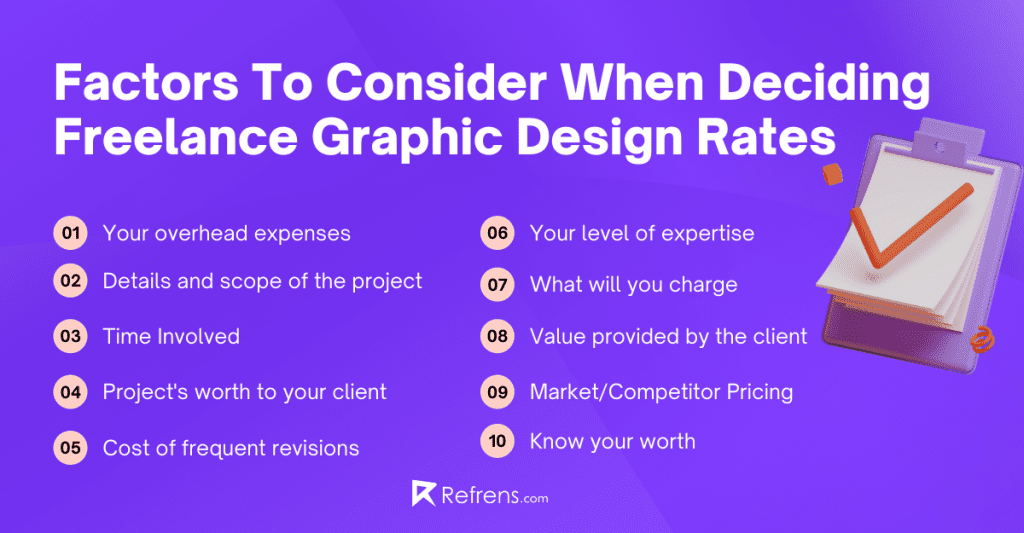 1. Your level of expertise
Perhaps the most obvious—you shouldn't charge $20 per hour if you're new to freelance but have a decade of graphic design experience. On the other hand, if you're designing your first logo, you shouldn't charge $850 for the service.
2. Details and scope of the project
The most essential factors of your prices, especially if you're quoting by project, are the size, depth, complexity, timetable, and other details relevant to each job.
3. Time Involved
Whether you choose hourly pricing or not, you must consider how long the job will take to ensure that your prices are profitable.
4. The project's worth to your client
Charging based on the cost of completing a job is one of the most common mistakes freelancers make (in terms of time, effort, and other expenses). Clients employ you because of the value they'll gain from the finished product, and your fees should reflect that.
5. The value provided by the client
The value conversation is reciprocal as well. If a client can provide consistent, regular work, or if the brand equity of working for them will help you establish authority in your sector, those factors can influence your final rate.
6. Your overhead expenses
Freelancing comes with its own set of costs, such as the health insurance you'll require and the software you'll need for your job. To guarantee that your freelance business is viable, keep those costs in mind when choosing your fees.
7. Market/Competitor Pricing
Investigate market rates in your niche, as well as charges based on your level of experience. Before giving a client a rate, get as much information as possible about the project. You can also inquire within freelance graphic designer networks to find out how much your peers charge.
8. Cost of frequent revisions
Make sure you mention and inform your client about revision prices. Also, make sure you don't give away too many adjustments for free, or else the client will ask for further revisions, which you will have to complete.
Read more about how to deal with frequent client revisions.
9. Know your worth
It's all too easy to undervalue yourself. When you're not busy enough and need the job; when you're negotiating with a customer you really want to work with; or simply when you're not confident enough in your abilities and the value your work provides to clients. Setting rates that allow you to earn your worth requires an understanding of that value.
Read more: How to build your personal brand as a freelancer.
Now that you've established a basic pricing strategy and a few benchmarks, it's time to get down to business—set rates.
It's fine if you still feel like you're piecing together estimations from a variety of sources. Setting your prices isn't a precise science, and there's no one-size-fits-all solution. It all comes down to determining the optimal rate for you and your customers based on the information you have.
Moreover, your charges are never set in stone—you can negotiate with clients you truly want to work with, modify your pricing system if it doesn't work for you, and increase or decrease your costs as you go.
You're now ready to determine your pricing, armed with this knowledge. We've included some tried-and-true advice below to assist you.
What Should A First-Time Graphic Designer Charge?
Given the criteria outlined above, we believe a decent starting hourly pay for a true beginner freelance designer should be in the range of $20–$30 per hour. However, as your experience and skill level improve, it's critical to gradually boost your pace.
Moreover, we favor per-project pricing over per-hour pricing. Even if you begin by charging by the hour, as your firm grows, you can transition to project-based rates.
Over and above, per project would be profitable because as you gain experience, you will be able to accomplish design work much more quickly than when you first started.
Average Hourly Rate For Freelance Graphic Designers
When most graphic designers first start their freelance careers, they work on an hourly basis. They estimate how many hours they work will take and multiply by their per-hour rate to quote potential clients.
As they don't have to account for the details of unique projects, hourly rates are one of the simplest ways to compare pricing.
However, they may vary widely depending on the designer's experience. A newbie freelance designer may take more than an hour to develop a graphic, whereas an expert one will take less than an hour. As a result, it's best to base the pricing on experience.
Accordingly, PayScale estimates the overall average to be $29.55 per hour all around the globe.
Based on those estimations, we believe $25-30 per hour is a decent starting point for beginner pricing.
Looking out to hire a Freelancer Graphic designer? Check out the most skilled graphic designer on the Refrens platform.
Project-Based Freelance Graphic Design Rate
It's a little more difficult to compare project-based design rates against one other. They differ depending on the sort of labor, its scope, and other factors. With that in mind, we've compiled some broad estimates of usual freelance graphic design pricing for popular jobs.
$5,000–$7,500 For Basic Website Design
The above estimate is for a typical high-quality site with 5-6 pages. Even by your standards, web design rates vary a lot. The number of pages, whether the site is bespoke or based on a template, and the design's complexity can all result in significant pricing differences.
$200 and $2,500 For E-book Designing
The average cost of converting a copy into a completely designed and formatted ebook is roughly $1,000. The complexity of the design and the number of pages are the most important criteria in this case.
$5–$10 Per Social Media Graphic
One of the cheapest design jobs is social media graphics. Graphic designers say they can charge as little as $5 per graphic and go up to $40–$65 for more experienced designers and more intricate designs. Notably, freelance graphic artists frequently offer this type of project as part of a package deal, such as eight designs for $80.
$75 – $450 For Business Collateral
Beginner graphic designers, charge as little as $75 for things like flyers, brochures, and business cards. Graphic designers with more experience may charge around $450 for these assets.
$400 – $800 For Package Designing
The cost of package design is entirely dependent on the needs of each client. It also relies on the complexity of the design and how it will be displayed on the package. The starting fee starts at $400 and goes up from there.
Few Mistakes To Avoid While Determining Freelance Graphic Design Rates
When it comes to determining your freelancing rates, it's simple to fall into a few typical pitfalls that result in too-low charges, limit your earning potential, and make it difficult to forecast your income.
We've listed a few of the most typical blunders that a freelance graphic designer could make while determining to price.
1. Undervaluing your work
Impostor syndrome is common among creatives, but it has no place in the rate-setting process. Your labor adds actual value to your client's lives, and you should be compensated accordingly. Asking clients for testimonials or other data they can offer about the impact of your work is one approach to avoid making this mistake. Keep a swipe file of these for when you want to raise your charges or if you get impostor syndrome.
2. Choosing random rates for each project
We propose project-based pricing, which means your charges will differ from one project to the next. What this does not imply is that you should pick those rates at random from a hat. To forecast your income and feel confident in your rates, you'll need a solid pricing system in place so that you can apply from one job and client to the next.
3. Retaining the same prices for years
Even if you merely alter your rates to keep up with inflation, you shouldn't keep them the same year after year. In addition, when your competence grows and your availability decreases, you should raise your charges.
4. Rates based on the passage of time
Tying your earning potential to your time, whether hourly or daily, automatically limits your advancement. You must work long hours in order to earn more money, and you are discouraged from working efficiently.
5. Frequently not raising your rates
The rates you charge today are not the rates you should be charging next year at this time. As a freelance designer, your worth grows with each assignment you accomplish, each training session you attend, and so on. As a result, your rates should rise as well.
When Can Freelance Graphic Designers Raise Their Rates?
Hopefully, you've figured out where you'll place your prices now. You know whether you'll charge per hour or per job, and you've established a price range for both.
For freelance graphic designers, there is no yearly Christmas bonus or automatic cost-of-living boost. You must be the one who ensures that your rates rise over time.
Your fees should increase as you gain more experience and establish a name for yourself in your industry or specialization. You can add more value to your clients if you have more experience. It also means that your time and availability will become increasingly limited. It's time to raise your rates due to simple supply and demand.
Unfortunately, there is no set formula for raising your freelance rates, but you should make a plan to do it on a regular basis. Develop a standard procedure for defining new rates and communicating them to clients when the time comes to increase your fees.
So, how do you know when it's time to accomplish something? Here are some telltale signs that you're ready to raise your rates:
It's the start of a new year.
You're flooded with work requests.
You've consistently delivered excellent results for clients.
You've improved your skills.
You've found your niche and have established yourself as an expert.
You've implemented procedures or tools to make it easier for clients to work with you.
Check out how to raise your prices as a freelancer in this article
It's time to raise your prices if any of the scenarios above apply to you. While critical, we understand that changing your rates can be a scary proposition, especially if you have frequent clientele who are accustomed to paying your current rates.
Conversations about money in general, and particularly those about raising your rates, are unsettling and frightening. However, they're an important aspect of building a successful freelance graphic design firm. So, here are a few pointers to make the procedure go more smoothly:
Overcommunicate with clients and be proactive. Increases in interest rates should never be unexpected.
Connect the higher rate to the higher value you generate.
Allowing repeat clients to stay at a historical rate while increasing fees for new clients is a good idea.
Assure clients that you will not increase your rate after each project. Including a pricing guarantee or lock-in for a specific amount of time (such as six months) might help clients relax.
Offer to meet in the middle of your new pricing is outside the client's budget and you don't want to walk away.
Be willing to let go of clientele you've outgrown. It's understandable that not everyone will be able to afford your work.
Learn the 7 client communication skills that every freelancer should practice.
Wrapping Up
There's a lot that goes into determining your graphic design rates as a freelancer. While there is no one-size-fits-all pricing plan for freelancers, you may take efforts to ensure that your prices allow you to earn your worthwhile and determine that you are not overcharging your clients.
With the advice and benchmarks provided above, hopefully, you'll be able to find the best freelance graphic design prices for yourself. Now, that you have got an idea of how much graphic designers make, what are you waiting for?
Use Refrens to find clients who will value your work and respect your prices.
Read more: