Brands of all types and sizes need a graphic designer who can translate their thoughts & textual context to visual content.
According to a recent survey, more than 80% of digital marketers use visual media when creating social media marketing solutions. This is because visual assets used in social media posts bring in 650% higher engagement than those created using plain text. Source: https://financesonline.com/
As a freelance graphic designer, you need to be well-equipped with the right tools to help you get the job done. While there is a wide range of software and hardware options available, not all of them will be ideal for your specific needs. In this article, we will review the top tools for graphic designers to help you find the ones best suited for you.
1. Illustrator
For a beginner or seasoned designer, Adobe Illustrator is a great option. It has a range of capabilities that might assist you in creating excellent designs. And while there are a lot of different tools out there that can be useful for graphic designers, there are some that are absolutely essential. One of those essential tools is Adobe Illustrator.
Check out how to become a freelance graphic designer.
Adobe Illustrator is a vector drawing programme that allows you to create illustrations, logos, and other graphics. It's an incredibly powerful tool that gives you a lot of control over the look and feel of your designs. And if you're serious about freelance graphic design, then you need to be proficient in Illustrator.
There are a lot of different things that you can do with Adobe Illustrator, but here are just a few of the reasons why it's so essential for freelance graphic designers:
You can create any kind of graphic imaginable.
Vector graphics scale up and down without losing quality, which is ideal for creating logos and other branding collateral.
The software is relatively easy to learn and use, especially compared to other vector drawing programmes out there.
There are tonnes of online resources and tutorials available to help you master Illustrator.
If you're not already using Adobe Illustrator as part of your freelance graphic design workflow, then now is the time to start. It's an essential tool that will help you take your designs to the next level.
2. Adobe Photoshop
Millions of artists utilize Adobe Photoshop, which is undoubtedly the most well-liked graphic design tool on the planet. This top graphic design tool may help you make banners, posters, websites, or logos, among other things. Adobe Photoshop includes capabilities for every level, from minor adjustments to complex projects. You can even draw or paint anything you want if you specialize in illustrative designs. Moreover, check out this adobe photoshop fun facts.
With this software, you can do lifelike artwork and composition in addition to image editing. You can set the dimensions of your canvas, separate objects from their surroundings, make unique brushes, operate in three dimensions, and do a lot more.
3. Canva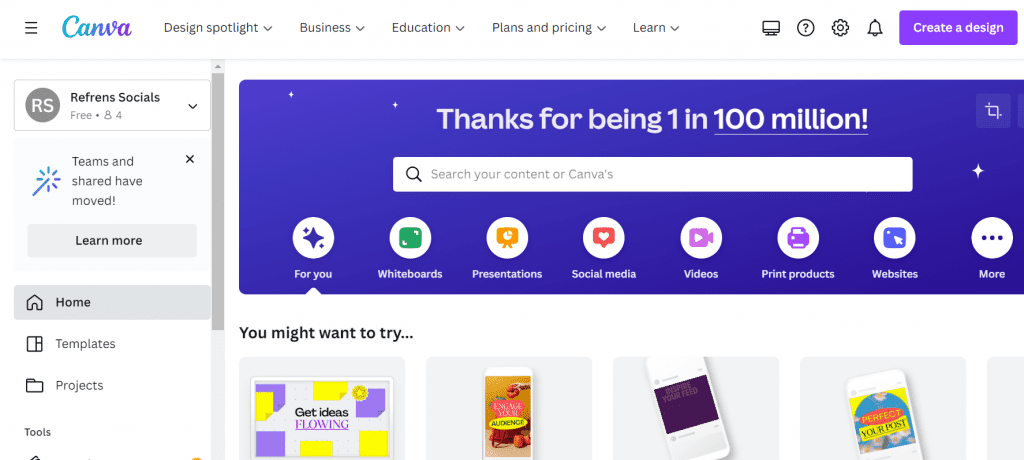 Canva is a user-friendly online platform that enables you to create high-quality visuals for your clients. With over 1 million templates and tools available, it's easy to find what you need to create professional designs. Plus, with its drag-and-drop interface, you can quickly and easily create custom designs.
Canva is the best option for simple graphic materials. You can use the existing layouts and logos that they have. Additionally, you can alter existing layouts to your comfort. They work well for brochures, periodicals, and social media posts. They provide a free version with fewer features and designs; if you want more, you may choose to purchase their premium choices.
If you want to quickly produce brilliant and amazing digital agency services, Canva is a must-have graphic design tool.
4. InDesign

As a freelance graphic designer, one of the most important tools you can have in your arsenal is a good design tool. For many designers, that program is InDesign. InDesign is a powerful desktop publishing program that can be used for everything from creating simple flyers to designing complex magazines.
If you're new to InDesign, there's a bit of a learning curve. But once you get the hang of it, it's an incredibly powerful tool that can help you create professional-looking designs. Here are just a few things you can do with InDesign:
-Create layouts for printing digital downloads or digital publications
-Design marketing materials like flyers, brochures, and business cards.
-Develop web or app prototypes
-Create illustrations and graphics
In short, if you're looking to up your design game, InDesign is definitely worth checking out.
5. Designhill Logo Maker
Powered by Artificial Intelligence (AI) and Machine Learning (ML), Designhill logo maker is an intelligent and user-friendly software developed keeping the novices as well as pro designers in mind. Creating a professional logo for your business takes just a few minutes.
There are AI image generators that allow you to create something new, unique, and creative on graphics. Whether you aren't a designer looking for a DIY logo creator online for your logo design, or a pro-designer looking for some design inspiration, this tool is for you. It doesn't charge you to create a logo unless you download the design.
Designhill logo generator comes with an in-built library of logo design templates, created by some of the world's talented logo designers. An interactive interface and a massive library of icons, fonts, colors, etc., make it one of the most preferred online logo-maker tools for people across the globe.
Pick a template closest to your business needs and start customizing with the choice of your fonts, icons, colors, layout, etc.
6. Affinity Designer
Affinity Designer is a vector graphics editor developed by UK-based Serif Labs as a substitute for Adobe Illustrator.
Affinity Designer features a cutting-edge, simple user interface that makes switching between it and Illustrator easy for both inexperienced designers and seasoned professionals. All the tools they need are readily available and are grouped clearly for aspiring designers.
All the necessary pen and shape tools are included in Affinity Designer to finish intricate vector and pixel-based artwork. Users can transition between tool sets without disrupting their productivity using the persona toolbar, which separates vector, pixel, and export tools into three different groups.
Check out 9 super powerful tools to increase your freelance productivity.
Affinity Designer is a remarkable, cost-effective replacement for Adobe Illustrator in terms of both function and aesthetics. It is sufficiently easy for beginners to use as a learning tool but strong enough for independent graphic designers on a budget.
Looking to become a UX designer and start your career off on the right foot? Our blog has got you covered with all the information you need to get started!
7. Affinity Photo
Affinity Photo is a low-cost alternative to Adobe Photoshop or Adobe Illustrator for image touch-ups. It works with both vector and raster graphics to produce beautiful effects using layers and filters. Similar to CorelDRAW, the program supports the SVG file format. Although you can make your own templates, the application doesn't come with any. It is lightweight, though, and offers a lengthy 90-day free trial.
Because of its effectiveness and adaptability, Affinity Photo has won numerous awards in recent years. For the cost, it offers a lot of features. With its panoramic stitching, HDR merges, and 360-degree image editing, you can perform complex editing. With no bloat, it offers real-time editing. PSD files can also be used for editing. For the height of creativity, it also offers non-destructive live filter layers.
8. Inkscape
As a freelance graphic designer, it is important to have a tool that will allow you to create vector graphics. Inkscape is an open-source vector graphics editor that can be used for a variety of purposes, such as creating illustrations, logos, and diagrams.
Inkscape has a wide variety of features that make it a valuable tool for any graphic designer. For example, Inkscape supports a variety of file formats, so you can easily import and export your work. In addition, Inkscape offers a wide range of brushes and pens to give you the ability to create precise or artistic designs.
If you're looking for a vector graphics editor that is both powerful and easy to use, then Inkscape is an excellent choice.
Check out the amazing journey of how designer Gyan Lakhwani became a UX designer at Microsoft.
9. Procreate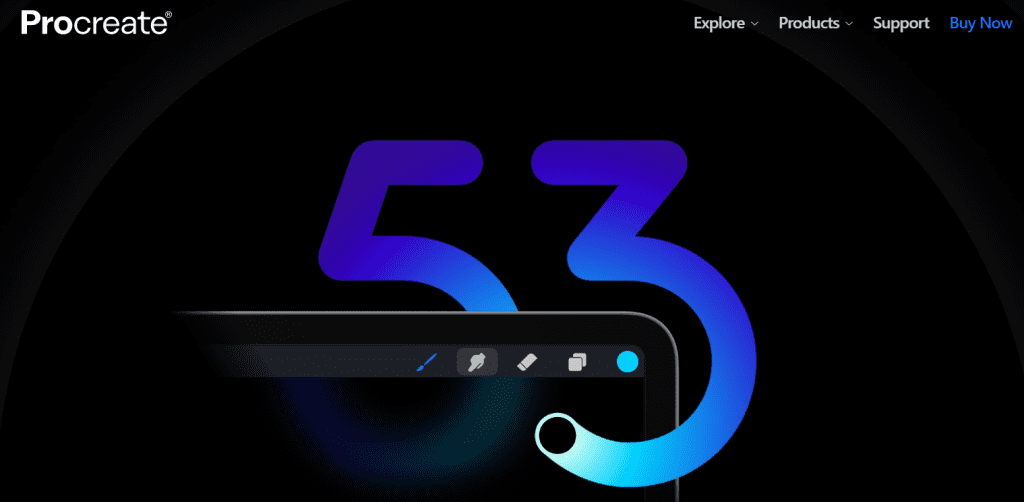 Procreate markets itself as a full-featured art studio designed just for the iPad and Apple Pencil. There is no free trial or version available; it is a one-time purchase. You immediately start using its enormous selection of templates, typefaces, and movable brushes. Additionally, you can import your own Photoshop images into the app, which will run faster thanks to the Valkyrie engine. Its creators went over and beyond to make it user-friendly.
Its capacity to operate in 3D and preview it in AR in real-time is one of its unique qualities. Procreate is a great place to start if you've been wanting to experiment with animation. However, the program contains so many features and options that new users could find it confusing. There are numerous brush options available if you choose one type. Every time you use it, you'll pick up something new.
10. Crello
A user-friendly graphic design tool called Crello may assist you in creating polished social media posts, marketing, and advertising materials, website graphics, videos, and animations.
It has a drag-and-drop interface that makes creating web design content simple.
You can also readily find the resize canvas option on their design dashboard, which can help you quickly develop visuals for a variety of channels.
Like the majority of other graphic design tools, Crello has a free edition with a tonne of templates that may be used to create simple designs.
Check out how freelancers can use social media to enhance their business.
11. Figma
For free graphic design software, Figma has a tonne of functionality. The free limitless cloud storage that comes with the free version is among the most remarkable. With a wide variety of tools, vector graphics are where it really shines. To receive private assignments that are invite-only, you must subscribe to the professional plan. If not, you can collaborate by sending a link.
Businesses have a lot of customization options with Figma to webflow, especially at the organizational level. You have the ability to develop and manage private plugins. It is an inexpensive plan in comparison.
12. BrandCrowd
BrandCrowd is another user-friendly logo design tool for beginners, intermediate designers, and professional business owners. Using the templates, they can create, modify, and design their own fresh brand image without having to start from scratch.
It has a well-curated logo collection that a simple keyword search will lead you to a page full of design ideas. The keywords can vary, from technologies to photography logos from architecture to plumbing logos. There's a design for your specific business needs.
After selecting a few images, let's talk about customization. The customization is a breeze. Just click on the features you want to change, and you'll see options to replace them on the right. Plus, you can also drag and drop certain features. When all is set, feel free to save the modified template until a better idea comes next. Or you can download it right away.
The best part about BrandCrowd is its built-in marketing tool apart from the logo maker. It has a well-built collection of business cards, invoices, social media images, flyers, and more. All have downloadable formats such as PNG, JPG, SVG, and more.
13. Renderforest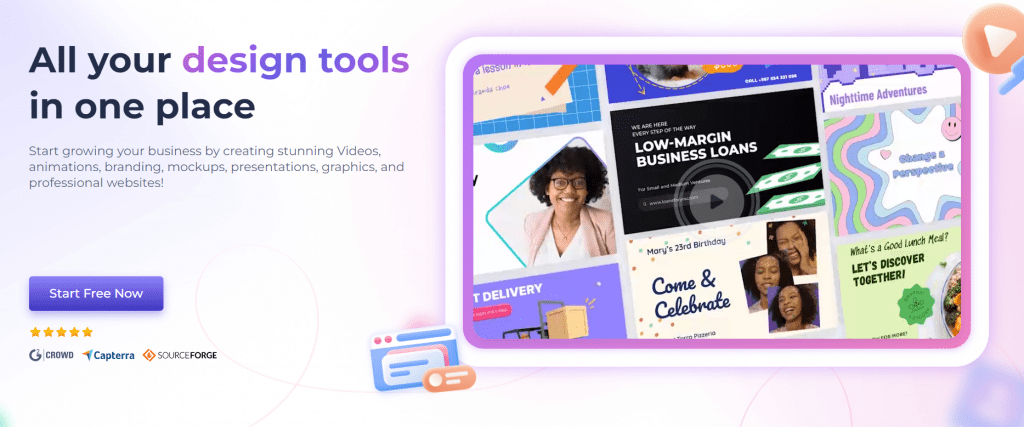 As an all-in-one solution empowering people lacking design skills, Renderforest can become a go-to solution for all your video, animation, and logo-making aspirations. Users can create visually stunning designs in minutes by leveraging its advanced AI-powered functionality. From abstract to letter-based, symbol, and animated logos, the software has something even for the pickiest taste.
For instance, its online logo builder is a well-liked tool that enables users to generate personalized logos fast and effortlessly. Alter design colors, typefaces, and other aspects for a polished and unique final result!
Plus, you will always have access to the most recent design trends and styles thanks to the platform's regular updates with fresh templates and design ideas.
With all these features, users that want to add a personal touch can upload their own visuals to the platform. Renderforest is a strong platform for producing and sharing high-quality visual content with the world.
14. Visme
Graphic designers embrace all different aspects of design. Therefore, designers need to have specific tools to solve whatever design tasks they have.
Starting from creating simple visual elements like graphs, videos, charts, etc. Ending with more complicated elements like creating visual content using AI. Hence, Visme's AI image generator can help with this purpose. It will take only four simple steps to get things done.
AI image generator allows you to use text-to-image generation to create illustrations not found in photo libraries, icons, and 3D objects for your highly targeted, niche design.
To conclude, Visme is an all-in-one graphic design tool with tons of professionally crafted templates and other design perks that every graphic designer would love to play with.
15. Freepik

Freepik is a website dedicated to helping anybody who wants to create stunning visual content for personal or commercial purposes. This platform is built around its ever-growing library of graphic assets, from stock imagery and stock videos to vector illustrations and templates, all provided by an expanding community of contributors. This website has you covered.
In addition to its quality-checked resources, Freepik also offers a bunch of features that simplify and streamline your creative workflow. Advanced new additions like its AI image generator tool, whereby users write a prompt to create dreamlike images in seconds, and an in-browser editing tool, enabling users to edit on the go, dragging and dropping resources from its vast asset library to create stunning designs you are in control of.
Above all, this pioneering design platform is free to use! However, premium users will benefit from premium content, unlimited downloads, and no need for attribution.
16. Wepik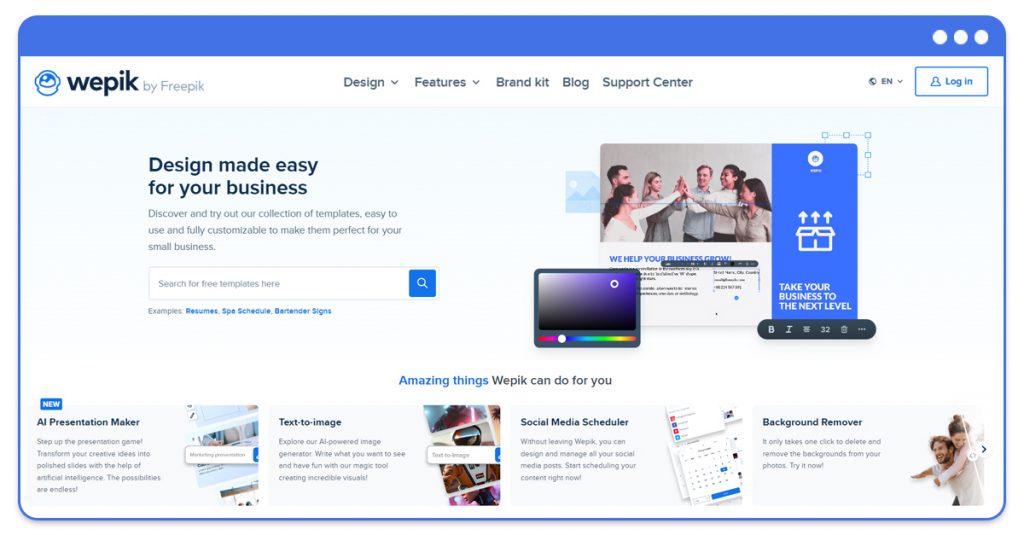 Wepik is a powerful online design platform that empowers users to create stunning visuals in a flash! Whether you're a professional designer, marketer, or someone looking to enhance their creative projects, Wepik offers a wide range of intuitive tools and resources to bring your ideas to life.
At the heart of Wepik's appeal is its vast library of ready-made templates. From social media graphics to presentations, logos, posters, and more, Wepik has you covered for all your design needs. You can easily design any of them using the user-friendly online editing tool, with helpful features such as the background remover or the innovative AI Image Generator.
Whether you're a seasoned designer or a design novice, Wepik offers a wealth of resources to help you sharpen your skills and stay inspired. Also, their blog provides insightful articles, tutorials, and design tips, keeping you up to date with the latest trends and techniques!
17. Phot.AI
Finding their way through the vast world of graphic design tools can be challenging, especially for independent contractors looking for simple yet effective solutions. Phot.Ai stands out among the others as a gem designed specifically for the requirements of graphic designers. I've learned to value tools that blend user-friendliness and extensive functionality as someone who frequently experiments with multiple platforms, and Phot.Ai perfectly fills the bill.Phot.Ai stands out for its dedication to meeting real-world user needs.
It effortlessly incorporates AI-powered technologies that make banner production, graphic design, and logo creation easier. Phot.Ai's ability to demystify graphic design processes makes it a must-have for designers who value efficiency and tangible outcomes. If you're on the hunt for a graphic design tool that marries user-friendly design with cutting-edge AI capabilities, Phot.Ai deserves a prime spot in your toolkit.
18. BeFunky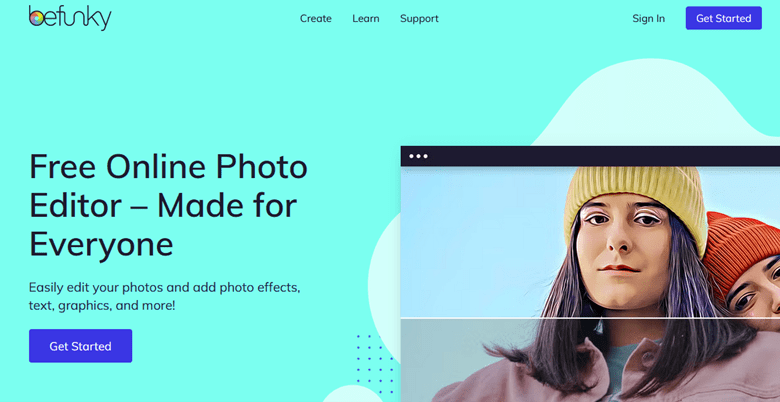 Finding your way through the jungle of photo editing options can feel overwhelming, especially when you're trying to strike the perfect balance between high-end features and ease of use. BeFunky emerges as a top-grade photo editor that strikes this balance effortlessly. With a wide array of functionalities, from basic edits like cropping and resizing to more advanced features like artistic filters and text overlays, BeFunky is a one-stop-shop for all your photo editing needs. Its intuitive interface ensures that even those new to the world of graphic design can easily get the hang of it.
What sets BeFunky apart is its one-click optimization for social media platforms, allowing you to tailor your creations to different channels without breaking a sweat. If you're in search of a photo editor that combines the power of advanced features with the simplicity of a user-friendly interface, BeFunky is a tool that should not be overlooked.
Select a relevant graphic design tool as per your requirement
The finest graphic design software includes anything from free, open-source web-based options to comprehensive image editing packages with high learning curves that are ideal for pros — and everything in between.
Start by thinking about your existing requirements and the features you expect as your business and skill set expand when you choose which software to use. A lot of software is pricey, especially subscription-based programs. With these programs, you pay for what you need to get the best deal.
Businesses that want to collaborate effectively with their customers should leverage features like real-time collaboration, version history, and master page configurations. The majority of the platforms on our list offer the fundamental features of design tools, such as image editing, resizing, gradients, and overlays.