For quite a while, JotForm has been a preferred choice for creating forms, thanks to its user-friendly interface, dynamic form capabilities, and a range of customization options that won't break the bank. But like any software, it has its limitations, which prompts us to venture into the world of alternatives.
The good news is that several alternatives are available that match JotForm's offerings and often go above and beyond!
In this article, we're diving into a variety of JotForm alternatives. We'll take a closer look at what each option brings to the table – their features, pricing, and even reviews – all geared toward helping you make an educated decision. Whether it's simplicity, flexibility, or affordability you're after, our exploration will equip you with the insights you need to find the perfect fit.
When it comes to effortless form creation, Refrens takes the lead. Its streamlined approach makes crafting forms a breeze. But what truly distinguishes Refrens is its seamless integration with a robust lead management system. This unique blend introduces advanced features that can truly transform your business.
As data seamlessly flows into Refrens through its intuitive forms, it effortlessly slots into your existing sales pipelines. The standout feature is Refrens' ability to closely monitor the progress of leads within your sales pipeline, offering you invaluable insights into your business's growth trajectory.
Furthermore, Refrens simplifies the integration of forms across your website, social media platforms, and advertisements. Its efficient Lead Management System (LMS) adeptly handles leads, ensuring efficient tracking and engagement.
But Refrens doesn't stop at form creation and lead management. It goes a step further by encompassing a robust accounting system, meticulous expense tracking, precise inventory management, and effective client relationship management – all conveniently consolidated in one platform. With Refrens, your business operations are not just optimized but elevated to new heights.
Free: Free plan for small businesses to create up to 50 documents/year
Premium Plan: Pricing starts from as low as ₹100/month or $2.5/month depending on the number of users & features
Creating a Lead Generation Form to boost your business? Then you must check these 11 Tips For Creating Effective Lead Generation Forms, provided with easy examples and case studies that can increase your chances of getting leads exponentially!
2. SurveyMonkey
When it comes to choosing an online form and survey tool, SurveyMonkey emerges as a strong contender to Jotform. While Jotform has its merits, SurveyMonkey offers a unique set of features that cater to different needs.
SurveyMonkey's advanced capabilities make it stand out as an ideal choice for businesses looking to conduct in-depth market research and measure customer or employee satisfaction. With its 'Audience' product, it excels in providing highly specific market insights, collecting responses from a global consumer panel, and delivering personalized dashboards.
In terms of flexibility and design capabilities, Jotform shines. It allows users to create complex and highly customized forms effortlessly, with a wide range of features and payment integrations. However, SurveyMonkey simplifies survey creation with its "Build it for me" feature, making it smarter and more time-efficient.
While Jotform offers exceptional customer support and a vast selection of integrations, SurveyMonkey's value for money is a standout feature. Despite the initial appearance of being more expensive, SurveyMonkey's plans come with no restrictions on form submissions, views, or storage, making it a cost-effective choice in the long run.
In conclusion, SurveyMonkey presents a compelling alternative to Jotform, especially for businesses seeking advanced survey capabilities and efficient market research tools. Your choice between the two will ultimately depend on your specific needs, budget, and design preferences, as both platforms offer valuable features to streamline data collection and analysis processes.
Pricing
Individual plans
Standard Monthly: $99 per month or ₹899/mo – 1,000 responses/mo, 24/7 email support, unlimited surveys
Advantage Annual: $39 per month or ₹1,999/mo – 15,000 responses/yr, expedited email support, advanced features.
Premier Annual: $119 per month or ₹4,999/mo – Unlimited surveys, 40,000 responses/yr, phone & email support.
Team Plan
Team Advantage: $25/user/mo or ₹1,550/user/mo – Survey sharing, collaboration, 50K responses/yr.
Team Premier: $75/user/mo or ₹3,800/user/mo – Advanced features, phone support, unlimited responses.
Enterprise: Contact sales – Customization, integrations, SSO, HIPAA compliance, dedicated manager.
Ratings
Capterra – 4.4⭐/5
G2 – 4.4⭐/5
3. Google Forms
In the realm of online form and survey tools, Google Forms stands out as a robust alternative to Jotform. Google Forms offers a suite of powerful features that simplify form creation, data collection, and analysis. Its intuitive interface allows users to effortlessly design online forms, customize them to reflect their brand, and implement logic for a seamless user experience. Real-time response analytics and integration with Google Sheets make it easy to gather and interpret data. Plus, Google Forms is exceptionally accessible, enabling users to create and respond to surveys from various devices.
One of the most significant advantages of Google Forms is its cost-effectiveness. It's entirely free, making it an attractive option for those with budget constraints. In contrast, Jotform offers a free plan but imposes limitations and requires paid subscriptions for more advanced features. While Jotform boasts a wider range of integrations and templates, Google Forms seamlessly integrates with Google Workspace, providing a streamlined experience for users already within the Google ecosystem.
In summary, Google Forms emerges as a powerful alternative to Jotform, particularly for users seeking a free and user-friendly solution that integrates seamlessly with Google Workspace. While Jotform offers advanced customization and more templates, it comes at a higher cost. Ultimately, the choice between the two depends on individual needs, budget considerations, and the level of customization required for data collection and analysis. Both tools excel in simplifying the process of creating and managing online forms and surveys.
Pricing
Free for individuals (15GB storage), or part of Google Workspace starting from $6/user/mo.
Ratings
4. Formstack Forms
Formstack emerges as a compelling alternative to Jotform, offering a comprehensive set of features designed to streamline form-building and data-collection processes. With a user-friendly drag-and-drop builder, Formstack allows users to create customized forms quickly. Unique features like "One Question at a Time" and "Save and Resume" optimize the mobile survey experience and reduce friction on longer forms. Formstack also excels in data and analytics, providing advanced integrations, conversion rate optimization tools, and seamless document management.
In the realm of payment features, Formstack offers secure payment collection, supporting various processors, discount codes, and PCI compliance. Its robust security measures, including data encryption, GDPR, and HIPAA compliance, make it a top choice for organizations prioritizing data protection. Team collaboration is seamless with user permissions, workflows, and approvals, enhancing efficiency and information sharing within organizations.
While Jotform may have a larger number of integrations and templates, Formstack shines with its advanced form-building capabilities, security features, and data analytics tools. Formstack's 14-day trial allows businesses to explore its offerings, making it a valuable option for those seeking a comprehensive solution for form management and data analysis. Ultimately, the choice between the two platforms will depend on specific requirements and the level of sophistication needed, but Formstack stands as a robust alternative for organizations looking to streamline their data collection processes.
Pricing
Forms: Digitally collect data with a no-code, drag-and-drop form builder, starting at $50/month
Documents: Utilize document automation for seamless workflows, starting at $92/month
Sign: Access eSignature for legally binding digital signatures, starting at $18/month
Recommended Suite: Bundle Formstack's tools and features into a single plan, starting at $66/month
Enterprise: Customized enterprise-ready process automation solution.
Ratings
Capterra – 4.1⭐/5
G2 – 4.4⭐/5
Explore our comprehensive Lead Generation Guide to optimize and enrich your lead generation efforts for greater effectiveness and rewards!
5. Paperform
Paperform is a robust and flexible online form builder that stands out as an excellent alternative to Typeform. With its array of features, Paperform empowers users to create a wide variety of forms, from surveys and quizzes to registration forms and payment collection tools. One of its standout strengths is its ease of use, with a free-text interface that feels like editing a document rather than wrestling with complex form builders.
Paperform's feature set is impressive. It provides intuitive and hassle-free form design with customization options that let you tweak every detail, from colors and logos to typography and themes. The platform goes beyond aesthetics, offering intelligent forms that can automate your workflow, accept payments, apply question logic for personalized experiences, and even perform calculations. Its versatility is a strong suit, making it suitable for a wide range of use cases.
In conclusion, Paperform is a compelling alternative to Typeform, offering a seamless form-building experience with advanced features and a more cost-effective pricing model. Whether you're looking to create surveys, registration forms, or payment collection tools, Paperform's versatility and user-friendly design make it a top choice for streamlining your form-building process.
Pricing
Essentials: $20/mo, 10k form views/mo, 1k submissions/mo, 1 user, payment collection, 1 payment account, 2k+ integrations, 6 mo storage, 10MB max file size.
Pro: $40/mo, full functionality, 3 payment accounts, priority support, 18 mo storage, 1GB max file size.
Agency: $135/mo, 5 users (+$5/user/mo), custom HTML, priority support, 18 mo storage, 5GB max file size.
Enterprise: Contact for advanced features like SSO, HIPAA compliance, dedicated support, and more.
Ratings
Capterra – 4.5⭐/5
G2 – 4.8⭐/5
6. ClickUp
If you're seeking a versatile alternative to Jotform, ClickUp offers a unique solution. While Jotform specializes in form creation, ClickUp excels in workflow management. ClickUp Forms seamlessly capture responses and instantly route work to the right team at the right time. These customizable forms are easy to complete and connect to trackable tasks for swift action.
ClickUp's strength lies in its ability to convert form responses into trackable tasks, making project initiation lightning-fast. With powerful automation under your control, you can seamlessly integrate form submissions into your workflows. Additionally, ClickUp Forms incorporate conditional logic, dynamically updating based on responses to enhance completion and capture relevant data efficiently.
ClickUp, like Jotform offers user-friendly interfaces for creating forms, but their primary focus differs. While Jotform excels in form creation, ClickUp concentrates on workflow automation and task management. Jotform provides a vast library of form templates, whereas ClickUp offers customizable forms with a focus on task integration.
In summary, ClickUp presents itself as a compelling alternative to Jotform, with a focus on workflow automation and task management. If your needs extend beyond form creation and encompass seamless task integration and workflow management, ClickUp's dynamic platform may be the perfect fit for your team.
Pricing
Free: Personal use – Unlimited tasks, collaborative docs, kanban boards, 100MB storage.
Unlimited: Small teams – Unlimited storage, integrations, Gantt charts, $7/member/mo.
Business: Mid-sized teams – Google SSO, advanced features, $12/member/mo.
Enterprise: Large teams – White label, advanced permissions, API access, contact sales
Ratings
Capterra – 4.7⭐/5
G2 – 4.7⭐/5
7. Typeform
Typeform provides a compelling alternative to Jotform, offering a wide array of features for diverse form-building needs. One of its standout strengths is its visually engaging one-question-per-page format, which fosters a conversational and user-friendly experience. This unique approach can lead to increased completion rates and is particularly suitable for those who prioritize aesthetics.
Typeform's templates are visually striking and well-designed whereas Jotform's vast template collection offers versatility and convenience. Typeform's customization options shine with themes, fonts, and color schemes, making it easy to create visually polished forms. Jotform also provides customization capabilities but may require more effort to achieve a similarly appealing appearance.
Typeform offers unique features like logical branching and quiz capabilities, making it an excellent choice for interactive and engaging surveys. Logical branching allows for conditional paths based on respondents' answers, while quizzes can transform forms into interactive assessments. Jotform, on the other hand, excels in integrations with over 150 apps and seamless payment collection, providing flexibility for automating workflows and receiving payments.
Ultimately, the choice between Typeform and Jotform hinges on specific requirements and preferences, with both platforms offering valuable tools for crafting online forms and surveys.
Pricing
Basic: Forms with workflow connection, $25/mo (billed yearly), 100 responses/mo, 1 user.
Plus: Branded forms, $50/mo (billed yearly), 1,000 responses/mo, 3 users, No branding.
Business: Performance analysis, $83/mo (billed yearly), 10,000 responses/mo, 5 users, Priority support.
Enterprise: Contact for advanced features, tailored limits/seats, VIP support, and Compliance.
Ratings
Capterra – 4.7⭐/5
G2 – 4.7⭐/5
Already a Typeform user and looking for alternatives? Explore Our Top Picks, complete with features, pricing, and reviews for a well-informed decision!
8. Wufoo
Wufoo presents a compelling alternative to Jotform, offering an easy-to-use online form builder with a focus on simplicity and efficiency. Both platforms excel in form creation but differ in their approach and features. Wufoo's drag-and-drop form builder streamlines the creation process, making it accessible to users of all skill levels.
Customization is a key aspect where Wufoo shines, allowing users to personalize their forms with ease. You can customize colors, typography, buttons, and logos effortlessly to match your brand or website's aesthetics. It simplifies the form design process by offering ready-to-go themes and intuitive customization tools, while Jotform provides a range of design features scattered across the interface.
In terms of integration and automation, both platforms offer robust capabilities. Wufoo allows you to connect your forms with popular payment providers, making it suitable for online stores and payment collection. Additionally, it supports real-time notifications and a variety of integrations for seamless data transfer.
In conclusion, Wufoo serves as a compelling alternative to Jotform, offering a user-friendly interface and adequate customization options. While Jotform boasts a wider feature set and a vast template library, Wufoo's simplicity and ease of use make it a solid choice for those seeking straightforward form creation without overwhelming complexity.
Pricing
Starter: $14.08/mo- Customize branding, confirmation emails, and automate workflows.
Professional: $29.08/mo Collect payments, unlimited forms, additional users, and form security.
Advanced: $74.08/mo – Increased entries, users, file storage, and API requests.
Ultimate: $183.25/mo – Advanced features with higher limits for data collection & automation.
Free: $0/mo – Basic forms and limited responses.
Ratings
Capterra – 4.4⭐/5
G2 – 4.2⭐/5
In the process of crafting Lead Capture or Contact Us forms? Be sure to consult our Comprehensive Guide on Creating Effective Lead Capture and Contact Us Forms to ensure a smooth flow of valuable data!
9. Zoho Forms
For a formidable JotForm alternative, Zoho Forms shines in crafting interactive, adaptable forms – a gem within the Zoho ecosystem. This versatile data collection tool caters to diverse needs, enhancing efficiency and insights for a broad spectrum of users seeking dynamic form solutions.
Zoho Forms isn't just about user-friendly form creation; it's designed to optimize data collection processes. From freelancers to enterprises, anyone can tailor forms for lead generation, appointment scheduling, and more. Customizable themes and templates ensure ease of use, while its standout feature lies in simplifying data capture.
The platform empowers users to design visually engaging forms without the need for coding skills. Forms easily integrate on websites or via email campaigns and social media, expanding reach and engagement. What sets Zoho Forms apart is its robust integration, facilitating seamless collaboration.
Collaboration tools bridge geographical gaps, while role assignments uphold data security. Integration with Zoho Survey further elevates Zoho Forms' data collection capabilities, enhancing its practicality and making it an outstanding choice for businesses seeking comprehensive insights.
Pricing
Basic: $12/month or ₹580/mo – 1 User, 3 Forms, 500 Submissions/month, 200MB Storage
Standard: $30/month or ₹1450/mo – 1 User, Unlimited Forms, 10,000 Submissions/month, 500MB Storage
Professional: $60/month or ₹2900/mo- 10 Users, Unlimited Forms, 25,000 Submissions/month, 2GB Storage
Premium: $110/month or ₹5800/mo – 25 Users, Unlimited Forms, 75,000 Submissions/month, 5GB Storage
Ratings
Capterra – 4.5⭐/5
G2 – 4.4⭐/5
Effective form-creating tools are vital, but you also need top-notch Lead Management software to handle your data efficiently. Discover our curated list of the Best Industry-wise Lead Management Software in 2023. We've done the research to help you find the perfect software for your needs.
Before you dive in, make sure you're well-informed about Lead Management. Explore our comprehensive guide: Everything You Need to Know About Lead Management.
10. QuestionScout
QuestionScout emerges as an ideal alternative to JotForm, offering versatile data collection and streamlined decision-making for modern teams. With an intuitive interface, QuestionScout simplifies form creation, making it easy to design interactive surveys, consolidate data, and embed collection points into web pages.
What sets QuestionScout apart as a superior JotForm alternative are its powerful features. Custom Fields enable precise data collection, while support for multiple languages ensures engagement with diverse audiences. Collaborate in real-time, create on-brand experiences with custom themes, and optimize workflows with customizable notifications. Embed forms effortlessly and automate manual processes with ease.
In essence, QuestionScout stands as a comprehensive alternative to JotForm, excelling in form-building capabilities and decision-enhancing tools. Whether your focus is on data collection or broader process optimization, QuestionScout aligns seamlessly with your objectives, offering advanced features while maintaining user-friendly design – making it an ideal choice for teams seeking efficiency and effectiveness.
Pricing
Personal: $5/mo – 10 forms, 500 responses, 250MB uploads, payment, integrations, no collaborators.
Starter: $10/mo/collaborator – Unlimited forms, 2,500 responses, 500MB uploads, teamwork features, custom settings.
Pro: $20/mo/collaborator – Unlimited forms, 200K responses, 5GB uploads, advanced features, priority support.
Ratings
Capterra – 4.6⭐/5
G2 – 4.8⭐/5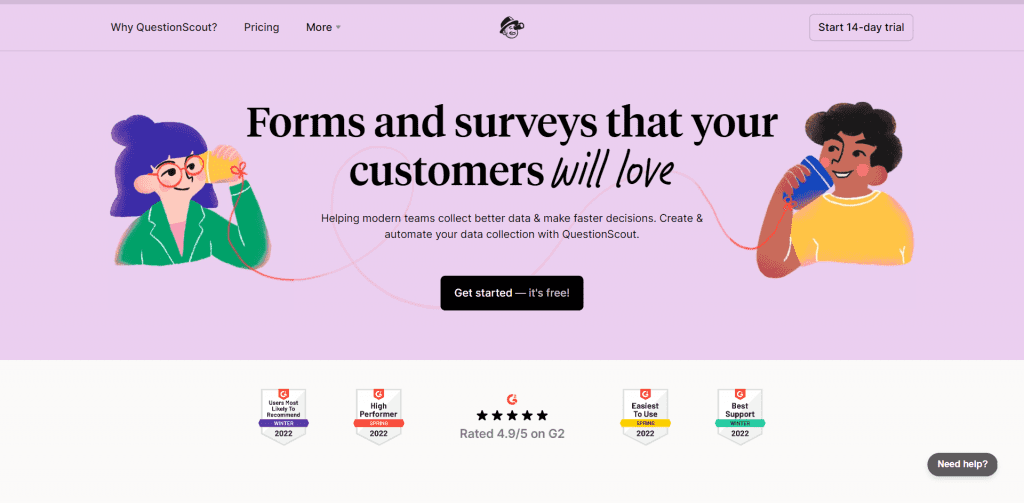 Generating leads is a crucial endeavor, and while a wide array of form-building tools can be useful, they represent only a fraction of the entire process. Explore our even more extensive and ultimate compilation of 39 top-notch Lead Generation Tools to turbocharge your business!
Conclusion
In conclusion, you have a diverse array of alternatives to explore, each offering unique features and benefits. Whether you're focused on streamlined data collection, enhanced user experiences, or comprehensive business automation, there's an option to suit your specific needs. Consider your priorities, objectives, and budget when choosing the right alternative for your requirements. Happy exploring!
Explore more with our One-Stop Guide on Data Capture Forms