According to a study conducted by Upwork, freelancers spend about 23% of their time on administrative tasks. That's a lot of time that could be spent doing what we love and getting paid for it. Dealing with later payers appears to be among these tasks.
The truth is, being a one-man army, freelancers can`t do anything but spend time calculating, preparing, and sending out invoices if they really want to get paid for their job. The more efficient they are in doing so the higher our chance to create a seamless and efficient invoicing process.
This article explores some actionable invoicing tips proved by experienced business leaders and field experts to make the invoice process smoother and less time-consuming.
Check out how to create an invoice online in this guide.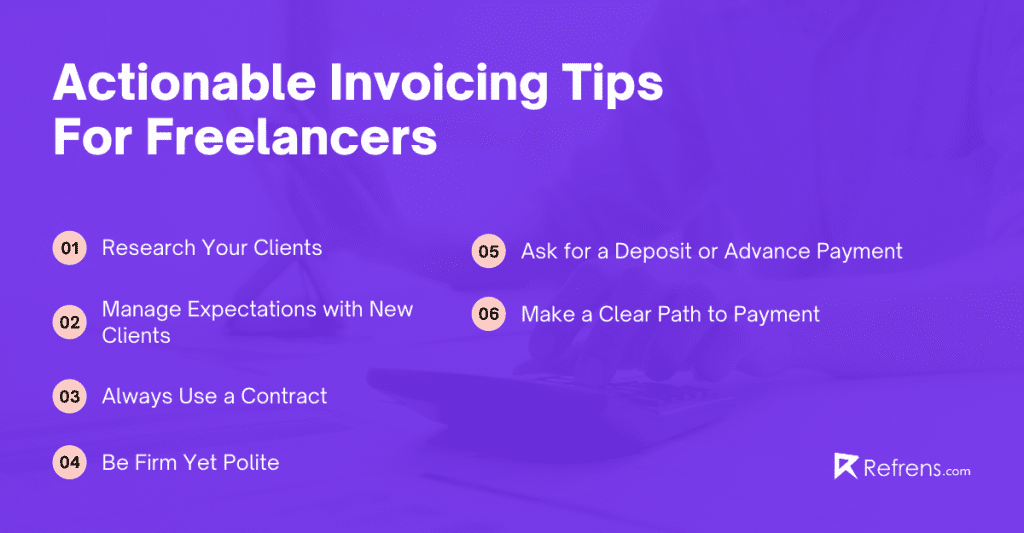 Research Your Clients
One of the most common issues you might face on your way is dealing with clients who tend to ignore invoices and delay payments inordinately. Unfortunately, it is not always possible to spot such a client in advance, however, in the age of quick Google searches one should at least try. 
Before you start working with a new client, it's essential to do your research. First, find out if they have a history of paying their invoices on time. You can check this by doing a simple Google search or asking other freelancers in your network.
If you're already working with a client who hasn't been paying their invoices on time, you may want to consider sending them a reminder before their next invoice is due. This will help avoid misunderstandings about when the invoice is due and give them a chance to make arrangements to pay on time.
Manage Expectations with New Clients
When you're starting work with a new client, it's essential to set clear expectations. This includes establishing a payment schedule that works for both of you. This will help to keep track of your client`s payments during the whole project period and avoid forgetting about outstanding balances.
The secret is to have a strict plan and keep sticking to it. If you're invoicing weekly, send your invoice on the same day each week. This will help your clients know when to expect your invoice and make it easier for them to budget for your services.
How should you decide which payment terms to choose? There are 2 major schemes for that:
For short-period projects — an issue the invoice after the work is done
For long-term complex projects — invoice by milestone or weekly/monthly basis.
Count on some time for your client to cover the invoice. Usually a 1-2 weeks time period is the most convenient, as it helps you to get paid regularly. 
Read More: Top Invoicing and Billing Software of 2023.
Always Use a Contract
Working with a contract is one of the best ways to protect yourself as a freelancer. A freelance contract should include information about your services, the payment schedule, and other essential details about your working relationship.
Christopher Moore, CMO of QuiteLight, believes that "if there's one thing that all freelancers should do to get paid, it is to get everything in writing."
If you don't have a contract, now is the time to create one. You can use a template or have an attorney draft one for you. Be sure to go over the contract with your client before starting work to make sure they understand everything.
Be Firm Yet Polite
When it comes to getting paid, it's essential to be firm yet polite. You want to ensure your client knows that you're serious about being paid on time, but you don't want to damage your working relationship.
If your client still hasn't paid after the invoice is due, you can follow up with another email or phone call. Remember to stay polite and professional, even if the payment is late.
Ask for a Deposit or Advance Payment
Asking for a deposit or advance payment is a great way to protect yourself if a client doesn't pay their invoice. This way, you'll at least have some money to cover your expenses and minimize the risks of wasting your time in exchange for nothing.
To request a deposit, including the amount and due date on your invoice. You can also mention it in your initial contract, so your client knows to expect it. This will help to avoid clients who are not willing to commit to the projects.
If your client is late on their payments, you can ask for an advance payment on future work. This way, you'll be paid for your current work and have some money to cover your expenses while waiting for the rest of the payment.
Design Professional Invoices
Your invoices should be clear and professional. You can create one with free invoice generator. This means including all the relevant information, such as your contact information, the service you provided, the date of service, the amount due, and the payment terms.
One more important invoicing tip here is to mention an itemized list of services you have provided during the invoice period, with as much detail as possible. The more detailed information you include the less scope there is for clarification and re-work, which makes it easier to get paid on time.
You can use an invoice template to make sure you include all the necessary information. You can also add your personal touch by adding your logo or branding to the invoice.
Also read: The Best Invoicing Software for Freelancers
Centralize Data and Processes
The best way to streamline your invoicing process is to have all the data and manage it in one place. This includes your invoicing templates, clients' contact information, contacts, freelance proposals, estimates, etc., as all these things should be easily accessible to you. 
If you're still using paper invoices, it's time to switch to digital. There are many benefits to using online invoicing, such as tracking payments, getting paid faster, and reducing accounting errors right from your desktop or even a mobile device.
Online invoicing also makes it easy to send reminders and follow up with late payments. And if you use a service like Refrens, you can collect payments more easily, so you don't have to worry about it each week.
Make a Clear Path to Payment
There are a few different ways to get paid, such as by check, PayPal, or bank transfer. You should include your preferred payment method on your invoices and clarify how your client can pay you.
At the same time the more payment options you provide for the convenience of your clients, the faster you will receive your payment. Luckily, there is no problem in adding a host of payment options nowadays.
You can also set up automatic payments so your clients can pay you electronically each week or month. This is an excellent option if you have clients who are forgetful or always late on their payments.
Send out "Magic Emails"
If you're having trouble getting paid, you can try sending what's known as a "magic email." This email template has a proven track record of getting freelancers paid.
Simply fill in the blanks with your information and send it to your client using the magic email.
Hi ____,
I hope you're doing well. I just wanted to follow up on my invoice from _____. I'm still waiting for payment and would appreciate it if you could let me know when I can expect it.

Thanks, _____
This simple email has a good chance of getting your client to respond and pay their invoice. However, it's important to remember that every client is different, so you may need to adjust the email to fit your situation.
Therefore, sometimes it is needed to send several timely reminders to make your invoice on the clients' minds. All you need is to be polite yet firm and stay consistent in your communication with a client.
Advantages of a seamless invoicing system
Undoubtedly, being a freelancer comes with numerous benefits. However, at the same time, the proper functioning of your business and its success totally depends on you and your efforts. Therefore, if you want to get paid you need to take good care of some back-end processes like invoicing.
Knowing what information to mention, what payment terms to set, when to send, and how to follow up is challenging, However, taking the invoicing process for granted won`t work. Thus, it is important to make invoicing a paramount process resulting in considerable benefits:
Fast payments
Efficient use of time and money
Improved organizational flows
Reduced paperwork
Seamless accessibility
Increased business productivity
Elimination of errors and inconsistencies
Improved auditing and tax management.
New freelancers who are just starting their way into business may do well without a solid invoicing system at first. However, As your clientele grows a well-set invoicing flow will help to create invoices, freelancer estimates, and manage finances much easier. 
Conclusion
Sometimes the temptation to neglect some administrative job like invoicing seems so strong. However, being the only responsible person for your business you need to develop the skills of a manager, accountant, creator, entrepreneur, and marketer at the same time. Because a freelancer has to play these strategic roles in order to succeed.
If you are not careful enough about your financial and invoicing matters you might mess up your cash flows at some point. Thus, the matter of your business functioning may become questionable.
Getting paid on time can be a challenge for freelancers. It requires plenty of effort related to staying organized, proactive, and following up with clients. Adherence to these simple invoicing tips can increase your chances of getting paid promptly while also protecting yourself from late payments.
Wait though! Do you know everything there's to know about invoicing? Why not check out our blog on Invoicing Basics: Everything You Need To Know, just to be sure?