"Emails have an ability many channels don't: creating valuable, personal touches- at a scale!
~David Newman
Do you want to reach your professional contacts?
Want to get clients as freelancers?
Or want to send out promotional messages? Emails work!
No matter how many new means of communication arise, be it social media, instant apps, branding platforms, and so forth, emails will always be the most professional and convenient way to reach out. And, this is one of the reasons around 86% of professionals prefer emails for connecting with industry people.
But, Does Every Email Serves the Benefit?
We doubt it!
Every email is designed with a goal. While some are designed with the goal to gather attention from users, some are drafted with the intention to get sales, and so forth. But, if you are a freelancer, the main goal of your email would be to interact with clients or to convince them to choose your services!
That's what highlights the importance of creating interactive emails to make them "Work"!
What is an "Interactive" Email?
No one wants a robot-generated email that has lengthy texts, no call to action, zero engagement, and boring taglines. To retain your freelance clients they definitely expect something different from your email. They expect an interactive email!
Interactive email is your personal branding. It is an email with catchy text, interesting taglines, and content that engages. Most interactive email examples contain an image, a banner having a call to action elements, and so forth! You can also add buttons, GIFs, and small videos to make your email more interactive and engaging. Many freelancers also use dynamic QR code generators to create custom QR codes that link directly to their portfolios in emails, so they never miss a client's attention. And the clients can use an online QR code reader to scan that dynamic codes
But, still not every email serves the benefit. This is because not every email turns out to be interactive and engaging. But, is it necessary to make every email collective and reciprocating?
Why Make Your Emails Interactive?
As a freelancer, building a fruitful relationship with clients is crucial. And, emails play an important role in this. These pronounce your credibility and professionalism as a freelancer. Further, this also elevates your chances of getting responses from clients as no client feels answerable to long boring emails! But, an interactive email can lead to discussions.
Interactive emails also highlight your personality traits similar to an Instagram's aesthetic feed, that are critical for freelancers. These are communication, self-branding, approach towards work, and so forth! Along with this, interactive email can also bridge the location gaps.
For instance, if you want to get international clients as a freelancer, an interactive email can compensate for the need for direct contact numbers, office visits, and one-to-one discussions. But, all these benefits boil down only if you create interactive email right! Let's hop on this discussion in detail!
How to Make Your Emails Interactive?
As mentioned above, an interactive email can be the right fuel for your freelance journey. But only if you know how to do it right! Here are some of the tips for you to make your next email interactive-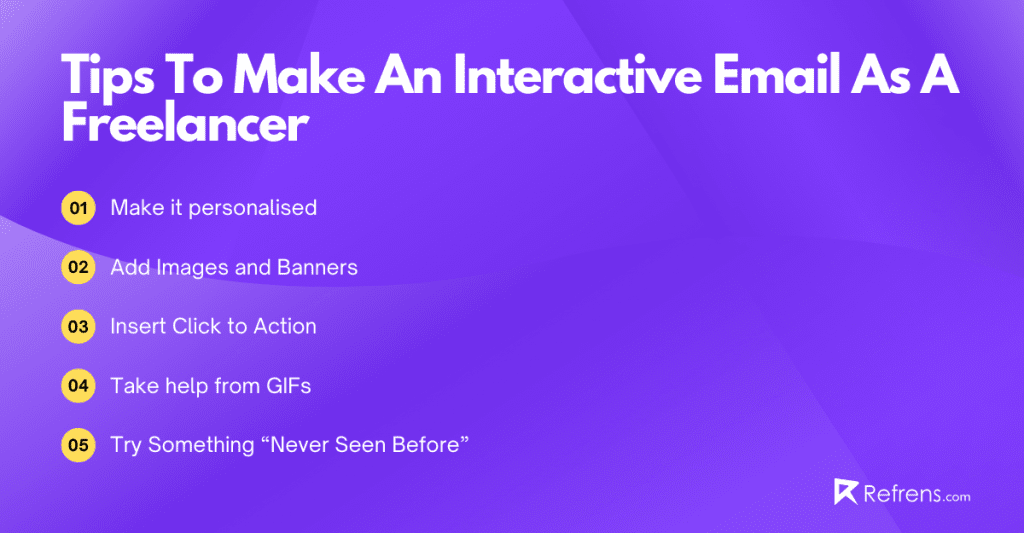 Start Right!
To get the desired outcome from emails, it is of utmost importance to start them right. And, the subject of the email then comes into play!
In a report, it was noted that around 33% of people open emails only looking at the subject line!
This highlights why you should invest sheer time in deciding on the subject line of the email. For handy tips, keep in mind to not make it too obvious, and don't sell your freelance services directly. Instead, try encoding the message for the client in your subject line.
Make it Personalized
One size fits all never applies to emails! Therefore, making it personalized is the first tip to make your emails interactive!
For this, always customize and change the elements of your email according to the client you are sending that email to. During this process, however, it's crucial to use an SPF checker and ensure your email authentication to avoid any potential cyber attacks.
Is your client a marketing manager?
Is your client in the healthcare industry?
Or form any other specific industry?
Design your email accordingly. To give your personal touch, you can also attach portfolios, effective cover letters, and other related documents. Remember, Personalized emails always win the race!
To get help writing personalized emails, you can add Crystal as your google extension!
Add Images and Banners
In a survey by Hubspot, it surfaced that around 65% of users like emails that contain images. Whereas only 35% prefer emails with lengthy texts!
Lengthy text-based emails are a thing of the past. Today's world sees emails with images, banners, and even infographics. This keeps the reader's interest alive and helps achieve the email's goal. But, ensure your images and other elements in email work well, and are mobile responsive!
Insert Click to Action
No one is waiting for an email that has no call to action! That makes incorporating a call to action in an email an important component while creating an interactive email.
This can be a landing page, service request, schedule a call, or visit your portfolio! Being a freelancer, adding click action as "schedule a call", or "request service" can be the most advisable call to action to insert in your emails!
Check out the 15 most important elements of a portfolio.
Take help from GIFs
Most emails serve the goal if they succeed in grabbing readers' attention. What else than engaging GIFs can grab readers' all attention? This can work for budding freelancers sending their first email or freelancers with years of industry experience!
GIFs can be simple as well as complex. But, make sure these are not too heavy files to load. If your GIFs go unloaded in clients' inboxes, the email would not serve the purpose. And, rather curb the deal, before even the discussion!
Try Something "Never Seen Before"
To stand out from the crowd, you have to try things that are out of the box!
These can be creating polls in emails, running a quick questionnaire, getting forms filled, and so forth! All of these can minimize the time clients take in responding to your emails and can help you get converting leads in minimal time. This can do wonders for your email branding as a freelancer!
Need more help creating your interactive emails? Here are some tried and tested templates!
Interactive Email Templates
To design an interactive email, you should first personalize your email depending on the freelance skill you are selling. If you are a freelance graphic designer, your email will be different. And, if you are pitching clients to hire you for your freelance web developer skills, the template has to be modified accordingly. Here are a few samples for you to take references from-
Interactive Email Example for Freelance copywriters-
Hi [Client's name],
My name is [your name] and I'm a freelance copywriter.
I just saw your job posting on [name of the website] and noticed that there's an opening for a blog article writer in your business blog.
I've been working online as a freelance writer for [a number of years] years and I managed to help develop several great and successful blogs for my clients.
Not to brag, but I also have multiple articles published on popular authoritative websites such as [mention and link to the websites]. Have a look and see if my writing style fits your blog's strategy.
I understand that getting a lot of shares on social media is just as important as optimizing articles for search engines. And I use a handful of tools to make sure to target both those areas.
If you like, I can come up with some topics and ideas for great articles for your blog.
Kind regards,
[Your email signature]
In this example, comprehend how the critical things and achievements as a copywriting freelancer are highlighted. And how the need for services is mapped with a probable problem of a client!
Want to become a copywriting superstar? Check out our blog for some insider tips and tricks to kickstart your journey!
Interactive Email Example for Freelance Graphic Designer
Hi [Client's name],
I saw your job opening while browsing [name of the website], are you still looking for a graphic designer to create your business logo?
I've been doing graphic design work for [a number] years now and I also have experience working at an advertising agency as a lead designer as well. Just recently I designed a new logo for [name of the company]. You can see it at [link to website].
Have a look at some of my previous designs on my portfolio at [link to your portfolio].
I read through your job description and the business website and I already have a few good ideas for the logo design. If you could send in more details and the requirements I'd be happy to send over a few sketches of the design.
Kind regards,
[Your email signature]
In this template, carefully notice how the portfolio is attached. And, also how the previous experience is well explained.
These templates can help you ace the game of writing interactive emails. But, is that the job done? No, there's a lot after sending an interactive email!
What to Do After Sending Interactive Emails?
For freelancers, sending an email is just half the job. The real struggle starts after you send an email to a client! And, that is taking follow-ups!
Taking follow-ups with clients is a skill every freelancer must learn. Taking follow-ups is often critical because of numerous reasons. Some of the reasons are "easy to get irritated" clients, MIA clients, getting no response even after several successive emails, and so forth! Therefore, it is advised to learn how to write a follow-up email!
Some of the handy tips are; to be polite, manage your follow-ups in regular intervals and don't bombard your client with follow-up emails continuously, Keep them to the point, and don't forget to mention your contact details, and a way to arrange a call or schedule a meetup! This can help you win the deal even after initial failure rounds of convincing clients!
Summing Up
An interactive email can be your answer to several challenges while finding clients as a freelancer. But, only if you do it right. Be it for that first client, or trying to grab a client you have been chasing for years, an interactive email can be your freelance mate!
So, shun those challenges and create interactive emails that can impress your clients. Further, if you want a platform to get clients as a freelancer to whom you can impress, and sell your services, refer to Refrens! Your one-stop solution for finding freelance clients from all around the globe!