Do you recall your first project as a freelancer? Was it through a close friend or someone that you already knew? Did you also discover that having a network of well-wishers can really get the freelance gig going?
Considering the lone wolf nature of freelancing, forming these relationships can be challenging, but it doesn't have to be.
Today, we will talk about the key to effective networking and how it eventually helps in getting better projects?
So, what is a network you ask?
It's a process of communicating with people to exchange information or build contacts, whether professional or social.
It allows you to build and validate your reputation as a freelancer. We believe your network is possibly your most significant instrument for gaining projects.
According to our research and interviews, at least 80% of freelancers believe that networking is critical to obtaining additional contracts. Face-to-face encounters, they indicated, offered them a better chance of securing projects and were the best in the long run.
How To Get Better Projects Via Networking?
Most individuals prefer to work with someone they know, or with someone who has been recommended to them by an organization or a person, they trust: in other words, someone from their own network.
As a result, it stands to reason that a major portion of your work will come from within your network, either from current relationships or from actively expanding it through work and networking activities.
Additionally, your existing network comprises friends, relatives, acquaintances, and most likely a huge number of people who have worked with you over the years. They're all familiar with you, and many of them have seen your work. They may well be willing to suggest you to others.
Therefore, it's crucial for a freelancer to develop a good network.
All of these things have the ability to help you improve your reputation and/or find work. They could also be extremely useful in terms of giving information. As a result, it's a good idea to make sure you know people's names and a little bit about them, as well as their contact information, so you can follow up on a first encounter.
Over and above remember that networking is a two-way street.
Tips For Freelancers On Networking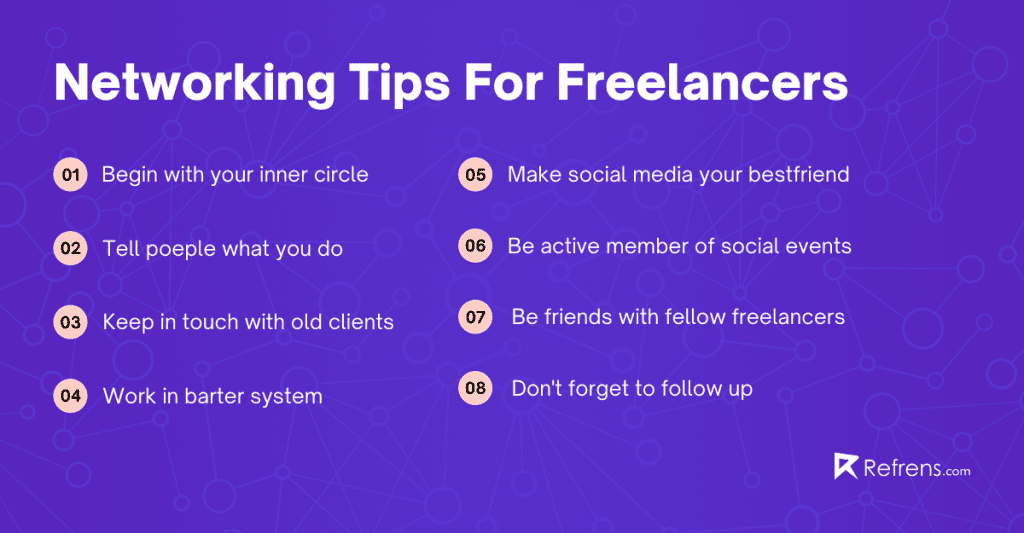 So, now that you have understood all about networking, it's time for some tips and tricks that will help you ace up your game of networking. It will lead to forming that strong inner circle of yours that will help you in the long run of your career.
The pointers below are well researched and mentioned after interviewing various freelancers. We hope this would definitely help you to build and manage a successful freelance network.
Make a commitment
Getting into the appropriate attitude is the first step to successful networking. You know you need to do it, so make a commitment right now to devote a portion of each day to build contacts, whether online or in person. Then stick to your plan, keeping track of what works and what doesn't.
Determine what you want to achieve
What do you want to get out of networking? You'll choose to target different categories of professionals depending on your goal. You'll waste a lot of time befriending strange individuals if you don't.
Here are possible networking goals based on your objective:
Find a new customer: Freelancers looking for a long-term high paying client should contact CEOs or HR specialists at the companies they want to work for.
Referrals: Connecting with thought leaders and influencers can help new freelancers develop word-of-mouth for their firm.
Mentors: Use social media or networking events to learn from more experienced workers.
Consider what you want to achieve and create your network around those objectives.
Begin with your inner circle
As you develop your networking skills, there's no need to step too far out of your comfort zone at first. Ensure that your friends and family members are aware of what you do and what types of duties you can do. Encourage them to tell their friends and family about it. You'll be astonished at how much business this one step can bring you.
Check out how to get leads in a non-conventional way.
Tell People What You Do
Don't only focus on the type of job you'll acquire as a result of your networking efforts. Instead, concentrate on presenting yourself as authentically as possible and listening to what others have to offer. As a result, the outcomes are significantly better.
Learn how personal branding is important for your freelance success.
Also, try not to be overly aggressive when it comes to selling yourself. Make typical small talk with your connections, as you would with folks you meet at a bar, but keep it focused on your work. The most crucial quality that potential clients will remember when considering you for a job in the future is your genuine enthusiasm for your profession.
Keep in touch with your old clients
They evidently loved what you were doing if you performed multiple jobs for a certain group or firm and had a strong working relationship. Why not contact them to see if they have any recommendations for other potential customers? You might also inquire if they have any upcoming projects that could benefit from your assistance.
Always keep your business card handy
You may believe that business cards are obsolete, but this is not always the case. Most of your cards will end up in a bin or in a wallet, never to be seen again, but it's a simple investment that takes advantage of people's forgetfulness. Plus, you can make a QR code on your card, linking it to your online presence for easy access to your portfolio and contact details.
Even if a person makes a great first impression, a name can be tough to recall. A virtual business card with your name, portfolio website, and line of work on it will ensure that your first impression is not only remembered but also linked to the information needed to contact you.
Lend a Hand of Assistance
One of the most popular misunderstandings regarding professional networking is that it's all about what you can get out of your contacts. It's a good way of helping your connections while creating and sustaining your network, even if they can't help you right now. By assisting and supporting others now, you're building a community of people who will want to help you in the future.
Make Social media your best friend
Virtual networking has always been a terrific method to communicate with others, even before the pandemic. You can find online groups of other freelancers with whom you have a lot of common interests. Participate in your virtual dialogues, learning from others' experiences and, when appropriate, sharing your own pearls of wisdom.
Moreover, if you use strong techniques like identifying and using LinkedIn Groups in your field of interest and keeping your whole LinkedIn profile up to date, LinkedIn can be a terrific networking platform. Check out other websites, such as Reddit, to see if there are any forums for professionals in your industry.
Check out how social media can boost your business.
Be an active member of social events
Almost any social event can provide networking chances. Parties, happy hours, sporting events, family and friend get-togethers—basically, any event that brings a large group of people together provides an opportunity for freelancers to network.
Look for coworking spaces
Try joining a coworking space to help you network as a freelancer. Coworking spaces bring together a diverse group of people who are typically looking for work and connection. It is one of the best to network with other freelancers.
Check out how a co-working space is an ideal place for a freelancer to work from.
Work in the barter system
Finding others who share your career or personal interests is a great way to expand your network. Volunteering in your community or online can be a terrific way to earn professional experience, especially if you're just starting out in your job or switching to a new sector.
Be friends with your fellow freelancers
It's always beneficial to have a sense of how other freelancers conduct their businesses. You can compare rates and tactics, as well as exchange job-related anecdotes.
Learn how to increase your freelancing charges and how to price yourself for the first time as a freelancer.
Follow-up on your curated inner circle
Maintaining your freelance network is important because it is all about developing relationships. Always come up with a cause to keep in touch with your old and new contacts.
After all, if you've gone to the trouble of meeting new individuals, it'd be a waste not to follow up with them the next day (or as close to the event as you can manage). It may be as simple as adding them to your LinkedIn network.
Furthermore, sharing articles, sending emails on industry-related topics, asking questions on a regular basis, and even inviting them to (virtual) events are all great, non-intimidating ways to keep your freelance network active. Aim to communicate with them a couple of times a year.
Check out the 7 important client communication skills.
Conclusion
Too much to learn and too little time? We got you. Here's a little brief of the article.
Networking isn't easy for everyone, but it's essential for professional development and success, especially if you're a freelancer.
If you're a freelancer, networking is one of the effective ways to help your business grow. As a freelancer, creating and maintaining a solid network will provide you with a variety of advantages that will help you keep your job prospects—and your income—steady.
Moreover, you'll be able to expand your professional freelancing network with confidence and easily if you take the time to assess your networking needs, select the ideal networking channels, and make sure to tap into your existing networks wherever possible.
Share tips on how you as a freelancer built your network in the comment section below.
Happy Networking!