How often have your friends or family members approached you and requested free work from you?
And how did you respond to them? Did you do it out of the humiliation of not being able to say "NO" and later regret it?
Don't worry; we're here to assist you to stop feeling ashamed or impolite for declining a free job. We would help you come up with replies to provide them the next time they ask for free work, which would save your relationship and get you paid.
Tips On How To Respond When Asked For Free Work
You may want to work for free to create a freelance resume, client list, or diversify your talents, especially if you're starting. Hence, you may be willing to contribute your time and talent to close friends at this moment.
Here are some examples of how to react to typical requests:
I can't pay you, but you'll get a lot of exposure
What is the nature of the exposure, exactly? What will be done with my name and description? Will you be able to provide a connection to my website?
How many individuals are expected to attend?
I'll need a testimonial from your company for my portfolio website and brochures.
Thank you, but I'm confident I've had enough exposure since you contacted me.
Our company doesn't have this high budget
What is the current state of your company's budget? Let's talk about it and work something out.
Maybe we would have a link exchange of our website if that's possible.
We're a new company with less funding
Thank you for getting in touch with me. Right now, I'm overburdened with work. Could you please get in touch with me after a few months?
It would be my pleasure to assist. However, I can only provide you with some hours of free time.
We're pals
I'd be delighted to assist. So that we can retain our friendship, let's write down what you're asking me to do, what you're paying for, and what you're not.
I'm sorry, but I don't have time. I need to (choose one) to complete the paid tasks I'm working on or look for paid work.
Tips On How To Ace The Free Work Talk
There will be occasions when people you know will demand your services for free, whether you're a freelancer or in any other profession.
Their requests can be deceptive at times. They might say things like, "Do I get a friends and family discount?" 
You can find yourself in an embarrassing scenario as a result of it. You may feel forced to help your friends and relatives on occasion.
However, as a professional, you must be compensated because this is how you make a living. Additional friends will likely expect you to return the favor if you provide free services to a friend.
It is essential to set appropriate boundaries and make it clear that you cannot offer your time or services.
When someone offers you to work for free, here are five things you can say.
1. I don't want our friendship to be harmed by the business
It's not always a brilliant idea to mix work with relationships—regardless of whether you're getting paid or your friend wants you to design her website or hopes you'll offer her free business coaching. Clear it out to them about it before starting.
If you think it's possible that working together will strain your relationship. What if your friend isn't satisfied with your services? What if you have the impression that your friend is taking advantage of you?
Make it evident that, while you can provide the services your friend requires, you would never put your friendship in jeopardy. Instead, tell them you'd be pleased to provide them with the names of other professionals who can help.
2. I'd be delighted to set up an appointment so that I can give this the time and attention it requires
Set a clear boundary if another parent tries to pick your brain during your children's soccer game or a buddy approaches you in the grocery store and asks for your opinion. Rather than hashing it out on the sidelines or in the produce section, offer to schedule an official meeting.
You might remind your friend that this is a business problem by saying you can set up an appointment. It's also an excellent time to pass out your business card to emphasize that this is what you do for a living.
3. This is something that should be left to the experts
If your buddy asks you for real estate advice, investment advice, or tax advice, let them know that these matters should be handled by a professional.
It would help if you didn't feel forced to use my services simply because we're friends," you could say. I'll give you the names of a few other pros, and you can do your research to see who's best for you. This will remind your friend that you, like other experts, charge for your services.
4. Let's see if we can address this problem during this talk
It's OK to offer brief counsel to your friends now and then. If you're a plumber and a friend calls to ask how to fix a dripping faucet, you might be able to solve the problem in under two minutes by telling her the part she needs to buy.
Offering to fix the problem "during the conversation" shows that you are willing to share your knowledge, but only for a short period. If your friend calls with follow-up inquiries, you can remark, "I'm sorry we couldn't address it during our discussion." You'll need to give this some more thought."
5. Let's meet for a chat during business hours
If your pals are always picking your brain, you may want to minimize your business conversation. "I'm attempting to achieve a better work-life balance," she stated. If you wish to schedule an appointment, I'd be pleased to discuss work-related issues."
Check out the 7 effective client communication skills.
This is a great way to gently remind your friends that your advice is something they can pay for. And you'll want to keep it that way if it's a business transaction.
6. To Avoid Burnout, Set Limits
It can be difficult to stop giving out your services for free if you've become accustomed to doing so. You will not be doing yourself or your friends any favors if you do not.
"I recognize I've been doing too much work for free lately because I haven't set good boundaries," you can say. So, to avoid burnout, I'll begin charging for my services."
Check out the 5 annoying situations for a freelancer and how they should respond to them.
Steps On How To Deal With People Asking For Free Week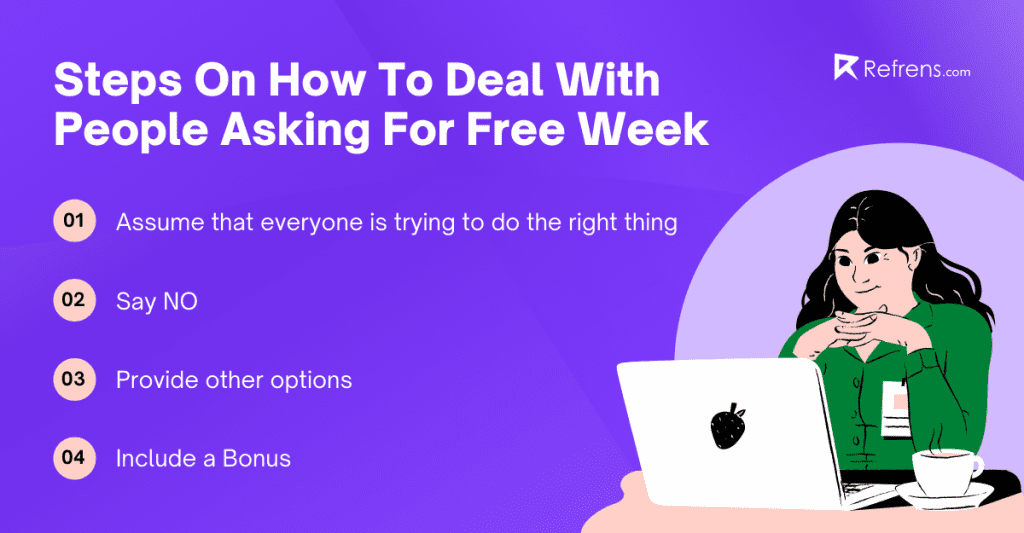 Assume that everyone is trying to do the right thing.
When you presume the best, it's always easier to reply. In this instance, assume the person wishes to pay you. If you're interested in taking on a client, say you'd be happy to assist, and then go over your services, associated fees, and next steps.
Of course, because their initial opinion was that your work wasn't worth paying for, these queries might not be the ideal place to find new clients. In light of this, they might choose to decline your services.
Say NO
The next step is just to say "no." You're excited that you're seeking my advice (or services), but you're worried that you won't be able to take on any more clients right now. You're declining the request, but by replying as though they're interested in becoming your client, you're also assuming the best in people.
Provide options
To soften the blow a little, suggest other professionals who might be able to help, especially if you want to keep what little relationship you may have had with this person. You can refer clients to other career counselors whose work you are familiar with on several occasions. Not only are you providing a different answer, but you may also be able to educate this contact about the importance of your work
Include a Bonus
Finally, based on your profession, you may be able to include a free resource to demonstrate your concern; nevertheless, you will not be able to work for free. You can occasionally point individuals to specific pieces on famous blogs or a thorough career assessment that has helped others in similar situations and could help them too.
How can you prevent friends and family from requesting free professional services from you?
Define your professional limits.
Answer the question with more information.
Make sure you have a policy in place.
You don't mix business with friendship or family, to be precise.
Make a rate for "friends and family."
Make sure you are clear about collaboration work at the start itself
Feeling relieved?
We hope you're relieved now that you know the answers to the most crucial questions about how to respond when asked for free work. Next time, use these strategies and ways of responding to improve your freelance game and profession.
Let us know how it helped you when someone asked for free work in the comments area.