Creating a CV is relatively simple a process for people who work a 9-5 job. However, if you've been freelancing for a while, you could be struggling to keep track of all the projects and jobs you've worked on in a logical manner to impress potential employers.
Since many freelancers are continuously looking for new work, your CV should be kept up to date and serve as a great demonstration of your talents and experience as a freelancer.
Also, for people who want to look for a full-time job, many employers do not consider freelance work as legit work since most people make the mistake of presenting it as a project on a resume.
If you are having trouble including your freelancing work on your resume in a way that genuinely highlights your abilities, use these strategies to help you get your CV in tip-top shape.
Check out this article to be a successful freelancer in any field.
Why Should You Include Your Freelance Work On Your Resume?
If you have broadened your skillset through freelancing, you may be closing doors to possible prospects by failing to mention it on your CV. Working as a freelancer counts as work experience! Therefore, it's important to mention it in your CV
If, on the other hand, freelancing has been your sole source of income, you should surely include it on your resume. If you don't put your freelance tasks on your CV, it will appear that you have a gap in employment, which is never a positive thing in the eyes of future employers.
It's always useful to demonstrate to potential employers what you've been up to until this point, whether you're staying in the freelancing industry long-term or trying to return to the workforce.
Furthermore, if you've been freelancing in between jobs, highlighting your freelance work can demonstrate your versatility and that you didn't have a gap in employment.
Taking on freelance work in between employment demonstrates to companies that you are capable of:
Other skills/talents that are marketable.
Continued to use your skills to get money.
You are not the type of person who simply waits for the next chance to present itself; instead, you create your own.
Continued to put forth the effort to add value to the world around you.
Understands how to run your own company.
Moreover, many freelancers engage in more than one form of freelance job. You might, for example, have knowledge in both web development and web design.
In these circumstances, creating multiple CVs customized to the type of work you're applying for, such as development or design employment, may be helpful.
Each CV should highlight your most relevant experience in this field and be targeted to the sort of employer to whom it is being sent.
Check out the most in-demand technical and soft skills of 2022.
4 Ways To Include Freelance Work On Your Resume
You can put your freelance work on your resume in a few different ways, depending on your previous experience and how long you've been freelancing.
Here are a few options to think about:
Chronological approach
It's usually a good idea to put your most recent work experience at the top of your resume's 'Work' section. Include the name of the company, the dates you worked there, and a brief description of your role and responsibilities.
In a chronological CV, your freelance work experience is listed in reverse chronological order (from most recent to oldest). If you've been working as a freelancer for several years and have had more long-term client contracts in a certain skill rather than picking up one-off assignments here and there for various types of work, this format is ideal.
Expertise
Less experienced freelancers might opt to organize their resumes by skill set. This is also true if you've done a variety of freelance jobs, such as social media, SEO, copywriting, web design, and so on.
Your CV might look something like this if you put your freelancing work according to skill:
List your social media freelance experience, including the name of the customer, dates worked, and major duties.
List your professional history, client names, dates worked, responsibilities, and, if applicable, a link to your work.
List your professional history, client names, dates worked, responsibilities, and, if applicable, a link to your freelance work.
This manner can highlight all of your expertise as a freelancer without misleading potential employers about what you can truly provide.
The Basic
Traditionally, you'd list each job like this: Employer, Title, Years of Experience, and Tasks/Success
You'll want to adjust the layout of your resume to accommodate your freelancing employment when listing it on your resume. Instead, consider: Name of the client, main responsibilities (copywriting, etc. ), dates, and skills/results
Different Combinations
Finally, listing your freelancing job as a combination of work experience and talents can be beneficial.
In this example, you'd put your freelance work experience in reverse chronological order (most recent first), with a separate 'Skills' section to emphasize various types of work you've done previously.
Learn how to create a winning freelance profile in this post.
Tips On: How To Include Freelance Work On Resume?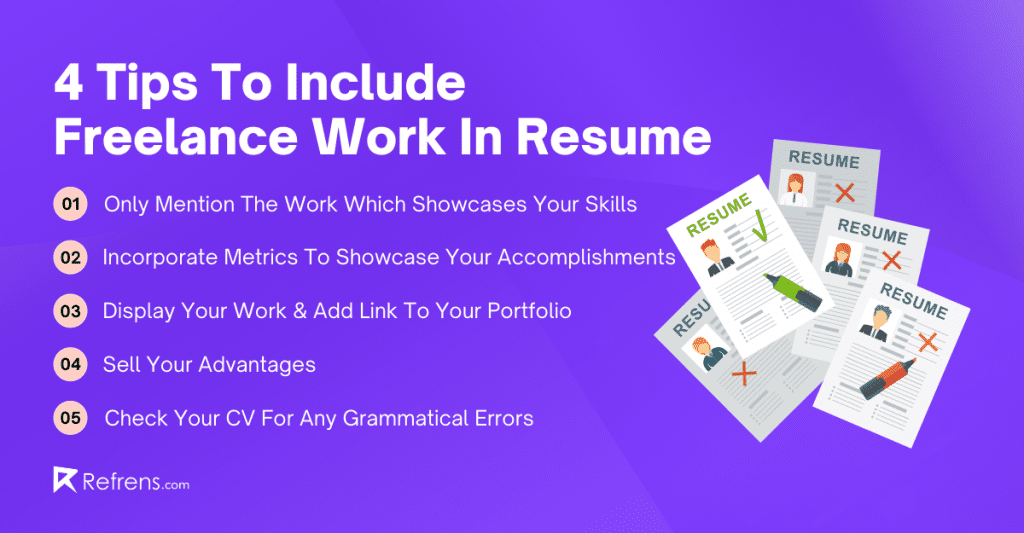 Be Harsh In Your Approach
When they initially start out, many freelancers will take on low-paying assignments. Therefore, it's critical to be harsh when presenting your freelance work on your CV, excluding any work that doesn't properly showcase your skills as a freelancer.
This also applies to any job you did for free for family or friends in the beginning. While this type of work is fantastic to include in your portfolio and on your resume as a new freelancer.
Incorporate Metrics To Demonstrate Your Accomplishments
Add figures and percentages to demonstrate the excellent work you accomplished for a certain client or over a specific time period.
Positive metrics are usually a fantastic addition to your resume and can help you land a job.
As a freelancer, you must allow your work to speak for itself. In your CV, always include a link to your portfolio, which will take potential employers to showcase your best work.
While a great CV is crucial, having a strong portfolio that showcases your skills as a freelancer should be your main goal when looking for new work, as clients will see what you have done firsthand.
The most typical pitfall job candidates fall into is listing "bare" attributes on a CV, such as "motivated and hardworking team player" or "excellent communications abilities." Unfortunately, it adds zero value to your resume.
When outlining your strengths, consider narrating a story. Consider how a specific ability benefitted you in your previous employment and try to reduce it into one or two phrases. Backing up your claims boosts their value significantly and convinces the recruiter that you aren't just attempting to make yourself look better than you are.
Check Your CV For Grammatical Errors
Although this may seem like a no-brainer, you'd be amazed how many CVs contain spelling or grammatical problems.
Always double-check your resumes for errors. Spelling errors indicate to the recruiter that you did not take the extra five to ten minutes to double-check what you submitted. And, at least in the eyes of the recruiter, if you're not willing to do that, you definitely don't deserve a chance at the job or contract.
What To Put On A Freelance Resume?
When it comes to mentioning freelance work on your resume, it's a little different than listing any other job.
There are three popular ways to list freelancing work on your resume:
Include only projects that you worked on for at least three months
To save space and not make a long 10-page resume, group any tiny projects together as one job
List everything you've worked on in detail (try to summarize all as, this will take up a lot of room, but it will demonstrate that you've done a lot of good work).
Once you've decided which projects to highlight, your freelancing postings should include all key information, such as:
Clients you've worked with – Include the organization's name, geographic location, don't include any confidential information this might result in losing trust in your future work.
Projects you've accomplished – Make it a quick summary of all your freelance work accomplishments, include the key points in it, including the skills you have used, and don't forget to mention your freelance portfolio website if any to link in it.
Outcomes you've seen as a result of your efforts – show how the work done has accomplished success in the organization and how it aided their vision. Don't mention how much you charge for the project. Take this section only as an opportunity to highlight your results.
Including freelance work on your resume provides you with yet another opportunity to market yourself, so make sure to include any pertinent information that will help you do so.
Conclusion
Including freelance work on your resume will only serve to increase an employer's understanding of your worth. You may combine your freelancing work and distinguish out from other applicants and even boost your freelance customers with only a few modifications.
Follow the above-mentioned format and think about what you've done for your client. You'll be astonished at how much value you can contribute by demonstrating that you've not just worked for yourself, but that you've done it successfully.
Moreover, showing off your accomplishments will only increase your versatility.
Additionally, use the Refrens platform to generate your freelance resume and exhibit your freelance work to thousands of agencies and businesses.