As a student, you'd always want your cheat sheet, that small piece of paper that you'd bring to the exam hall. Right? Or maybe always on the lookout for lecturers who can provide last-minute tips and methods to help you ace your exams. Moreover, many students would also run behind lecturers to ask them must-know questions for examinations.
Similarly, we've put together a list of freelancing tips, suggestions, and must-know information to help you succeed with freelancing as a side hustle as a student.
A few pointers to help you succeed as a student freelancer
Don't sit around waiting for clients to come to you; make contact with them on your own
Freelancing isn't a school project where you'll be spoon-fed all the details. You must embark on this expedition alone and obtain all necessary information. Instead of setting up your freelancer profile and waiting for someone to contact you, you can do that. Get out of your secure zone and look for new opportunities to jumpstart your career.
Testimonials are pretty powerful; make sure some of them are on your website or blog
Testimonials are critical for any firm, regardless of its industry. Once you've finished your task, ask your client for testimonials; this will help your profile become more powerful and believable to new clients.
Check out the ways how you can get feedback from clients.
If you refuse to work, be courteous. It's crucial to have a good reputation
Clients may be hesitant to give you the business because you are a newcomer, and the harsh reality is that almost everyone prefers someone with experience. As a result, because you're new to this, try to look at rejection in a positive light. Ask them why they think you are not suitable for the project instead of taking any other steps that will be harmful.
Permanently save a copy of your work
It's usually a good idea to save a copy of your work for discussing it with other potential clients later. They'd get a sense of your work and how passionate or profound it is. Please save it to Google Drive and show them your work anytime they ask.
Since this isn't any other extracurricular activity, you'd be doing. Freelancing is a side job to supplement your income or learn new skills. Don't try to multitask by doing your academics at the same time. Try to give it your all to earn the most money. Consider this as a way to make money and as a foundation for your future resume. As a result, work on the side as your schedule allows.
Make sure you have strong interpersonal skills
Starting in the workforce, you must have strong interpersonal skills to communicate effectively, engage, and collaborate with individuals and groups. When you speak up with a client, try to develop them and learn from them. Please pay particular attention to your behavior and how others perceive or react to it whenever you're in a group setting or a circumstance that requires conversation, emotion, decisions, or human interaction.
Learn the soft-skills that every freelancer need to develop in this blog.
As soon as you get done with the work, send invoices
Invoices play a critical role in ensuring that payments are made quickly and accurately. Sending an invoice will give your job a more professional and reputable appearance.
Try out the free invoice generator and get your invoice problem solved.
Never be afraid to speak openly about money
You may be afraid, nervous, or unsure about how much to charge for your services. We recommend that you start by looking into how much different people charge, what other freelancers price, and how much time and work you'll require. Try to include everything in your fees and then quote them your costs. It's OK to be a little cocky about your price because you'll work towards it.
Learn how to price for your first-time clients.
Preparation For A Successful Freelancing Career As A Student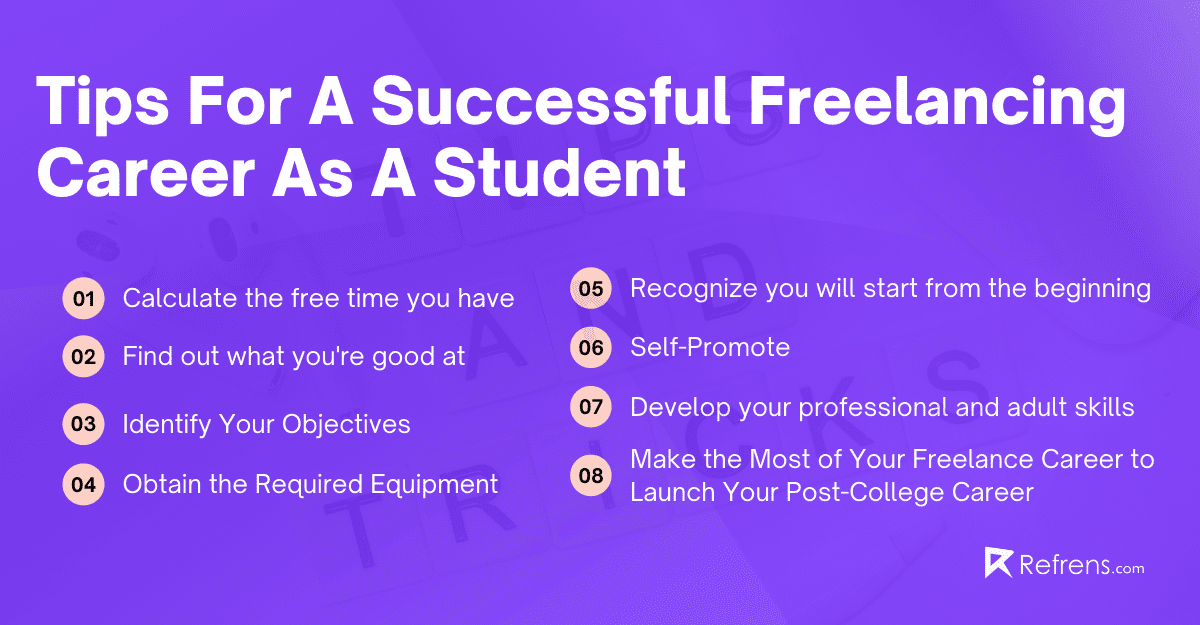 Here are a few things to think about first and some things you may do to set yourself up for success.
Calculate how much free time you have
A college student's life is hectic. You already have a lot on your plate with classes, laboratories, papers, examinations, presentations, and other extracurricular activities. Adding freelancing to the mix will only increase your workload.
As a freelancer, you'll benefit from a commitment to weekends and holidays, but prioritization and productivity are essential regardless of when you work. Because you're a student, your schooling should take first, but you'll need to figure out how to make more time in your schedule to freelance. You may organize your freelancing work by the deadline, pay, research/planning/setup, expected completion time, and other criteria.
Learn how to manage time as a freelancer.
Find out what you're good at
Your freelance side gig doesn't need to be related to your degree. Freelancing options can fall into one of three categories: something you're enthusiastic about, knowledgeable or experienced in, or something in high demand.
You can work your way through a plethora of specialized niches. Stick to what you know best if you want to succeed, especially initially, but don't be afraid to go out. College is the time to try different things to figure out what you want to accomplish with your life.
Check out the most in demand skills as a freelancer.
What are your goals for freelancing as a student? More cash? Yes, of course. Experience? A plus is always a plus. But what else do you hope to get out of this? Are you seeking part-time work that will lead to a full-time position? Do you want to give a field a try before committing? Will you continue to work as a freelancer after graduation?
These are all excellent questions to ponder before and during your freelance career. The answers should not determine whether you do it, but they should provide direction and purpose to your actions.
Obtain the Required Equipment
What does it take to be a successful freelancer? A computer and reliable internet access should go without saying for most people, but what more do you need?
Of course, that depends on the field in which you work. For some, that's all they require, and the rest can be done using the internet. Graphic designers, for example, may want the most up-to-date software packages, while photographers will need a good camera, lighting, and other equipment.
Learn what you'll need ahead of time and get to know these tools. For many people, freelancing is a side gig, but that doesn't make it less crucial in terms of strategy, preparation, professionalism, and time management.
Recognize that you will have to start from the beginning
For many people, this is a difficult pill to swallow. It would be best to begin at the entry-level position, like with most jobs for 17 years old, and accept it and go forward. Thankfully, moving up the freelance food chain is easier and faster than moving up the corporate food chain.
It is critical to continue developing your talents and improving your services and presentation. The more freelancing you do, the more you'll learn about how things are done, what you should and shouldn't do, etc. It's usually a good idea to seek advice and assistance from other freelancers.
After working for a time, you should put together a portfolio of your most significant work to show your abilities. You can also include any relevant school tasks, especially if you are just getting started.
Creating a personalized website or blog and engaging on social media are other excellent ways to highlight previous projects and look for new opportunities. Today, many freelancers utilize social media sites like Twitter and Facebook to keep up with industry news and identify new possibilities.
Develop your professional and adult skills
Freelancing as a student can assist you in developing essential workplace skills. Deadlines, just as in school, are critical, as are promptness and efficiency. Similarly, freelancing necessitates collaboration with a diverse group of people. While you may already be practicing these abilities in school, freelancing will help you polish them in a more professional environment.
As a self-employed, you will receive excellent experience dealing directly with clients and a range of issues as they arise. You will also have a better understanding of freelance contracts and taxes.
Make the Most of Your Freelance Career to Launch Your Post-College Career
Since freelancing as a student is legitimate employment, don't be afraid to list it on your resume and emphasize it as a key plus in job interviews once you've graduated. Use the experience you've gained from your previous jobs to your advantage! Be sure of yourself as you enter the employment market. You'll be a step ahead of your classmates in terms of experience.
Best Jobs For Student Freelancers
Online Tutor/ Teacher
Website Developer
Graphic Designer
Online Marketer
Content/Blog Writer
Translator
Freelance Editor
Tourist Guide
Data Entry
The Advantages of Working as a Freelancer While in College
There are numerous advantages to working as a freelancer while in college. Having financial freedom with your disposable income, getting real-world experience rather than internships and odd jobs around campus, working for yourself and having control over your schedule, and networking with industry professionals and other young hustlers can set yourself apart and get ahead of your peers.
Financial independence! Earning money while still in school allows you to begin managing your finances before you leave the nest. You'll be able to pay off your student loans, put money toward rent, pay for ongoing bills or a study abroad program, or even start saving for future purchases once you have your income.
Work Experience in the Real World
Nothing is more beneficial than gaining real-world experience. Your college classes and internship experiences will only get you so far, but the working knowledge will set you apart significantly when you enter the workforce.
You'll have a resume full of relevant work experience and a portfolio full of exemplary work. These are the kinds of learning chances that aren't available in the classroom.
You'll gain valuable professional experience while doing something you enjoy more significantly. You can start monetizing your hobbies and interests. There will be no more odd jobs on campus; you will be able to do what you want.
Opportunities for Post-Graduate Networking
You can connect and communicate with the other hustlers on the marketplace using Refrens. You'll also be able to network with students on and off-campus and industry professionals, startup entrepreneurs, and residents. You'll find yourself working on projects with new contacts created through Refrens and discovering new and exciting job opportunities through the individuals you meet.
Check out how you can get better projects via networking.
Summing Up The Cheat Sheet
These freelancing tips for students will undoubtedly assist you in overcoming the day-to-day problems of running a freelance business, from obtaining new work to managing your finances.
If you're still unsure about starting freelancing as a student, let us know in the comments section.