For many freelancers, total autonomy over their work schedule is both a benefit and a challenge. While you may have greater freedom throughout the week, many freelancers end up working significantly more hours than they did at their 9-5 employment. Weekends, nights, and even vacations may quickly turn into more time spent working.
Besides, we've all been there, working 60+ hour weeks and declining social invitations in order to keep working for higher-paying clients. While the hustle is genuine, an unhealthy dedication to our work is certainly not the greatest strategy.
Moreover, work creep may not seem like a big deal, but it can quickly affect every aspect of your life. It's possible that your friends and partners will tire of competing with your clientele. You may be unable to sleep due to the constant maelstrom of work-related stressors in your mind.
Hence to avoid these common freelance mistakes, use the freelancer-approved ideas below to live your best self-employed life and excel in work-life balance as a freelancer.
Whether you're struggling to strike a good work-life balance while starting as a freelancer or simply want to find new methods to keep your sanity as someone who works from home.
How To Strike A Work-Life Balance As A Freelancer?
1. Unplug during the off hours
Smartphones are technological marvels that have generated the feeling of being "always-on," even when resting at home or spending time with friends. Even when you're fully immersed in your current scenario, every ping or buzz sends your hand crawling toward your pocket. It can be difficult to know when to stop working when you're in charge of your own schedule.
As a result, establish particular work hours over the week to have greater independence and control. Once you've established these clear boundaries, try your best to stick to them. Emails, customer messages, and "just one short thing" assignments can all be saved for the next working day.
You'll be less stressed and happy at the workplace. And you are able to enjoy your free time.
2. Pursue your passions
Free time should be more than just a break from work. You can lose your edge and forget why you wanted to work for yourself in the first place if you don't take enough time away from work.
Instead, use this time to take a deep breath.
Moreover, Fill your free time with activities that make you happy and make you feel better. Regular massages, time spending time with family, pursuing a hobby, or simply sitting in silence could all be examples of this. These activities may appear frivolous, yet they can help you achieve greater success at work.
3. Don't forget to take care of yourself
Have you ever gone to bed after shutting off your computer only to realize you hadn't left the house all day? I'm sure I have. It's easy to get stuck in a work-focused rut when you solely deal with work-from-home gigs. This is harmful to your health and sanity, as well as your capacity to focus and perform.
Self-care does not have to be difficult or time-consuming.
Instead, incorporate minor things into your daily routine. In the evening, go for a long stroll with your dog or watch a yoga video on YouTube. Take lunch outside on your terrace. You can learn a new skill like sketching or calligraphy. Take a few seconds to re-energize yourself and forget about your work stress.
Also, don't forget to drink plenty of water while you're at it! Although coffee may appear to be your greatest friend, regular hydration will boost your awareness and overall health.
4. Keep in mind that saying "NO" is perfectly acceptable
It's difficult to say no to money-making chances when your income is based on work-from-home online gigs. Taking on too much work, on the other hand, can lead to increased stress and the possibility of substandard work, so remind yourself that it's fine to say no to jobs that don't match your requirements or timetable. You won't feel like you're always playing catch-up, and you'll have a better working relationship.
5. Create interactions that are purposeful
It's easy to feel lonely as a freelancer, even if you only do work-from-home projects part-time. As you don't have coworkers to rely on for regular human connection, make a point of cultivating relationships.
Make connections with other freelancers in your region or online through a group. Once a week, rent a coworking space to change things up and meet new people. At the very least, call your mother or best friend on a regular basis to meet your social demands while also safeguarding your mental health.
Ways To Compensate For Lack Of Social Life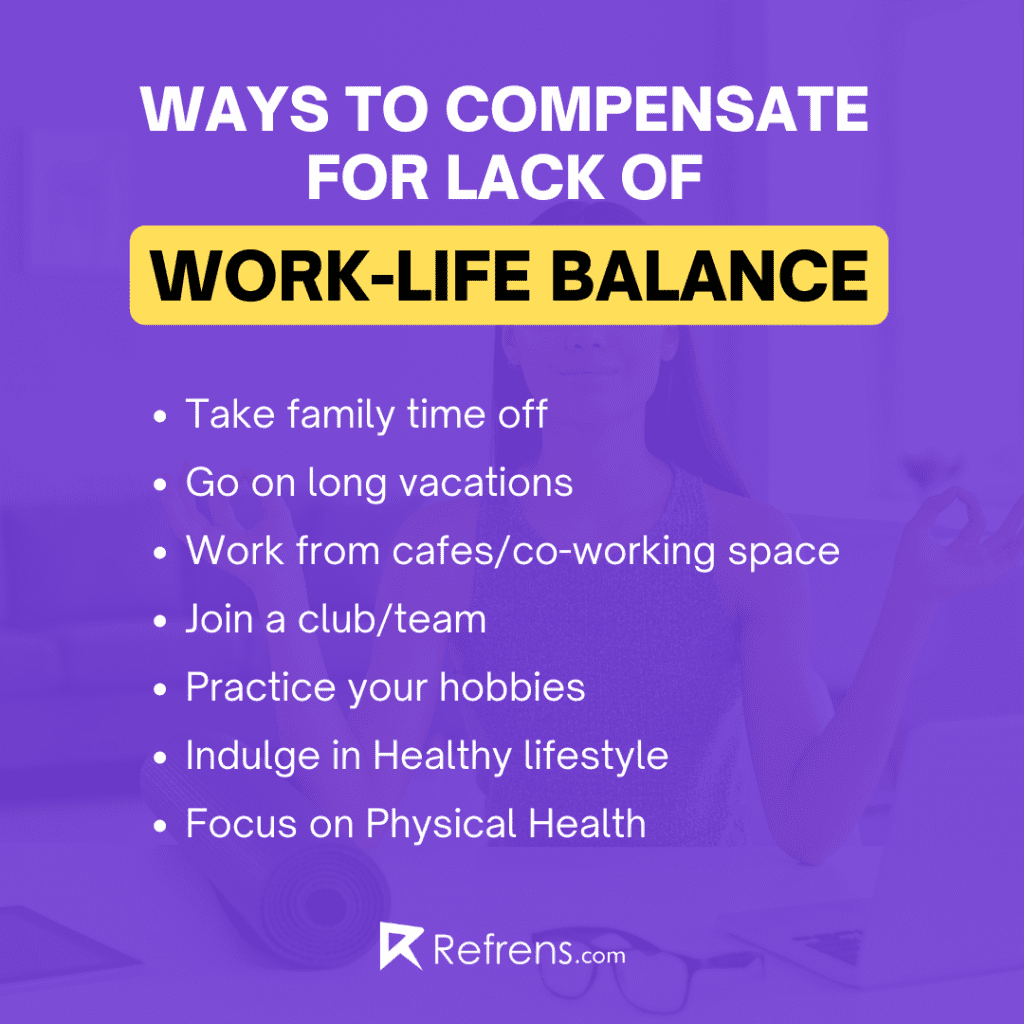 1. Make space for time off in your schedule
With an irregular working timetable, you often forget to mark time off for friends and family. Try bringing regularity in your working schedule. Since, as a freelancer, you have various roles and responsibilities.
Moreover, you might not always want to refer to the timetable when wanting to see people, so make sure to allocate a specific time period for the same. 
Honestly, once you get busy with work, time will pass away quickly. Taking a step and making sure that every week you dedicate one day to meeting friends, or having Friday night dinner with family, will help you stick to your commitment. Otherwise, you will find yourself making lame excuses and procrastinating plans related to your social life. 
2. Go on long vacations
Taking a break once a year, and dedicating your time fully to your family or friends is like a dream. Instead of checking your mail every 5 minutes or attending calls in between family time, a real vacation ensures stress-free time. Picking a date will prove to be difficult, considering the amount of work you have. However, as a freelancer, you have the flexibility of allowing yourself vacation days during the year.
3. Work from cafes/co-working space
Instead of working from an isolated corner of your home, go out there and start working from cafes or from a co-working space. It helps tremendously. You can find other freelancers and make friends. It provides you with a lively environment. You do not miss spending time in the office or having amazing co-workers around. Being amongst the people will make you feel comfortable in general social situations. Read our blog to decide where to work based on your requirements.
4. Be a part of a team/club
Through your transition into the freelancer lifestyle, enrolling in a local sports team or a gym and playing once a week or periodically triathlon training. You get to interact with various kinds of people and share their energy. Feeling a different vibe can help you refresh too. Similarly, to be amongst people, you can join a book club or art club, or any sort of club of your interest. It is not necessary for you to hang out all the time with your acquaintances from there. You will get to see similar faces every once in a while and can eventually develop friendships for the long term too. Social interactions are great for building connections. 
A pro tip from us – as you have work timing flexibility, try to schedule your workouts at odd times. Doing this will give you a chance to meet other similar kinds of people who work from home or have odd work timings. The same goes with having meals at restaurants, try to go during off-peak hours. 
Start making strategic plans. Join clubs or meet your clients over coffee or pizza. Speaking out loud to other humans is essential for mental health. Following the mentioned tips could help you feel the liveliness and joy again. Remember life is also about prioritizing family and celebrating your friendships. You do not want your loved ones to forget what your face looks like.
Conclusion
Do you find yourself hustling amongst the work? In the race of filling in multiple roles simultaneously, managing work-life balance as a freelancer is quite difficult.
Full-time workers have a regular work schedule to maintain, and their office space is where most of the socializing happens. As a freelancer, it gets very difficult to maintain a healthy social life without having a proper working schedule. Extra efforts are needed from your side to approach other people and spend quality time with them.
Maintaining it, on the other hand, will help you improve your freelance skills and build a strong personal brand.
Freelancers are seen going through loneliness and facing isolation. While many prefer that lifestyle of embracing solitude, others feel bugged because of the reduced or lack of social life. We crave a dose of our loved ones every once in a while. 
Having games night, movie time, dinner dates, or sipping a cup of coffee over a chit-chat session seems far-fetched now. We all love meeting our friends and loved ones. In the article above, hope we outlined the ways in which you can manage your time for social life amidst being buried under that workload.