It has never been easy to hire freelancers for the growth of your business. For years we have seen a huge rise in the number of independent workers in India and across the globe.
With the rise in freelance workers, there are a lot of online platforms to hire experienced freelancers for work. Additionally, rather than hiring full-time employees for your organization, hire freelancers.
It would help you with the actual skills that you need and when you need them. When the project completes, you can part ways with the freelancers saving the cost of the company.
However, you might know that working with freelancers is not as easy as it seems to be. What are the main challenges you face while working with freelancers? Read the blog to know the answer. Also, we will discuss various tools to manage freelancers at work.
Top Challenges When Managing Freelancers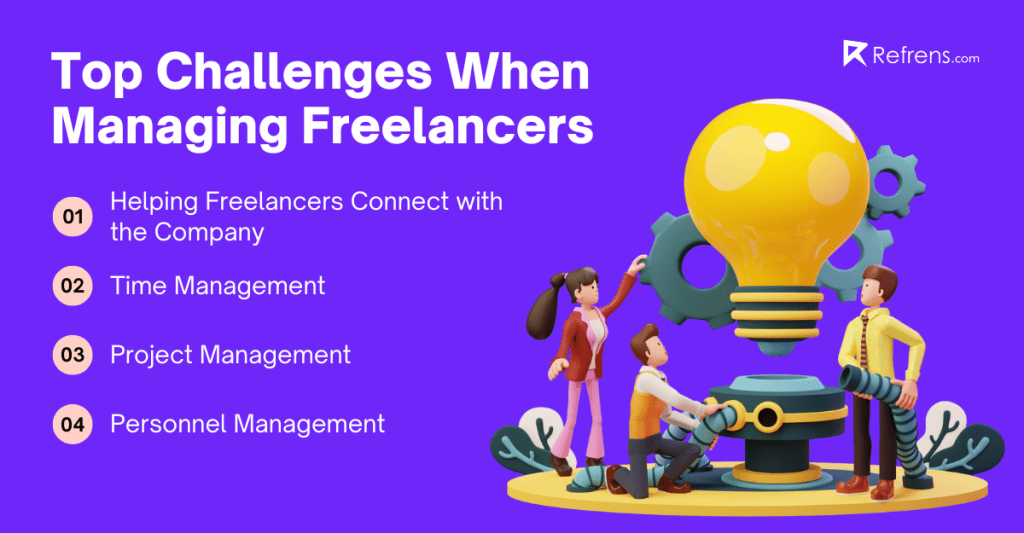 1. Helping Freelancers Connect with the Company
If you are having freelancers in your company or you are looking to hire freelancers, it offers an obvious challenge of managing them in a way they feel connected to the company's standards and mission. If you are not using a proper communication channel, important cues may be missed. Communication channels are an effective way of sharing important information and internal documents.
2. Time Management
While it is amazing how companies can hire a wider net with freelancing, it is always a greater challenge to manage time with freelancers. An issue that can be resolved within 15 mins of a quick meeting in the office setting, could even take 2 to 3 days working with the freelancers.
Also, Read: Best free time tracking software for freelancers.
3. Project Management
You already know that projects have a lot of moving components that need to be monitored and managed, and including independent workers in the mix just makes things more challenging.
It's possible that you lack the necessary freelancer management tools to handle this complexity well. Even if you have, there's a chance that your program won't be able to handle the difficulties brought on by hiring freelance workers.
4. Personnel Management
Even if a coworker isn't acting entirely honestly, you can tell when they aren't doing their share of the work when you're at the office. Now, if this occurs with a freelancing pool, you might not be aware of this until it causes a significant issue and delays a project.
Fortunately, there are solutions you can utilize to simplify team administration and speed up project progress as remote work becomes more and more prevalent.
Also Read: How to align freelancers with company's goals
Freelance Management Software That Will Change the Way You Work
1. UBS
UBS is simple, easy to access, and an inexpensive method to pay your freelance workers. If you are hiring freelancers on a fixed monthly payment basis, or you are paying your freelancers on a daily basis, then you can consider UBS Payroll software. This is software that keeps track of all the payments and makes accurate payments on time.
2. Due
Due is a payment processing application that targets the people who are interested in receiving payments. However, you can also make payments with it. While working with multiple payment options, this software also accepts international payments and multi-currency which is useful if you are working with freelancers around the world.
3. Dwolla
For an easy method of paying your employees, you can go with Dwolla. Dwolla has a simple transfer platform that you can set up and start using right away, in addition to a full API that you can use to link your app to the banking system. You can think of Dwolla as the simpler alternative to PayPal.
Best Freelancer Productivity Tools
1. Cacoo
Cacoo is a cloud-based diagram-making software that is the same as the cloud-based, collaboration-oriented version of Microsoft's Visio. It is one of the best productivity tools for freelancers. It helps you to work with your remote freelance workers to collaboratively draw diagrams and art visuals, or use various charts templates such as comparison chart, survey chart and sankey chart for your projects.
2. Asana
Asana is a productivity management tool that helps you to track and manage the people who are working with you. This tool will help you save time, reduce distractions, and help your team members work more productively. Make it simple for your team to obtain everything they need to put ideas into action more quickly by organizing all of your team's projects and tasks, sharing files, and leaving comments and feedback in one place.
3. Trello
Trello is the best productivity tool that is a well-liked application for tracking, organizing, and sharing everything from straightforward to-do lists to significant project management activities. Dragging cards onto a Trello board is all it takes to get going. Cards can stand in for individual jobs, each with its own priority and due dates. However, they can also be longer checklists with files and images attached as well as hyperlinks leading to somewhere else. Trello includes a ton of innovative features that make it user-friendly in addition to a ton of collaborative capabilities to help you manage your tasks.
Also Read: Best invoicing and billing software
4. Scalefusion
Scalefusion is an android mobile device management tool. It can be a super helpful tool when you are your boss, bringing your own device (BYOD) for work. In case you lose your phone or laptop, Scalefusion can help you locate it using its GPS tracking capabilities.
If you feel the contents of your phone are sensitive and need to protect it from falling into the wrong hands, Scalefusion can remotely lock and wipe the mobile device's data instantly. As a part of Scalefusion, you can create a VPN (virtual private connection) to securely and anonymously surf the internet. You can also access a restricted website that is important for work but may be deemed incorrect by an ISP or others.
Also Read: Best CRM for freelancers
Best Freelance Project Management Tools
1. UBS PMS
UBS PMS is a project management tool that helps you track the time of your employees, manage their activities, handle payroll, and more. This software also provides you with the Kanban board that can help your freelancers manage their projects. It can be considered to be a complex employee management software for the majority of companies out there.
You can monitor what each individual is doing and the task's progress using the dashboard. Each task is recorded on its own card, and you may use the card to keep track of who is responsible for it, attach pertinent files, and add comments. They are also specifically used as project management software. You can also set the priority of the tasks for your freelancers to see which task they should complete on priority.
2. Zoho Projects
Zoho Projects is a cloud-based project management tool. It enables precise task preparation and execution. With Projects, you can conveniently assign tasks, communicate with coworkers and customers, stay informed of any project changes, produce precise work progress notifications, and complete projects on time every time.
Zoho Projects is a complete project management tool that can be customized and includes tools like Gantt charts, Blueprints, and Time Sheets to meet the demands of companies of various sizes and sectors.
3. Jira
Jira is a project management tool built by Atlassian. Due to its bug tracking, problem tracking, and other capabilities, it is among the best project management software for small, medium-sized, and large enterprises.
Also Read: How to manage your time as a freelancer?
Manage your Freelancers with the Best Freelancer Management Tools
Although working with remote freelancers can greatly increase the capacity of your company, they can also create significant workflow and administrative problems.
However, working with your freelancing staff will go much more smoothly if you make use of the freelancer management tools we mentioned above, which will make it simpler and faster for you to accomplish your business objectives.
Check out this articles for Top Business Management Software