Clients, who try to teach you how to do the job they pay for can be annoying? Worse, they would take a long time to pay for the project that's long done? Or perhaps, they ghost you after you send them your hard-filled work? Or the client may drive you insane with last-minute requests or modifications.
As a freelancer, have you faced unique freelance challenges that you would not have faced as an employee?
However, on the flip side, having your own freelancing business has several advantages. Your working hours are entirely within your control, and you may work in your pajamas all day and even go to the dentist in the afternoon.
Therefore, isn't it true that freelancing provides you with anything you desire? What is there not to like?
Though, there has to be some downside, just like every coin. While these benefits are unquestionably appealing, being your boss comes with its own set of difficulties. It's challenging to stay motivated when you don't have teammates or a boss to report your work. It can be lonely when your only contact with clients is a phone call or an online video session.
Here Are Five Of The Most Common Freelance Challenges That Freelancers Confront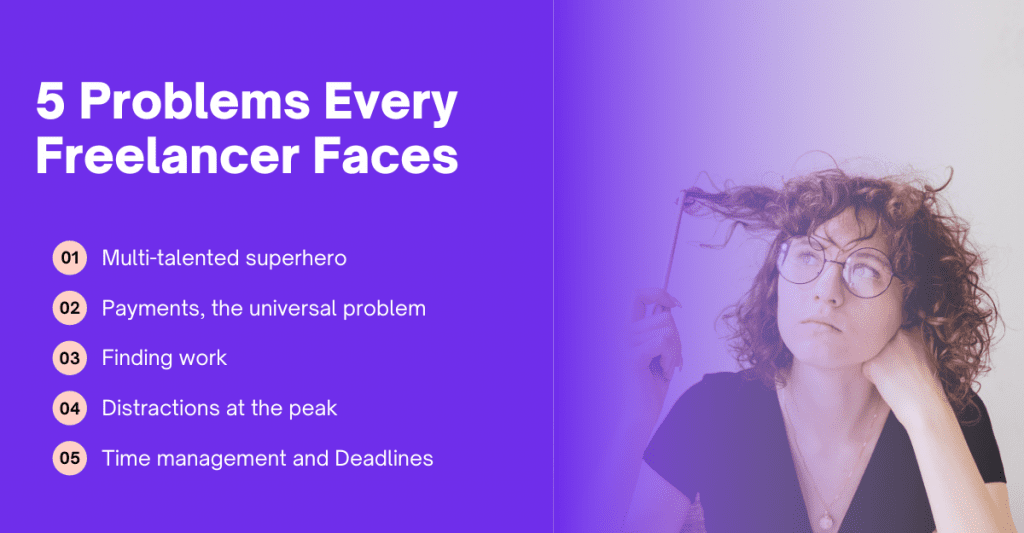 1. Multi-Talented Superhero
If you think freelancers have it easy because "you get to select what you want to do!" think again.
Freelancers spend most of their time doing things they don't want to. As a freelancer, you must handle all aspects of your business on your own, from finding work to interacting with clients, chasing them for payments, and managing your money.
Moreover, you're the marketing intern, the brand manager, and the finance guy all rolled into one person! While being every department owner and employee is exceptionally satisfying, you occasionally find yourself wishing for a single, concentrated role!
Check out the 10 strategic roles of a freelancer.
How to deal with it
Make a daily to-do list and prepare it at the end of the day to know what you need to do the next day. Making a to-do list will also assist you in better organizing yourself. You can also use Asana or Google Calendar to keep your work in sync.
Get inspired with how an ideal day schedule for freelancer looks like.
2. Payments, The Universal Problem
Payments are a universal issue for all freelancers around the world. Whether it's late payments, no payments, or begging for discounts, Payments have to be a problem.
There are three types of clients:
Sending numerous reminders
Some clients may not send payments for months, and when you contact them, the client says it will be done tomorrow, which is a cliché dialogue. Since elementary school, we've listened to it when we never completed any tasks or homework on time. Furthermore, even after providing numerous reminders, some clients refuse to pay. Check out how to collect money from clients who don't pay.
Then there's the client who sneaks into your communications and asks for a 10% discount while guaranteeing you your next job, which never materializes. Payment has always been and continues to be a difficulty for many freelancers.
Learn when to offer early payment discounts to clients.
How to deal with it:
Try using Refrens' invoicing software, which allows you to send them invoices as proof of your work and payment reminders.
You can also collect through milestone payments; for example, you will receive a certain amount of money if you reach a particular milestone. A milestone payment system will ensure that money is constantly flowing to you.
3. Finding Work
A freelancer must be on the lookout for work at all times. You may have more work than you can deliver at times, and you may be almost idle at others.
Maintaining a steady stream of employment is an ongoing problem for any freelancer. Furthermore, obtaining excellent work and dependable clients consistently can be difficult.
Check out the non-conventional ways to find leads.
How to deal with it:
Working with several clients is the most distinctive approach to ensuring a steady stream of projects. Working with several clients would guarantee regular work and allow you to choose from various tasks to improve your freelance talents.
You can also network with other freelancers and influential people in the business. Moreover, you can join online communities where you can promote your profile and locate more employment opportunities.
Learn more about how to create a powerful inner circle as a freelancer.
4. Distractions At The Peak
It's not that people working in offices aren't distracted. Still, the difficulty is significantly more significant when your house is your office!
Check out the best place for a freelancer to work from.
Moreover, if you decide to work from home, invest in some high-quality headphones that will allow you to tune out the rest of the world, whether a couple of hours of your favorite tracks or low-key background music.
Moreover, create a playlist of whatever music helps you stay focused.
5. Time management and Deadlines
You'll rapidly lose clients if following deadlines isn't a priority for you. Don't mistake putting off work or putting off projects till the last minute.
How to deal with it:
Make a timetable that allows you to work efficiently and effectively, so you may be less stressed and perform a better job. Remember to take pauses, as these are essential for staying rejuvenated.
Consider utilizing an app like eggtimer to help you plan outbreaks and ensure they conclude on time. This app is fantastic since it allows you to specify exactly how long you want your timer to run.
If you're looking for an online planner to help you stay on track with your schedule and meet your deadlines, the WeekPlan app is a terrific option. A Pomodoro timer is also there in Week Plan.
Takeaway
There isn't a single personality type that creates the best freelancer. After all, there are many freelancers out there, and most of them can relate to the job's varied obstacles.
We hope that these pointers will assist you in addressing some of the most pressing issues and make you keep going strong!
Are you ready to overcome these FREELANCE CHALLENGES?