Most firms have a sales team that is responsible for bringing in new Quality leads. You, as a freelancer, must be that sales team.
If you are not a natural salesperson, this will be the most difficult aspect of the job. You must locate appropriate leads, choose how to contact them, and finally get the contract.
Moreover, the most difficult aspect of freelancing is producing a continuous stream of qualified leads and getting high-paying clients who value what you do, are eager to get started, and are willing to pay your full salary.
Every freelancer has experienced the feast and famine cycle at some point in their career. You know the drill: everything comes at once, there are so many deadlines that you become buried in work.
But then everything comes to a halt, and you're left with nothing to do. You must discover how to produce new freelance leads to avoid this.
Fortunately, generating freelance leads is not that difficult. All you need is a little practice, ingenuity, and perseverance. This post will teach you how to generate fresh freelance leads and gain more clients for your freelance business.
What Is The Concept Of Freelance Lead Generation?
Simply defined, freelancing lead generation is the process of recruiting your potential clients and enticing them to hire you. These prospecting list of customers are referred to as leads.
You are the most knowledgeable about your potential clientele. And you're surely aware that you can find them in a variety of ways.
Whether you do it through job boards, cold emails or phone calls, networking events, or social media, the goal is to find the strategy that works for you and then concentrate on it.
Moreover, you must identify all of your potential customers and then reduce the list down to those who are worth working with.
Furthermore, completing this stage will ensure that your freelance portfolio includes clients who are relevantly targeted, as well as future clients who will appreciate you and your work.
Where Can You Find Freelancing Leads?
The lack of a guaranteed income is a significant disadvantage of freelancing. Many freelancers are concerned about not earning enough money on a daily basis.
Even those who can pay all of their payments for the month are unsure about the next, let alone producing extra money so that you can finally start saving.
Creating a freelance lead-generating strategy is the greatest approach to steady freelancing revenue.
To do so, you must first learn about numerous freelance lead creation tactics, then test and experiment to locate ones that generate the most freelance leads.
And, while there are numerous methods for generating leads, freelancers must always seek out new ones. Why?
Since the freelance sector is getting increasingly competitive, only those who are creative and consistent in developing new approaches will be able to succeed in any field of freelancing.
11 Strategies For Generating Freelance Leads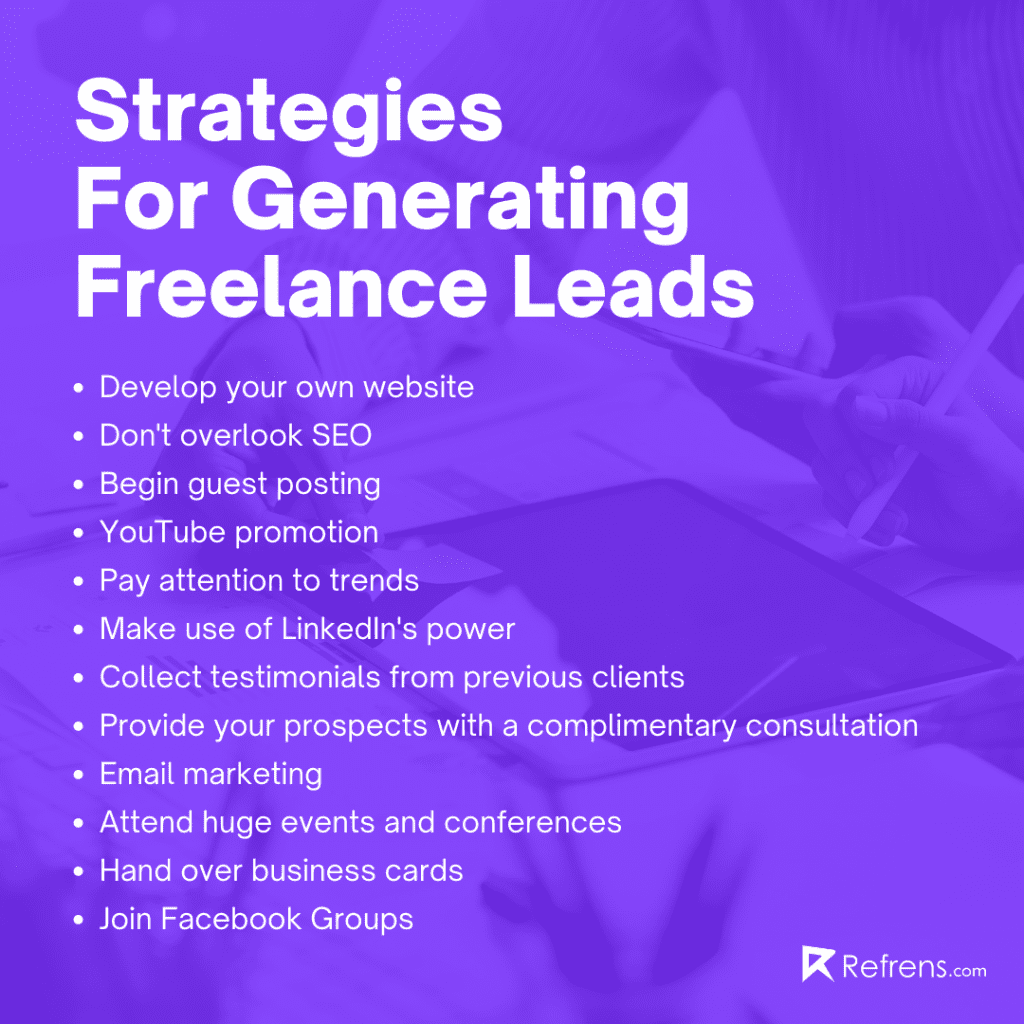 1. Develop your own website
Even if your company just has one person, we live in a time where no firm is complete without a website. A portfolio website will increase your credibility and demonstrate that you are a professional that cares about your reputation.
If you aren't a skilled web designer or don't want to employ a WordPress developer, you can quickly establish a WordPress website and then use WordPress lead generation tactics to attract new clients.
2. Don't overlook SEO
People must first be aware of your existence before they will hire you or join your mailing list. This is when SEO comes in handy.
It is the practice of attracting organic traffic to your website by appearing on the top few pages of search engine results.
Starting a blog, publishing great content on a regular basis, and optimizing it for relevant keywords is the best method to maximize your SEO results. Meanwhile, leverage the power of SEO, which is already being used by freelancing worksites to pull eligible clients on a daily basis.
3. Begin guest posting
In complement to blogging on your own website, provide guest blog pieces to other sites that serve the same market as you.
Guest blogging provides you with exposure, visibility, and access to a whole new pool of qualified leads for your name, brand, and experience.
Just keep in mind that a single guest blog article is unlikely to make a significant difference. When seeking guest blogging opportunities, aim to negotiate a package of three to five posts over time.
4. Pay attention to trends
Keep an eye on Twitter, Facebook, and Google Trends for new and important subjects. Then think about how you might include them in your upcoming blog posts and social media material.
5. YouTube promotion
YouTube is the world's second most popular website, with 1.7 billion unique monthly users. Many people have become popular because they understand how to use YouTube.
In reality, this platform is an excellent place to broaden the reach of your freelance business. You can use it to make and publish informative how-to films that your target audience would find useful.
Such tutorials can benefit your audience while also allowing you to market yourself and your talents in an indirect but effective manner.
6. Make the most of LinkedIn's capabilities.
LinkedIn is a social networking site for professionals. Make the most of it in your freelancing lead generation plan by creating a profile that displays your portfolio and expertise, including selecting a professional-looking photo.
You can also begin publishing updates and joining LinkedIn groups relevant to your niche.
7. Email marketing
Emails aren't extinct. Email marketing allows you to cultivate relationships and persuade prospects that your services are worthwhile and just what they require.
To help your prospects progress through your sales funnel, create an email lists and distribute marketing materials.
8. Collect testimonials from previous clients
True testimonials and reviews generate confidence and trust, as well as inspire prospects to take action when it comes to freelancing lead creation. They will also help you stand out from the crowd.
Testimonials convey a tale; others will see where the client was and where they are now, thanks to you.
9. Provide your prospects with a complimentary consultation
A free consultation is a terrific method for potential clients to see what it's like to work with you.
You may urge them to become your long-term client while showing them how fantastic you are at what you do.
10. Attend huge events and conferences
Local gatherings not only allow you to increase the awareness of your personal brand, but they also allow you to meet a large number of people who may wish to hire you directly.
11. Do you have any business cards?
Business cards from the past. Although it may appear archaic, handing out business cards is one of the most straightforward strategies to increase your freelancing lead generation.
You can use them not only at events and meet-ups, but you can also hand them out to folks you think would make good potential clients wherever you meet them.
12. Join Online Groups On Social Media
Joining Facebook groups or forums can also help you create leads. For example, if someone posts in a group that they need a graphic designer, you can follow up on that lead and approach that client.
Following Up On Your Lead Generating Plan For Freelancers
Any freelancing lead-generating approach should include follow-up on your freelance leads. After writing an email pitch and clicking 'Send,' most of us come to a halt.
Everyone is, in fact, really busy. Things are overlooked or fall through the cracks. While one out of every ten clients may be offended by your follow-up, the majority of them will appreciate your efforts.
In the worst-case situation, your message will be ignored once more, or you may receive a simple 'No.'
It's as easy as creating a new client base to follow up on your freelance leads. Here are some pointers to help you follow up properly:
Make a folder for emails that are awaiting a response. This will assist you in remaining organized and determining when to follow up. You can also use a simple sales CRM to help you keep track of that process.
When someone emails you from their personal or business email address, thank them for their interest and swiftly react to any requests for additional information.
You can also make a separate email folder for project-related correspondence. You'll find the most recent email you sent in this folder if you're waiting for project details.
After a few days, contact those who haven't responded and ask if there is anything you can do to help take the project forward. You'll stay organized while also appearing proactive to prospects and clients this way.
Conclusion
It's not simple to strike the right balance between working for current clients and looking for new ones. You can, however, complete everything on time if you use an effective freelancing lead creation plan.
Just keep in mind that generating freelance leads should be a constant goal, even if you have enough work.
Remember that lead generation works best while you have some time in hand, as transforming a lead into a client, takes time.
Check out how to create freelance leads the old-fashioned way!
Start managing your leads with the lead management software on Refrens.