Being a freelancer has many advantages, but it also has numerous drawbacks. While being your own boss is a dream come true for many people, freelancing can have a negative impact on your mental health.
According to studies, 40 percent of millennials and 53 percent of Gen Z are now self-employed. Being self-employed is more common than ever.
Constant burnout is a key disadvantage of working as a freelancer. As pandemic fatigue adds to job stress, it's more crucial than ever for freelancers to address mental health.
It's not simple to give yourself permission to disconnect. It can make you nervous about missing important assignments or the mound of work you'll have to deal with later.
However, you'll need breaks to balance off the stress and mental exhaustion that comes with working for yourself.
Taking breaks is important in recovering from work stress, and if you can't overcome work stress, this may lead you to become an emotionally unavailable person in your personal life.
Therefore, it's important for you to maintain your work-life balance.
Here are some professional tips on how to create mental health breaks that are effective for you.
Five Warning Signals Of Impending Downfall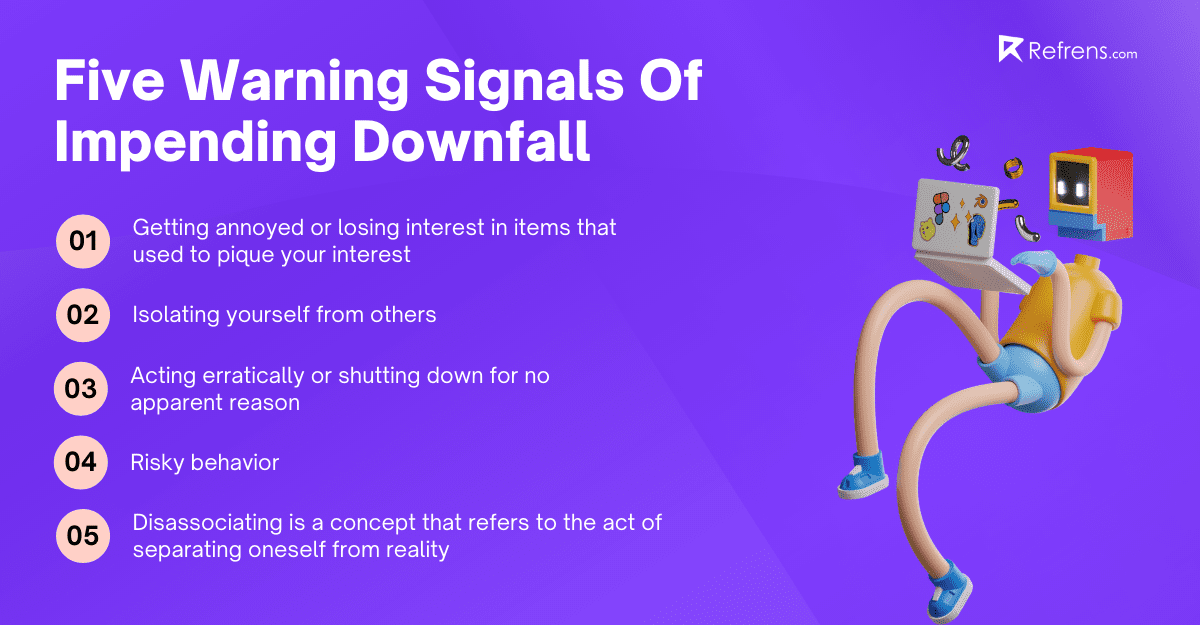 Getting annoyed or losing interest in items that used to pique your interest
Whether the work you used to enjoy is either not getting done or takes longer to complete due to a net loss of interest? It's a warning sign.
Acting erratically or shutting down for no apparent reason
This conduct is most likely related to a mood problem. We're expected to communicate like grownups, not huge babies, at work, whether we're in an office or freelancing.
Isolating yourself from others
This is most likely linked to depression, and because SAD (Seasonal Affective Disorder) is more prevalent in seasons with less light, such as fall and winter, depression can develop over time. When identified, you should not hesitate to refer to a coach, sign a health coaching contract with them and start your sessions to well-being. We can't make people who are isolated want to contact us on the outside; all we can do is offer support and be there for them when they're ready.
Check out how to solve isolation as a freelancer and apply them to fight against them.
Risky behavior
Is a loved one suddenly becoming extremely provocative, borrowing and spending money without the intention of ever repaying it, or unable to sleep? Those are warning indicators of bipolar disorder.
Make an appointment with a psychiatrist and let them diagnose you. If left untreated, it will only become worse.
Disassociating is a concept that refers to the act of separating oneself from reality
We wouldn't go so far as to call disassociating a complete mental break, although it may be for some people.
How To Manage Freelance Mental Health?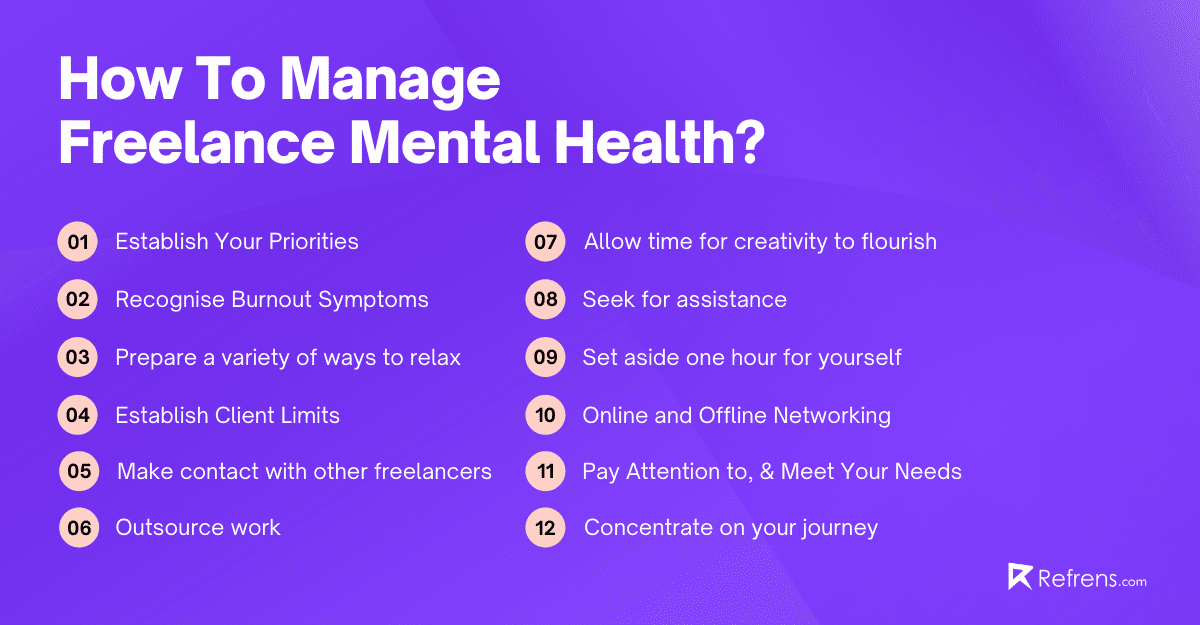 Establish Your Priorities
It's critical to have clear priorities for your personal and professional goals as a freelancer. Because you are self-employed, seeking clients is an important and time-consuming aspect of your profession. The insecurity of your assignments and income generates a tense and insecure atmosphere.
The need to locate paid projects, on the other hand, should not consume every waking and sleeping moment of your life. After all, you had other interests and ambitions in mind when you began your solo trader job path.
Moreover, Make a list of your priorities in order of significance to help you sort them out. This will allow you to concentrate on all of your priorities rather than just the most pressing ones.
Additionally, Set boundaries with your clients and create a schedule that balances work and personal time.
Recognize Burnout Symptoms
Burnout is a syndrome brought on by long periods of high stress. It can cause significant mental, emotional, and physical weariness if left untreated.
Burnout can sneak up on you as a freelance specialist who is constantly exposed to high anxiety levels, affecting your mental health without you even realizing it.
Moreover, it's a chronic mental illness that does not go away on its own.
The first step in preventing and treating the ailment is to recognize the signs and symptoms.
Irritability, chronic tiredness, recurrent sicknesses, having escape thoughts, withdrawing, and disconnecting from others are all signs and symptoms.
It's a chronic disorder that develops over time.
Prepare A Variety of Ways to Relax
As a freelancer, you can take care of your mental health in a variety of ways to avoid it becoming a serious illness.
These methods will assist you with your self-care practices if you work remotely.
When you're working with others, you're in good company. Working from home can be a lonely experience. The COVID-19 epidemic, which has forced people into involuntary isolation owing to public and corporate lockdowns, has made this much more difficult. Isolation, depression, and suicidal ideation may emerge from these limits and limited relationships.
It is critical for you to connect with others as a self-employed person. Talking to other freelancers can help you feel less alone because you can relate to and connect with others who are in similar situations.
Schedule time in your day to facetime or chat with family, friends, and other freelancers if you can't connect in person.
Talking to other people throughout the day, whether it's your family, another sole trader, a neighbor, or a friend, will make you feel more connected to the outside world and less lonely. If your neighborhood does not have any limits on public gatherings, work somewhere other than your home.
Since they provide natural opportunities to engage with and be surrounded by other people, a café, library, park, or other public space might help you feel less isolated.
Are you looking for a place to work as a freelancer but aren't sure where to start? Look over these and begin working on a solution to the problem of isolation from there.
Establish Client Limits
Setting boundaries with your clients is critical when running a freelance business.
Clients frequently think that freelancers are available at all hours of the day or night, on weekdays and weekends. They can establish unrealistic project deadlines or expectations, and if you don't have set working hours, they can violate your personal time.
Set boundaries with your clients at the start of your engagement as part of your healthy workplace wellbeing plan. This involves deciding when you are available to work, talk, text, or respond to emails, as well as when you are not. Establish clear expectations for project notices and deadlines in terms of timing.
When it comes to your work schedule and policies, be transparent and straightforward with your clients from the start so they know when they can and cannot reach you.
Find out why freelancers aren't responding to client calls.
Moreover, Disconnect from your gadgets, social networking pages, emails, and other forms of communication during your personal time so you are not tempted to respond to incoming messages.
You will not only get a better work-life balance by establishing and sticking to a clear working hours plan, but your clients will also learn when they may and cannot connect with you.
Make Contact With Other Freelancers
Connecting with other independent creative workers is critical to your workplace's health. Other freelancers understand how you're feeling and the mental health concerns that come with running your own business because they've faced similar difficulties.
Moreover, you will feel less isolated if you talk to other small business owners since you will realize that you are not alone.
Additionally, you can also brainstorm and assist one another in finding solutions to various scenarios. You'll laugh and support each other if you talk to other freelancers.
Furthermore, You will feel less lonely and alone if you create more opportunities to talk to other creative freelancers.
When You Have The Option, Outsource Work
When you have the option, outsource work. Delegate some of your projects to other contractors if your workload becomes too great for you to handle on your own.
As a freelancer, it's reasonable to expect that you'll have to complete the full project yourself in order to fund your monthly expenses. Taking on too many initiatives, though, might backfire and lead to a mental health catastrophe.
There are a lot of skilled creative freelancers seeking work as well. They are open to working on projects with other freelance professionals. You can accomplish all of your projects on time without burning out by outsourcing some of your duties to other self-employed people.
These freelancers can be found on our platform Refrens, and you can hire the one that best fits your needs.
Allow Time For Your Creativity To Flourish
You surely have many abilities and interests outside of your freelancing employment as someone who works in the creative field.
Making time for such creative pursuits will benefit your mental and physical wellness.
You will be a happier and more calm person if you explore your creativity through hobbies and classes. Stress, despair, and loneliness can all be reduced by engaging in creative hobbies.
They also boost your mood, improve your communication skills, increase your physical health, and help you think less negatively.
During the COVID-19 pandemic, there has been a rise in online workshops and community organizations where people may express their creativity while also taking care of their mental health.
Setting aside time for your creativity on a regular basis will reduce your chances of acquiring serious mental health problems.
If You Require Assistance, Seek It
If not acknowledged and managed, freelancers' mental health can become a serious problem that affects all aspects of their lives. If you're having suicidal thoughts or are experiencing a mental health crisis, don't be afraid to reach out for help.
When you're dealing with mental health issues, there's no shame in getting professional treatment. While mental health issues were addressed publicly previous to COVID-19, the epidemic has highlighted the necessity of caring for your mental as well as your emotional and physical well.
More online and community tools, as well as mental health services, are available to assist remote employees in coping with the loneliness and anxiety that comes with working from home. If you're having trouble with your mental health, seek help from your doctor or a local agency.
Every Day, Set Aside One Hour For Yourself
It is critical for you to take time for yourself every day as a small business owner. When you are not a 9 to 5 office worker, it is easy to get caught up in your job and lose track of time.
However, focusing too much on your work tasks can lead to negative thoughts, worry, despair, weariness, and other signs and symptoms of poor mental health.
It is critical to your physical, emotional, and mental well-being to spend time on yourself and do something for yourself.
You will feel happier, calmer, and less nervous if you set up one hour in your calendar for your freelancer's mental health requirements.
You can devote one hour of your day to yourself in a variety of ways.
Relaxing hobbies include reading, listening to music, painting, and coloring. Taking up a home DIY project or boosting your physical activity by going for a daily walk, joining a fitness class or sports team, or getting a massage or pedicure can all help you feel better mentally. 
Staying inspired and happy throughout the day can be as simple as writing in a daily journal or saying daily affirmations throughout your morning routine. It also enables for self-healing in the privacy of your own personal diary while you work through freelancing issues and emotional strains.
Online and Offline Networking
Networking with other business owners is a terrific method to meet other freelancers with similar aims and work patterns. Networking with other freelancers allows you to come up with fresh ideas, locate new clients or work projects, and talk to other experts about the problems and pleasures of working from home.
It's therapeutic to connect with other freelancing professionals. Everyone who works for themselves faces mental health concerns, including freelancers. Speaking with other experts who understand your emotional and social requirements can make you feel less isolated and anxious.
Recognize, Pay Attention to, and Meet Your Needs
Recognizing the signs and symptoms of poor mental health is one of the most important methods to sustain great mental wellness. When your mental health is in poor shape, your body will show evidence of it, just as it does with physical health.
You can take proactive efforts to decrease the impacts of anxiety and depression before they become critical by recognizing these early signs and symptoms of mental health difficulties. You may start implementing positive routines and behaviors in your life right now to promote optimal mental, emotional, and physical health by taking a proactive approach to good health.
Concentrate On Your Journey
It takes time to build a successful and balanced freelancing profession. To turn your freelance business into a successful and financially advantageous operation, you'll need a lot of time, energy, and effort.
You will encounter numerous advantages and obstacles as an entrepreneur. You choose this job route, regardless of how wonderful or horrible your day is. It's critical that you keep in mind the personal and professional motivations for becoming a freelancer.
Some of the aims of a freelance professional's journey are to be your own boss, have more time for yourself and your family, and work from home whenever you choose. Each goal is equally significant and should not be disregarded on your journey.
Keep a diary where you can record your daily affirmations and goals to assist you maintain good mental health while creating and operating a successful freelancing career. Journals are excellent tools for staying inspired and encouraged throughout your freelance journey, rather than simply at the end.
Conclusion
Freelancing is a dream job for millions of gig economy workers, but it may be taxing on your mental health.
Burnout, anxiety, despair, and loneliness are some of the most prevalent health issues that freelancers face.
Practicing self-care in a conscious and proactive manner will help you maintain good mental health throughout your successful freelancing career.
Furthermore, as a freelancer, you have a variety of duties to keep an eye on and do on a regular basis. Use Refrens' tools to make your daily work easier. For instance, you may utilise an invoice generator to create invoices, which will solve your problem of seeming professional and will also send payment reminders to clients, reducing the hassle of tracking down clients. Even if you want to hire a freelancer to subcontract your assignment, you may utilize Refrens to find freelancers in a variety of fields.
As a result, implementing this will assist you in reducing your workload, balancing your life, and providing mental peace.