As a freelancer or business person, your primary aim has always been delivering quality work and achieving customer satisfaction. However, if you look from a broader perspective enhancing the overall client experience is as necessary. Clients are the most important aspect of any business, and therefore must be satisfied at the end of the day. Even with the best results achieved, the client may not work with you again, if they have had a rough patch with you.
One of the major factors affecting the client's decision of working with you again is their overall experience. If not focused on all phases while servicing with the client, a bad experience has a higher chance of getting relayed in their social circle than a positive experience.
Additionally, One of the daring measures you take to stay self-employed is to start a freelance profession. You embrace the independence, flexibility, and increased opportunity to expand your freelance career. However, freelancing has its own set of difficulties. Client retention is always the most difficult hurdle you face after a few months.
Unlike other firms, freelancers concentrate on securing long-term contracts and clients to help them keep their finances afloat. However, it's never easy, especially if you don't have good communication skills. In freelancing, creating or giving a better client experience is not for everyone.
You don't have to be concerned, though, because there are some abilities and methods that can help you build your freelance career by improving the client experience. In this article, we'll go over some of the best ideas and tactics for making your clients' experience better.
Why Do Freelancers Need To Have Customer Service?
Anyone who has worked as a freelancer for any amount of time understands the necessity of honing their sales skills. More and more people are choosing to try their hand at freelancing, whether it's because they want more autonomy or simply want a fresh start. Check out Sales 101 for freelancers to excel at sales.
One thing to keep in mind is that your interactions with freelance clients aren't the same as they would be with a permanent employer. When you're talking to your managers at work, you probably don't think about their previous interactions with you. Of course, you want to maintain a good relationship and build good relationships, but internal corporate communications differ from interacting with a client or a customer.
As a freelancer, you're having trouble finding clients. Check read this article to understand how to find high-paying freelance clients.
When freelancing, keep in mind that your clients will expect to be handled as such, rather than in the manner in which you would address a superior.
Making the transition for freelancers who have never worked in a client-facing profession is undoubtedly difficult. It's important to realize that customer service is no longer just a transactional activity.
Moreover, it's all about keeping solid client relationships and responding to their demands appropriately. This is a must-have addition to any products or services you offer.
Besides, there is no one-size-fits-all approach when it comes to how you deal with your clients and how you meet their demands. As a freelancer, though, you will be expected to provide a particular degree of service; you should be aware of and sensitive to your client's expectations in this regard.
Learn how to use inbound marketing tactics to find freelance clients.
Techniques For Enhancing Client Experience In Freelancing
Clients are essential to the success of any freelance business. When you first start freelancing, you will eventually reach a point where you have no current clients. Either you completed their assignment successfully or they did not respond owing to your low prices. So, what are your options?
Take a look at the killer funnel for finding freelancing clients.
This is where you should consider how you might improve your client's experience. Those who have been added to your prior client list are already familiar with your work and the results you provide. As a result, rather than pursuing new clients, it is usually best to offer your services to past clients again.
But how do you go about doing it? Is it as simple as slicing a pie? All you have to do is stick to the top strategies listed below.
1. You should know more about your client's business than they do
A businessman is more knowledgeable about his industry than everyone else. But what if you could look up your client's competitors and see how they add value, then compare that to what your client's firm does?
This is one of the most effective strategies for upscaling your services and persuading your existing clients to give you a better price.
Besides, if a client hires you to create an app and you later realize that their website design has to be updated or that it isn't mobile-friendly, you can give free advice and great pricing. This will assist you in improving your client's experience as well as allow you to obtain additional jobs.
As a result, having a good brief before starting work is critical.
2. Don't over-commit and under-deliver
You must keep to the facts when it comes to under-committing and over-delivering. For example, if completing a project takes three days, you don't need to request four days. Under commitment indicates that you devote all of your time to completing a project, even though you know that owing to your skill, it can be completed in two days. This allows you to amaze your client and increase their freelancing experience.
Check out the most in-demand technical and soft talents that a freelancer should possess.
3. Improve your communication abilities
Every freelancer must have excellent communication abilities. To provide a better customer experience, whether you work as a programmer, writer, blogger, designer, the developer you must enhance your communication abilities. However, newcomers frequently find it difficult to master the skill of connecting with clients. But don't panic; the following pointers will assist you in improving your communication abilities.
Be Friendly- this means you can speak more about the difficult schedules, using soothing words like "I understand," "I know how difficult it is to operate and handle everything on your own," "It's really lovely," and so on.
Don't Be Afraid to Ask 7 Important Clinet Questions– Improving communication requires more confident reading or listening, as well as asking questions before and after onbording about the task to ensure that you fully get it.
Request Feedback- There's no shame in having others point out your flaws, especially if you're not on the freelance platform. You may quickly get feedback and identify your strengths and faults by asking for it.
10 Tips For Positive Customer Experience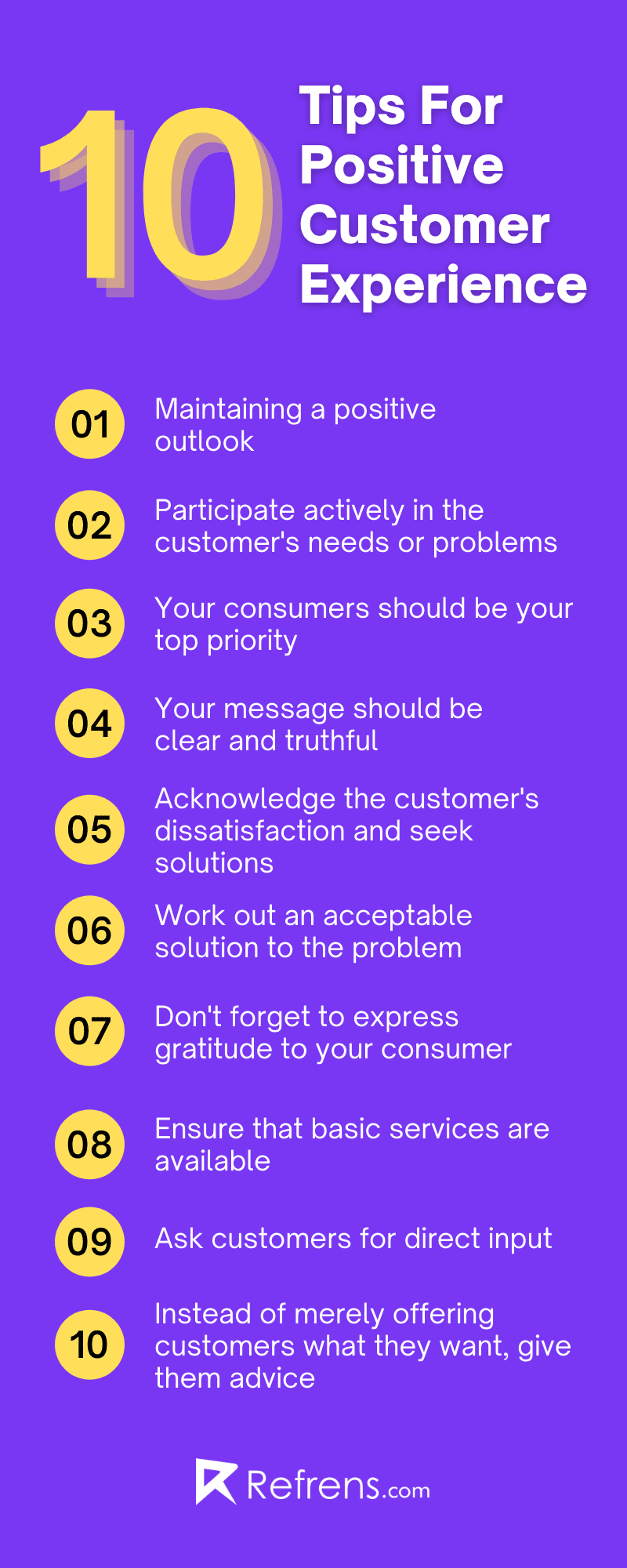 Maintaining a positive outlook
When it comes to working with consumers, keeping a pleasant attitude is crucial. Make yourself available and willing to help them overcome their concerns. Consider the long-term impact of your customer relationship, as this will almost surely lead to increased revenue in the future.
Participate actively in the customer's needs or problems.
Always pay careful attention to what your client has to say. When a consumer realizes they aren't being heard or have to continue repeating themselves, it can be frustrating. To build a loyal consumer base, you must develop a personal brand that they can relate to.
Your consumers should be your top priority.
Ensure that client interaction are as efficient as feasible. This can be accomplished by prominently displaying all of your information, including your phone number, on your website and accepting all major credit cards, making it simple for customers to pay. You must remain attentive and on your best behavior, regardless of whether the consumer is upset or frustrated.
Your message should be clear and truthful.
If a consumer is upset because of a company issue, accept your mistake and work to rectify the situation. Assist them by giving them with the necessary information in a direct and positive manner.
Acknowledge the customer's dissatisfaction and seek solutions.
Remember that if the firm is to blame for the problem, you should never blame it in front of customers. And, even if they're wrong, never directly blame customers. It's preferable to simply hunt for a solution that would make them less irritable.
Work out an acceptable solution to the problem
Make sure you follow up with the consumer if you suggested a solution being implemented. Keep them updated on what's going on in the firm with the problem, and then follow up with the client to make sure they're happy. Always go above and beyond what the customer expects.
Don't forget to express gratitude to your consumers.
Treat your clients as valuable and significant members of your team. Spending a little additional time with them will ensure that they are completely satisfied, and you will reap the long-term benefits. People like to feel special, therefore giving them more time will result in a positive experience for them.
Ensure that basic services are available.
If the consumer is happy with your services, you'll find that you're always welcomed back when you see them. Many businesses use the term "customer-centric," which means putting the client first. Make sure this isn't just a phrase for you to repeat, but that you actually do it.
Ask customers for direct input.
There is no better indication of what works and what doesn't than the customer. Direct client feedback is extremely valuable, especially for young businesses, because it offers a chance for improvement. Make sure you react to your customers' feedback so they know their opinion matters.
Instead of merely offering customers what they want, give them advice.
Instead of focusing solely on selling your goods, provide clients advice on what is best for them. Such expert advice will aid in the development of trust and contribute to a positive and long-term relationship with your consumer. If customers are dissatisfied with your product, you can suggest that they purchase alternate solutions.
6 Ways To Happier, More Loyal Client
It's no secret that excellent customer service aids in the acquisition of new consumers and the retention of existing ones. But, especially if you're a solopreneur or running a small operation, this might be difficult to maintain as your firm grows. In today's hypercompetitive world, however, few businesses can afford to overlook customer service. Because doing so frequently leads to a loss of business.
1. Make a commitment from the top down
Your freelancer's brand and values should be reflected in the customer experience. Make a commitment to delivering it, then create goals and gather the necessary resources. If you're now a one-person show, put down the goals for future team members so that service is constant. Other methods of preparation include:
Create procedures for resolving issues quickly.
Obtain sufficient resources to resolve challenges in a timely and effective manner.
Take a few calls from time to time, no matter how big and busy you get. Customers will sense that you genuinely care about them, and you may learn a lot about them and their perceptions of your brand.
2. Utilize technology to increase efficiency
When you're a solopreneur, technological optimization is especially vital. A fast online search will turn up a plethora of applications to help you with practically every aspect of the client experience, from marketing automation to sales. You'll find customer service solutions that can assist any size business to provide high-quality, scalable customer support.
Almost any business can benefit from these three sorts of programs:
Customer Relationship Management (CRM) software:
Customer service begins when you first interact with a client. However, handling a large number of potential customers as they progress through the sales process at varying speeds necessitates a great deal of meticulous planning.
CRMs make the entire process more efficient. Hubspot and Infusionsoft are two examples of software that may help you keep track of prospect information, follow up with them throughout the sales cycle, develop continuous customer engagement activities, and tailor the experience.
Customer service software:
Once you have customers, these tools assist you in providing them with support.
Email, audio, and live chat options are available in programs like Zendesk for responding to help desk issues, product inquiry calls, and so on.
Some solutions are cloud-based, so your customer support representatives can work from anywhere, including their homes, and appear to be just down the hall from you. To keep sales and support on the same page, most customer care programs integrate with popular CRMs.
Management tools for social media:
Hootsuite and Buzzsumo are two tools that may help you manage all of your social media accounts, schedule posts in advance, and manage your online reputation, among other things.
One useful feature is that the tool may notify you if someone is talking about your firm or products, allowing you to respond quickly.
3. Provide several support alternatives
Remember, customers, demand answers swiftly and conveniently—especially the tech-savvy Millennials. Provide preferred customer service channels, such as chat, voice, and social media.
Make it easier for people to assist themselves as well. Include a frequently asked questions page or knowledge base, as well as videos on your website and YouTube. How-tos, showing features in product demos, and explaining hard topics are all terrific uses for videos. It's a quick and easy way to handle a large number of customers' frequently asked questions.
4. Improve the usability of your website
Ensure that your website is user-friendly on smartphones, tablets, laptops, and desktop PCs.
Make your website simple to navigate so that clients can quickly discover the information they require. Customers are likely to leave if a page does not load in three seconds or less on mobile, according to Google. They are five times more likely to abandon a site if it is difficult to use.
Check out the 15 elements you need in your portfolio website.
Pay attention to the little things that can make a customer's experience better. This might feature larger buttons, fewer copies, and one-touch calling on phone numbers on mobile sites. If you have a shopping cart, make sure that ordering is simple on all devices.
5. Astound your customers.
Unexpected surprises are frequently remembered—and discussed—by customers. There are two types of "wows": planned and unplanned. Planned wows are scalable, consistent ways to offer clients in a way that no one else can. These are usually low-cost, straightforward actions that might boost client loyalty and spending.
One method is to offer early payment discounts to those who pay on time or ahead of schedule, which will make the client happy.
6. Assign the appropriate duties
Some chores may be so time-consuming that they can be completed more quickly by someone else. You may profit from employing freelancers if you have unique projects or want assistance during periods of high volume. They may be able to help you complete product upgrades faster, answer to support tickets more quickly, and more. Refrens Platform can help you uncover expert talent ranging from web developers to customer service representatives.
Conclusion
These pointers will aid your freelance career in providing great customer experiences. Improve your customer experience as though it were the most important component. Just keep one thing in mind. Do not believe that repeat consumers are loyal; rather, only truly satisfied customers will remain loyal. As a result, all freelancers should prioritize a customer-centric strategy for fostering commitment and long-term loyalty.
As a freelancers, your primary aim has always been delivering quality work and achieving customer satisfaction. 
However, if you look from a broader perspective enhancing the overall client experience is as necessary. Clients are the most important aspect of any business, and therefore must be satisfied at the end of the day.