Your freelance business is just like any other business– it needs a marketing strategy to help it stay afloat. You may be creative, you may be the best at what you do, and you may even have tons of experience under your belt, but without an effective method of letting people know about what you can do for them, your business will quickly die out.
The good news is that there are a lot of proven ways to market your freelance business in 2022. The following strategies have been shown to work for freelancers across the board in getting you clients and reaching the peak of success.
Effective Ways To Market Your Freelance Business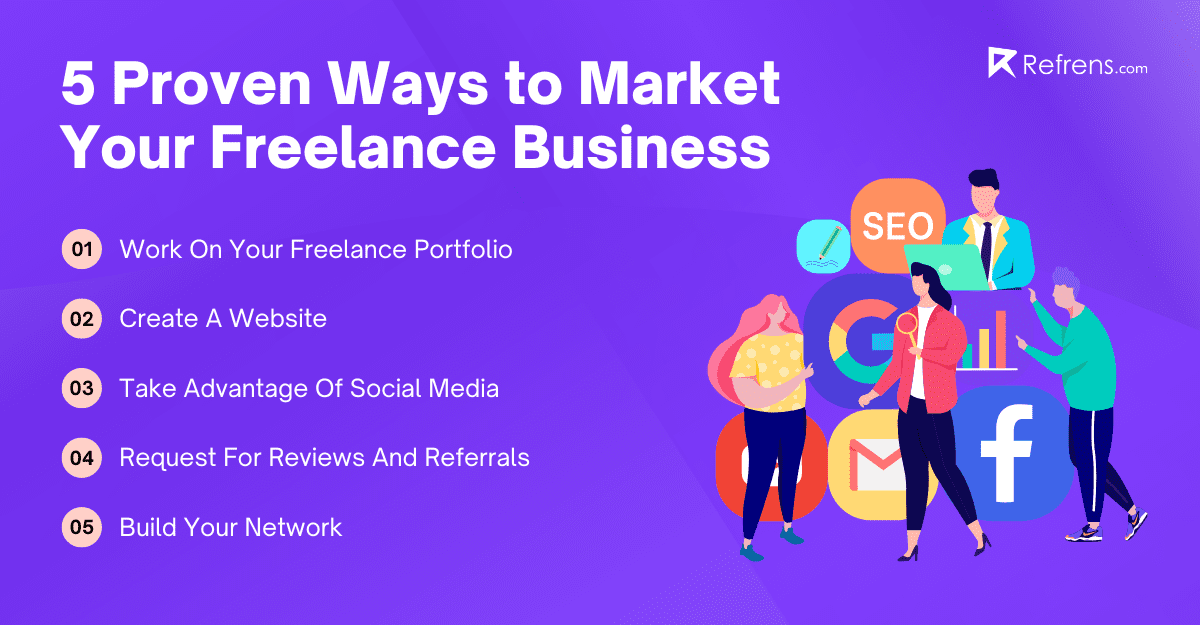 1. Work On Your Freelance Portfolio
Your freelance portfolio is your best marketing tool. It showcases your best work and highlights the types of clients you're looking to serve. Your portfolio should be focused on your target audience, updated regularly, and include testimonials from previous employers or clients.
As a freelancer, it's essential to show that you have professional experience in whatever fields you offer services for and that people are willing to talk about how great you are at what you do.
2. Create A Website
When it comes down to it, your freelance business is a website, too. Not having one is like not having a phone number or address. It's also where you showcase your services, portfolio, reviews, and contact info all in one place.
Make sure it looks professional and has good UX/UI (user experience/design). If you don't know how to create a website that looks good and works well, get somebody else to do it for you. The easier the site is to use and navigate, the more likely people will stay on it.
Your site should be mobile-friendly too, because most people view websites on their phones nowadays like they're probably doing right now. Ensure your site is easy to read from small screens with clear buttons or links instead of tiny text that requires zooming so that anyone can read your website content without any difficulty.
Lastly, include a call-to-action so visitors know what action they should take after reading about your business. It's advisable to lead them to your social media page or email, so they know where to contact you for your services. You can even have a dynamic QR code as a call-to-action. This helps with A/B testing.
3. Take Advantage Of Social Media
It's important to grow your client base through social media, especially if you're just starting out. Make sure you have a great website and a decent amount of work to show on it. Then, reach out to your peers and potential clients by sharing your site link on social media. This helps potential clients find you. Reaching out via LinkedIn is also a good option for finding new opportunities and connecting with people in the industry.
Social media is not just about promoting your work; it's also about providing value to your followers, which means sharing their content as well as yours. You must engage with people in the industry who have similar interests because they may have ideas that spark creativity for you or encourage collaborations that can help both of you grow as professionals.
When using social media, be authentic and honest about who you are so others will trust what comes from that interaction with them – there's no point trying to fool anyone into thinking something different. Making social media a part of your marketing strategy will definitely help you up your game of freelancing.
Check out the ultimate social media cheat sheet for freelancers.
4. Request Reviews And Referrals
Your clients are an invaluable resource for marketing your freelance business, and they can play a crucial role in your b2b referral program. They can give you a referral or send new clients your way by writing a review of your services. Asking them to do this will help grow your business
In order to request reviews and referrals from your current and former clients, it's important to make the process as easy as possible for them. This can be as simple as asking during a phone call or in-person meeting with a client, but if possible, consider creating a system that allows for the solicitation of reviews and referrals automatically via email or text message after each project is completed.
You should also feel more comfortable than ever now asking for recommendations from people in your personal network—friends and family included! Don't be shy about letting them know what you're up to these days, especially if they have interests or career backgrounds related to what you're currently doing.
Check out the 5 different ways to collect feedback as a freelancer.
5. Build Your Network
Another great way to market your freelance business in 2022 is to build your network. The old saying "it's not what you know, it's who you know" rings true here. As a freelancer, you need to let other people know what you do and connect with the right people.
Start by setting up accounts on all major social media platforms – Facebook, Instagram, and LinkedIn are a good start. You can then join groups for freelancers and business owners in your area. Or search for groups related to your industry or niche specialism. For instance, if you're a writer, join writing communities; if you're a web designer, join coding communities.
You could also set up an account on a professional networking site like LinkedIn. If possible, make connections with thought leaders in your industry or niche specialty. These will be valuable contacts when it comes to finding work – they may refer people to you if they have too much work to handle themselves.
You should also make sure that any potential clients can easily find information about what services you offer online by signing up for Google My Business and creating profiles on relevant freelancing websites like Upwork or Fiverr.
Takeaway
You can grow as a freelancer if you're willing to put yourself out there. Freelancing is a career that requires you to be your own boss, do your own marketing, startup SEO optimization, network and find work for yourself and more. This can seem overwhelming at first, but it's actually an opportunity for you to expand on your skillset even more.
It's important to not be afraid of asking for help, so offer up your services in exchange for people teaching you things or giving you advice. You also need to be willing to work hard and take risks in order to get ahead – and have a positive attitude while doing it!