In the fast-paced and competitive hospitality industry, picking the right tools is crucial. One key tool that no hotel can afford to compromise on is its billing software. It has a direct impact not only on the smoothness of your day-to-day operations but also on the satisfaction of your guests. That's where we come in with this comprehensive guide to help you navigate the complex landscape of billing software for hotels.
Today's billing software does a lot more than just generate invoices. It's a multi-functional tool that, when chosen wisely, can transform your hotel's operations. It automates and streamlines billing processes, reducing the potential for human error and ensuring every charge – from room bookings to room service and even those sneaky minibar purchases – is accurately tracked. Moreover, modern systems provide real-time data insights that help you make strategic decisions for your hotel.
In this guide, we'll walk you through the importance of having an effective billing system in the hotel industry. We'll outline the crucial features to look out for when choosing a software solution and present an in-depth review of the best billing software systems leading the hospitality market.
Our aim is to equip you with the information you need to make a decision that aligns with your hotel's specific needs and budget. So, whether you're running a quaint bed-and-breakfast or overseeing operations at a large luxury resort, this guide will be your compass to help you enhance your billing process, streamline operations, and ultimately uplift your service quality.
Top 3 Billing Software for Hotels
1. Cloudbeds
Cloudbeds is a comprehensive solution for independent hoteliers. It automates operations, improves guest experiences, and boosts revenue. Many hotels globally trust Cloudbeds for its ability to simplify front-office tasks and manage rates effectively.
One of its key features is preventing overbookings. It keeps your hotel management system, booking engine, and OTA channels synchronized. It also simplifies reservation management with a central calendar and updates availability across all platforms instantly.
Cloudbeds can help increase direct bookings by 20%, reducing OTA commissions. Its booking engine, which is commission-free and includes a Rate Checker, allows guests to book from any device. This feature enhances profitability and increases direct bookings.
Cloudbeds also includes a Channel Manager that connects you to over 300 distribution sites without extra charges. It allows real-time control over your inventory, pricing, and availability.
The software provides one-click reports, giving a comprehensive view of your hotel's performance. It tracks everything from productivity to finances and daily operations. Its cloud-based system is easy to learn, ensuring quick staff onboarding and a focus on the guest experience.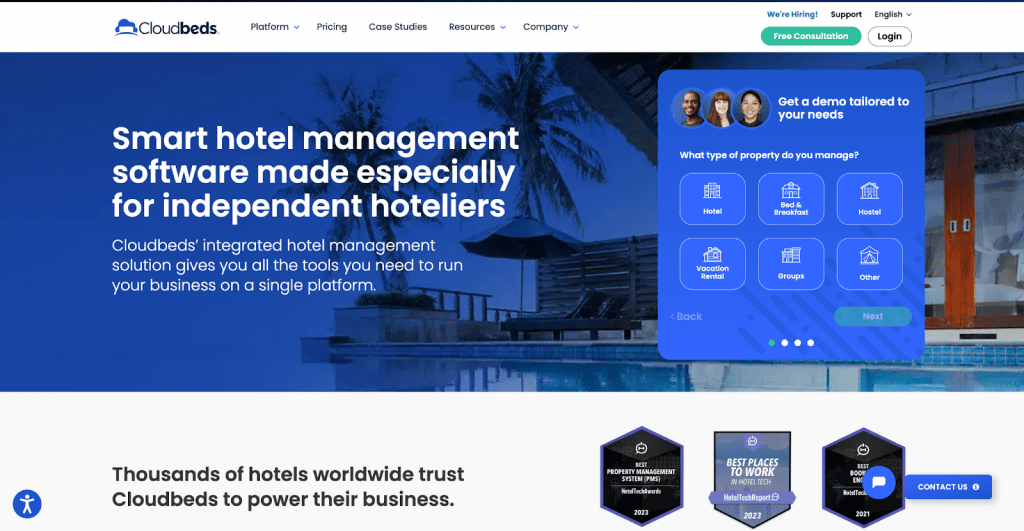 Also read: 9 Ways To Make Your Invoicing Process More Effective
2. Nimble Property
Nimble Property is a leading hotel accounting software that operates in the cloud. It's trusted by over 1100 clients in the US, offering a unified platform to manage multiple properties. This software allows hotels to track performance, automate vendor management, and integrate with hotel Property Management Systems (PMS).
As one of the best hotel accounting and bookkeeping software in the U.S., Nimble Property simplifies accounting and financial processes. It handles tasks like daily sales reports, cash collections, credit card reconciliation, and more. It also aids in analyzing room occupancy and profitability and assists in budgeting and forecasting.
Nimble Property is designed to reduce administrative efforts and operational costs while maximizing Return on Investment (ROI). It automates complex tasks like financial reporting and bank reconciliation, enhancing customer service.
The software uses Business Intelligence to transform your data into insightful hotel performance statistics, aiding informed decision-making. It's user-friendly, affordable, and easy to use, making it suitable for companies of all sizes. With Nimble Property, you can manage multiple hotels and franchises on a single platform, generating comprehensive financial reports, Profit & Loss statements, and Balance Sheets effortlessly.
Also read: Top 10 Benefits Of Automated Invoice Processing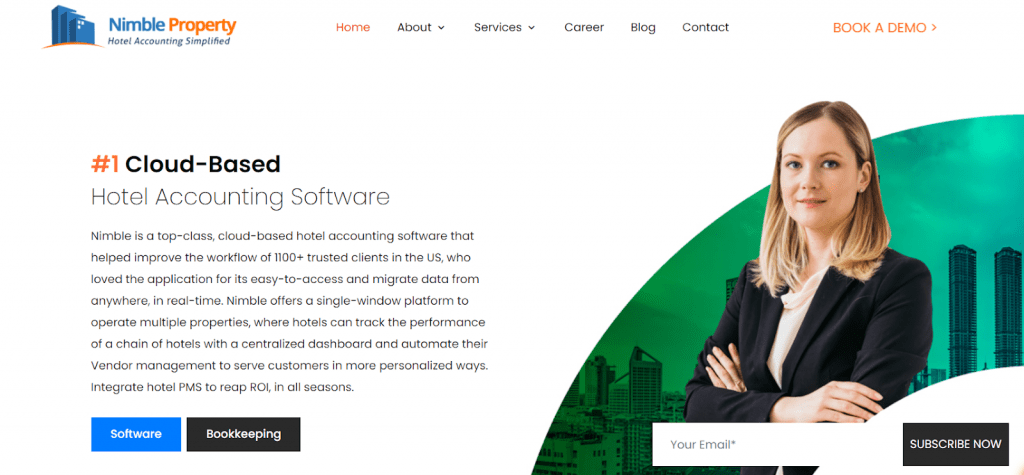 Also read: How To Create GST Invoices In 2 Minutes?
3. Hotelier Books
Hotelier Books is a cloud-based hotel accounting software that provides everything you need to run a profitable business and achieve financial freedom. It offers transparent pricing with no hidden costs, making it an affordable solution for hoteliers.
The software integrates with your hotel Property Management System (PMS) to automatically fetch all properties' sales, receivables, and statistical data. This daily sale automation feature eliminates manual data entry and ensures accurate financial records. Hotelier Books also provides industry-standard hotel reporting. You gain seamless access to insightful financial reports and industry-specific statements, enabling you to make better decisions for your business.
The software offers bookkeeping services specifically designed for limited-service hotels. It allows you to focus on your business while experienced and skilled veteran bookkeepers take care of your books. This service not only reduces your overheads but also provides strategic business advice.
In summary, Hotelier Books is a pioneering technology-driven accounting platform that empowers limited-service hotel business owners, managers, and accountants. It offers feature-rich functionality and modules that let you efficiently run your business, whether it's scaling up to 50+ rooms or managing multiple hotels.
Also read: 23 Best Business Management Software In 2023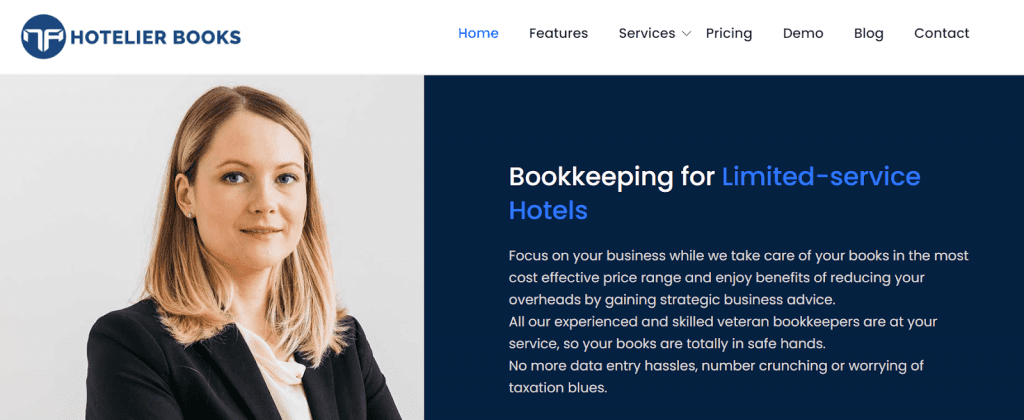 Also read: Top 10 Best Billing Software for Retail Shops and Distributors
Importance of Billing Software in the Hotel Industry
In today's digital era, businesses across industries are leveraging technology to streamline operations and enhance customer experiences. The hotel industry is no exception. Here, billing software plays a pivotal role.
Billing software isn't just about generating invoices—it's a vital tool for overall hotel management. It automates and simplifies billing procedures, ensuring accuracy and reducing manual errors. With an efficient billing system, every service your hotel offers – from room tariffs to room service, spa charges to minibar consumption – is tracked and billed accurately. This transparency not only helps in maintaining clear financial records but also builds trust with guests, enhancing their overall experience.
Furthermore, modern billing software integrates seamlessly with other hotel management systems, creating a unified platform for bookings, reservations, customer relationship management, and other operations. This integration ensures a smooth flow of data across systems, enabling real-time tracking and informed decision-making.
In essence, top-notch billing software can be the backbone of your hotel's operations, ensuring you stay on top of your financials while offering exceptional service to your guests.
Recommended read: Invoice Like A Pro: A Comprehensive Invoicing Guide
Key features to look for in a Hotel Billing Software
When choosing a hotel billing software, there are a few key features that you should consider. These features will not only streamline your billing procedures but also improve your overall hotel management:
User-friendly Interface: Look for software with an intuitive and user-friendly interface. Your team should be able to use it with minimal training.
Seamless Integration with Other Systems: The billing software should be able to integrate with your existing hotel management systems. This includes property management systems (PMS), customer relationship management (CRM) software, and booking engines.
Real-Time Reporting and Analytics: Choose software that provides real-time data and analytics. This will help you monitor your hotel's financial health, track revenue sources, and make informed business decisions.
Secure Payment Processing: Security should be a top priority. Your chosen software should adhere to PCI compliance standards and offer secure payment options to protect your guests' financial data.
Multi-currency and Multi-language Support: If you cater to international guests, multi-currency and multi-language support are crucial. This feature allows guests to pay in their preferred currency and receive bills in their native language, enhancing their customer experience.
Scalability and Customization Options: Lastly, choose software that is scalable and customizable. As your hotel grows or your needs change, your software should be able to grow and adapt with you.
Also read: Top 12 Best Billing Software for Small Businesses
Conclusion
Selecting the right billing software for your hotel doesn't have to be overwhelming. Armed with the right information about your needs, budget, and crucial software features, you can make an informed decision.
Recommended read: Industry-Wise Top Invoicing & Billing Software In 2023
Throughout this guide, we've discussed the importance of billing software in the hotel industry, detailing its role in efficient management and guest satisfaction. We've highlighted key features to consider and presented an in-depth review of the best options on the market.
The right billing software will not only simplify your operations but also improve guest experiences – a key differentiator in the hospitality world. So, whether you're a small B&B or a luxury resort, it's time to embrace digital billing transformation.
Lastly, keep in mind that technology is always evolving. Choose software that's scalable and adaptable to future-proof your operations. By optimizing your billing system, you'll be making a significant move towards better operations and a superior guest experience. Let's make every bill count!
Also read: Top 10 Best Accounting Software For Travel Agencies
Also read: Best E-Invoicing software to create invoices seamlessly