A B2B writer (short for business to business) creates articles, emails, and white papers for companies that sell to other companies. This is in contrast to B2C writers who help companies sell products to individuals. A B2B writer's job is complex—part brand journalism, part sales—and they're often well paid.
What makes a B2B writer different?
They're writing for a smarter reader: they likely have industry expertise and want to hear from other experts. Therefore, writers should have a good knowledge of the subject they're writing about. Moreover, they should feel inclined to use jargon sparingly to reinforce their points and demonstrate mutual understanding.

Education is a driving factor: B2B audiences want to learn more about the topic they're researching. Giving fresh insights and valuable tips positions you as an authority figure since it shows you're someone who knows their stuff.

Relationship-building with businesses is twice as important: compared to a B2C audience, the decision-making process is longer. That's because B2B purchases often require the approval of other team members.
Why invest in a B2B writer as compared to a content writer?
Companies invest in B2B SaaS content like blog posts and SEO articles for a reason. The organic growth earned does wonders for a business, especially when it comes to long-term results.
With that in mind, here are the 3 biggest reasons to make the investment.
It's More Affordable Than Paid Ads
A single blog post could potentially return a lot more traffic and leads compared to paid ads. That's no exaggeration.
One premium fully-researched article including quotes, original data, and SEO optimisation might cost £500 or more.
In exchange (assuming an effective content strategy is in place), search rankings improve as well as your industry authority. This leads to an influx of organic traffic from your target audience, which then creates new leads for your business because of the amazing piece of content you put out.
Whereas, if you were to use paid ads to achieve the same increase in traffic you managed to get from that single blog post, it could cost you even more than double the amount.
Sales Become a Whole Lot Easier
The sales process becomes easier because of one word: trust.
Consistently putting out valuable content gives potential clients confidence that you're an expert who understands their problem well. So whenever they're in need of answers around that particular topic, you're bound to be one place they'll go to.
Then eventually as the trust begins to grow, they'll take the next step by either signing up for something or making a purchase.
There won't be much convincing required either since you've likely already answered their questions. In other words, the expectations are laid out. Meaning that there won't be as much friction when it comes to converting readers into paying customers.
Improve Brand Recognition
Good brand recognition means consumers know what separates them from their competitors. It also means more people are aware of your product or service offering, as well as the values that you stand for.
B2B SaaS content isn't about ramming your solution down your reader's throat and constantly reminding them of what you're selling…
It's about giving value.
As long as consumers know who you are, what you're offering, and how you solve a particular problem, it can be enough to intrigue those who resonate to take a closer look at what you do.
Criterias to judge a B2B writer
Business results: Do they have a good understanding of how to create content that will lead to an ROI?

Skilled researchers: How do they find information when writing about a topic they're not familiar with?

Portfolio: Are there any past pieces of content they've published that you'd like your own to be like?

Track record: Do they have a positive track record of bringing good results for their previous clients?

Curiosity: Are they asking meaningful questions to understand your business and target audience better?
Also, a smart tactic is to use paid tests. Get a feel for what it's like to work with the freelancer by working on a trial project with them.
Where to find a B2B Writer
Aside from content mills, here are some better places to look -
Your network: Ask for referrals from the people you know.

Long-tail keywords: Make specific searches on Google e.g. "HR Tech SaaS content writer" or "MarTech SaaS content writer".

LinkedIn: Filter your search to find freelancers who specialize in your niche.
If you asked me, the first option is most ideal. It's good to start from your network because it's often the fastest way to find a freelancer that's a good fit.
But long-tail keywords on Google are also effective because it may suggest the freelancer ranking for those terms has a good idea of how SEO works and how to make themselves discoverable. That result in itself suggests their level of skill and chances are, they know how to help you get the same outcome.
Common pitfalls to avoid while hiring a B2B Writer
Hiring a writer instead of a specialized b2b writer - Now this might be a reasonable option, but the cost that you pay for this is long-term and substantial. We suggest hiring a subject-matter expert to bear the fruits of this process.

Avoid hiring a writer who thinks b2b is impersonal - Yes, they might be writing for a B2B audience, but remember, they're still writing for an individual person within a business. An individual person who has challenges and dislikes, and key drivers just as a B2C audience would. Their actions are still dictated by human emotions, so it's not an excuse for a boring copy. It's also a good reason to ditch some of the business languages.

Hiring a writer with lack of visual consideration – This is a very important aspect of B2B writing, the writer must have a creative imagination to switch to b2b without making the copy boring. Well-thought-out imagery can really bring words to life. Similarly, bullet points and subheadings are important for breaking up your content, making it easier to digest, whilst highlighting the most important parts.
What not to expect from a B2B Writer?
Here are some things you should not expect from a B2B writer -
Sales or marketing activities: B2B writers are primarily responsible for creating written content, and should not be expected to perform tasks related to sales or marketing.

Extensive research or data analysis: While some research may be required for certain writing projects, B2B writers should not be expected to do extensive research or data analysis beyond what is necessary for their writing.

Design or creation of visual elements: B2B writers are not typically responsible for designing or creating visual elements to accompany their writing, such as infographics or images. This is typically the responsibility of a designer or marketing team.
It's important to have clear and open communication throughout the project, and to establish clear expectations from the start, in order to avoid any disappointment or misunderstandings.
How much does a B2B Writer charge?
Content writing pricing will vary depending on factors like the length of the piece and the client's industry. In addition, content prices also vary by which on-demand platform you choose.
On average, B2B writers charge a rate of between $45 to $150 per hour. Some B2B writers may charge a flat rate for a project, which can range from a few thousand dollars to tens of thousands of dollars, depending on the complexity of the project.

|Sample B2B Writing Fees
| PROJECT TYPE | AVERAGE FEES RANGE |
| --- | --- |
| Case studies | $100 - $1000+ |
| White papers | $1000 - $5000+ |
| Blog posts | $100 - $1000+ |
| Brochures | $200 - $1000+ |
| Website copy | $1000 - $5000+ |
| Email campaign | $100 - $800+ |
The cost for B2B writing services is determined by the writer's level of experience. As the writer's experience increases, so do their fees.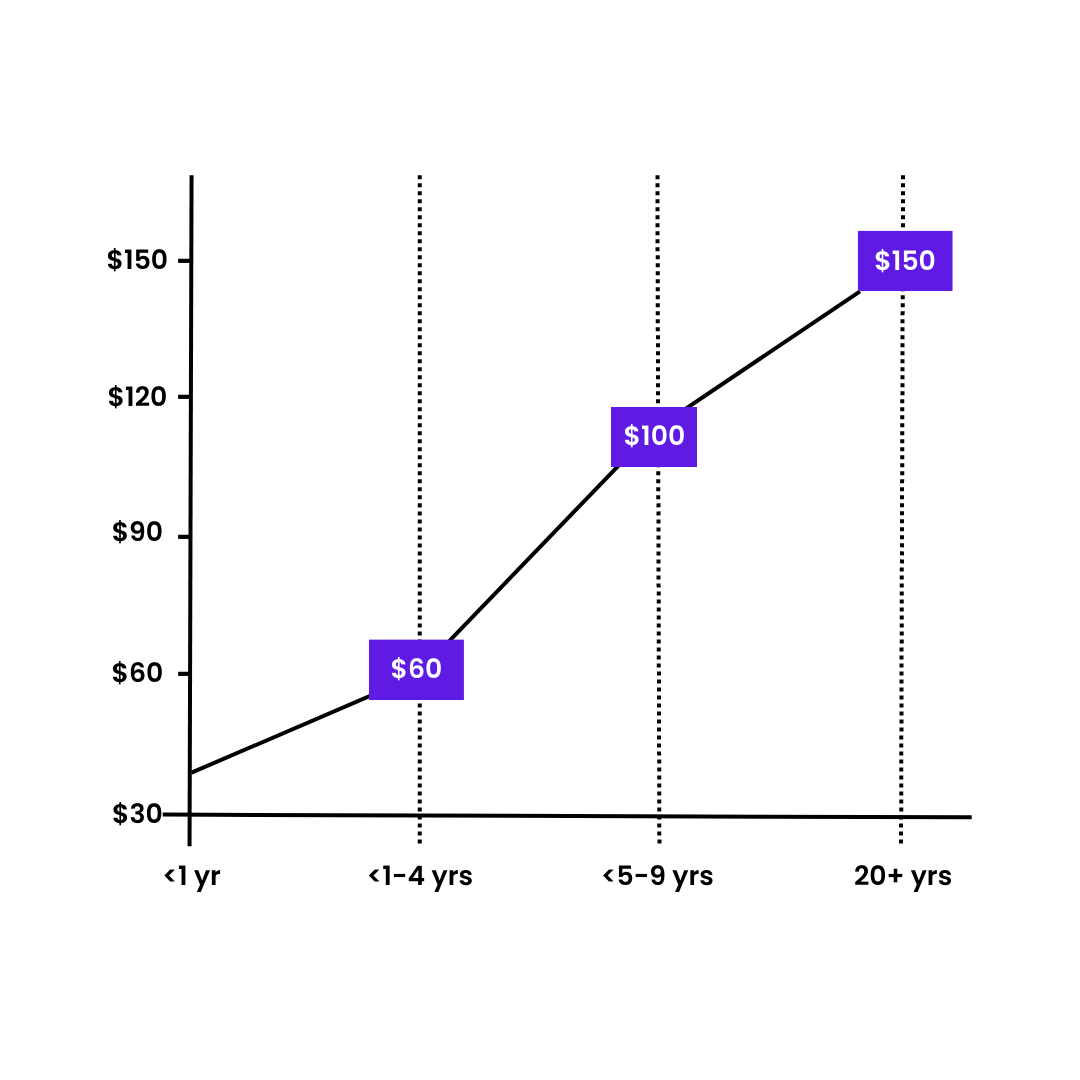 FAQs for a B2B Writer
What type of content do you specialize in writing for B2B?
Do they specialize in whitepaper, case studies, product description. Hiring someone who specializes in the same avenue of work is important.
How do you conduct research for your B2B writing projects?
It is important to know how B2B writers conduct their research because it can affect the quality and accuracy of their writing. Additionally, the research process can impact the writer's ability to meet deadlines and stay within budget.
Are you able to work with a specific tone or brand voice for my company?
This helps to maintain consistency in your branding and messaging. If a B2B writer is unable to write in a way that aligns with a company's brand voice, it can create confusion and inconsistency for the audience.