Not Just How It Looks, But How It Functions!
UI design means User Interface design; it is an important part of UX (User Experience) design. The role of a UI designer is to design the walk while using an app or a website.
Most people confuse UI designer and UX designer as one, but both require a different set of skills. Let's understand the difference between them before we go ahead.
Difference Between UI design & UX design:
Although UI and UX require different skill sets, they both share the same end goal: to provide a positive experience to the user.
Let's understand this difference with an example of a luxury hotel. When a luxury hotel is being made, you need two types of architects. One architect will focus on exterior architecture, and their core focus will be on the logistics of the hotel. At the same time, another architect will focus on the interior, whose focus will be on the look and feel of the hotel. Here the architect who will design the overall structure and blueprint of the hotel is the UX designer, and the one who will create the interior designs is the UI designer.
If you replace the hotel analogy with a digital product, the UX designer will make the structure and blueprint of the app or website, and they will map out the entire journey. The look and feel of the product are not a concern of UX designers; they focus on the logistics they design to solve user-specific problems.
The UI designer (i.e., the interior designer) will enter the process once the UX designer has laid out the blueprint. Their focus will be on color, visuals, and interactive elements.
UI designers design with the end user in mind; their priority is to give a first-class experience to the product user. Now that you have a basic understanding of what UI designers do, let's understand their responsibilities in detail.
How To Hire A UI Designer?
The first process of hiring a UI designer is to understand your needs. Outline the expected work before you start finding a designer. It helps in putting a justified price and time into the project.
Leaving too many variables undefined can prevent the timeline and budget from going out of control. Let's understand the roles and responsibilities of UI designers.
What Can You Expect From A UI Designer?
If the product is already present, then s/he has to conduct user research and analysis to understand the existing user's needs and product goals.With this there is a need to work in collaboration with the UX designer.

Do research and competitor analysis to understand how users might expect the product to look and behave based on their experience with similar products in the market.

To make those decisions about typography, color palettes, and design elements - buttons, forms, etc.

Designing interactive properties of different elements. For example, creating responsive animations, deciding what will happen when the user clicks a specific button, and doing this for all interactive user elements.

Creating prototypes and wireframes to communicate the UI design plan before handing it over to the developers.

Creating and maintaining a UI style guide to ensure design consistency everywhere and in the fu
Now that this is clear, let's move to the next step:
How To Find A Freelance UI Designer?
Just like any other creative person, UI designers are readily available online. But finding a creatively skilled, reliable, affordable designer for the job can take time and effort. But when you start looking for a designer, you will find thousands of UI designers out there, so clarity on how to judge a UI designer is essential.
Criteria To Judge A Freelance UI Designer
There are some criteria to judge, which can help you decide whether you are choosing the right designer for your project.
Education and Skills
It doesn't matter which educational background a UI designer has. It all depends on their understanding of the subject and their skills. Here is the list of things that they should understand
Fundamental knowledge of visual design, like color theory and typography
Interaction design principles
Basic understanding of user experience (UX) design principles and processes
Able to create wireframes and prototypes
Responsive design
How to design for inclusivity and accessibility
Information Architecture
Ability to create wireframes and prototypes
Industry tools
Personality and Attitude
Personality and attitude matter a lot in the art field. The designer should have specific soft skills and qualities to ensure they can touch the human side of any product. First and foremost, they should be creative. They should have empathy which will help them put themselves in the user's shoes to understand the needs and wants of the users. They should have an eye for detail and also have a user-first mindset.
As most UI designers have to work with people, collaborative and communicative skills are important; they should be comfortable taking feedback and new ideas. They should have a problem-solving attitude and be able to accept mistakes and work objectively. Look out for ego! Conviction and clarity are essential; a lot of time, they must explain or justify their designs and actions.
The best freelance UI designer will have a mixture of hard and soft skills.
Technical Knowledge
The UI designer has to be fluent in industry-leading wireframing and prototyping tools. Even a beginner in this field is expected to have at least knowledge and understanding of one of many like InVision, Adobe XD, Sketch, Figma, etc.
They should know and understand the design process from user research, information architecture, interactive design, visual design, and UI engineering.
Portfolio and Past Work
Any experienced designer will have a detailed portfolio with years of work done. Nicely arranged/presented portfolio also says about their designing ability. Looking back at their work and seeing what kind of experience they had, whether they were creative or not, whether they were innovative or not. Look at the variety of projects they have done with the quality of the result. After understanding the resume, you should also cross-check everything that they wrote in the resume.
Reference
You read reviews even when you buy small electronic equipment online, but asking someone for reviews of a designer is rare among people. The most truthful answer on whether the designer is worth hiring will be answered through references.
Apart from online platforms, you can ask ex-clients of the designers to understand their experience working with the designer. As you look at reviews and references, you will get much more clarity on whether this person is what they are trying to show.
What Are The Expected Deliverables and Timelines That You Can Expect From A Freelance UI Designer?
After judging the prospects through the above criteria, the next step is to get clarity on their deliverables and the timeline; most of these are common in a lot of other fields too:
Letter of agreement: There should be a simple, easy-to-read document that states all the terms of the arrangement. The written document helps prevent misunderstandings, and in worse situations, it can protect your legal rights.

Scope of work (SOW): A scope of work is significant to be cleared from the beginning. What will be the deliverables from the designer's end? What will indicate that the project is complete? What will be the measurable outcome? How many drafts and revisions will be offered by the designer? Everything clear before starting the project makes the work much smoother and easier to execute.

Expiration Dates: This includes the time you are allowed to give feedback on edits. This saves the designer from clients who don't reply after the first draft, and they never get paid.

Design Outcome: Here you can expect wireframes, mockups, and interactive prototypes that visually communicate the layout, structure, and functionality of a digital product.
These deliverables are used to guide the development of the product and ensure that it meets the needs of its users. The ultimate goal of a UI Designer's work is to create a user-friendly and intuitive interface that effectively communicates the product's value to its users.
Timeline
The timeline can vary from designer to designer, but generally, if they can create an exceptional and interactive design, a UI designer takes around 3-4 weeks. It depends on the project and the phase of the design process.
The first process is quickly sketching a rough idea on paper or a whiteboard; once they get positive, go to one design, then the next step is to make them clickable prototypes. It is not the final prototype; this prototype has a medium level of detail to get some idea of the overall design and whether it looks good or not.
And the last and final step is to finalize the prototype with all the advanced interactions and animation, and it should resemble the finished product; after this, it is handed off to developers to create the product.
Once the timeline and deliverables are aligned, the last step is understanding what not to do. Here I will share the common pitfalls that lead you to become better.
Common Pitfalls While Hiring A Freelance UI Designer
Expecting them to code: One of the common misconceptions is that UI designer codes. The simple answer is they do not. Typically, once the UI and UX design are over, the designer should hand over their work to the coder so that they can execute the designs into the product.

Not cross-checking the resume: As technology changes fast, some might lie in their resume to keep up with the technology. There are many examples where the designer has tried to take shortcuts. They would create their app and show it to clients to rig the portfolio.

Not setting clear written expectations: Plenty of people need to give more time to get clarity on deliverables and timelines. They assume that they and the designer are on the same page, which is uncommon. The mistake of not getting clear in the beginning can be a big mistake afterward.

Not knowing the difference between UI and UX: Not knowing the difference between UI and UX can cause problems, as you might hire someone else for some other work.
Asking the right question will tell more about the designer than their portfolio and resume combined. So here are the questions that you can ask:
Well, now you know where to find the UI designer and how to evaluate them, let's look at some common mistakes people make while hiring a UI designer.
How Much Does A Freelance UI Designer Charge?
The cost of hiring a UI designer can vary widely depending on factors such as their qualifications, experience, the scope of the project, and location. On average, UI designers charge a rate of between $50 to $150 per hour. Some UI designers may charge a flat rate for a project, which can range from a few thousand dollars to tens of thousands of dollars, depending on the complexity of the project.

It's important to understand that the cost of hiring a UI designer should be seen as an investment for the long-term benefit of the organization.
A well-designed user interface can help improve the user experience, increase engagement, and ultimately drive conversions. It's also important to have a clear understanding of the cost and the deliverables before proceeding with the project, to avoid any unexpected expenses.So the more experience a designer has, their charges might hike as well.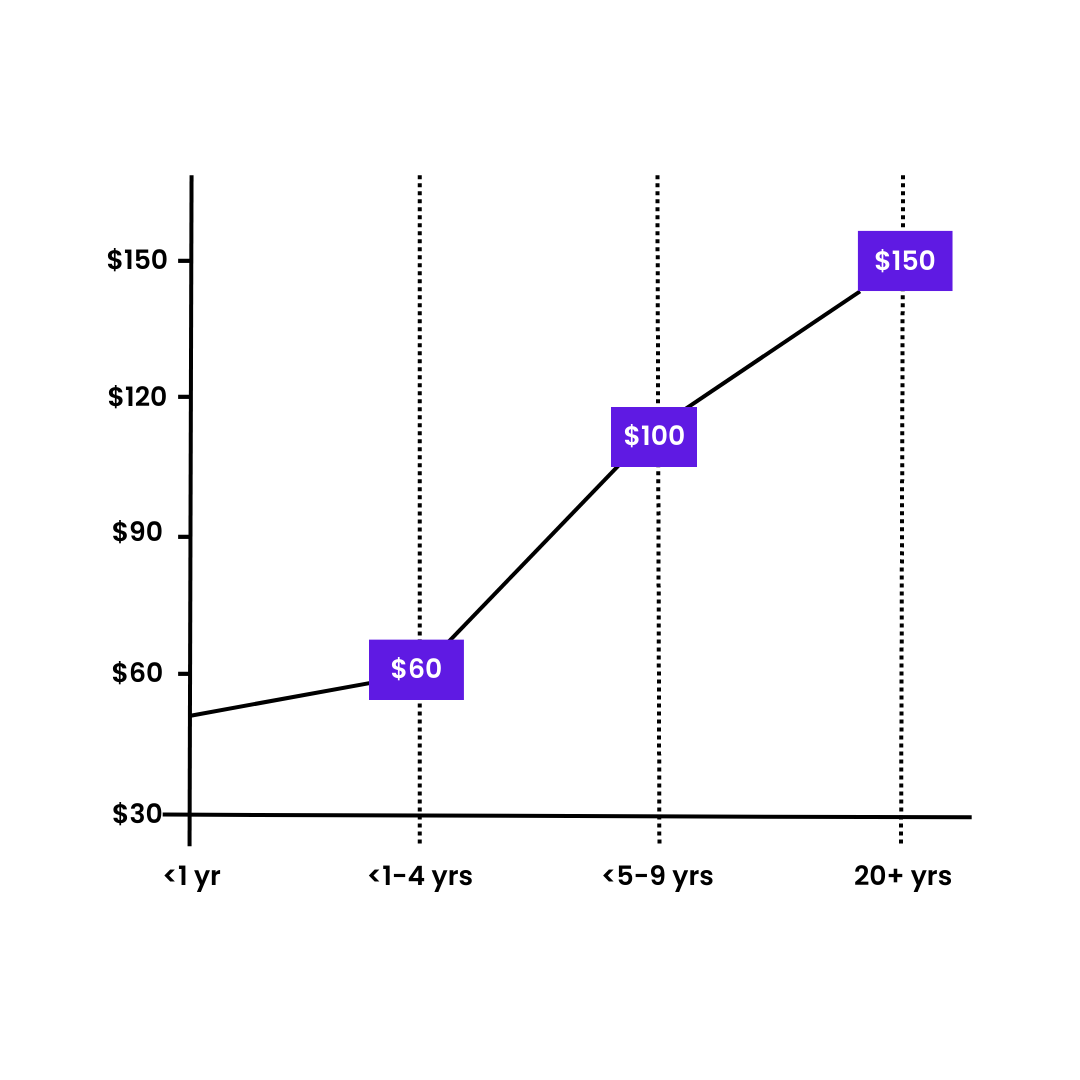 | Sample UI Designing Charges
| PROJECT TYPE | AVERAGE FEES RANGE |
| --- | --- |
| Web design | $1000 - $5000+ |
| Mobile app design | $1000 - $5000+ |
| Software design | $1000 - $5000+ |
| E-commerce design | $1000 - $5000+ |
| Dashboard design | $1000 - $5000+ |
| Game design | $3000 - $7000+ |
Questions To Ask When Hiring A Freelance UI Designer
Ask them to tell the underlying story of any particular project from their portfolio.

The way they talk will show their involvement and passion for their work.

Ask them about their experience till now and what changes they have seen.

This shows their awareness, willingness to learn new things, and adaptability to change the world.

What will be the editing process and structure?

The response will give you some idea of how the whole thing works and what to expect, and when.

When, how, and how many changes are allowed?

The response will give you some idea of how many changes can be made along the way.
So, here is the guide to help you answer the "How To Hire A Freelance UI Designer?"
Do share this article with someone who is looking for a guide to hiring a UI designer. Feel free to ask any questions or doubts in the comment. If you are looking for a UI designer, check out Refrens to find the right fit for your next project.