How To Hire A Freelance Product Description Writer?
A product description writer or a product copywriter is someone who specializes in describing the features of your product - for your website and for socials.
What is your product about? How is it different? What makes it so great? How to use it? How does it benefit? These are some basic answers a reader will get by reading a product description.
With a plethora of brands wanting to go digital and make their communication more structured, these specific kinds of writers are well in demand!
Because of the speedy growth of e-commerce platforms and websites, each product listed on the front would need a crisp product description.
Why Hire An Expert Product Description Writer?
Many brand owners think that the job of a product description writer can also be done by a content writer. While that in fact is true, there are some perks of hiring writers who have specialized in the category.
For Engaging Your Audience
An online buyer can't touch or see the product physically, so it is crucial for the writer to create a description that is rich in language and expresses the product without the need of seeing it physically. The writer's job is to make the buyer feel like the product is in their hand and they know exactly how it looks and feels.
Making Each Product Stand Out
There might be hundreds or thousands of products on your platform, and writing a unique description is not an easy task.
A product description writer's job is to make sure that no two descriptions are lookalike; they can be directed to other products but their features have to be highlighted individually.
How to make your product stand out in comparison to the competitor is another job of the product description writer. An effective description will have a unique brand value, brand story, unique selling point, and much more.
To Sell Your Product
It is important to understand that a product description is not only about the features and the dimensions of the product. The purpose of the description is to make the product appealing enough for a customer to click the buy button and make that purchase.
Before we go into the details of the criteria to evaluate a product description writer, we have to understand the ways to find a good product description writer.
How To Find A Freelance Product Description Writer?
One of the ways to find a product description writer is to note down the brands that are excellent in their product communication. Brands that inspire you. Now from here, you can either poach down the writer if it's outsourced to a freelancer. It won't be easy but this hack works well!

Linkedin is also a fantastic place to find these writers. The other way to find a good product description writer is to hire through multiple online job portals.

Portals like Refrens are reliable, and trustworthy, and can connect you with quality prospects. Finding a writer is not the difficult thing; the difficult thing is to find the right one for the job. And that is where the evaluating part comes into the picture.
Criteria To Evaluate A Freelance Product Description Writer
Experience, education, and accomplishments are not idealistic ways to evaluate a product description writer. The best way to judge a product description writer is to judge from their writing. Look at the past work of the writer and ask for a few sample writing for your product, and then evaluate the writings according to the below points:
Target Audience
Before making them write a sample for a product, understand whether they know the target audience of your product.
The writer should be able to define the target audience of the product. They should be able to figure out which feature of the product would be of most interest to the potential customer. Before writing the description, they should unravel all these questions first:
How did the customer come to the page?
What are the interests of the customer?
What would make your ICA (Ideal Customer Avatar) be interested in your product?
How would this person describe this product to their friend?
What features and benefits will be most interesting for this person?
If the writer can answer the above questions correctly before writing, then they know what they are doing, and the chances of making an effective description increase dramatically.
Now, once they pass the first stage, let them come up with a sample.
Features and Benefits
The general tendency of a seller is to share the qualities and features of the product, which makes the product unique, but the buyer is not just interested in that; the buyer is interested in how they will benefit from this product. A feature related writing is just fact-based writing, while benefit-based writing will make the buyer understand how this product will be beneficial in their life.
For example - Suppose you are selling a food item. Saying abstract things like eating this will make you healthier is not very impactful, but if we say that eating this will reduce your cholesterol, then it is impactful.
The moment it is unique to a particular set of problems, it becomes impactful.
Language and Tone
Another thing is to make sure that the language used is natural and that the tone should be friendly. A simple test of this is to read the description out loud, does it sound like a conversation that you would have with your friend?
If it doesn't sound like a normal conversation, then it is not in an easy natural language and tone.
Clarity - Crisp & Clean
Nowadays, we all have a shockingly shorter attention span; on average, a person would read only 16% of the content that is on the page. This is after giving attention to it. And how much do we really pay attention to?
To make sure your message has been delivered, let your text be scannable. By scannable, what we mean is it should be to the point and easy-to-comprehend. Use of bullet points, and short paragraphs - highly recommended.
Use Of Keywords
To optimize sales, the description should have relevant keywords, keywords that people usually search on google or on any e-commerce platform, so that the next time someone searches for something, your product counts as a relevant result for the search.
Do check if the writer is mindful of this very important aspect.
Justified Reviews
The product description writer's job is to ensure that they don't undersell/oversell the product. A lot of writers make the mistake of displaying the product as more than what it is, which eventually creates higher expectations for the buyer.
When the buyer gets a hold of the product, the expectations meet reality, and the buyer is not satisfied with the product. This dissatisfaction would be visible in the reviews.
This is not ideal either!
After evaluating the writer, the next step is to come to alignment with the deliverables and the timeline of the work. If these things are not discussed prior, it will create problems during the project.
Final Deliverables That You Can Expect From A Product Description Writer
After evaluating the product description writer, the next step is to get clarity on their deliverables and the timeline; in the below points, most of the process is common in a lot of other fields, but each one of them is important to discuss before starting any work with the writer:
Letter of agreement: There should be a simple, easy-to-read document that states all the terms of the arrangement. The written document helps prevent misunderstandings, and in worse situations, it can protect your legal rights.

Scope of work (SOW): A significant range of work must be cleared from the beginning. What are your expectations? What will the writer deliver? What will indicate that the project is complete? What will be the measurable outcome? How many revisions will be offered by the writer? Everything clear before starting the project makes the work much smoother and easier to execute.

Expiration Dates: This is for the writer; it includes the time you can take to give feedback. This saves the writer from clients who don't reply after some work, and they never get paid.

Detailed and comprehensive product information: A product description writer will provide a detailed and comprehensive description of the product or service, including its features, benefits, and technical specifications.

Persuasive and compelling copy: The final work deliverable will be written in persuasive and compelling language that highlights the product's unique selling points and encourages customers to make a purchase.

Optimized for search engines: The final product description will be optimized for search engines with the use of relevant keywords and phrases, to increase visibility and improve search engine rankings.
Expected Timeline
The time required to complete the project can vary from writer to writer and work to work. It all depends on how many products there are and how much time one can expect to complete one description of the product. If a product description has 300 words, then on average, it will take around 30 mins to write the first draft. Although some might take less and some might take more depending on the experience and the topic.
Once the timeline and deliverables are clear, the last step is understanding what not to do. Here is a list of common pitfalls that you should avoid:
Common Pitfalls While Hiring A Product Description Writer
Hiring a content writer instead of a product description writer: It is easy and tempting to hire a content writer instead of hiring a product description writer as they come at a much lower price.
Product description writers are costlier than content writers because it is a more difficult job than normal content writing. But there is a reason behind the charges; their work requires much more time and creativity. If you go with a content writer, then you will immensely compromise on the quality of your work.
Not checking the work: Because there are hundreds of products and hundreds of descriptions of the products, it is easier to just trust the writer and not check the work or randomly check a few works and then let the other work go without proper due diligence.
Giving work to a product description writer is half of the work done; the other half has to be done by you or someone that you hire; it is very important to check each and every product description to make sure it checks out from all the criteria of evaluation (as given above).
Without proper due diligence, your money might go to waste, and the description will not serve its purpose.
Well, now, the last and most important part of the process is pricing! Of course, you don't want to overpay the writer. That's why knowing the industry standards will help in decision-making.
How Much Does It Cost To Hire A Freelance Product Description Writer?
The cost of hiring a product description writer can vary widely depending on factors such as qualifications, experience, the scope of the project, and location.
On average, product description writers charge a rate of between $45 to $150 per hour.

Some experts may charge a flat rate for a project, which can range from a few hundred dollars to a few thousand dollars, depending on the number of products and the complexity of the project.
Depending on the experience of the writer, their charges increase.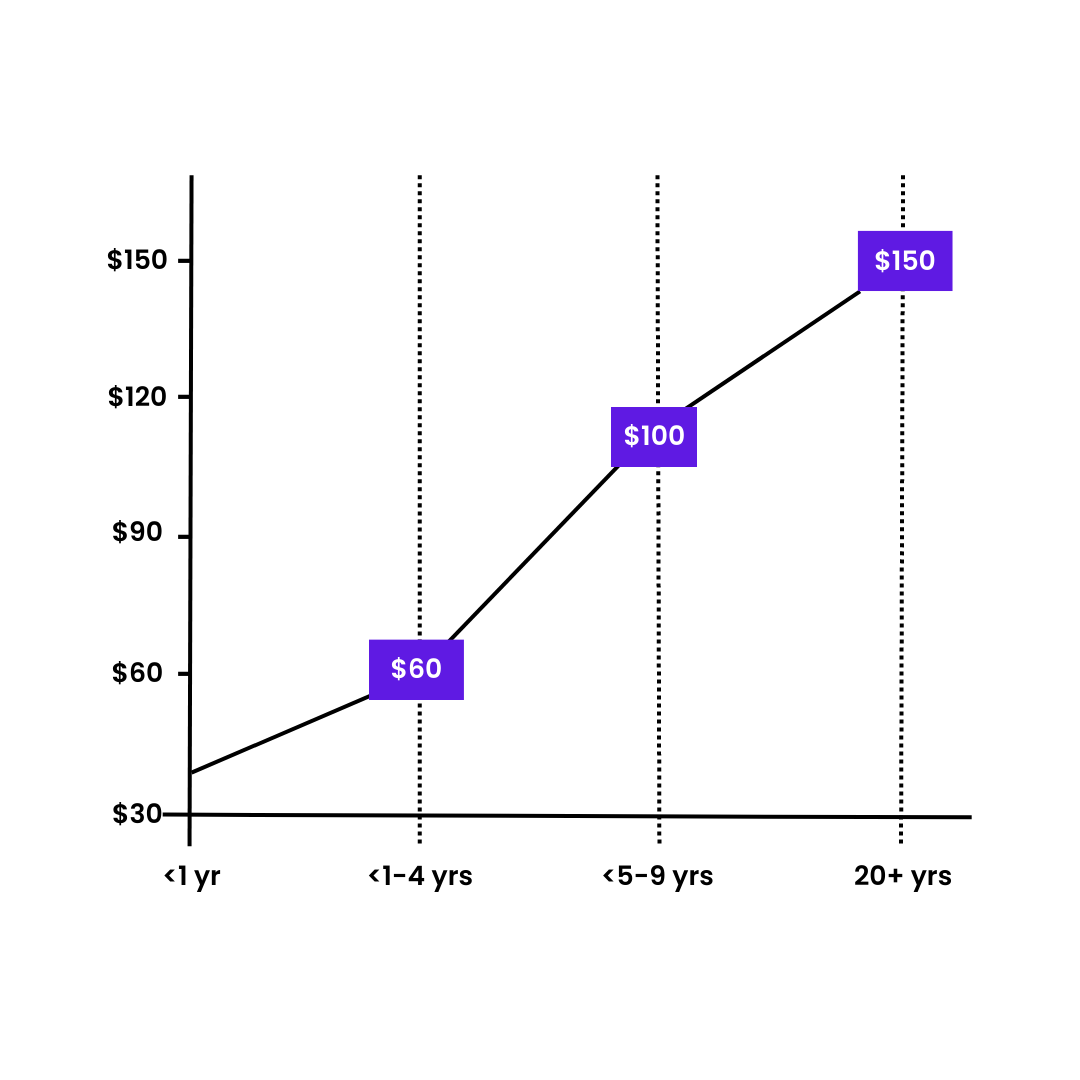 It's important to understand that the cost of hiring a product description writer should be seen as an investment for the long-term benefit of the organization. A well-written product description can help increase sales and improve the overall customer experience. It's also important to have a clear understanding of the cost and the deliverables before proceeding with the project, to avoid any unexpected expenses.
| Sample Product Description Writing Cost:-
| PROJECT TYPE | AVERAGE FEES RANGE |
| --- | --- |
| Ecommerce product description | $50 - $150 - per product |
| Catalog description | $75 - $200 - per page |
| Technical product description | $75 - $200 - per product |
| Website content | $500 - $1000+ |
| Social media post content | $50 - $150 |
So, here is the guide to help you answer the "How To Hire A Product Description Writer?"
Do share this article with someone looking for a guide to hiring a Product Description Writer. Feel free to ask any questions or doubts in the comment. If you are looking for a Product Description Writer, check out Refrens to find the right fit for your next project.
FAQs For A Product Description Writer
How do you conduct research to gather information about the products you are writing about?

Knowing the research process of a product description writer can also help you to understand how much involvement you need to have in the research process and how much you can expect to be provided with research material.

How do you optimize product descriptions for search engines?

It is important to know how a product description writer optimizes their content for search engines because it can affect the visibility and discoverability of the product online.

Can you provide me with samples of product descriptions you've written that were successful in converting visitors into customers?

Although getting an answer to this might be difficult. This question helps discover whether the writer is able to write engaging and convincing content.